Due to its accessibility and ease, AI-generated audio has become more and more popular in a short time. The development of AI voice generators makes it possible to produce synthetic voices that closely resemble human speech patterns without incurring any additional expenditures or manufacturing hassles.
In this post, we'll be taking a look at some of the best deepfake voice generators that can help you with your projects. Endeavor to read this post to the end because it'll be very insightful.
Table of Contents
WHAT IS DEEPFAKE VOICE?
Deepfake voices are AI voices that are made from deep learning algorithms that are used to synthesize human-sounding voices. By analyzing and learning from enormous volumes of audio data, these algorithms can duplicate the distinctive features of a particular voice.
Deepfake voice generators may produce speech patterns, intonations, and even emotional nuances that closely mimic the real speaker by training on a particular voice dataset.
WHAT IS A DEEPFAKE VOICE GENERATOR?
A deepfake voice generator is a tool that uses artificial intelligence and deep learning to create synthetic voices that sound like real people. A restricted set of training materials, such as speech samples or recordings of the target person, can be used to create voice clones. Additionally, it can produce voices for singing, rapping, narrating, and other activities in a variety of languages and genres.
HOW DOES DEEPFAKE VOICE GENERATOR WORK?
Deepfake voice generator creates cloned voices using AI technology and machine learning algorithms. It developed due to advancements in artificial intelligence and deep learning.
To create a good-quality cloned voice, you need a high-end computer with powerful graphics cards and computing power in the cloud. This makes the process faster. However, you must also have enough data, that is, recordings of the target person's voice.
By feeding the AI enough of this data, you can produce authentic voices that will say anything you type by using text-to-speech technology, or anything you say, by using speech-to-speech technology.
Now, artificial intelligence can clone a human voice based on just an hour of speech, but the larger the voice input, the easier it is for the program to do its work.
You Might Also Like: BEST HEARING AID APPS FOR ANDROID
ADVANTAGES OF DEEPFAKE VOICE GENERATORS
Deepfake voice generators offer major benefits that improve productivity, user experiences, and communication which include:
1. Reduce Costs And Time
Processes can be streamlined and important time and resources can be saved by using deepfake voice generators. Automated chatbots and voice assistants can answer questions from customers, deliver information, and carry out tasks, requiring less human involvement and speeding up response times.
By reducing the need for additional staff and boosting operational effectiveness, this automation can result in cost savings.
2. Improve Quality
With advancements in deepfake voice generators, speech quality now rivals that of human voices. Its sophisticated algorithms and machine learning methods guarantee accurate intonation, clear pronunciation, and better speech quality. By doing this, the audio experience as a whole is improved, increasing user immersion and engagement.
3. Eliminate Any Language Barriers
Deepfake voice generators can help people who struggle with language problems. These systems help people who speak various languages communicate with each other by providing real-time translation or text-to-speech conversion.
This makes it possible for cross-cultural contacts to go more smoothly and creates possibilities for international corporate growth, collaboration, and open access to content consumption.
4. Create Emotion
Different emotions can be built into deepfake voice generators, giving audio content more nuance and personality. It facilitates the development of emotionally engaging experiences, whether it's a kind voice for customer encounters or a dramatic narrative for storytelling. Through more tailored and interesting interactions, this capacity improves user engagement.
5. Diversity Of Voices And Dialects
Voices of many genders, ages, and dialects are available because of deepfake voice generators. This diversity enables better inclusivity and representation in a variety of applications, including virtual assistants, language learning platforms, and audiobooks. Users have a variety of accents and dialects to pick from, making the experience more unique and relatable.
Deepfake voice generators also make it possible to revive and preserve endangered languages by synthesizing speech in languages with a shortage of speakers or resources. This linguistic diversity supports attempts to preserve languages and enriches cultural heritage.
BEST DEEPFAKE VOICE GENERATORS
The following is a list of some of the best deepfake voice generators you need to try:
1. Resemble AI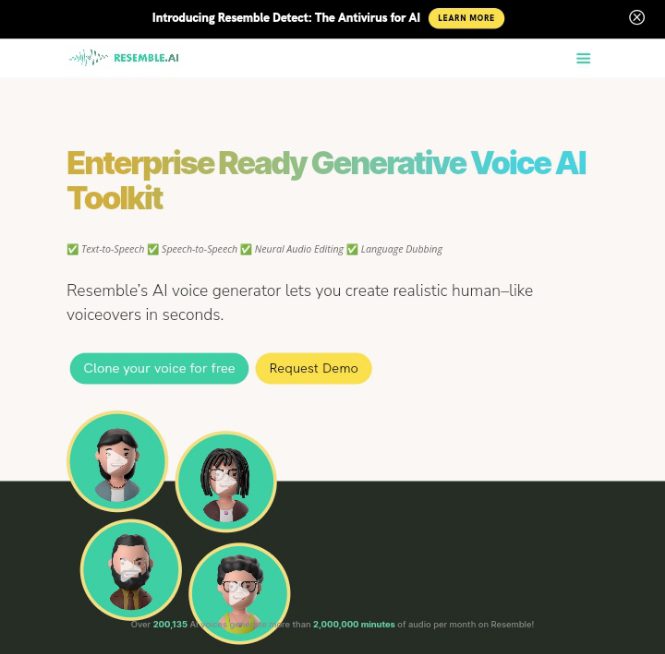 Resemble AI is at the top of our list of the best deepfake voice generators. Resemble AI specializes in AI voices and voice cloning. It stands apart as one of the best deepfake voice generators with features like Resemble Localize for creating multilingual voices, and Resemble Style for transferring a voice's intonation and speaking style to another.
Resemble AI provides voice modulation technology to create deepfakes for realistic-sounding speech in movies, cartoons, AI voice assistants, and tailored advertisements.
By cloning any voice using as little as three minutes of data, Resemble Clone may transform your voice to narrate, sing, provide theatrical performances, and even speak different languages.
After data is submitted, the improved AI models can be developed in 12 minutes, giving consumers access to superior, domain-specific AI voices.
2. Fakeyou
Next on our list of best deepfake voice generators is Fakeyou. It has a user-friendly interface and a variety of voice customization choices. You can quickly create synthetic voices that sound remarkably like genuine voices using Fakeyou. To get the appropriate voice output, this voice changer offers freedom in modifying variables including pitch, tone, and speed.
While some of Fakeyou's functions are available without a subscription, its advanced features are not. You can upgrade your deepfake voice-generating experience by purchasing extra features. It costs $15 a month.
3. Murf AI
Murf Studio is a flexible deepfake voice generator that enables content producers to quickly and affordably make voiceovers of studio quality for a variety of use cases.
You can use Murf's 120+ AI voices in more than 20 different languages to quickly produce high-quality audio content. Murf AI provides cutting-edge services like a voice changer, which can turn a recorded voiceover into a professional-quality voiceover by deleting filler words, undesirable noise, and voiceover faults.
By adjusting the pitch, pace, and emphasis, users may further personalize their voiceover. They can also use the same platform to match the created speech with an already-existing movie or background music.
You Might Also Like: 12 BEST AI VOICE CLONING SOFTWARE
4. Descript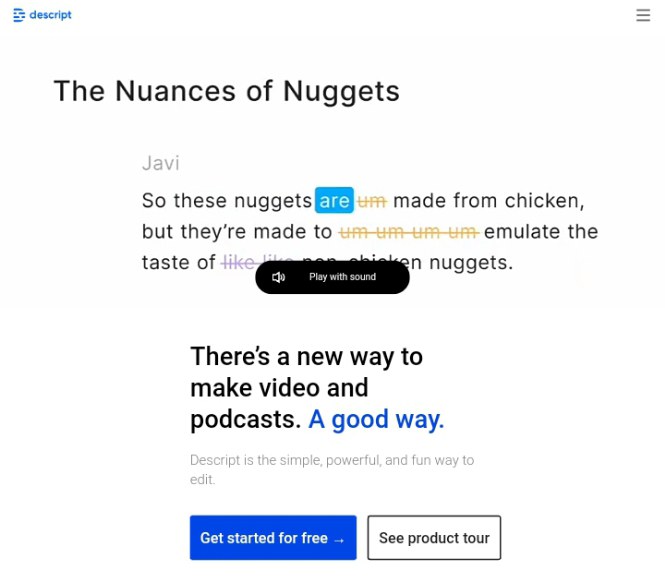 Descript is one of the best deepfake voice generators. It is an all-in-one editor that leverages AI to make media editing simpler. Fast and accurate transcription, automatic speaker identification, the removal of filler words and quiet gaps, multi-track editing, live collaboration, and auto-captioning are some of its capabilities.
Descript leverages Lyrebird AI for voice cloning and artificial voice synthesis in addition to NLP for ASR procedures, ensuring the highest level of voice accuracy. You can add audio recordings to an existing project using the "Overdub" feature of the program without having to re-record their voices.
To accurately reproduce a person's speech, this deepfake voice generator analyzes and mines audio samples. The deepfake voice produced can be utilized for voiceover, video game development, podcasting, and other purposes.
You can use this deepfake voice generator for 3 hours of transcription and 20 screen recordings for free. The Paid plans start at $12 per month.
5. Voice.ai
Another deepfake voice generator is Voice.ai, which mostly converts text into natural speech and supports many languages and tones. The generated speech has a high level of natural fluency, realism, customization, and personalization possibilities.
To create a high-quality artificial voice through huge data training, Voice.ai uses a variety of cutting-edge technologies, including deep learning models, natural language processing, speech synthesis, and other advanced technologies in related domains.
The created speech is also enhanced in terms of quality and fidelity using acoustic signal processing techniques used by this deepfake voice generator. The price to use Voice.ai starts at $10 per month.
6. Speechify
Next on our list is Speechify. It is a very popular deepfake voice generator that provides real-sounding voices that can be easily integrated into a variety of platforms.
With Speechify, you can turn text into realistic speech, making it perfect for projects like podcast creation, voiceover work, and audiobook narration. The tool has a free version, but a premium subscription grants access to more speech options and sophisticated capabilities. However, there may occasionally be audio errors, therefore it's crucial to assess the output quality when using.
The premium version of this deepfake voice generator is billed at $11.58 per month or $139 annually.
7. Cereproc
The next deepfake voice generator on our list is CereVoice by CereProc. It is available in English, Spanish, Italian, French, Swedish, and Romanian. You need a calm space without any background noise distractions, such as TV, music, or radio to record your voice for the first time.
You will also receive a headset microphone from Cereproc, which you can use to record all of the input sounds. By doing this, they guarantee the voice's great quality. However, the expensive price already includes the headset, which you are free to keep. You can publish the recording using a web app on any operating system and browser. CereVoice costs $499.99.
You Might Also Like: 10 Best Secret Voice Recorders
8. ReplicaStudios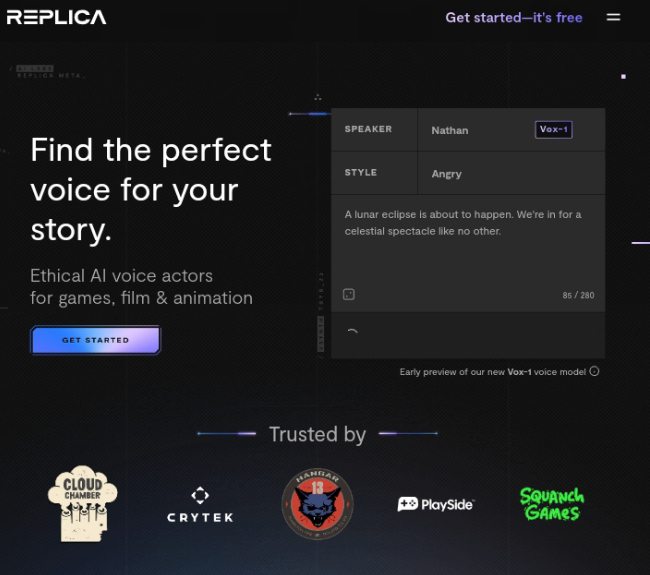 The next deepfake voice generator on our list is ReplicaStudios. Their area of concentration is celebrity voice cloning. You obtain their authentic voices because the voice changer AI was taught by experts in the field. The distinction is that you can influence what they say without actually hiring the individuals. It offers 30 minutes of free voice credit, while Paid plans start at $36 per 4 hours of voice credit.
9. Voicegenerator.io
voicegenerator.io is a user-friendly online deepfake voice generator that allows you to generate deepfake voices effortlessly. Both novice and seasoned users can utilize the interface because it is made to be easy to use and intuitive. The tool's usability for a broad user base is increased by the support for many languages.
Although voicegenerator.io has a free version, those who want more sophisticated capabilities can purchase premium plans. It is important to keep in mind that the tool has a limited selection of voices and that latency problems can occasionally occur. It has a monthly cost of $17.49.
10. Overdub
The next deepfake voice generator on our list is Overdub. Overdub is the solution you're looking for if you need to give your video's voiceover some life. It provides you with cutting-edge voice synthesis utilizing the Lyrebird AI and is the only speech synthesizer that can produce 44.1k broadcast-quality audio.
With this tool, it's simple to edit your audio, even in the middle of a sentence, and listeners won't notice the difference. You can record a duplicate of your voice for use in the future. You can easily switch between several performance styles to enable you to develop more speech-enabled applications.
11. Uberduck.ai
Uberduck.ai is also one of the best deepfake voice generators. Uberduck.ai is a subscription-based deepfake voice generator that provides high-quality voice generation capabilities. You can produce artificial sounds with uberduck.ai that are astonishingly similar to actual human voices.
The program provides customization tools so you can adjust the created voices to your tastes. Although uberduck.ai offers a free trial period, membership is necessary to continue using the advanced functionalities.
The pricing structure must be taken into account because it could be more expensive than other tools. The tool also offers a small number of voice options. The monthly fee for the Creator plan is $10.
12. Respeecher
This is another deepfake voice generator that can be useful to programmers, filmmakers, and content producers. This generator can work wonders for your projects because it uses cutting-edge artificial intelligence to speed up post-production procedures and clone voices without having to record them again.
Another benefit of using this deepfake voice generator is that adult voice actors can quickly change their voices to sound like children's voices. You can use this AI voice changer to mimic the voices of deceased people; it even detects and conveys the tiniest hint of emotion in the voice.
13.  MagicMic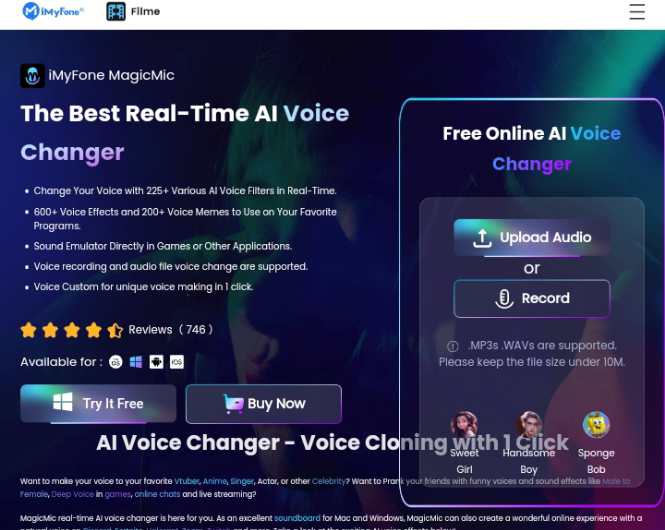 Rounding up our list of the best deepfake voice generators is the very popular MagicMic. MagicMic is a deepfake voice generator that was carefully created to allow users to subtly edit their vocal tones while participating in interactive voice chats, live broadcasting, or online gaming.
Its unmatched features include a huge selection of more than 250 AI-driven speech filters, which increases the possibility of developing distinctive audio personas.
Along with an excellent collection of over 200 voice memes, MagicMic provides a treasure trove of over 600 voice effects.
These characteristics make MagicMic a ground-breaking deepfake voice generator, providing users with an engaging and dynamic toolkit to explore the world of deepfake-inspired voice alteration.
FAQS
Is deepfake voice generator AI?
AI is the foundation of deepfake speech technology. Models are trained, and synthetic voices with realistic timbres are produced, using machine learning methods, particularly deep learning approaches. These algorithms replicate the subtleties of human speech by learning from massive datasets.
Can I deep fake a voice?
Yes, you can produce synthetic voices that closely mimic actual voices with the deepfake voice generators. Users of these tools can create deepfake voices by using sophisticated algorithms to evaluate and duplicate the distinctive features of a voice.
Are deepfake voice generators safe?
If deepfakes are used maliciously, such as to disseminate false information or produce deceptive material, they may be dangerous. It is critical to use deepfake voice generators ethically and responsibly. Many deepfake voice generators have put precautions and rules in place to stop abuse.
How Can a Voice Be Deepfaked?
A flawless recording of the voice in the required language is required to deepfake a voice. This will assist the AI in understanding the language and voice it must generate sounds in. Before the essential text is translated into voice, the audio is polished and given the appropriate inflections when the AI has finished computing.
What are the concerns associated with deepfake voices?
Deepfakes raise questions about their potentially harmful application for disinformation, manipulation, and impersonation. Privacy, permission, and their effects on credibility and trust are further issues.
Is it illegal to use deepfake voices?
The intended usage and the jurisdiction that the company operates under determine whether using deepfakes is legal. Deepfakes may be used and distributed unlawfully, infringing on one's privacy or intellectual property rights.
FINAL WORDS
Voice synthesis now has a vast array of possibilities thanks to deepfake voice generators. There are a variety of uses for very realistic synthetic voices, from voiceovers and media creation to accessibility for those with speech impairments and entertainment. Deepfake technology, nevertheless, should be used cautiously because it also raises moral questions and the potential for abuse.
We hope you found this post on the best deepfake voice generators as insightful as promised. Don't hesitate to drop a comment below.
If you liked this article, then please subscribe to our YouTube Channel for videos relating to this article. You can also find us on Twitter and Facebook.
REFERENCE
https://www.hitpaw.com
https://vansmedia.vanceai.com
https://openaimaster.com
RECOMMENDATIONS