Harnessing the power of artificial intelligence is a growing idea in the current fast-paced and technologically advanced world. So why pass up the possibility when AI can assist you in creating compelling presentations? Every aspect can benefit from this developing technology, which is decreasing workload, eliminating repetitive work, and offering a host of other benefits.
AI presentation makers are one such application that uses the help of AI in the creation of interesting and polished presentations.
In this post, we'll take a look at some of the best AI presentation makers that'll improve your presentations. Do well to read this post to the end because it'll be beneficial.
Table of Contents
You Might Also Like: 11 Best AI Vocal Remover
WHAT IS AN AI PRESENTATION MAKER?
AI presentation makers are tools that can produce professional-quality presentations from brief text summaries or drafts. It can produce polished presentations in a matter of minutes. You can create presentations using the AI presentation maker's customized templates and by tweaking some features if needed.
BENEFITS OF AI PRESENTATION MAKER
you can create slides more quickly and effectively with AI presentation makers. When compared to conventional software, these AI presentation makers provide enhanced design options.
AI presentation makers also evaluate content and provide interesting presentations using machine learning skills. It offers features like dynamic animations, interactive components, design elements, and tailored content. You just need to input your text into an AI presentation maker and the platform will generate a presentation for you.
With the help of AI presentation makers, you can quickly add your branding elements, such as logos, brand colors, or typefaces, to the presentation to keep it uniform.
The majority of these AI presentation makers enable team cooperation to finish projects on schedule while working on them and monitoring changes and they are easily integrated into Team and Slack by you. It also enables the addition of numerous design components, including photos, symbols, and videos.
TOP-RATED BEST AI PRESENTATION MAKER
The following are some of the best AI presentation makers that can make your presentations better:
1. Sendsteps.ai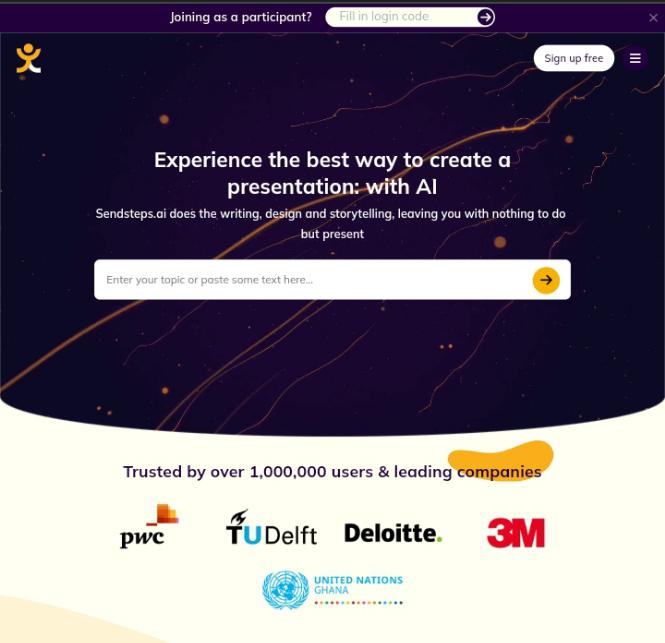 The first AI presentation maker on our list is Sendsteps.ai. It produces presentations 10 times quicker than conventional techniques. You can easily create presentations with a professional appearance without any design experience thanks to its user-friendly interface.
You can select from a variety of themes with Sendsteps.ai and modify them to meet your needs. According to the material provided or the topic, this AI presentation maker creates a fully interactive presentation. It also provides tools for audience engagement as well as features like interactive Q&A sessions and live polling.
Each question type is designed with a particular objective in mind, reducing the likelihood that you'll run out of interactive features and survey tools before achieving your objectives. Your presentation results can also be shown in a variety of styles, such as word clouds, bar charts, and pie charts.
You can reach an audience of 10 using Sendsteps' free-for-ever plan, which allows you to administer five quizzes every session. Pricing for unlimited features starts at $9.99 per month.
2. Plus AI
Next on our list of best AI presentation makers is Plus AI. With the help of this tool, you of Google Slides can make presentations and edit the slides in them. It is comparable to having a private presenting helper. All you simply have to do is start with a prompt to create a personalized outline, then see as the AI converts it into slides in a matter of minutes.
Once this is finished, you can choose from a variety of choices, such as rewriting the material to modify the tone or remixing the slide to change the content's layout.
The best part is that Plus AI will create an outline for you to edit before creating the presentation itself. You can select a visual theme while creating your slides to provide more freedom. The generated slides can be edited in Google Slides like any other presentation, exported to PowerPoint, and further edited with Plus AI.
3. Simplified
Simplified is next on our list of best AI presentation makers. With this AI presentation maker, you can put an end to the laborious process of creating captivating presentations. Using this cutting-edge technology, it is simple to create visually stunning and powerful presentations since it blends AI with an intuitive design.
The adaptable tool serves academics, professionals, and anybody else seeking well-designed slides that stand out. It has more than a million you and can help you create text, video, animations, social media posts, and presentations.
The AI will create a custom presentation for you with just a single topic input. You can fine-tune the presentation till it is ideal by customizing it to your tastes and allowing cooperation between you and your team. You have the freedom to create stunning designs using everything from text and fonts to colors, graphics, and even sounds.
Simplified offers a free-forever plan to all its you with thousands of templates and 1GB of storage.
For more features, you can pay for the Small Team Plan at $20 per month, the Business Plan at $33 per month, or the Growth Plan at $81 per month.
4. Tome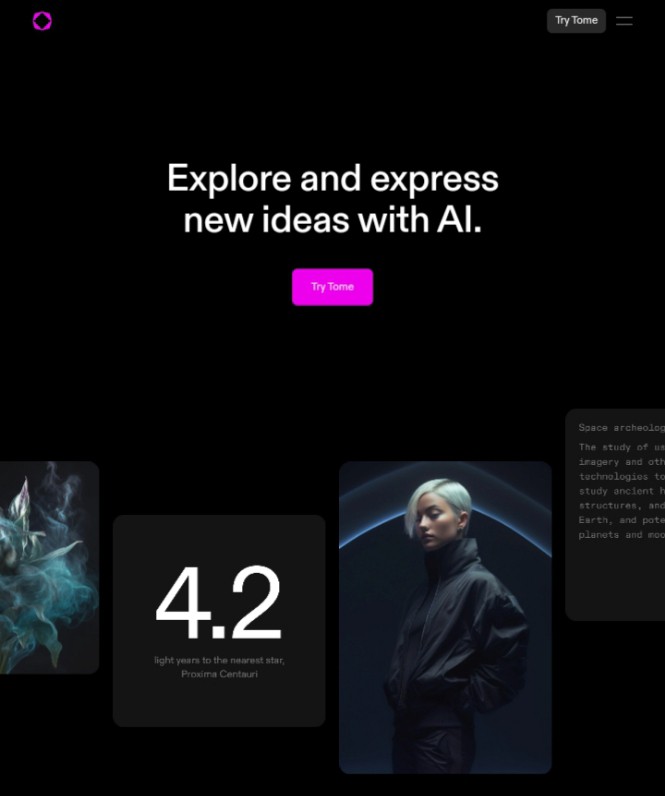 Tome is an AI presentation maker that does more than just create slides. It functions as a cooperative AI assistant that aids you in creating interesting presentations from scratch. Tome can comprehend your needs and provide content that appeals to your audience using OpenAI's ChatGPT and DALL-E 2 technologies.
Tome provides pre-made templates and themes, text and images created by AI, and tools for including animations, videos, graphs, and other elements. But what distinguishes it is its capacity to comprehend your commands. It will take care of the rest if you just tell it what you want. This not only makes the design process simpler but also more enjoyable.
You Might Like: 16 Powerful AI Chatbot Platforms (Reviewed)
5. Designs.ai
Designs.ai is one of the best AI presentation makers. You can easily build presentations with its professional presentation creator. It provides a selection of templates, graphic elements, and design aspects that can be edited to meet your needs. You can make films, logos, social media graphics, and more using Designs.ai.
To add to your presentation, the tool gives you access to millions of photos, video assets, and icons. The platform has three different pricing tiers: Basic at $29 per month, Pro at $69 per month, and Enterprise at a custom price.
6. SlidesAI
SlidesAI is another great AI presentation maker. You can easily and rapidly create presentations that are both professional and interesting using SlidesAI by entering the text or a succinct description of your presentation after which you can edit the appearance and feel of the slides in the next stage. Your presentations will be prepared in a matter of minutes for your last-minute evaluation and alterations.
It offers a variety of color and font defaults for personalization and multiple languages, including English, Spanish, Japanese, and Italian and it enables smooth Google Slides integration.
The platform is made to make it easier to create presentations for both personal and professional use. It is the ideal answer for commercial and marketing needs. The Basic Plan is offered for free; the Pro Plan is available for $10 per month; and the Premium Plan is available for $20 per month.
7. Kroma.ai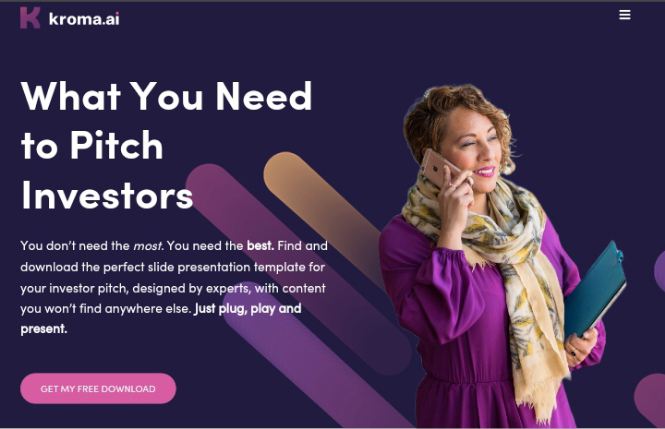 Kroma.ai is next on our list of best AI presentation makers. It has a variety of design tools and an AI presentation maker. You can build professional presentations with its presentation creator. You can choose from a selection of layouts, design components, and visuals. You can also make videos, logos, social media graphics, and more using Kroma.ai.
Its hundreds of expertly made presentation decks are adaptable to use and have the ideal amount of structure, allowing you to confidently propose, pitch, and present your ideas. Kroma.ai also enables you to quickly and neatly arrange data into graphs and charts for easier study and display.
The Grab and Go material is one element that further distinguishes Kroma.ai from its competitors. The feature offers consumers ready-to-use content that only needs very small adjustments. All you have to do is add the branding, download, and you're ready to go.
There is a free plan from Kroma AI that includes all the presenting tools you require, but you can only download one excellent template. Then, annual billing begins at $39.99 per month.
8. Beautiful.ai
The next AI presentation maker on our list is Beautiful.ai. Beautiful.ai is a unique assistant that aids in the creation of gripping stories. As you start to customize your presentation, Beautiful.ai begins to comprehend your needs and makes recommendations for additional improvements. This predictive function is a game-changer because it simplifies and speeds up the design process.
It makes your work engaging because of AI's voice narration feature, which adds another level of communication. For remote presentations, when the personal connection can occasionally be lost, this function can be quite helpful. The platform's search function makes it simple for you to locate and reuse their creations.
There are three pricing tiers, the Pro for individuals at $12 per month, the Team at $40 per month for team collaboration, and the Enterprise at $100 per month.
You Might Also Like: 13 Best AI Apps For Android
9. Presentations.ai
Presentations.ai is another outstanding AI presentation maker. It provides a variety of features to aid you in creating compelling presentations. You can build aesthetically attractive presentations with a consistent design and layout because of its AI-powered design engine.
A variety of templates are available from Presentations.ai, all of which can be adjusted to meet your needs. It also provides options for collaboration as well as voiceover narration and automatic slide production.
The Basic features are offered in the beginner package which costs $10 per month, and its pro subscription which costs $25 per month is suggested for small companies. For larger teams, the program also provides an Enterprise plan at a custom price.
10. Decktopus AI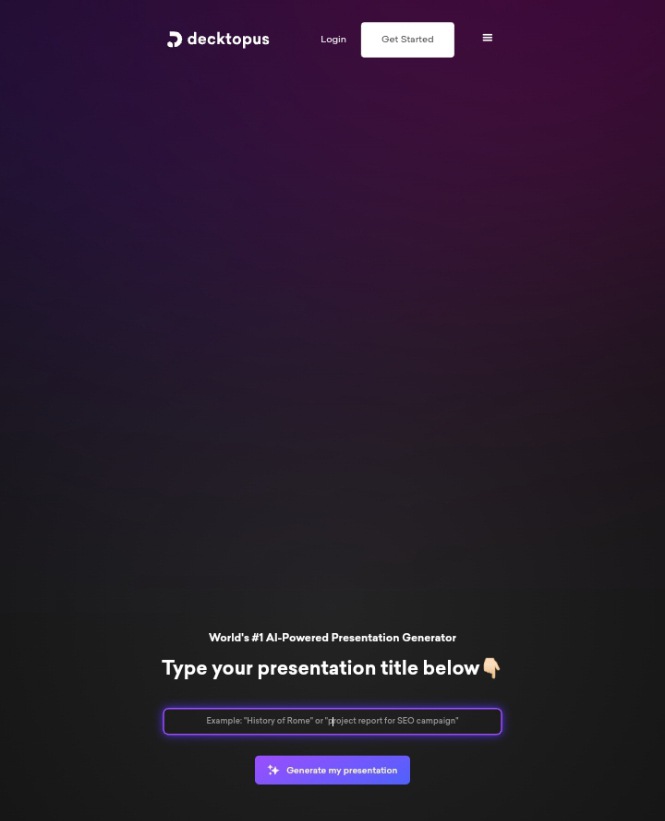 Decktopus AI is one of the most popular AI presentation makers. You can customize slides for particular target audiences and purposes with Decktopus AI, which specializes in creating tailored presentations. This AI presentation maker also provides AI-driven slide generation recommendations, offering helpful advice on design decisions.
Decktopus AI also can create forms and record audio, which improves the interactive aspects of presentations. Decktopus AI is a good choice for people who want to give their presentations a unique touch.
Decktopus makes it simple to share presentations online and stream them live during presentations. The platform offers a Business plan for $36 per user per month and a Pro plan for $9.99 per month.
11. Synthesia
This AI presentation maker can turn text into compelling video presentations. With tools like Synthesia, you are no longer required to learn complex software or editing techniques. It is appropriate for novice and non-technical users and features an intuitive user interface.
Your Synthesia account is all you need, and it only takes a few minutes to produce a video presentation when you add text. It offers a collection of more than 55 expertly made video templates and in your video presentations, you can construct your AI avatar by selecting from more than 150 AI avatars.
The software also allows you to clone your voice and give it to your avatar, as well as create videos in more than 120 languages and add micro motions like head nods to the avatar. The Personal plan costs $30 per month while the Enterprise plan comes at a custom price.
12. Slidebean
The last AI presentation maker on our list is Slidebean. It is a web-based presentation tool that is changing the way presentations are created. You can make effective presentations that make an impression with just a few clicks. The elegance of Slidebean rests in its capacity to keep presentation design and content production independent. This allows you to concentrate on what matters—your message—while Slidebean handles the design.
Small to medium businesses that might not have a dedicated design team might especially consider Slidebean. Thanks to the selection of design templates, expensive typefaces, and elegant color schemes, even users without any design experience can produce polished presentations.
HOW TO CHOOSE AN AI PRESENTATION
To select an AI presentation maker, keep the following in mind:
1. Consider Stock Photos
To make a unique slideshow or presentation that is much more engaging, stock photos, videos, and audio can be quite helpful.
2. Text Input 
Some users would prefer not to use text inputs, while others without any design experience would want to simply provide hints and let the maker produce anything. Some merely let you select your media and do the work for you, while others give you complete control over the slideshow creation process.
3. Ease of use
It is a good idea to select an AI presentation maker that is simple to use because they are designed to save you time and offer a streamlined process.
4. Price
Everyone should think about the cost and whether it fits within their budget. For personal usage, you might just be looking for a free AI maker, but some bigger companies might choose a premium plan that would provide the entire staff access to the program.
5. Export Formats
The AI presentation makers can vary greatly in this area. Some just let you make straightforward PDFs, while others output to files like PPT and a variety of video types, allowing you to use them in more settings.
FAQS
What distinguishes AI presentation producers from conventional presentation tools?
Traditional presentation tools rely on the human input and design decisions of the user, but AI presentation tools automate the process by making recommendations for content based on your preferences and context. This can help you save time and enhance the overall quality of your presentations, making it simpler to put up a presentation that looks polished in a matter of minutes.
Who can benefit from using AI presentation software?
AI presentation makers can be useful to professionals in many different fields, including business, education, marketing, and more. AI-powered solutions can help you accomplish your goals more effectively, whether you're an experienced presenter looking to improve your slides or a newbie looking for assistance making aesthetically attractive presentations.
You Might Also Like: 11 Best AI Video Editors
CONCLUSION
An AI presentation maker is your hidden weapon whether you're a student working on a school project, a professional giving a corporate presentation, or just someone who wants to impress their friends with a clever slideshow. It aids in the creation of visually arresting presentations that draw interest and make your point clear. Select from our list of best AI presentation makers and stay on top of your game.
We hope you found this post as beneficial as promised. Please share your comments in the comment section below.
If you liked this article, then please subscribe to our YouTube Channel for videos relating to this article. You can also find us on Twitter and Facebook.
REFERENCE
https://www.geeksforgeeks.org
https://geekflare.com
https://www.sendsteps.com
RECOMMENDATIONS