The market for browsers is completely dominated by Google Chrome, and this dominance extends to extensions. About 180,000 extensions are already available for the browser, and many of these are actively being developed for every cycle of updates.
Several developments in the Chrome marketplace use machine learning and artificial intelligence to power their extensibility. Some of the best Chrome extensions are those that are powered by AI.
One of the great AI Chrome extensions is ChatGPT. ChatGPT blew up the internet with its mind-blowing capabilities. But don't limit yourself to just ChatGPT. There are a handful of other great AI Chrome extensions. We will be taking a look at the best 20 AI Chrome Extensions to hack your life and save time. Make sure you read this post to the end because it'll be very informative.
Table of Contents
WHAT ARE AI CHROME EXTENSIONS?
Google Chrome extensions are programs that can be installed into Chrome to change the browser's functionality. This includes enhancing Chrome with new features and improving the program's functionality overall to make it more user-friendly.
A Google Chrome extension can add the following kinds of functionality to Chrome:
Blocking the display of advertising
Reducing memory utilization to improve Chrome's performance
Adding notes or to-do lists to Chrome
Facilitating the copying of text from websites
Keeping your information private and enhancing web security.
Extensions provide a variety of extra functionality to help you do activities more quickly or make the most of the websites you visit.
Regrettably, while the majority of Chrome extensions are useful, some developers produce extensions that adversely alter Chrome's behavior.
AI Chrome extensions are Chrome extensions that are powered by artificial intelligence to deliver the above-mentioned functionalities and more. AI as we know has taken technology to a new level. These AI Chrome extensions give you the best experience when using Google Chrome.
HOW DO YOU USE AI CHROME EXTENSIONS?
The particular extension will determine how you should use it. Many extensions carry out specific tasks automatically while working in the background. When you right-click on a website, other extensions will add menu items to the menu.
The majority of extensions additionally add tiny icons to the browser's address field to the right. To access the extension's functionality, click or right-click on those icons.
Read: Best AI Art Generator You Must Use Today
WHERE CAN I FIND AI CHROME EXTENSIONS TO INSTALL?
The best place to install and obtain an AI Chrome extension is from the Google Chrome Web Store, even if some developers offer direct downloads of their additions. The vast majority of the extensions listed here are free, although this site is referred to as a store, and some must be purchased to be used.
To utilize the store, just perform a keyword search for an extension or go through the available categories. However, you should exercise caution when adding extensions because Chrome will consume more RAM the more extensions you add. Install extensions only if you intend to use them.
Before installing an extension, it's a good idea to read the reviews of that extension. This is because many only change your search engine, start page, or new tab page and do not function properly. Avoiding extensions of this nature is advised.
BEST 20 AI CHROME EXTENSIONS TO HACK YOUR LIFE
Out of the tons of AI Chrome extensions out there, below is a list of the top 20 AI Chrome extensions:
Tactiq is an AI Chrome extension that uses ChatGPT to automatically summarize and transcribe your online video calls on platforms like Google Meet, Zoom, etc. Tactiq is a crucial tool in this new WFH era and the company's voice when it comes to sharing meeting insights given the burgeoning remote work-life landscape.
We are having more meetings than ever because the majority of employees are working remotely these days. These outdated technologies are incapable of adjusting to this new era of remote work life and simply serve to further disrupt the meeting's flow.
When you begin a new meeting on Zoom or Google Meet, Tactiq appears and leverages Open AI ChatGPT to create the meeting summary, action items, and agenda for the following meeting. Also, following the meeting, the complete transcript, summary, and quotes are available to share in the programs you're using.
Tactiq records crucial ideas that would otherwise be lost, allowing the entire firm to benefit from them. It also easily captures important information from meetings and highlights, tags, and marks it.
It has real-time editing and collaboration on your meeting notes. It offers smarter summaries by using AI/ML to analyze data and make suggestions to enhance your meeting summaries.
Tactiq features timestamps, real-time transcription, and summary ChatGPT. The most amazing thing about this AI Chrome extension is that it is free.
Read: BEST AI IMAGE GENERATOR
Just like ChatGPT, ChatSonic AI is an AI-powered chatbot platform that empowers companies to create customized, human-like customer experiences. This AI Chrome extension can help you in writing tweets, blog posts, LinkedIn posts, Emails, and articles.
It uses cutting-edge NLP and adaptive learning technologies to provide a variety of features and capabilities without utilizing a lot of code or human resources.
Users can use voice commands or SMS messages to communicate with the chatbot. It can almost instantly complete tasks that call for using the most recent information. This is the best alternative to ChatGPT.
3. TLDV
TLDV is the best ChatGPT alternative for meetings. You can make your meetings 10 times more productive with this incredible tool. Calls can now be recorded in a way that has never been possible before thanks to the TLDV meeting recorder for Google Meet and Zoom.
With the TLDV AI Chrome extension, you can record any Google Meet call's insights in high-quality sound and video. You can immediately see recordings, and you'll also receive a transcript of your video. To timestamp, modify, or distribute your recordings, use TLDV. Google Meet is automatically recorded and transcripted for free.
4. EESEL
Eesel is an AI Chrome extension that uses AI to automatically organize your Google Docs, Notion pages, and other work documents. When you open a new tab, Eesel filters your browsing history to display your work documents. Everything is open to the public and fully searchable. Folders may be created automatically from your work.
Forget about tab managers and bookmarks. You can share files with the team and receive any brand-new pages they produce right in the new tab. It's also advantageous to stay current without continually checking Slack. Best of all, it's free and doesn't compromise privacy.
Here are some benefits of Chatbots
Compose AI is an AI Chrome extension that cuts your writing time by 40% with AI-powered autocompletion & text generation. ComposeAI is used to generate any text using AI. It will help you write better content in seconds. It is clear why and how Compose AI succeeds because the company describes itself as an AI that composes your emails.
Compose AI is a fantastic tool if you're more interested in using an AI writing extension to assist you with your emails and the occasional Slack discussion. Also, it is easy to use. Open an email to get to the prompt, which is already visible in the window.
6. WISEONE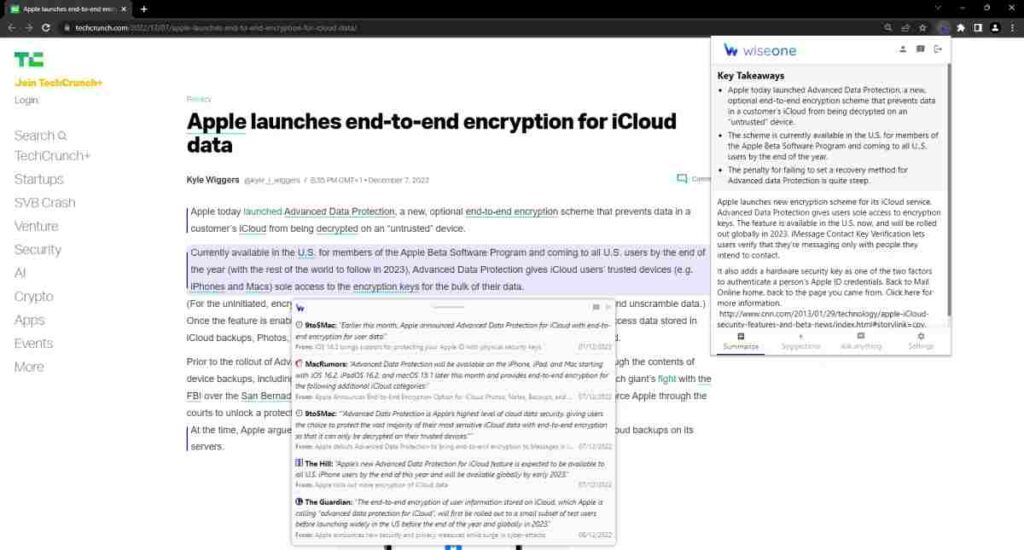 Wiseone is a new AI Chrome extension that enriches your online reading experience to help you master any subject effortlessly. It helps you easily understand and learn about complex topics and much more. Wiseone offers a new method of reading and discovering web information.
You may improve your online reading experience by quickly accessing genuine data, simplifying information, and easily understanding any topic you're reading with a new AI-powered browser plugin.
7. TEXT BLAZE
Users of Text Blaze can save programmable text snippets and insert them into any web page using keyboard shortcuts. Using placeholders, business logic (if/else), the ability to read data from any website, and interfaces with other applications, snippets can be either static or dynamic templates.
With Text Blaze, plain text can also be used for snippets. Text Blaze has many more wonderful features, it's time to give it a try. This AI Chrome extension can eliminate repetitive typing and errors. It has easy-to-use templates with endless customization possibilities and powerful automation. It has a Windows app.
Also Read: Why ChatGPT Can't Take Over Organic Contents from Bloggers
Turn Linkedin into your email lists with this Email Search Extension powered by ChatGPT. With the FinalScout AI Chrome extension, you can either click a button to get the company email address for every LinkedIn profile or scrape LinkedIn profiles with emails from LinkedIn search results.
Also, there are Click and Copy buttons that let you create personalized emails for each use case and get the email address from any LinkedIn profile. With FinalScout, your emails are entirely authenticated and you extract valid email addresses from LinkedIn with ChatGPT, guaranteeing up to 98% email deliverability.
9. CHATGPT WRITER
ChatGPT Writer is a free AI Chrome extension to generate emails and messages using AI. It is a Gmail Chrome plugin that utilizes ChatGPT to generate emails or responses to your questions.
You only need to log into OpenAI to use this Chrome extension. The extension must then be opened by clicking on it. The email's subject or content is then requested in a context-filled input box. If you're reacting to a previous conversation, please give some context. It works on all sites. It works even better in Gmail.
10. CHATGPT PROMPT GENIUS
ChatGPT is like Superman but requires big prompts. With ChatGPT, you can accomplish a ton of awesome things. Anything from brief articles to intricate programs is acceptable. There might need to be more cues left for the chatbot before it can be appreciated properly. That is why this AI Chrome extension is great.
By offering consumers all the prompts they may need and other features, ChatGPT Prompt Genius fills in that gap. The developers' dedicated subreddit has a ton more prompts that users can find there. You can test as many inputs as you'd like thanks to the Prompt Genius add-on.
With ChatGPT Prompt Genius you can discover, share, import and use the best ads for ChatGPT and save your chat history locally.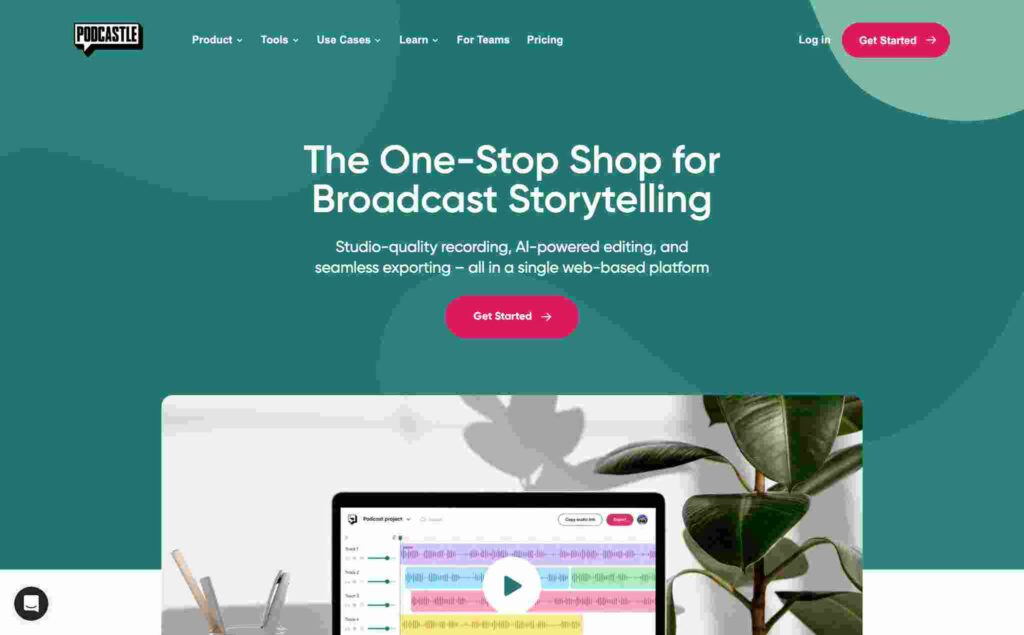 Podcastle is an AI-powered audio creation platform. It can help you record and edit podcasts easily. The Podcastle AI Chrome extension reads the content of a given web page and creates a podcast from it. It records in studio quality and edits with AI in minutes.
Users can use this plugin to convert every word they type into audio so they can read publications or listen to the news on the go. You can create your playlists and distribute them to others.
AnyPicker is a free and user-friendly internet data extraction tool. You may rapidly and efficiently extract data and download free images from any website data using this powerful pattern recognition engine supported by artificial intelligence.
This is a perfect AI Chrome extension because it works with any website, even those that require logins, and has an intuitive but powerful graphical user interface. It can scrape, download, and export data in CSV and XLS Excel formats.
13. CHATONAI
The full potential of ChatGPT is enabled with ChatOnAI. It presents ChatGPT's responses alongside those from Google, Bing, Ecosia, Baidu, DuckDuckGo, and other well-known search engines.
The suggestions provided by ChatOnAI come from your favorite poems to SEO, content, and video. ChatOnAI uses OpenAI ChatGPT's characteristics, emphasizing dependability and being current, to enhance your browsing experience. It is an amazing AI Chrome extension.
Read: 10 Intriguing Things To Know About ChatGPT
Vento is the best screen recorder to record screens. With Vento, you just have to pause, rewind and re-record your mistake, so you never have to restart!
You can record videos on a stress-free website that allows you to go back and rectify issues with the Vento AI Chrome Extension. You may easily pause and resume recording, annotate your screen, and point and click as you go with the aid of this plugin! Link sharing, presenter bubbles, and more are supported by Vento.
Vento has 3 pricing plans, Vento Free, Vento Premium at $6 per month, and Vento Premium Yearly at $4 per month
15. CONTENTBOT
ContentBot is another plugin that employs AI to assist writers, similar to Grammarly. ContentBot is like ChatGPT with superpowers. The plugin works as a content writer and SEO expert to create excellent material that will help you attract more visitors to your website.
The program may produce social media updates, ads, blog content, blog topic ideas, intros, paraphrasing tools, and much more! It is a fantastic AI Chrome extension.
Although submitting bug reports could be a pain, it doesn't have to be. That is why Jam is one of the best AI Chrome extensions. Jam will let you report issues 20 times faster so you can get back to work.
With just one click, Jam enables you to send your developers the ideal bug report—complete with clear documentation of the browser issue in a single straightforward link—without any paperwork or complications.
Also, Jam collaborates with the programs you already use (such as Jira, Asana, Slack, etc.) to allow you to submit concerns as fast as possible to the proper locations. Jam can be used for Free and users can sign up for the Team package at $10 per user monthly and the Enterprise package with a custom cost.
Read: 14 Best Artificial Intelligence SEO Tools
17. OTTER.AI
Otter.ai is the finest AI Chrome extension for the transcription of meetings, chats, and video conversations. It employs a machine learning system with AI to instantly transcribe any video, conference call, or meeting. The machine then further edits this transcript to create flawless sentences and divide the material for each speaker.
18. YOUTUBE SUMMARY WITH CHATGPT
Using OpenAI's ChatGPT AI technology, the free Chrome Extension YouTube Summary with ChatGPT enables you to instantly obtain a summary of the YouTube videos you are currently viewing.
Also, while exploring YouTube videos, you may view and access the video summary by clicking the summary buttons on the thumbnail of the movie. Use this plugin to learn more quickly and efficiently.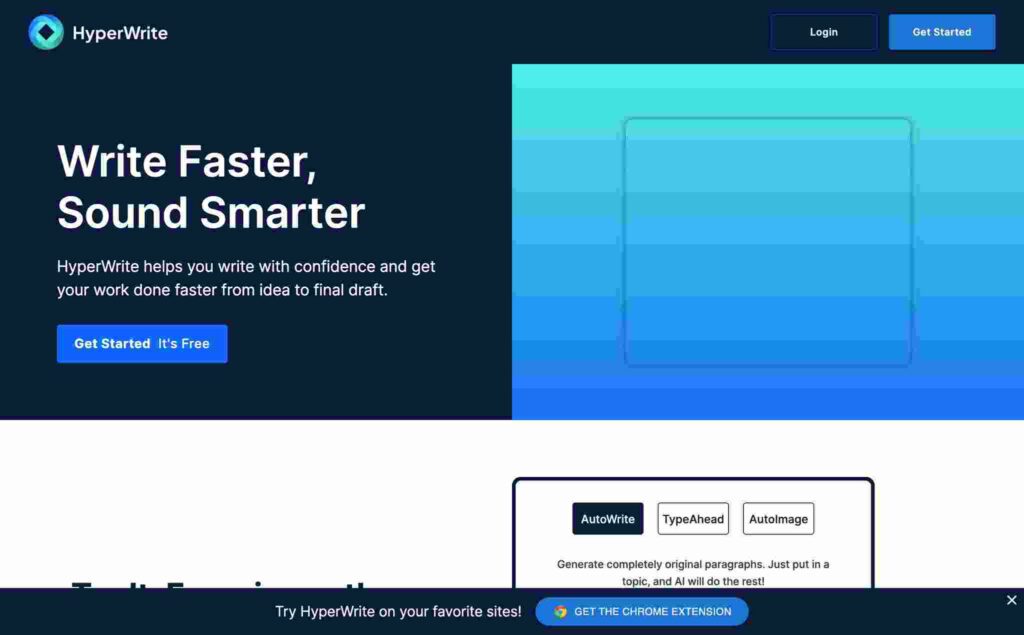 HyperWrite is a personal writing assistant that creates content for writing ideas, greatly simplifying the work of writers. The plugin makes suggestions for the right words and phrases to finish your sentences based on the content of the text. On their website, HyperWrite created a text-to-image section in addition to the writing aid feature.
Quillbot is a paraphrasing AI website that rewrites everything for you in seconds. Using QuillBot, you can write more efficiently, with fewer words, and with better thought organization.
Choosing the right synonym, QuillBot helps you select the best keyword every time thanks to an integrated thesaurus feature that makes altering individual words straightforward.
It provides information about your writing tone and style. Verify your work for grammar and punctuation errors. Also, it helps with the comprehension of difficult or complex texts.
CONCLUSION
If you are a blogger, copywriter, or Content creator, you'll love the aforementioned AI Chrome extensions. They'll bring ease and spread to your life. When we said they'll 'hack your life' in the title of this post, we weren't lying.
We hope you found our list of the top 20 AI Chrome extensions very informative and insightful. Kindly let us know what you think.
REFERENCE
RECOMMENDATIONS
AI Art Generator To Use
7 ROBOTICS COMPANIES IN CANADA YOU SHOULD KNOW
Great Artificial Intelligence Companies in Nigeria