Even if you lack experience, you may become a virtual assistant and enhance your career; you do not need to be a seasoned professional. Aspiring Virtual Assistants cannot expect career opportunities to materialize from thin air. So we have come up with tips on how to become virtual assistant with no experience
However, with diligence, determination, and dedication, you too may become a wealthy and well-compensated virtual assistant. If you're ready to begin working and find a virtual assistant job, continue reading to learn how to become a virtual assistant with no experience and acquire the help you need.
Who hires Virtual Assistants, and what do they do?
A Virtual Assistant is a person who provides small business owners, entrepreneurs, and bloggers with time-saving services. Since virtual assistants work remotely, employing them is less expensive than hiring in-office employees.
Despite the seeming ease of being a virtual assistant, it takes effort, hard work, and dedication to be effective and successful in this role.
What qualities define a competent VA?
Although clerical and administrative backgrounds are very helpful in becoming a virtual assistant, the range of businesses that use virtual assistants widens the need to include, among others, healthcare professionals, real estate agents, accountants, stay-at-home parents, and paralegals.
In addition to their competence, a Virtual Assistant is distinguished by the following traits:
What responsibilities may a virtual assistant perform?
The following are examples of tasks and services that a virtual assistant can do;
Social media managing/marketing
Customer follow-up and live help
Services offered by Virtual Assistants
1. Social Media
The majority of business owners acknowledge the significance of social media but lack the time to spend on content production, audience interaction, and sharing
If you appreciate managing Facebook, Twitter, Pinterest, and Instagram pages, this niche may be for you. Each week, it is necessary to study and master new social media networks.
Social media virtual assistants are in high demand; if you exhibit any of the following characteristics, you may be successful in this field:
You have experience with copywriting and marketing and understand how to build viral headlines.
You have an eye for design and can pin, tweet, and choose aesthetically appealing Instagram images.
You appreciate keeping up with the most recent fashion trends.
You may interact with a brand's target audience and keep the conversation continuing.
2. Blogging
If you've always wanted to start your blog, working as a virtual assistant for a blogger is an excellent approach to advance your profession while earning extra income on the side.
You will discover how successful bloggers run their blogs while performing administrative tasks for them. As a blogger's virtual assistant, you may be assigned the following responsibilities:
Create photos for blog articles and social media networks like Pinterest.
Remove broken links, and add affiliate links.
Email management for readers.
3. E-commerce
Managing a may be difficult, especially for small and medium-sized businesses. Every day, company owners are tasked with an infinitude of responsibilities.
A virtual assistant can be of aid in this situation. Among the things you may assist with are the following:
Orders, including order entry, shipping, and payment, are monitored.
Processing returns and exchanges
4. General Admin
General administration is not a very specialized field, but if you have previous office experience, this is the perfect place to start as a virtual assistant. It's not the most profitable, but administrative help is crucial to the majority of businesses, and it's an easy way to market yourself to entrepreneurs that need assistance.
As a general administrative VA, you can do a variety of tasks, such as:
Managing calendars and schedule
Making travel arrangements
Almost every task that a typical office assistant would undertake on-site, excluding coffee service!
5. Content Production
If you like making, curating, and editing films or stunning images, you may start a virtual assistant (VA) company as a content creator. Creating content is a time-consuming endeavor.
Due to a shortage of available resources, most firms would prefer to outsource these tasks. You might offer support with:
Investigate content concept
Take photographs of items
6. Finance
If you have experience in finance and bookkeeping, this might be a lucrative niche to pursue as a virtual assistant.
You might provide services such as:
Tips On How To Become Virtual Assistant With No Experience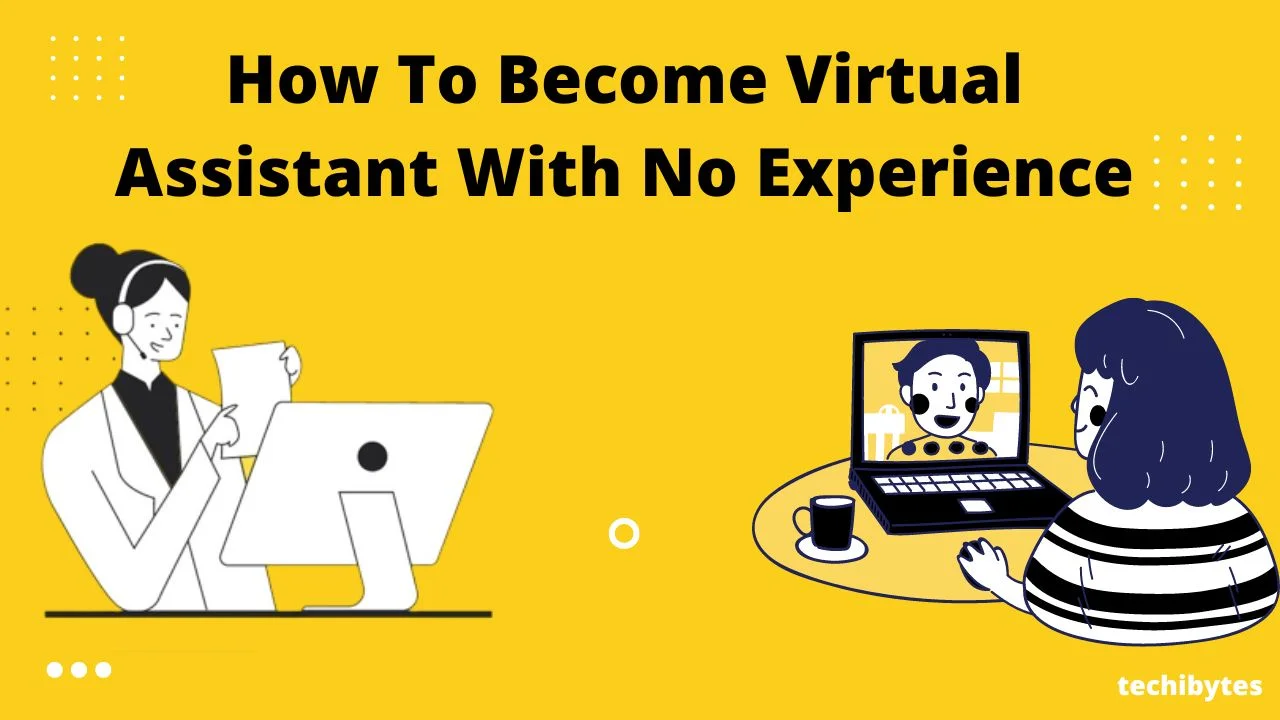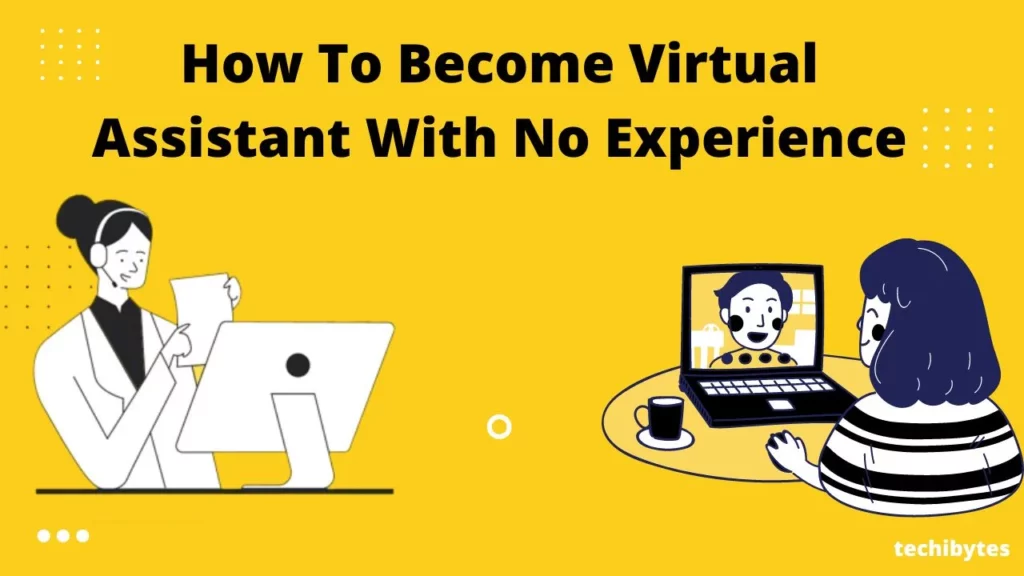 There are just a few steps necessary to get started and get your first client as a virtual assistant, even though it may appear to be a substantial undertaking. You will need the expertise in the required duties and their performance.
Then, develop your business information and start looking for jobs. Numerous freelancers realize that it is not as challenging as they had previously assumed.
1. Register for training classes
You must prepare for managing your online company and working as a virtual assistant. The most efficient starting point is to look online for VA-specific training. You now have access to a selection of free and paid courses and skill-building materials. When you find candidates you like, contact reviews or other VAs for recommendations.
Consider joining LinkedIn or other networking groups to learn about the courses virtual administrative assistants have attended. Learning from experts is a fantastic way to gain the necessary skills and know what will be expected of you in your first position.
2. Identify jobs you like and are capable of performing
After attending a few classes and reading several articles similar to this one, it's time to choose which VA professions you prefer and succeed at. This is a great beginning point for defining the services you offer to clients.
Create a list of your tasks and identify their connections. You should also identify the things that you cannot achieve. It will aid you in avoiding ventures with a low probability of success.
When you are first beginning your career, you will be working on many projects concurrently. This includes work for your firm and the Internet in addition to client work. Beginning with one's strengths will improve one's performance.
3. Determine prices to be charged
Costs and pricing for virtual administrative assistants and VAs can vary significantly. Your earnings will vary based on the tasks you do and the number of clients you serve. The best place to start is by studying the salaries of competitors.
Visit web pages displaying the top freelancing virtual assistants or exhibiting VA jobs to acquire online clients and compare rates. If you price your services competitively, customers will be willing to give you a chance, and you'll be able to keep your business afloat if you don't ask for too little.
Keep in mind that your prices should be sufficient to cover your business's expenses, overhead, and other required fees, such as healthcare. You will not receive paid time off or benefits as a freelancer unless you make enough money to cover these costs yourself.
4. Develop an online presence
After determining your preferences and pricing, you must share this information with the world. Creating an online portfolio or CV that displays your former successes, relevant career skills, and training course credentials is the ideal place to start. A website and social media presence may make it significantly easier for people to discover you.
There are several options for free website construction, and your social media presence should include LinkedIn and Facebook. Other sites, such as Upwork, present you with a common portfolio and make it simple for clients to assess your skills.
5. Commence seeking employment
Now you must begin your customer hunt! The first step is to explore job boards for companies in need. Some sites, such as Upwork, allow for the rapid employment of freelance virtual assistants.
Occasionally, you may discover that a company is hiring an assistant. Instead of seeking permanent work, you may email the HR department or hiring manager to offer your services as a virtual assistant.
This would allow you to work from home and have more control over your freelance day while still satisfying the client's requirements. Maintain professionalism and responsiveness at all times. People want a prompt answer to every phone call or email they make because they want you to communicate properly and quickly.
6. Educate yourself and your customers
The third stage is to exploit this full data set as an educational opportunity. You will realize as your career progresses that there are some personalities, firms, industries, company types, and positions that you enjoy more than others. This will aid you in marketing and customizing your services.
You will be prepared to perform at your highest level in scenarios that you enjoy, resulting in positive feedback when you complete your assignments. As this is your business, you will have the highest chance of success if you focus on what is most important to you.
Best Virtual Assistant Websites
The key is to hire a virtual assistant business, as opposed to an independent virtual assistant. This is because a company removes the time-consuming processes of sourcing, screening, and recruiting while searching for the best working nomads.
1. TaskVirtual
In the market for websites offering virtual assistant services, TaskVirtual has an excess of 5-star ratings and few 1-star ratings. Its 24×7 virtual assistants are recognized for boosting productivity in several industries, and its clientele includes both startups and Fortune 500 firms.
Services: Writing, administrative, social media, research, data entry, calendars, email, and IT services
Monthly rates start at $7 per hour
2. VaVa Virtual
VaVa Virtual provides the most impressive virtual assistants in the United States. A quick initial talk assesses your needs and matches you with the most competent candidates for your responsibilities. You assign the task, and your representative oversees its progress and quality.
Location: Los Angeles, CA
Among the services provided are executive assistant, research, email, travel, calendar, social media, image creation, email marketing, website design, accounting, and copywriting.
Monthly costs for standard client packages range between $1,000 and $1,500.
3. Virtalent
It will be hard to overcome Virtalent's high-quality criteria for UK virtual assistants. You will pay more, but you will obtain virtual helpers with superior skills.
General administrative, marketing, and project management services
Monthly rates start at £23 per hour (about $31.50).
4. FreeUp
This website's headquarters are located in the United States, but its virtual assistants are located and function globally. FreeUp will link you with as many virtual assistants as you need to finish the assignment, following a brief interview to evaluate your needs. The pricing schemes are highly adaptable.
Location: Orlando, Florida
Among the services provided are business operations, digital marketing, eCommerce, and web development.
The hourly rate for services begins at $5.
5. RemSource
RemSource is an ideal choice for small businesses that require live 9 to 5 support. This virtual assistant company situated in the United States offers you a primary and secondary administrative assistant who both work from a central office.
Location: Baltimore, Maryland
Services: QuickBooks, telephone, email, and scheduling
Pricing is based on an estimate and service needs.
6. LinkedIn
Even while LinkedIn is not a virtual assistant service in and of itself, it is a wonderful resource for finding a high-quality virtual assistant. Before reviewing candidates and asking for references, many company owners conduct a people or group search for the phrase "virtual assistant."
Numerous virtual assistants use LinkedIn as an online employment board. The site's best feature is its free search function.
Pricing: Negotiate directly with VAs
7. Time Etc
The United Kingdom-based Time Etc is one of the most popular virtual assistant services on our list, claiming to have saved clients over one million hours to date. Visit their website for employment vacancies to register as an employee if you are a veteran.
As services, we provide to-do lists, calendars, vacation reservations, email, research, social media, bookkeeping, data entry, marketing, and writing.
Monthly rates start at $24 per hour
8. MyTasker
MyTask offers thousands of recurrent and long-term clients quick access to team members via email, phone, and Skype. In addition, the system offers a single point of contact for managing all workflows.
Services include customer service, social media management, marketing, research, receptionists, and bookkeeping.
Monthly rates start at $8 per hour.
9. Belay
Belay, a company that employs only virtual assistants based in the United States, aims to streamline your workday. The company specializes in generating high-quality work, as seen by its recurring participation on the Inc. 5000 list, but the somewhat exorbitant fees may be prohibitive for certain small and medium-sized businesses.
Personal assistant, administrative assistance, bookkeeping, website support, social media, planning, research, travel planning, and project administration services
Rates start at $38 an hour
10. WoodBows
Woodrow is a tech-savvy VA platform that offers assistance with app development, design, and digital marketing, among other tasks. You have the flexibility to hire either foreign or local VAs, depending on your budget.
Location: United States, Great Britain, India, and the Philippines
Provided services include web design, graphic design, app development, digital marketing, customer service, data entry, and administration.
Rates start at $8 an hour
FAQ
How much does a virtual assistant earn?
It depends on the tasks, the quantity of work, and your level of proficiency. The more your skill, the higher your income will be.
Are there qualifications needed to become a virtual assistant?
Technically, no formal training or certifications are necessary to become a virtual assistant; nonetheless, the majority of clients will want administrative or secretarial expertise.
Are virtual assistants highly sought after?
Virtual assistant services are currently in high demand. Businesses are more comfortable with outsourcing, while people like working from home. For company owners, virtual services are incredibly cost-effective. You are not necessary an entrepreneur to hire an office.
How many hours each week do virtual assistants work?
The virtual assistant has solid employment, and the client has a trustworthy assistant who can attend to their needs adequately. With a minimum of 20 hours each week, your virtual assistant becomes substantially more familiar with you, allowing you to realize the time-saving benefits of hiring one sooner.
Conclusion
Now that you know what it takes to become a Virtual Assistant and what the work entails, it's time to get started! Virtual assistant employment will eventually become available to you, regardless of your professional background.
Knowing your area of expertise, networking, and actively marketing your abilities are all that is necessary to obtain employment.
If you liked this article, then please subscribe to our YouTube Channel for WordPress video tutorials. You can also find us on Twitter and Facebook