Whether the information is provided in text, audio, or video format, it is imperative to digest it quickly and make it useful in the information age. Text-to-speech software commonly referred to as voice processing is a revolutionary development created to increase accessibility to information, even for illiterate people.
Choosing from the plethora of text-to-speech software out there can be a nightmare. We have compiled a list of some of the best text-to-speech software for your benefit. Do well to read this post to the end.
Table of Contents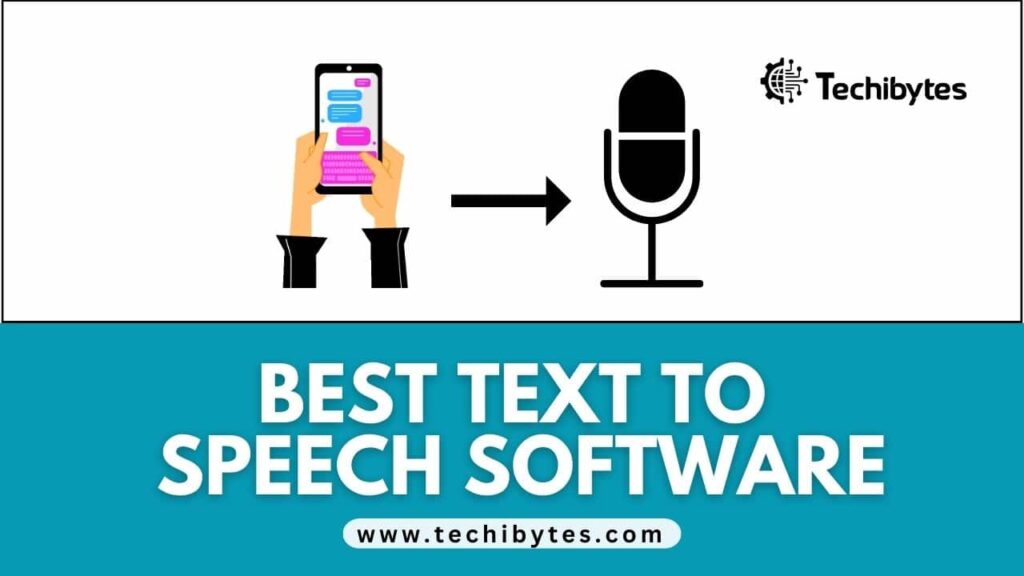 What Are Text-To-Speech Software
Text-to-speech software is an assistive technology capable of reading digital text. It is also referred to as "read-aloud" technology. With a touch or a click, text-to-speech software scans text on a digital device, such as a computer or smartphone, and then turns it into speech or audio.
It operates on a variety of digital devices and can read many text types, including PDF, Word, Doc, and Pages.
Text-to-speech software is beneficial for children, readers who have difficulty, learners of all ages who use e-learning, experts in editing and proofreading, and more.
Benefits Of Text-To-Speech Software
Both content owners and users can benefit from text-to-speech software. Here are just a few of the many advantages that text-to-speech software offers.
1. Global Reach
Human-like, distinct, and adaptable text-to-speech software voices can assist you in reaching people all over the world. To allow readers to read the article in their language, you can even incorporate translations in various languages.
2. Aid Individuals Who Have Reading Problems
A significant portion of the global population suffers from a learning disability, including a language-based learning disability. Their comprehension of the document might be improved by including text-to-speech software in your products. Those who struggle with reading and have poor vision may also benefit from it.
3. Multitasking
Listening to things provides you the freedom to carry out several physical duties at once, such as exercising, cooking, and cleaning. It provides a break for working professionals who have stacks of books on their tables but rarely have time to read them.
When engaging in other activities, they can simply put in their headphones and begin listening to the information. Thanks to text-to-speech software.
4. Enhancing User Experience
With the help of text-to-speech software, capabilities in pre-and post-sales can reduce the effort of human agents, provide individualized services, lower operating costs, and increase throughput.
5. Increased Efficiency
The HR department and e-learning specialists can create training courses for employees using text-to-speech software. This will enable the staff to multitask while learning the content anywhere and at any time.
6. Cost And Time Effective
Companies can save time and money using text-to-speech software which can be set up quickly and with little maintenance.
7. It's Good For Kids
Text-to-speech software is great for youngsters since they can listen to the audio files that contain their books and other learning materials instead of being constantly glued to desktop or mobile screens.
It will safeguard their priceless sight. Also, it will enhance their cognitive abilities and word recognition, making it simpler for them to spot and correct problems in their writing.
11 Best Text-To-Speech Software
Below is a list of some of the best text-to-speech software
1. LOVO AI
LOVO AI is one of the best DIY text-to-speech software made for voice-overs in animation, e-learning, audio advertisements, Spotify ads, audiobooks, gaming, and other applications.
LOVO uses AI to create artificial voices and serves companies looking for methods to leverage voice AI for marketing, customer service, and other objectives. With the use of LOVO's technology, users can produce unique voices that can read any screenplay and serve as a branding tool.
LOVO Studio and LOVO API are two important components that the company provides. LOVO Studio allows individuals and companies to select the voice they require from a large selection of alternatives, then create and share their human-sounding voiceover content.
The LOVO API allows developers to use their voice collection of 180+ hyper-realistic AI voices in 33 languages to turn texts into speech in real time. They can get beyond any kind of language hurdles thanks to this.
The maximum number of characters for each voiceover created on LOVO is 15000. Users can convert, listen to, and share audio recordings indefinitely with LOVO, giving them the freedom to perfect the voiceover at their own pace.
LOVO has three basic pricing plans, Free, Personal at $24.99 per month, and Freelancer at $74.99 per month.
2. Fliki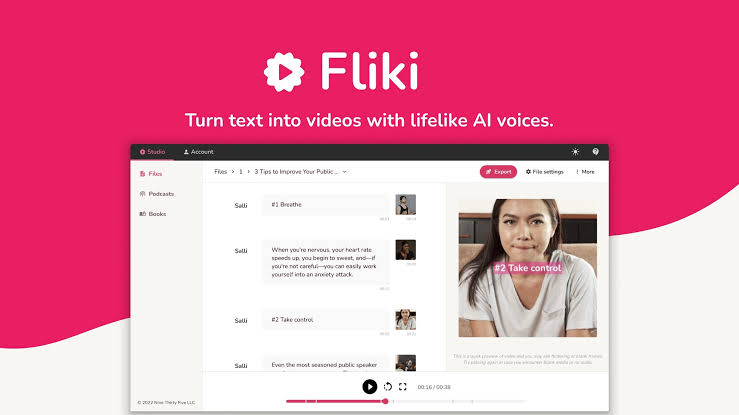 Fliki features many more benefits for its customers than "normal" text-to-speech software, including a free forever plan. More than 900 AI voices are used to make the audio sound human, and it supports more than 75 languages and 100 dialects.
Yet the text-to-video features set it apart from similar products. You may easily create a shareable video by just pasting the text or importing it via the URL.
Using Fliki, you may successfully produce podcasts, audiobooks, voiceovers, blogs, videos, and more. There isn't a credit card-free plan. You have to sign up to enjoy all benefits.
3. Murf
Murf.ai is one of the best text-to-speech software. It is a flexible AI voice generator with more than 100 realistic text-to-speech voices in more than 15 languages.
You can customize your voice with Murf Studio's many voice modification tools, like emphasis, pitch, and speed, to get the most out of the AI-powered voice technology. The voiceovers produced sound remarkably realistic and have a wide range of uses.
You can use the program to directly add narration to movies, presentations, and even background music. Murf is frequently used to produce voiceovers for eLearning narrations, L&D experts, marketers, audiobooks, YouTubers, and podcasters.
To test voices and features, Murf offers a free trial that includes 10 minutes of voice production. When you are happy with the results, you can upgrade to a paid plan to access additional features.
Murf has 3 payment plans, a Basic plan (for individual users) at $29 per month, a Pro plan (for professionals) at $39 per month, and an Enterprise plan (for teams) at $249 per month.
4. Speechelo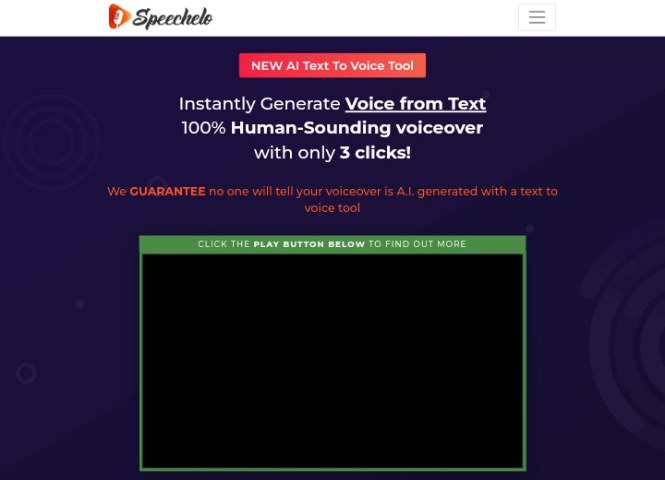 Speechelo offers authentic voice audio with all the necessary expressions. Many find voiceovers to be more engaging as a result.
Speechelo helps make instructional, sales, and other types of films. It has several features, including voice tones, breathing and pauses, altering speed and pitch, and compatibility with 23 languages.
With over 30 human-sounding voices, Speechelo's text-to-speech software can add inflection to the voice. Both male and female voices are present.
Any software used to create videos can be utilized with Speechelo. Create the voiceover, download the mp3, and then import it into the video editor to use it.
With just three clicks, you can turn any text into a voiceover that sounds human. Both English and other languages are supported.
Speechelo text-to-speech software doesn't have a monthly payment plan, rather it has a one-time payment option that costs $47 and has a 60-day money-back guarantee.
5. Listnr
To create high-quality text-to-speech outputs, Listnr uses over 600 human-like voices from Google, Amazon, and Microsoft in more than 75 languages. It is one of the best text-to-speech software.
You have access to an in-built editor that allows you to add pauses, alter pronunciations, embed an audio widget, and incorporate different speaking styles to make the content more user-friendly.
Additionally, it has an audio widget that may be included, an optional download button, exporting capabilities, and customizations to fit your website.
You test it out for 14 days without a credit card to determine whether it meets your needs.
6. Play.ht
Play.ht is one of the best web-based text-to-speech software that enables excellent text-to-speech generation. On the platform's home page, there is a text box where users may enter text, choose their preferred voice style, language, and gender, as well as choose the conversion speed.
About 60 languages are supported by the over 570 distinct AI voices that Play.ht offers, which can be used for both professional and private purposes. The text-to-speech software's notable capabilities include the ability to alter spoken pronunciations and voice inflections to fine-tune speech tone.
Play.ht offers a Podcast Hosting function that enables users to submit their brand-new podcast to all the major distribution channels, including Google Podcasts, Spotify, and iTunes. Moreover, Play.ht includes a plugin for WordPress that enables users to convert their blog entries from WordPress directly into audio files.
Play.ht comes with both free and premium versions. The free version restricts the voice styles one can choose from.
You can pay for Personal at $14.25 per month, Professional at $29.25 per month, Growth at $74.25 per month, or Business at $149.25 per month
7. Google text-to-speech
Google text-to-speech is one of the most commonly used text-to-speech software. Using an API enabled by Google's AI technology, customers of the Google text-to-speech service can turn text into speech.
The more realistic and intelligent responses, the better it helps to improve consumer interactions. Users can interact with a voice-based user interface in their applications and devices thanks to Google Cloud's text-to-speech service.
The user can also select the language and voice they desire. To create a more distinctive and realistic-sounding voice, users can train the custom voice model using recordings.
DeepMind's speech synthesis expertise is used by the Google Cloud API to deliver speech; it supports 220+ voices in 40+ languages. The platform also provides extra features like support for text, custom voice, WaveNet voices, voice tuning, and SSML.
Google text-to-speech payment plans include: Free 90 days trial with a usage limit, Standard after free quota at $4 per 1 million characters, and WaveNet after free quota at $16 per 1 million characters
8. Resemble AI
Resemble AI is a voice cloning program that uses AI to create synthetic voices from text-to-speech software in real time.
Brand voices for virtual assistants, IVR agents, and advertisement and dialogue audio may all be customized with the AI voice generation tool. Using Alexa and Google Assistant, users can design their unique brand voices.
It offers immediate dubbing in any language. The program allows call centers to replicate the voices of their agents and then customize them as needed.
Four different options for creating synthetic voices, a sizable voice actor library, language dubbing, and one-click text production for advertisements are just a few of Resemble AI's standout features.
Users of Resemble have a choice of four different ways to generate AI voice: they can record directly on their website, submit a raw file, make audio using APIs, or select from the company's "market of voice actors."
Resemble AI has two pricing plans, Basic pay-as-you-go for custom voices Built on the platform at $0.006 per second and Pro for custom data, massive scale, and custom deployment needs
9. Synthesys
If you want text-to-speech software that is user-friendly and suitable for a range of commercial uses, Synthesys should be your platform of choice. To produce podcasts, radio advertisements, tutorials, and warm greetings movies, you may pick from several male and female voices, tones, and accents.
With Synthesys, you can extract speech that sounds natural from texts. Using Synthesis, you can select from a broad variety of tones, languages, male and female voices, languages, and reading rates.
The creation of artificial speech that sounds natural and may be utilized for a variety of commercial reasons only requires three stages.
Synthesys has 3 payment plans: Audio Synthesys for $29 per month, Human Studio Synthesys for $39 per month, and Audio and Human Studio Synthesys for $59 per month.
10. Natural Reader
Natural Reader is one the free text-to-speech software that transforms any written text you provide into AI voices with realistic accents. OCR technology is built into the platform, making it incredibly simple and easy to extract text from scanned PDFs and photos.
To enhance the user experience, NaturalReader also comes with a helpful Chrome extension.
An online editor, a document-to-voice generator, a Chrome extension, human-like voices, and multi-language compatibility are a few intriguing aspects of Natural Reader.
The fact that the software is free to use and supports a range of tasks, including broadcasting, IVR, and producing narration for YouTube videos, is what sets it apart. The maximum number of characters that can be transformed in all paid subscriptions is one million.
Natural Readers provides three commercial subscription plans: A free plan, a Single plan at $49 monthly, and a Team plan at $79 monthly
11. Speechify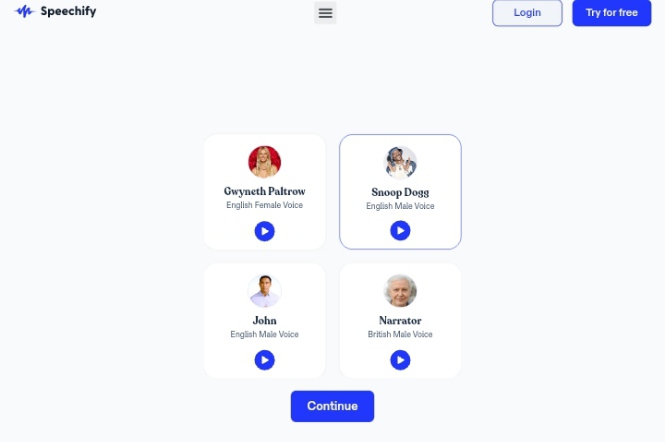 On Chrome, iOS, and Android, you can listen to anything with Speechify. You can also customize the reading speed thanks to its excellent AI voices, which can read nine times quicker than the average reader's pace.
The ability for many devices to sync makes content available on all of them, which is the nicest thing.
Also, Speechify can read whatever image you provide it with. Using messaging applications, teamwork programs, news websites, social media platforms, etc., this functions flawlessly. It is one of the best text-to-speech software.
You can test this out with a version that is free forever and upgrade only if necessary.
Things To Consider When Choosing The Best Text-To-Speech Software
To make the right choice, first, define what type of content you need to convert. Do you prefer to read an article like a podcast or do you want to generate audio narration for marketing videos or eLearning courses for children?
Then look at the features a tool offers. Here's what you might want to consider when choosing the best text-to-speech software:
1. Natural-sounding Voices
Robotic tones are most likely to fail if you need a voice-over for a product presentation, video instruction, or training materials. Choose text-to-speech software that offers top-notch AI voices that can accurately capture the distinctive features of human speech.
2. Accents and Languages
Businesses can produce content on a large scale by having the ability to translate material into a variety of languages and accents. Paying voice actors to record multilingual versions of the audio content is not necessary.
Your audience will significantly grow and your information will be available to a global audience thanks to text-to-speech software that supports multiple languages.
3. Exporting and Importing
Ask yourself whether the program can convert files, or read text from photos, or voice web pages before deciding how text can be uploaded to it.
Most text-to-speech software produces an MP3 file when exporting, which is simple to download. Nevertheless, some of them just allow you to acquire a URL to your project under their free plan, which forbids downloading.
4. Customization
You can require a different tone for various tasks, ranging from a low-pitched voice that exudes authority and confidence to a high-pitched, animated voice for children. Here is when voice customization capabilities come into play.
The fundamental functions include changing the pace, selecting between male and female voices, and inserting pauses. Sophisticated text-to-speech software provides a wide range of customization options, including the ability to add breathing, alter the style, change the emotion from angry to happy, and more.
If you liked this article, then please subscribe to our YouTube Channel for videos. You can also find us on Twitter and Facebook
Conclusion
After giving our list of the best text-to-speech software, making a choice depends on your needs. We hope you found this post very helpful. Kindly leave a comment in the comments section below.
Reference
https://geekflare.com
https://murf.ai
https://www.softwaretestinghelp.com