AI chatbots are fundamentally changing how customers interact with companies. Chatbots can be programmed with pre-written automatic responses to respond right away to client inquiries. AI-powered chatbots can automate a variety of jobs, including customer support, administrative, and operational tasks, as well as sales and marketing.
In this post, we'll be taking a look at 16 powerful AI chatbot platforms. This post will be very insightful so do well to read it to the end.
Table of Contents
WHAT IS AN AI CHATBOT
A chatbot is computer software that communicates with users via text or voice input using advanced algorithms or artificial intelligence (AI). The majority of chatbot systems include tools for creating and modifying chatbots that are suitable for certain customers.
There are many different AI chatbot platforms available to assist businesses create the right chatbots to draw in and keep clients. These AI chatbot platforms typically come with tools to assist you in creating and customizing chatbots that are appropriate for your consumer base.
16 POWERFUL AI CHATBOT PLATFORM
Below is a list of the powerful AI chatbot platforms:
1. Zoho SalesIQ
If you want to automate customer assistance through live chat, Zoho SalesIQ is an excellent option. The ability to create customized chatbots is what truly sets this software apart. You may build a chatbot that can automate common interactions with your leads and customers without writing any code.
A very basic chatbot-building interface is provided for your use. Making a flow and entering the responses and actions you want your chatbot to take while interacting with website visitors is all that is required.
Use Sales IQ's very own answer bot as another alternative. This bot makes use of Zia, a Zoho AI. The resource library can be used by the AI to respond to user inquiries.
Features
Visitor Tracking.
Smart Chatbots.
Communication Modes.
Resources.
Widgets.
Contact Management.
CRM Integration.
Price
A free forever plan
Basic Plan ($7 per operator per month)
Professional ($12.75 per operator per month)
Enterprise ($20 per operator per month)
You Might Like: 11 BEST AI TOOLS LIST
2. Tidio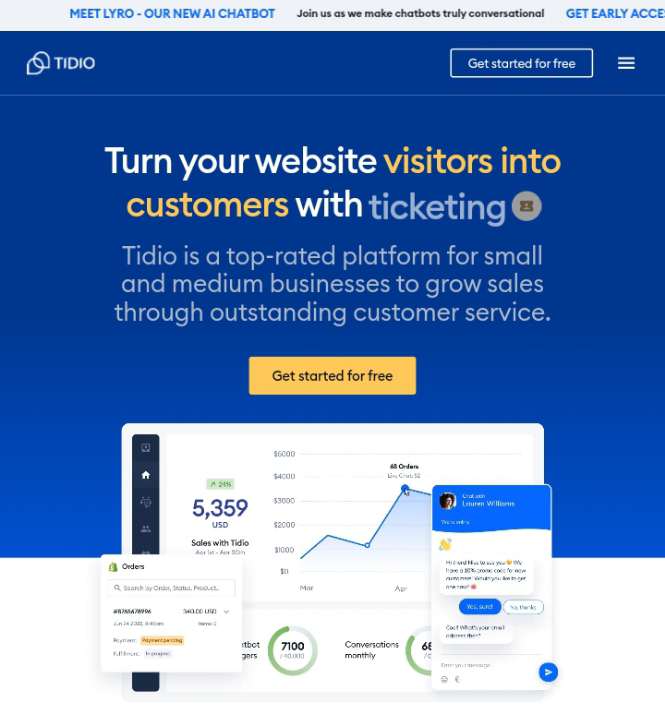 Tidio differs from its rivals by giving you a tool that enables you to build your chatbots without needing any coding experience. Making chatbots is as simple as a stroll in the park because of the abundance of themes and the user-friendly drag-and-drop builder that is provided.
To assist you improve customer service, Tidio provides a live chat solution with chatbots. To offer proactive customer care, it also offers a live view function that enables you to see who is now on your website.
To assist you with customer experience, this chatbot platform offers a conversational AI chatbot and NLP (Natural Language Processing). To observe your bot develop with each input you provide, you can also use the visual builder interface and Tidio chatbot templates when creating it.
Due to its simplicity and adaptable pricing structure, we would highly suggest this chatbot Platform to small and mid-sized organizations.
Features
Tidio is easy to install (takes less than 5 minutes)
It has a Visual builder interface.
It has 16 different triggers for Tidio bots
It has Free mobile phone live chat.
Tidio has NLP (Natural Language Processing) technology
Price
Tidio offers 3 pricing plans
Free plan
Communicator ($19 per month)
Chatbots ($49 per month)
3. ManyChat
This is one of the top chatbot platforms for your social media business account. These rule-based chatbots can be used to gather contact information, communicate with clients, or suspend automation so that the conversation is passed to an agent.
A cloud-based chatbot solution called ManyChat is available for text messaging and social media platforms. To more effectively target different client groups, you can segment your audience.
Numerous integrations are also available, including those with Google Sheets, Shopify, MailChimp, Facebook Ad Campaign, etc.
One of the best chatbot firms, featuring a drag-and-drop user interface. It can assist you in creating chatbots that are exactly what you need. For a simpler deployment, you can also use prepared templates like "Thank you for your order."
Features
Message broadcasting
Drip marketing
A/B testing
Audience segmentation and lead conversion.
Price
Free plan
Pro plan ($15 per month)
4. WotNot
WotNot is a great chatbot platform that offers a full variety of conversational marketing solutions for more than 16 sectors and assists you in creating intelligent chatbots.
With a no-code chatbot builder, you can create bots fast and effortlessly using a drag-and-drop interface, either from scratch or by swiftly customizing one of their pre-existing templates and publishing them.
WotNot combines the finest features of live chat and a chatbot to grow sales and support while allowing for human interaction when necessary. WotNot is the platform for you if you need to construct your bot quickly and launch it as soon as possible.
Features
Unlimited Bots
No-code Chatbot Builder
Analytics Dashboard
Theme the Chat Widget
Templates Repository
Price
Free
StartUp ($99 per month Billed Monthly)
Business ($499 per Month Billed Monthly)
Enterprise (Custom)
5. Aivo
One of the top AI systems, Aivo, provides multilingual bots for your company. Additionally, it enables you to customize the bots exactly how you want.
Numerous dashboards that help with data interpretation allow you to visualize information. You can use it to study consumer feedback and enhance the chatbot's future responses.
The platform for chatbots provides a seamless user experience across numerous channels. via a single platform, you can respond to inquiries via web chats, mobile apps, WhatsApp, and Facebook Messenger.
Additionally, your AI bot will automatically adapt responses across all channels to provide prompt and seamless support.
Features
All messaging channels.
Self-service Knowledge Management.
Self-Service Third Party Integrations.
Conversational AI engine.
Specialized CX Analytics and Training capabilities.
Unlimited Live Chat Users.
Price
Free 30-day trial
Starter ($99 per month)
Advanced ($449 per month)
Business & Enterprise (contact the sales team)
6. Netomi
The AI platform from Netomi enables businesses to automatically handle support tickets submitted by email, chat, text, and voice.
Compared to other customer service chatbots, it features the most accurate natural language understanding (NLU) engine. It focuses all-encompassingly on the AI customer experience and can automatically address more than 70% of customer inquiries without human assistance.
With pre-built connectors with all of the top agent desk platforms, Netomi is exceptionally simple to use. The firm collaborates with businesses offering a range of goods and services in a range of industries, such as WestJet, Brex, Zinus, Singtel, Circles Life, Warner Bros. Games, and HP.
Features
Deep learning AI with contextual goals for digital innovation.
co-pilot and automatic modes.
End-to-end deep conversational channel integration with current platforms.
All omnichannel conversations, including email.
predicted emotional feelings and proactive intelligence.
Price
Contact the sales team for pricing details.
7. MobileMonkey
For better customer support, you may link SMS messaging, Instagram, Facebook, and Webchat using this chatbot provider's omnichannel platform.
It is the greatest chatbot platform for keeping in touch with customers and generating new leads from social media for businesses. You can automate follow-ups to enhance customer service.
Existing contacts can be easily exported to this bot platform. Additionally, you may schedule messages, exchange links, run drip campaigns, and contact leads.
Campaigns are made convenient in this way, and you can send SMS messages in advance in batches.
Existing contacts can be easily exported to this bot platform. Additionally, you may schedule messages, exchange links, run drip campaigns, and contact leads. Campaigns are made convenient in this way, and you can send SMS messages in advance in batches.
Features
With the help of MobileMonkey's chat automation for SMS, Instagram, Webchat, and Messenger, you can generate leads around-the-clock.

Starting today from the streamlined platform, you can launch paid and organic campaigns on the busiest lead generation and re-engagement channels for marketing.

You may save time by connecting your efforts to ROI with the help of analytics, connectors, and a straightforward automation builder.
Price
Free plan
InstaChamp Platinum ($19 per month)
MobileMonkey Startup Edition ($119 per month)
MobileMonkey Growth Edition (Contact the sales team)
You Might Also Like: 11 Best AI Video Editors
8. Drift Chatbot
Drift initially specialized in live chat and just lately expanded into chatbots. They concentrate more on providing a chatbot that schedules meetings for sales teams.
Without the use of any forms, the bot qualifies website visitors and promotes discussions with leads. Additionally, it locates the appropriate sales representative and plans a meeting for them.
The chatbot from Drift has received a lot of praise for its excellent performance throughout the years.
You may learn more from Drift reviews about how the platform has aided organizations in streamlining their lead qualification and meeting scheduling procedures.
Features
Customizable live chat widgets
Email follow-ups for abandoned chats
Conversation histories
Email campaign automation
AI-powered chatbot.
Price
Only the live chat is included in the free plan. The first paid subscription, which includes live chat and a chatbot, costs $400 per month (billed annually).
9. Zendesk
The Zendesk chatbot, also known as Answer Bot, is one of the company's most potent customer-facing support products.
This AI-enabled chatbot uses a deep learning model to effortlessly gather all the information required to diagnose issues and route tickets to the most qualified support agent.
Answer Bot continues to learn after deployment, independently training itself to give even more tailored encounters in the future. Scalable to serve organizations of any size and with multilingual support.
Additionally, Answer Bot doesn't keep regular business hours; it is always available to help, whether your agents are swamped with tickets at the office or exhausted at home after a successful day of serving clients.
Your clients can receive immediate assistance on your WordPress website and link the Zendesk WordPress chatbot with their preferred communication channels, such as Facebook and WhatsApp, thanks to the adaptable chatbot system from Zendesk.
Features
Mobile access (Android, iPhone, & iPad)
Integrations
NLP technology
Customizations
Templates
Web widget customization
Price
Free trial: 14 days
Team ($49 per month)
Growth ($79 per month)
Professional ($99 per month)
Enterprise ($150 per month)
Enterprise Plus ($215 per month)
10. Salesforce
Salesforce will always be at the forefront of the discussion when it comes to chatbots that are powered by AI.
Salesforce offers a platform for customer service that enables you to scale support using knowledgeable AI-driven chatbots. Even in the absence of human workers, you may provide 24/7 customer service thanks to these chatbots.
You may program the chatbots to respond to frequently asked questions, and you can even build up a self-service option that enables your clients to solve their problems.
Features
Account and Contact Management
Opportunity Management
Salesforce Engage
Sales Collaboration
Sales Performance Management
Lead Management
Salesforce Mobile App
Price
A 30-day free trial
Essentials plan ($25 per user monthly)
Professional Plan ($75 per user monthly)
Enterprise Plan ($150 per user monthly)
Unlimited plan ($300 per user monthly)
11. Chatfuel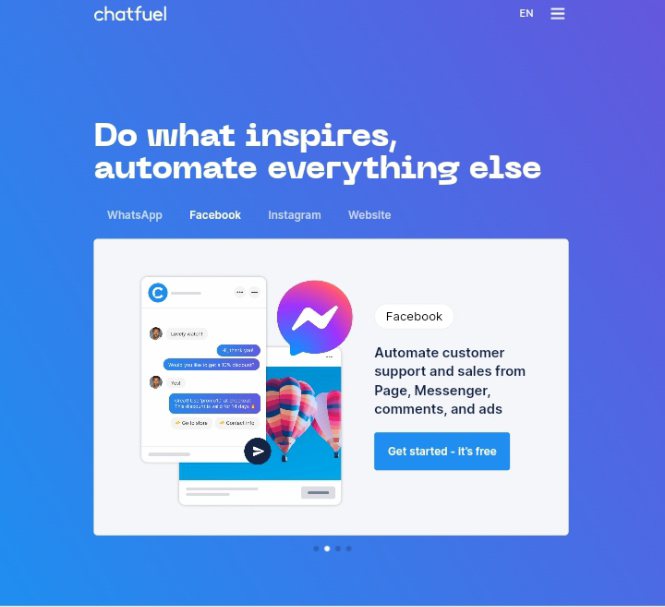 This chatbot provider is ideal for you if you require a user-friendly bot for your Facebook Messenger and Instagram customer assistance.
For constructing your chatbots, you receive a ton of documentation and step-by-step guidance. It includes an easy-to-use UI, allowing even beginners to create and use bots.
To develop your bot even more quickly, you can employ content blocks, which are pieces of material.
With Shopify, Zapier, and other third parties, this conversational chatbot platform allows easy third-party connection. So, your bot is exactly what your company needs it to be and accomplishes it.
Features
AB Testing.
AI/Machine Learning.
Activity Dashboard.
Alerts/Notifications.
Auto-Responders.
Automated Publishing.
Automated Scheduling.
Campaign Management.
Price
Free plan available
Pro ($15 per month)
Premium & Agency (contact the sales team)
12. ProProfs ChatBot
Your company may simultaneously streamline its customer service, marketing, and sales activities with the aid of ProProfs ChatBot.
With the aid of this tool, you may gather leads and engage potential customers in human-like dialogue while soliciting information and responding to frequently requested queries.
Installing and configuring this chatbot tool doesn't require any coding knowledge.
Businesses that want to streamline their inbound support requests and simultaneously fill the sales funnel with hot leads for better conversions may find ProProfs ChatBot to be the ideal solution.
Features
ProProfs Chatbot integrates well with your preferred CRM application.
Deliver immediate assistance through all means.
Respond to social media chats.
Utilize Chat SDK to provide help through apps.
integrate with top CRM platforms.
Price
Starting at $10 per user every month, you may upgrade your current ProProfs Chat plan to include the chatbot.
You Might Also Like: 20 Best AI Chrome Extensions
13. Intercom
A variety of customer assistance products are offered by Intercom. They offer personalized chatbots for use in sales, marketing, and customer care scenarios. These bots have live chat capabilities and can be linked with social media and e-commerce platforms.
Features
Ticket Creation User Experience.
Ticket Response User Experience.
Workflow.
Automated Response.
Attachments/Screencasts.
Price
Plans start at $499 per month and come with 10 seats. If you engage in a lot of chats, you must pay extra.
14. Dialogflow
Using NLP, this Google AI chatbot platform builds conversational user interfaces for websites, apps, Internet of Things (IoT) devices, and messaging services. For a better user experience, Google Assistant is also optimized.
Dialogflow is a platform that we don't advise utilizing on its own because it is fairly challenging to develop your bot on top of it.
Instead, you can create the bot with another chatbot program and then incorporate Dialogflow into it. Using Google's AI to comprehend user intent, will improve your app.
Features
Natural Language Processing
Multi-Language
AI/Machine Learning
For Developers
Live Chat
Multi-Channel Communication
Speech Recognition
Price
Free trial available
Text request ($0.007 per request)
Audio input/output ($0.06 per minute)
15. Snatchbot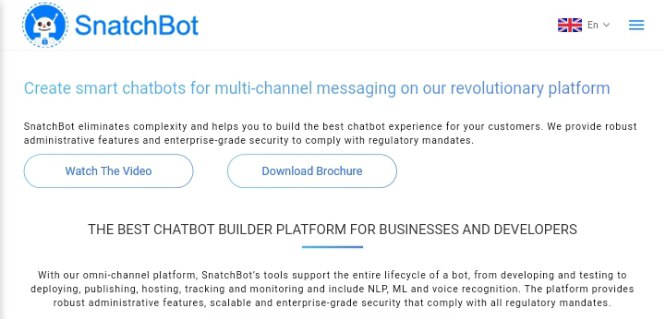 NLP (Natural Language Processing) and machine learning technologies are included in this AI chatbot platform. The discussions can be as simple, multiple-choice, or action button-based as you wish.
With Snatchbot, you can send broadcasts to customers and apply conditions in your chatbot flows. Additionally, you may embed your bot on ten other channels, including Skype, Line, Facebook Messenger, and Telegram.
You can build bots and hybrid bot/human chats with this chatbot platform. At first, it could seem a little confusing, but as you learn more, everything becomes understandable and simple to use.
Features
Natural Language Processing
Machine learning
Premium interactions
Search interaction type
Await Response/Live chat
Broadcasting
Conversation History
Logic operations
Hand-off to an agent
JSON API.
Price
Free plan
Pro plan (from $30 – $999 per month)
Enterprise (contact the sales team)
16. EBI.AI
EBI.AI has developed its own cutting-edge conversational AI platform, with free usage for requests under 100 per month.
This skilled team creates cutting-edge AI assistants that aid users with a variety of tasks, like researching recipes, scheduling appointments or tickets, and organizing travel arrangements while on the go.
AI assistants from EBI.AI produce innovative chat and voice experiences across all channels that go well beyond your typical FAQ bot. Online setup for your AI helper is available, and the platform's initial two weeks of use are cost-free so you can decide if you like it.
The nicest part is that you may explore conversational AI as deeply as you like using EBI.AI.
Features
Live chat and integration with other business systems you use daily.
They're not tied to any AI provider
Enterprise-grade security throughout.
Customizable Chatbots
Dashboard
100+ Languages
Data Analysis
Price
HOW TO CHOOSE THE BEST AI CHATBOT PLATFORM FOR YOUR BUSINESS
It can be challenging to select the top AI chatbot platform given the growing number of options available.
By thoroughly researching what each platform has to offer and the kind of bot experience you want your clients to have, you can decide which chatbot platform is best for your business. Below are some criteria to choose the best chatbot platform:
Specify the business requirements for the messaging platform for your company.
Take into account the messaging channels' user interface.
For integrations, investigate significant purposes and reporting possibilities.
How scalable are these chat development platforms?
Ensure that data interactions with the AI chatbot technology are secure.
Check out chat software, customer support options, and assistance resources.
Compare price ranges and available payment methods.
Get expert advice on AI chatbot Platforms
CONCLUSION
With the help of chatbots, you can convert prospects into paying consumers by automatically recommending products and even providing a tailored discount. Additionally, you can let customers immediately place orders in the chat box.
We hope you found our post on the 16 Powerful AI Chatbot Platform very insightful as promised. Kindly leave a comment below to let us know what you think.
If you liked this article, then please subscribe to our YouTube Channel for videos relating to this article. You can also find us on Twitter and Facebook.
REFERENCE
https://www.tidio.com
https://influencermarketinghub.com
https://www.softwaretestinghelp.com
https://www.g2.com
RECOMMENDATIONS