It is not surprising that AI is being used more and more to assist us in our work in a world where we are becoming more and more dependent on technology. AI can make our work lives more productive and efficient by helping us with tasks like email management and meeting planning.
Several AI meeting assistants may be used in physical or virtual meetings to assist with everything from preparing the meeting to taking meeting notes and minutes.
In this post, we'll take a look at some of the best AI meeting assistants that'll benefit you and your firm. This post will be very informative, so endeavor to read it to the end.
Table of Contents
WHAT ARE AI MEETING ASSISTANTS
AI meeting assistants are software solutions that help individuals run their business meetings. Meetings can be planned and scheduled using them, and they can also be used to take notes, set reminders, and follow up after meetings.
When it comes to organizing and carrying out events with numerous participants, AI meeting helpers bring another level of efficiency. By offering a consolidated platform for communications and conversations relating to meetings, these solutions can also be utilized to simplify communication between all parties.
AI meeting assistants could have a wide range of characteristics, such as the capacity to interface with current software like calendar programs, voice recognition capabilities, document-sharing platforms, and email systems. All in all, they provide useful tools for automating the management of difficult meetings.
You Might Also Like: Innovative Personal Robot Assistant For Your Home
BEST AI MEETING ASSISTANT
Below is a list of some of the best AI meeting assistants you need to try:
1. Airgram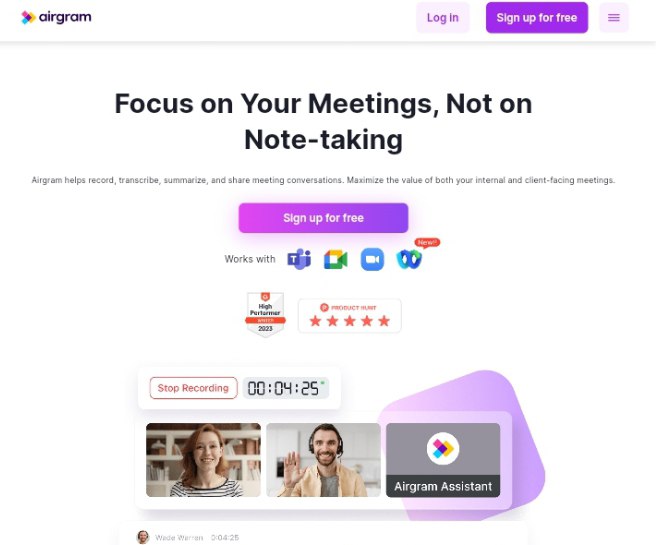 At the top of our list of the best AI meeting assistants is Airgram. It can extract mentions of individuals, places, and currencies and convert every sound into text and many other forms of data. Once you sign up for one of the paying plans, you may access them and view everything in a list.
This is especially helpful if you'd like to retain and maintain track of the information that you share in your meetings, such as analytics and insights. Although an analytics dashboard doesn't include tools that allow you to delve into the data, you can still access their meeting by meeting and go from there.
After the meeting is over, it makes sense for you to add a few of your notes. You can do this in the relevant meeting screen. Instead of the standard copy/paste procedure, you can just drag the section of the transcript you want to quote into your manual notes.
Airgram is also useful when you need to share information with others or work together on meeting transcripts. On the transcript, you and your group can make comments, underline crucial passages for later review, and add notes. You may make shared video snippets instead of only text, saving your team the time of having to go through the meeting chronology.
Airgram has a free plan available with 5 meeting recordings per month and a maximum of 30 minutes per meeting and a Plus plan that starts at $18 per user per month.
2. Otter
Next on our list of best AI meeting assistants is Otter. Teams can record and compile conversations from online meetings using Otter, a transcription and collaboration tool. It is integrated with popular video conferencing programs including Microsoft Teams, Zoom, and Google Meet. You can import and transcribe pre-recorded audio and video files using Otter.
It offers live captioning for your Zoom, Microsoft Teams, and Google Meet sessions online. It also allows you to get meeting agendas that are automatically prepared and transcripts of your meetings, and you can mark relevant passages in your transcript manually.
Otter offers two premium options, the Pro plan starting at 16 euros per month and the Business plan at 29 euros per month. A free plan with fewer features and meeting minutes is also available.
You Might Also Like: How To Become Virtual Assistant With No Experience
3. Fireflies.ai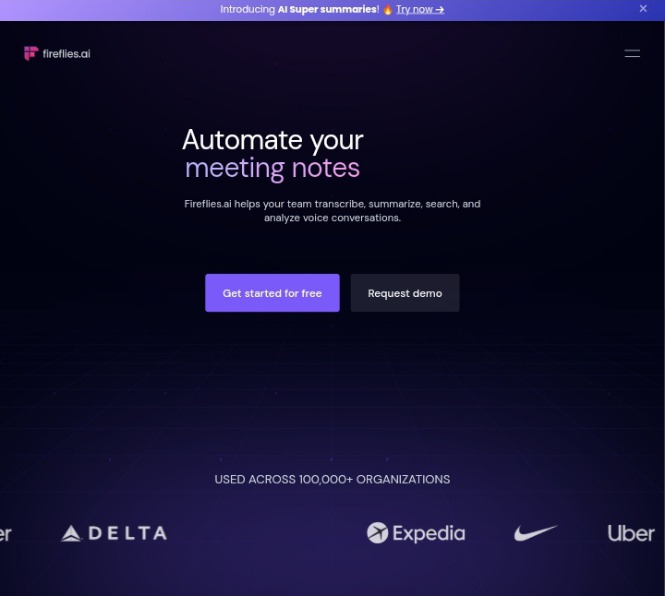 Fireflies.ai is next on our list of best AI meeting assistants. Fireflies.ai helps you schedule and maintain order in the dozens of meetings that take place each week. With the variety of AI tools available, it's simple to group meetings by topic, project, or team, surfacing the data you require at the precise moment you require it.
Once you identify who is who in the app, the software will start transcribing everything that is said throughout the meeting and assigning it to the proper speaker. It will begin working its magic on the transcription after the meeting has ended.
It separates data like dates and times, metrics stated, tasks, and queries so that you may filter them afterward. It also performs sentiment analysis to help determine the meeting's good, negative, and neutral aspects.
It provides a list of everyone who spoke, together with a word-per-minute estimate and the proportion of speakers relative to others. You can add yours to the list of topics tracked so that Fireflies can continue to work its sorting magic.
Fireflies.ai offers a wide variety of native connections with industry leaders like HubSpot or Salesforce for storing all lead data, Slack for team conversation, and Dropbox to keep your data stored for the long term when you require this information in your other apps.
Fireflies.ai costs $18 per user each month for the basic subscription, which offers 800 minutes of meeting storage.
4. Gong
Gong is the next AI meeting assistant on our list.
Gong improves businesses by utilizing consumer encounters to boost productivity, enhance decision-making, and quicken revenue growth. Utilizing a single, integrated platform, the Revenue Intelligence platform's exclusive AI technology enables teams to record each client encounter, comprehend them, and take appropriate action. Gong helps more than 4,000 businesses worldwide support their go-to-market plans and effectively increase revenue.
5. Jamie
Next on our list of best AI meeting assistants is Jamie. Jamie is a personal AI meeting assistant that makes things easier for you during meetings. It records your meeting using AI-generated meeting notes to make sure you remember all the crucial information and tasks. It delivers an executive summary, topic-based notes, and all choices and tasks mentioned during the meeting within seconds of the meeting's conclusion.
These notes are simple to amend and can be distributed throughout your team, saving you time and guaranteeing that everyone is on the same page. It offers a high degree of freedom and privacy and supports more than 15 languages. Its paid plans begin at 24 euros per month.
6. Krisp
Krisp is one of the best AI meeting assistants. Its major distinguishing feature is the clarity of its recording. Krisp differs from the other applications on this list in that it's generally used to enhance audio quality, but it also has transcription features that you can use to convert all of your meetings into text, which fits in well with our discussion here.
Installing Krisp will allow it to work its magic and add a few new audio devices to your PC. The setup is a little more difficult because you must choose it as the audio input and output in your Zoom and Meet apps. Fortunately, there is adequate help available to assist you. Due to the setup process, Krisp doesn't require bots to join your calls, resulting in a more smooth experience.
It can eliminate background noise like ringtones and chatter without making your audio sound completely bizarre. The software uses system resources to optimize your audio because it is running on your computer.
The good news is that while Krisp only consumes a small amount of processing power and RAM, it won't significantly hinder your video calls, which heavily rely on these two computing statistics.
Krisp has a free plan that includes two meeting notes every day, 60 minutes of noise-reduced meetings, and unlimited transcriptions. The Pro plans start at $12 per user per month.
You Might Also Like: Top 12 Best AI Sales Assistants
7. Sembly
Sembly is an AI assistant that turns conference discussions into searchable text and examines the meeting transcript to provide insightful analysis. You can extract particular action items or other highlights from your transcript using Sembly.
Sembly provides a free personal plan in addition to two premium options. The individual-paid plan costs about 10 euros per month, while the team-paid plan costs about 15 euros per month. Only a few functions, such as a monthly limit of two hours for audio upload, are available under their fee schedule.
8. Avoma
Avoma is a fantastic AI meeting assistant for customer-facing employees if they work in support or sales. It's fantastic to increase managers' visibility because it will enable you to make wiser decisions and guide your team to success.
The development team has invested heavily in CRM integrations, including native Salesforce, HubSpot, Copper, and Pipedrive integrations so that you can concentrate on ongoing optimization rather than never-ending administrative tasks.
Avoma's Starter plan starts at $24 per user per month while the free plan offers 1,200 minutes per month, saved for up to 3 months.
9. ClickUp
ClickUp is next on our list of the best AI meeting assistants. ClickUp can be used to summarize your meetings after automating a list of action items that you can quickly convert into Tasks. By quickly converting your meeting notes into to-do lists, you can save time, hold your team accountable, and maintain high levels of productivity.
You can complete all of your work in one location with ClickUp. You can also get access to a huge library of templates to optimize your productivity, such as the ClickUp Agenda Template.
ClickUp has a free forever plan, Unlimited at $7 per month per user, Business at $12 per month per user, and Enterprise at a custom price. ClickUp AI is available on all paid plans for $5 per Workspace member per month.
You Might Also Like: Best Unique Productive Personal Assistant Apps
10. Fathom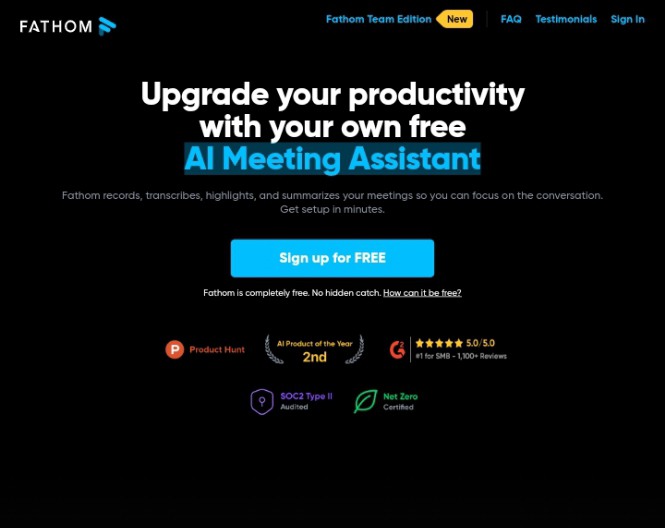 The last AI meeting assistant on our list is Fathom. It is a free AI note-taking tool that can record, transcript, and summarize conferences. The application allows you immediate access to any of your highlight clips, transcriptions, and the call recording you made following your meeting. It supports 7 languages, including English, Spanish, and French
When the meeting is finished, you can create a meeting summary and send the data to your preferred CRM or directly to the relevant Slack channel. 
You can also record brief meeting snippets, add them to playlists, and share them with others—a fantastic method to coordinate thoughts across meetings. If you don't require the advanced capabilities, Fathom is wonderful because it provides all the essential functionality for the category without charging for them.
There are many features in the free edition, but if you require more, there is of course a subscription plan. Individuals can use the free version of Fathom, and the team plan costs $19 per user each month. The position of Fathom is excellent. Take this one for a test drive if you're not sure whether an AI meeting assistant will increase your productivity.
BENEFITS OF AI MEETING ASSISTANTS
1. Enhanced Security
AI meeting assistants use cutting-edge security technologies to make sure all data is safe within the system because they are cloud-based. This adds an extra degree of defense against any malicious attacks or data breaches that might happen when holding an online meeting.
2. Increased Scalability
AI meeting assistants are easily expandable to suit the requirements of organizations that are expanding in size or scope. They offer a dependable platform that enables companies to organize bigger and more frequent meetings without putting additional load on their resources or staff.
3. Reduced Expenditures
Businesses can cut back on overhead expenditures like staff hours and travel fees by doing away with the human effort involved in traditional meetings. Businesses can save time and money with AI meeting assistants while still reaching their objectives.
4. Better Quality Control
AI meeting assistants provide automated quality control tools that help guarantee that only accurate data is saved in the system. Furthermore, the use of predictive analytics enables better decision-making based on solid data sets generated by these systems.
5. Enhanced Productivity
AI meeting assistants are made to automate and simplify the processes involved in organizing, hosting, and managing meetings. This results in a significant reduction in the amount of time spent on such unimportant chores, allowing businesses to devote more time and resources to more crucial duties.
6. Enhanced Collaboration
AI meeting assistants give workers a space to collaborate in a planned way. They facilitate the convening of meetings by making it simple for participants from many departments or places to take part. Through real-time communication and the sharing of documents or other files throughout the conference, the integrated tools also help teams communicate more effectively.
FAQs
What is a meeting assistant?
An AI meeting assistant is a computer or system that uses artificial intelligence to carry out administrative meeting-related activities, such as scheduling, agenda development, note-taking and transcribing, action item tracking, insights and analytics, and more.
What can an AI assistant do?
Deep learning algorithms used by AI assistants constantly learn from data and interactions with humans. They draft messages and responses after studying previous encounters between consumers and support personnel, and they "correct" any potential typos and grammatical errors.
Does Zoom use AI?
Your generative AI digital assistant, Zoom AI Companion, offers strong, real-time capabilities to aid users in increasing productivity and collaborating more successfully. Customers of Zoom may anticipate seeing AI Companion in a variety of Zoom features, including Meetings, Phone, Team Chat, Whiteboard, Email, and more.
What tasks can the AI meeting assistant perform?
AI meeting assistants are capable of doing a vast array of functions. They will typically be in charge of scheduling meetings, recording them, taking notes, creating summaries, emphasizing important moments, creating transcriptions, and producing insights. The precise capabilities, however, will differ per platform.
Can the AI meeting assistant offer advice on how to make meetings run more smoothly?
Yes, AI meeting assistants can make insightful recommendations to increase meeting effectiveness. Depending on the software solutions employed, they might suggest subjects, provide pertinent queries, remind speakers of their allotted time, and more. All of these elements contribute to shorter, more productive meetings.
WRAP UP
Your experience in meetings could be drastically changed by a capable AI meeting assistant. You can increase the effectiveness, interest, and convenience of your meetings by utilizing helpful features like automatic note-taking, meeting summaries, recording, scheduling, and more.
If you want a technology that streamlines procedures and offers significant advantages, we suggest you pick an AI meeting assistant from the list above. We hope this post was helpful as promised. Please share your comments with us in the comment section below.
If you liked this article, then please subscribe to our YouTube Channel for videos relating to this article. You can also find us on Twitter and Facebook.
REFERENCE
https://www.marktechpost.com
https://sourceforge.net
https://www.meetjamie.ai
https://clickup.com
RECOMMENDATIONS