Artificial intelligence is gaining popularity and is expanding quickly. Conversational chatbot ChatGPT's debut sparked such much interest that, in just two months, it attracted 100 million active users. Large amounts of money are being invested in the technology by household firms like Google and Amazon. Over $52.1 billion in venture capital has been invested in AI startups overall.
These AI startups are developing innovative solutions to issues that businesses and consumers are facing in a variety of industries. We'll be taking a look at some of the top AI startups that are doing well and should likely grow more in the next few years. Try to read this post to the end because it'll be very informative.
Table of Contents
WHAT ARE AI STARTUPS?
AI Startups are new companies that employ AI in some capacity. For example, they might use AI to power their goods or services or to aid in the processing and analysis of data.
AI startups are relatively new companies that offer goods and services in the AI industry. The Internet of Things, natural language processing, machine learning, data processing, and even virtual assistants are all covered. Since raising money for their work is no easy task, AI startups are renowned for revolutionizing the usage of artificial intelligence across a variety of industries.
You Might Also Like: Tech Startups And LLCs: Why Limited Liability Company Structure Works
BEST TOP AI STARTUPS
The following are the best top AI startups you need to look out for or probably invest in:
1. OpenAI
One of the top AI startups with the highest focus this year has been OpenAI, owner of ChatGPT. OpenAI is currently the leading AI startup because of its success with ChatGPT and its high-profile cooperation with Microsoft.
OpenAI has created other well-known technologies, such as its image-generating AI, DALL-E. Elon Musk was one of many co-founders when OpenAI was launched in 2015. Musk later left the firm to work on Tesla and SpaceX though.
Microsoft contributed $10 billion to OpenAI earlier in 2023, bolstering their strategic alliance and demonstrating their faith in ChatGPT as a product. Several Microsoft products, such as the Bing search engine and Azure cloud infrastructure services, have used its technology.
Because of the success of ChatGPT, OpenAI was valued at between $27 billion and $29 billion as of May 2023, making it the most valuable top AI startup.
2. JasperAI
JasperAI is one of the top AI startups that enables businesses to use conversational chatbots to automate customer support processes. Jasper's chatbots can comprehend and reply to consumer inquiries in real time using natural language processing (NLP) and machine learning (ML) algorithms, minimizing the need for human participation.
To give customers a seamless experience, Jasper AI's drag-and-drop interface enables organizations to quickly design and deploy chatbots across a variety of channels, including websites, social media, and messaging apps.
Jasper Al was founded in 2021 and is expected to see growth of over 5,400% within 5 years. It had received Series A funding of over $131M.
3. Observe.AI
Observe.AI is one of the top AI startups that provides natural language tools to track voice and text conversations. By integrating AI into customer conversations, enhancing agent effectiveness, and automating recurring activities that increase revenue and customer retention, its Intelligent Workforce Platform transforms contact centers.
The business said that in March 2022, ARR had increased by 150%, with customer interactions assessed by AI increasing by 3x, agent assessments using AI increasing by 426%, and agent coaching sessions increasing by 201%.
Observe.AI with its most recent Series C fundraising round in 2022 has raised $213mn in cash. The company stated when it obtained $125 million earlier this year that it would use the funds to advance its technology and enter new industries.
4. Anthropic
Anthropic is also one of the top AI startups that's worth knowing. Google is a significant investor in Anthropic, which was established in 2021 by former OpenAI researchers.
Earlier in 2023, the Alphabet subsidiary acquired a 10% stake, and Anthropic has raised money in several rounds this year. In March, it was given a $4.1 billion valuation. Zoom and Salesforce are also investors in Anthropic.
Anthropic is primarily known for its March-released generative AI chatbot, Claude. Claude is not as accessible to the public as ChatGPT is. You need to contact Anthropic, explain why you want to use it and request their permission before using it. Although it's only free for a limited time, you can also use it through other apps like Poe.com on Quora.
Reviews claim that Claude does better when given creative assignments, following directions, and answering trivia questions. Claude, according to Anthropic, is "much less likely to produce harmful outputs, easier to converse with, and more steerable" than other AI chatbots. In other words, Claude appears to be built to avoid some of the issues that ChatGPT has encountered.
5. Frame AI
Next on our list of top AI startups is Frame AI. By offering cutting-edge artificial intelligence software built around a solid solutions architecture intended to address a variety of customer difficulties, Frame is creating one of the top customer success platforms.
Teams can use Frame to develop "The Voice of the Customer engine" and turn qualitative input into quantitative data for leadership by identifying themes across customers and discovering trends for customer retention or acquisition.
It was founded in 2016 and is expected to have an 855% growth within 5 years after receiving $17.9 million in funding from Series B.
6. Landing AI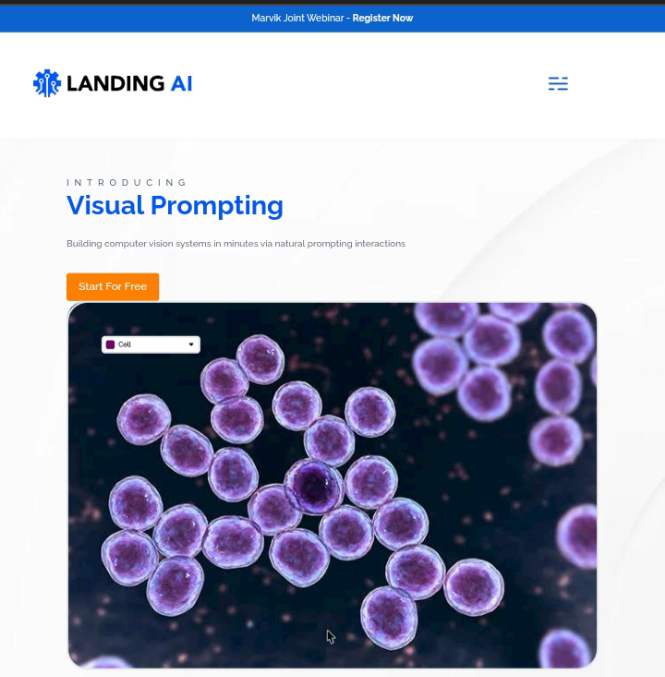 Landing AI offers enterprise-wide transformation initiatives and AI solutions that are ready for implementation. It is one of the top AI startups in the world today.
The company was established by Dr. Andrew Ng, co-founder of Coursera, former chief scientist of Baidu, and founding leader of Google Brain, and is well-positioned to assist enterprises in taking their AI initiatives from the proof-of-concept stage to full-scale production.
Using enablement tools aids clients in understanding the commercial and operational benefits of computer vision. This company's main product is LandingLens.
7. Dataiku
Dataiku is next on our list of top AI startups. Founded in 2013, it is focused on machine learning and artificial intelligence. The company describes itself as the one-stop shop for "Everyday AI" Dataiku provides a variety of AI tools, including machine learning, data preparation, and visualization tools.
Dataiku is primarily concerned with data analysis and applying AI to speed up and improve the process as opposed to the massive language models that support technologies like ChatGPT.
The company had a valuation of $3.7 billion at the end of 2022, down from $4.6 billion in 2021; this decrease demonstrates that AI start-ups haven't been exempt from the tech sector collapse. Some of Dataiku's clients are GE, Sephora, and Unilever.
You Might Also Like: 5 Great Best Industries For Startups In The World
8. Uizard
Next on our list of top AI startups is Uizard. With little to no coding or design knowledge, you can generate professional-looking designs for websites and mobile apps using this AI-powered platform.
Using machine learning techniques, Uizard's patented technology shortens the time and effort needed to produce a prototype by converting wireframes and sketches into functional code.
You also can produce flexible and adaptable designs that can be tested and shared with stakeholders. Having been founded in 2018 and receiving a Series A funding of $18.6M, Uizard is expected to see an 8,600% growth over the next 5 years.
9. Stability AI
Stability AI is also one of the top AI startups to look out for. It is an AI-driven visual art firm that's designing and implementing an open AI tool to generate graphics based on text input. Systems like Dance Diffusion and Stable Diffusion, which generate music and images using open-source software, are funded by this corporation.
A personal interest in AI and what he perceived as a lack of "organization" among the open-source AI community led Emad Mostaque to co-found Stability AI in 2020. Currently, they are using a cluster of over 4,000 Nvidia A100 GPUs operating in AWS to train AI systems.
Stability AI intends to generate revenue by building "private" models for clients and granting access to them via DreamStudio (a platform and API).
10. Spot AI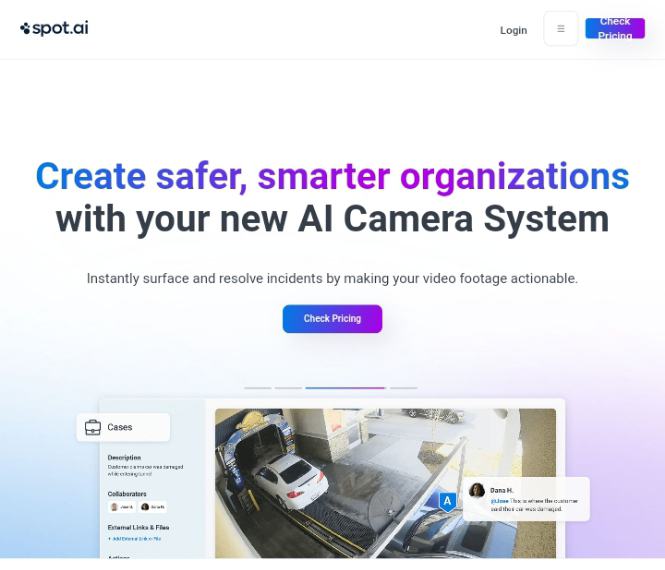 Another company on our list of top AI startups is Spot AI. Spot AI's AI camera technology transforms video footage into actionable information that businesses can use to enhance their security, safety, productivity, and customer experience.
The startup offers a service that assists companies installing cameras in making better judgments regarding security, worker safety, and process efficiency by using video intelligence.
Top engineers from Stanford, Cisco Meraki, and Samsara founded Spot AI in 2021. The Burlingame, California-based firm claimed its goal is to use the power of vision to make the physical world safer and smarter.
Spot AI completed a $40 million Series B investment round in late 2022. The business introduced a license plate recognition capability so customers could look for particular automobiles in video footage.
11. Neatsy
Neatsy is next on our list of top AI startups. Neatsy is an e-commerce fashion company that focuses on how shoes are measured and is one of the more unusual AI start-ups out there. Since processing returns is pricey and inconvenient, shoe sizing is a specific issue in online retail.
To ensure a precise shoe fit, Neatsy has created a three-dimensional foot scanner that makes use of an iPhone camera. It can determine whether you have pronated or supinated feet and whether special orthopedic shoes are required.
Neatsy is still a young startup, having just received $1.4 million since its founding in 2019, but its technology demonstrates that AI has uses far beyond the chatbots that have captured the attention of so many consumers.
12. Deep 6 AI
Deep 6 AI is next on our list of top AI startups. It is a healthcare AI company that is revolutionizing how doctors identify and treat patients. Large amounts of medical data may be analyzed by the company's AI algorithms, which can assist medical personnel in making better decisions and enhancing patient outcomes.
Deep 6 AI, founded in 2016, aims to speed up the delivery of patients' access to life-saving medications. To accurately match patients to clinical trials, its AI harvests real-time clinical data that is both structured and unstructured.
You Might Also Like: Which Startups Are Most Profitable
13. Tome
Tome is also one of the top AI startups. You can create and share interactive, multimedia documents including reports, presentations, and ebooks using this cloud-based platform. You can easily add text, photos, videos, audio, and other interactive components.
Tome is the best tool for team projects and distant work because it also has real-time collaboration and commenting functions. To further assist users in producing interesting and effective content.
Tome provides a variety of customization choices, including branding, design templates, and analytics. It is projected to have a 9,000% growth rate over the next 5 years. It was founded in 2020 and has since then received a Series B funding of about $75.3M.
14. People.ai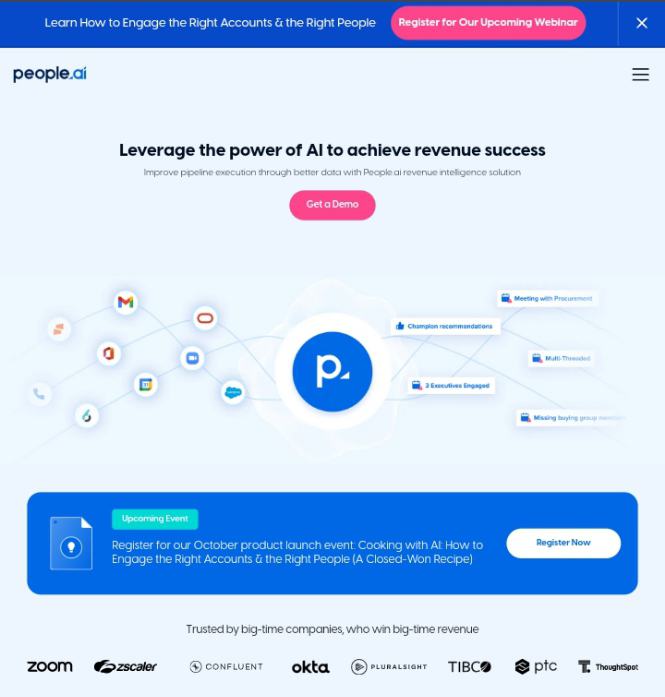 Next on our list of best AI startups is People.ai. By involving the right people in the relevant accounts, the People.ai corporate revenue intelligence platform makes sure that companies can accelerate complicated sales cycles.
Sales teams can easily understand who to connect with in each of their accounts because of People.ai's AI technology, and they can also decide exactly what to do to deliver the highest-yielding deals.
People.ai introduced AccountGPT in May, an upgrade to its account planning tool that frees up go-to-market teams from tedious activities and manual data entry to quickly and efficiently construct strategic account plans.
To automatically fill out portions of account plans, AccountGPT uses generative AI and LLMs to populate data from publically accessible sources including company websites, quarterly earnings reports, and more.
15. Synthesia
Although Synthesia is last on our list, it is one of the most popular and innovative top AI startups. Synthesia enables companies to mass produce and customize video content. The platform is perfect for several applications, from e-learning and marketing to news reporting and virtual events, as it can produce realistic and captivating movies with human-like avatars.
You can rapidly and effectively create and distribute video content using Synthesia's customization features, which include language support, voiceover option selection, and scene design. It was founded in 2017 and is projected to have a 284% growth rate over the next 5 years. Its Series C funding is worth over $156.6M.
SHOULD YOU INVEST IN AI STARTUPS?
Startups are by definition privately held, making it challenging for regular investors to make investments in them. There are various ways to learn about the top AI startups.
The simplest method is to invest in a publicly traded business that owns stock in an AI startup. For example, You might indirectly own OpenAI if you purchased shares of Microsoft or purchased Alphabet stock to gain exposure to Anthropic.
Investors should keep in mind that startups carry greater risk than publicly traded companies and that many of them will fail. However, it's worthwhile to find out if any publicly traded corporations have investments in any AI startups that appear promising. Investors seeking AI prospects may also want to think about buying AI stocks or AI ETFs.
FAQS
What are AI startups?
AI startups are early-stage companies that are developing AI technology or incorporating it into their products, and they typically raise finance from venture capital firms. These could range from robots, machine learning, and more imaginative applications to natural language processing, such as chatbots.
How can AI startups generate revenue?
While some AI startups generate revenue by selling their goods to clients, the majority of AI startups are loss-making. To finance research, create new goods, and promote them, they raise money from venture capitalists and other sources.
How do you launch an AI business?
Starting a business in the AI sector is very similar to starting a business in any other sector. You must become aware of your AI capabilities and begin to formulate ideas. Make a success road map first, and then assemble the starting team. Once your startup is established, you'll need to secure capital, build your brand, and launch it.
What will the AI sector look like in the future?
The AI industry has a very bright future. It is anticipated that an increasing number of industries will incorporate the technology into their business strategy as a result of AI's explosive growth. Everything from teaching to safety will use AI.
FINAL WORDS
Without a doubt, one of the most intriguing areas of technology is artificial intelligence, and these startups are all using AI in unique and creative ways. AI is undoubtedly close to realizing its long-promised potential, from increasing the value of real estate and building designs to enhancing the way cancer scans are carried out.
We hope you found this post very informative. Feel free to let us know your thoughts by sharing them in the comment section below.
If you liked this article, then please subscribe to our YouTube Channel for videos relating to this article. You can also find us on Twitter and Facebook.
REFERENCE
https://explodingtopics.com
https://startupsavant.com
https://www.fool.com
https://technologymagazine.com
RECOMMENDATIONS