Video sharing platforms have exploded in popularity alongside the rise in internet speed and reliability, which has led to a corresponding increase in user engagement.
In recent years, video content has surpassed other types of web media. Making and disseminating movies is a common tactic businesses use to expand their consumer base and raise their profile in their respective industries. Sharing platforms are crucial for exposing these videos to the right people.
It's not surprising that content creators and marketing professionals would be interested in video sharing platforms, given their massive popularity over the past decade. Whether you're a content creator hoping to expand your reach or a video marketer trying to increase conversions, sharing videos online is the way to go.
The best online video sharing platforms will be discussed here. They feature works by both professional content creators and amateurs. 
Table of Contents
What is a video sharing platform?
Video-sharing platforms are sites dedicated to sharing videos online, giving users the option to post or stream videos created by themselves or by businesses.
Video content is then accessible via a subject or keyword search. These sites may host content for a general public or a more limited, invite-only audience. In order to keep their services online, many video sharing platforms rely on advertising revenue. Popular video sharing platforms may distribute a portion of the earnings to the users.
Why do you need a video-sharing platform?
Content creators, enterprises, and businesses with video blogs frequently use video-sharing platforms for the following reasons.
Higher placement in search results

Google now considers how well a website works on mobile devices when deciding where to put it in search results. Because of this, Google now indexes websites based on their appearance on mobile devices instead of desktop computers. Also, video files are usually very big, which can slow down the speed at which your website loads. Because of this, many visitors can become frustrated and quit your website.

These things affect how well a website performs in search engines. When you use a service to host your video, SEO is automatically taken care of for you.

Safety & Confidentiality

The fact that you can store videos in a safe and private place is probably the most convincing reason to use a video sharing platform.

Most of the time, visitors to a site that uses a common CMS like WordPress can easily download videos that have been uploaded to the site. It won't be hard at all for the average online user to view the site's source code in order to locate the mp4 file link.

In this situation, your best bet is to use a video hosting platform, making it harder for people to steal your videos. Passwords, encryption, and firewalls are just some of the protections offered by such platforms. As a result, nobody will be able to steal or misuse your videos.

Cost-Effective

Unlike certain types of software, the price of video hosting platform services can vary widely. You have complete control over how much money you put out. To the contrary, services like YouTube and Vimeo (Basic Plan) offer video-sharing at no cost to their users. If you decide to go ahead and purchase a paid package from video-sharing platforms, it will still be cheaper than hosting the films on your own site.

Video uses a lot of resources, so standard servers need to be upgraded in order to meet those needs. Furthermore, video hosting on your own is not a simple operation. To make sure everything runs properly, you will certainly need the help of a professional at some point. These costs would be more than the average budget for a service that hosts videos.

Branding

The ability to customize the look of the video player is one of the nicest features of video sharing platforms. You can get this functionality in upgraded packages for a low price on otherwise free sites like YouTube and Vimeo.

White labelling is giving an already well-known service a new name. The default video players that come with video hosting sites can be renamed. By making these changes, you will better convey your brand's message to viewers. You can use their "white labeling" feature to add your company's colors and logo to your video landing page.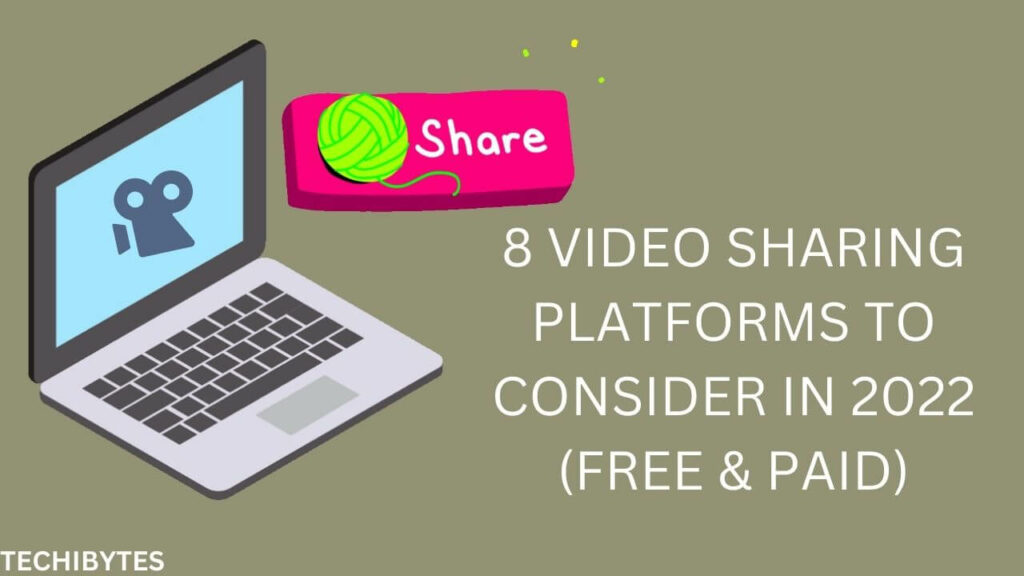 8 Best Video Sharing Platforms (Free & PAiD)
Whether you make content or stream videos, you should know about the top video sharing platforms that are talked about in this article. Below are the top 8 video-sharing platforms and mobile apps.
Youtube

When it comes to online video sharing, YouTube is by far the most popular option. The site is unrivalled, with an average of 1.9 billion monthly active visitors. From video blogs and short films to educational content and how-tos, YouTube has something for every content style and audience. Users with a certain number of subscribers and viewing hours per month are eligible to get ad money.

The number of subscribers, views, and comments may all be viewed by companies and content creators. Additionally, they have the ability to conduct demographic and data analysis. Youtube also offers monetary compensation to creators depending on the number of views they get per video.
Vimeo

Vimeo is the finest YouTube alternative. Vimeo is preferable to YouTube from the viewer's perspective because there are no ads before or during the videos.

In addition to allowing content creators to post HD videos, the Basic Free plan limits weekly uploads to 500 MB. Since the "Tip Jar" option is no longer available, Vimeo users are mostly interested in the "Video-on-Demand" business model for making money from their videos. The Vimeo Pro plan has many more features than the Vimeo Basic Free plan, which is the only drawback for video content providers.

Vimeo, which allows users to upload movies in several different formats, shares 90% of its advertising earnings with its top-tier producers. In contrast to YouTube, there is no way for users to earn money from their content. The "tip jar" button, on the other hand, shows that revenue is calculated using a VOD method.
DailyMotion

Dailymotion is one of the best video-sharing platforms. The most popular user on Dailymotion, T-Series, has about 90,000 followers, while the site claims to have over 300 million users in total.

Dailymotion's ability to use many different ways to make money is a big reason it has become a popular alternative to YouTube. The maximum file size allowed by the video-sharing platform is 2 GB, and the maximum length of a single film is 60 minutes. Because it has a simple way to make money, users can quickly make a decent income from their videos.

Each day, creators are limited to uploading 10 films totalling 2 hours or less. On the plus side, no fees are associated with uploading content to the platform.
Tiktok

TikTok is a widely used video-sharing app. This video sharing platform is well-liked by both the general public and the A-list. The nicest aspect about using it as a substitute for YouTube is that you don't need to be exceptionally brilliant to do it. Any content that can amuse, educate, or pass as lip sync will do on video-sharing platforms like this one.

Music videos, sports videos, and instructional videos are all represented. Video editors have various filters, effects, and noises at their disposal on TikTok. Users who make consistently interesting content may be offered sponsorships or paid opportunities to promote a brand.
Facebook Watch

Facebook is a social media platform with over a billion active users; its video-sharing platform has helped creators, brand pages, and users add their videos to a large library of options.

Facebook Watch's ability to allow users to watch videos in tandem with their friends sets it apart as a viable YouTube substitute. Because the feed is tailored to each individual user, viewing their favorite posts is a breeze. Creators can use the Facebook Creator Studio to manage subscriptions, publish and moderate video content, and manage who can see it.

Monetization incentives are also available to Facebook content providers. Facebook takes a 45% share and gives 55% to the content providers.
Twitch

If you're a gamer who enjoys sharing your passion with the world, Twitch is a fantastic video-sharing platform for you to broadcast your gameplay. One way to watch online gaming is through Twitch. All users can stream their games at a maximum of 3500 kbps on this network.

One of the finest places to stream your games if you're an experienced gamer and want to take advantage of Twitch's income-sharing approach. There are over 11,000 associated content providers on Twitch, but the company hasn't disclosed how much of a cut they get.

Here are some online streaming platforms you can check out

In order to become an affiliate on this video-sharing network, you must have broadcasted live for 500 minutes over the past 30 days. In addition, you'll need at least three viewers, seven distinct broadcasts, and fifty followers.
TED

TED is a nonprofit organization that releases video lectures (called "Talks") on various topics, from science to politics to business, all for free online. A wide range of people will be listening, from renowned orators to experts and the general public.

The purpose is to disseminate knowledge and inform the public. Users can apply for a TEDx license in order to share their talks on the site's video-sharing platform. Many people who watch TED Talks attribute the high level of expertise to those who make the content or represent the companies.
IGTV by Instagram

IGTV is linked to Instagram and is used by people who want to watch vertical (portrait) short-form videos. This is for people with mobile devices, and it has a lot of information that can be easily accessed with a few taps or swipes. You can access IGTV in two ways: through the IGTV app or by switching to the TV tab in the main Instagram interface.

In addition, Instagram's initial phase of IGTV monetization went live in 2020. At that point, it also started to be a viable alternative to YouTube. YouTube users and video makers can easily access analytics about how well their videos do. Additionally, there is zero expense associated with sharing IGTV videos. Using this video hosting service to spread one's brand name is also a win for enterprises. Tools like AiGrow also allow you to schedule all your Instagram posts, including videos in your feed, carousels, stories, and IGTV, and convert YouTube videos directly to IGTV without needing a download.
Conclusion
Since videos are more engaging than text or still photos, they attract more viewers. We've compiled a shortlist of the best video sharing platforms currently available. You can use them if you want to watch a never ending stream of carefully chosen videos.
It's reasonable to feel nervous about releasing brand-new video content. That's why artists aren't actively participating despite the proliferation of video-sharing platforms. The procedure may seem daunting at first, but once you get a handle on what your target demographic is looking for, a solid video-sharing platform will make your life much easier.
If you liked this article, then please subscribe to our YouTube Channel for videos. You can also find us on Twitter and Facebook.
FAQs
Where can I find a free online video hosting service?
In addition, it's totally free on your end. YouTube has over two billion subscribers, making it the most popular video-sharing website in the world. It's not only the second largest search engine but also the second-most popular social networking website.
What is the best alternative to YouTube?
Vimeo is the best alternative to Youtube. It is user-friendly and has no ads.
Is it safe to use Vimeo?
Your movies on Vimeo are safe from data breaches and cyber-attacks, thanks to Vimeo's extensive suite of security safeguards.
Which one is superior, Vimeo or YouTube?
YouTube is the superior option for most commercial enterprises. It has a huge user base, is used by many people, and is free to use. It also has better search results than Vimeo, greater business analytics, and more users. Vimeo could be the best option if you have stringent branding requirements or require in-depth assistance.
Recommended