Introduction
Writing a software engineer resume can be a bit overwhelming for an individual seeking job for the first time. Even when this is not your first time, you will realize it doesn't get any easier. Instead, you have to write an amazing resume that will grab the attention of the HR manager.
Many people wonder why they don't get called back after applying for a job with their resume and often think it's because they lack the skills required for the job position. But this is not true because even when you lack a few skills needed for the job, your software engineer resume can help showcase your potential and other attributes that can help get the job.
The software engineer job is a career that has room for growth. Unlike some other careers, where you might find it difficult to make it to the top. With your skills, experiences, and potential, you will find yourself creating jobs for others.
The tech industry needs software engineers, and what makes your application unique from others is your software engineer resume. Regardless of your quantification, there will always be a candidate who has a better chance due to what they included in their resume. 
However, to get your dream job as a software engineer, you must write an amazing software engineer resume. And in this article, we will guide you on how to write an amazing software engineer resume, the keywords, what to include, and more.
Related: Computer Engineering Degree Programs
What Is a Resume?
To write a resume, you need to understand what it is all about.
A resume (also known as a CV) is a well-structured formal document that job seekers use as a means of applying for a job. This document will entail the qualifications, skills, work experiences, accomplishments, and abilities that can be sent to the HR manager or recruiter. 
To get a job in any industry, you must have an outstanding resume that will portray your interest in the position you are applying for. In most cases, a resume and a cover letter will be required.
Read: Benefits Of Crypto Day Trading
How To Write An Amazing Software Engineer Resume (Ultimate Guide)
A good software engineer resume should have an objective/summary, header, skills, experience, education, accomplishments, and others.
A software engineer resume is a document, especially for software engineer jobs. Software engineers can be called software developers: software designers: software programmers: and others.
A resume should be brief but well-detailed. If you are applying for any job with a resume, ensure that your resume does not exceed two pages. Many resume templates can document your details on a single page. The smaller, the better.
Here is a list of sections your software engineer resume should have:
1. Header Section:
Generally, your header should include personal details like:
Name
The header in your resume should include your names. Writing your first, middle, and last name is crucial for any resume. 

This is a means of identification for you. You can choose to have your middle name in the initial instead of keeping it complete.

Job title
You should include the title of the job you currently or previously have.  This may help your chances with the new job you are seeking for.

Phone

Phone number is an important aspect of a resume. You should provide your active calling number on your resume. If eventually you get called for an interview, your number can be used to contact you quickly. Also, always add the code of your country to your phone number.

Email Address

Your email address is essential for your software engineer resume. Use an active email address. Also, ensure that your names are on your email address. 

Address 

Including your physical address will most likely make the hiring manager see you as a person that can be trusted. However, if your destination is too far from the location of the company you are applying for, you shouldn't include your address. 

Website/professional media

As a software engineer, you ought to own a website that will help showcase your skills and talents. You should also include your LinkedIn profile and other professional accounts.
Note
Avoid adding your sensitive details such as date of birth, religion, password to any of your accounts, social security number, and other personal information
Related: Best Ai Art Generator To Use
2. Introductions:
Your introduction can be a resume summary or resume objective.
Resume Summary

A resume summary will help highlight skills and abilities in your previous job position. Summarize how your past experience as a software engineer will be beneficiary to the job you are currently applying for; Use a resume summary if you have worked as a software engineer before. 

Resume Objective

A resume objective is a short introduction to your accomplishments. A resume objective can be used in a scenario where it is your first job or when you have no experience in the field. This is usually directly under the header.
3. Work Experience section:
This section is crucial for an experienced software engineer resume. In this section, you have to include all of your previous jobs that are related to the job you are applying for.
For all of your employers, set the dates like this (MM/YY started – MM/YY ended). Then include the job title and the name of the company that employed you.
But what can you do when you have no previous work experience; you should add your previous successful projects or accomplishments that are relevant in this section.
Also, do not shy away from adding your volunteering jobs. Regardless of the job title, you should add some of your volunteer jobs in this section.
4. Education/qualifications section:
The education and qualification section is important in any resume. As it will increase your chances of getting the job. Regardless of the school or certificate, you have to list them properly.
Although not all software engineering jobs require a degree in the field; this will be an added advantage for individuals who did not go to universities/colleges. If you learned software engineering through coding Bootcamp or online courses, you have to make it known in the education/qualification section.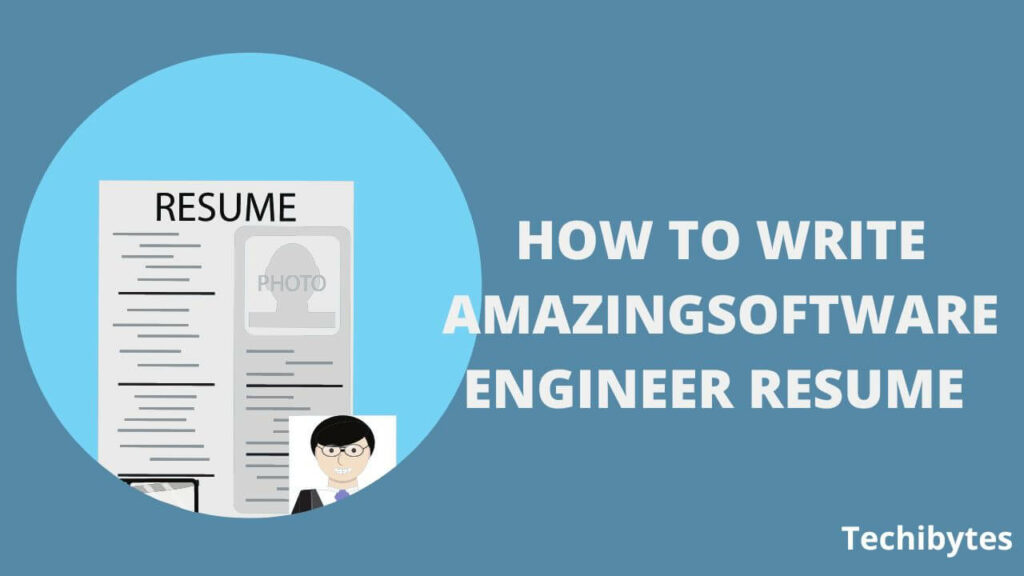 First, you must add your degree and the name of your major(course). If you are a graduate, you will have to include the name of the degree as B.S, BS, OR Bachelor's degree. Followed by the name of the school and its location.
Also, include the starting and the ending date on your certificate. You should show off the academic awards you receive from the school. Adding your GPA can boost your chances of getting a job. However, do not add GPA, if your GPA is low. Here are some IT Certificates in Canada.
Nonetheless, in the education section, include past software engineering projects (if any); or any other relevant details relating to the job you are seeking for.
Recommended: Importance Of Social Media Listening
5. Skills Section:
Your skills matter greatly when applying for a job. A software engineer resume requires a proper listing of skills that are relevant to the job. This section is not requesting all of your skills. Instead, you have to provide the skills the employer wants.
While skills and abilities can help secure a position, it is crucial that you read through the description of the job. Doing this will most likely assist you in understanding what the job is all about, and what the hiring manager wants from applicants.
Do not be in haste to list your skills without understanding the job.
6. Certifications & Awards section:
One of the sections that will give you an edge over other applicants is the certificate and award section. This section will mostly prove that all you have listed as skills are things you can do effortlessly. However, listing them wrongly will not help with securing the job.
To list out certifications and awards, you must write the full name of the certificates and awards. If there are abbreviations, write them in a round bracket.
7. Languages:
In this section, you should include the languages you can speak and write fluently. Adding the languages you are fluent in is essential. Some countries with the best software engineer jobs do not speak English as their first language. And that is why you have to understand the requirement. Especially if you are applying for a role in another country,
You may also like: Biggest Fintech Companies In America
Top relevant Keywords for software engineer resume
What is a software engineer resume without keyword listing? You might be wondering why none of your applications are getting a response.
This could be because you have been writing your resume in the wrong formats or because you are not adding relevant keywords to your resume.
First, you need to understand that most tech companies use Applicant Tracking Systems (ATS) to scan through resumes for keywords needed for the job.
It is true that most times, we oft get excited when we see a new job listed, but As an applicant, you must read the job description properly before applying.
Here is a list of top relevant Keywords for a software engineer resume:
1. Agile software development:
Using this keyword on your software engineer resume signifies that you have 12 core abilities to work on agile software development, such as scrum, kanban, metrics, etc. This set of practices is essential for testing, planning, and creating new software applications.
2. APIs:
Including APIs on your software engineer resume will give you an edge in the competitive market. Most tech jobs sort out for individuals who can use APIs to create, control, and design new apps. You should utilize this keyword if you have basic or advanced knowledge of APIs.
3. Back-End Data Display:
If you are a back-end developer, you should include this skill in your software engineer resume. This keyword will also give you a boost in getting the job. You need a basic or advanced understanding of back-end data display before you can add this keyword to your resume.
4. Code optimization
Code optimization is a valuable keyword that points out your understating of coding. Most top tech companies seek individuals with basic knowledge of coding. However, code optimization gives software engineers access to create and designs applications without utilizing large data to run them.
5. Distributed computing:
Using this keyword for your software engineer resume means you have basic and advanced knowledge of how to provide solutions to software issues. Hiring managers often seek individuals who can solve software issues by troubleshooting and programming various computers to work on the problems facing the software.
Read also: How to pay with cash app in shore without card
6. Information retrieval:
Most hr managers look out for applicants with information retrieval knowledge. Using this keyword indicates that you can easily retrieve lost information in a database. As a software engineer with this skill set, you can access files and documents from another computer or your computer easily.
7. JIRA:
Using JIRA as a keyword on your resume will most likely get you the job. This is a software tool that can be used to find problems or bugs in the development of software. This technical skill is oft-needed in tech companies.
8. Coding languages:
Using the coding languages you understand will give you an edge in securing the job. Software engineers should have basic or advanced knowledge of coding languages. Properly list the coding languages you understand from Advanced, Intermediate to Basic. Popular coding languages include SQL, Ruby, PHP, Python, JavaScript, HTML, CSS, C++ , etc.
9. Oracle:
Using oracle as a Keyword on your software engineer resume will give you an opportunity of getting hired.
This is a database management application that is specifically for storing data. Having basic or advanced knowledge of how it works and how to use it will help you in the long run of getting a job.
Conclusion
Writing a good software engineer resume will not only give you an edge in the competitive job hunt, but it will also get you the best job. Your resume is one of the means that will advertise you to hiring managers. And that is why writing your resume in the right format and including keywords relevant to the job is important. We hope this overview serves as a guide on how to write a software engineer resume.
Frequently asked questions
Should I include my age in a resume?
Age is a personal detail. It is not required for a resume. However, some hr managers can request your age.
Is it easier to get a software engineer job with a resume only?
Yes! It is easier to get a software engineer job with a resume alone.
How long should my resume be for a software engineer job?
A standard resume should be on a single page. Although, the two-page resume is also accepted.
What other keywords should I include in my software engineer resume?
Current Web Trends; Database Administration; Debugging; DevOps Practices; Dynamic Web Page Design; Framework Templates; Front-End Systems; Front-End Web Technologies; Hosting Environment; LAMP Development; Object-Oriented Design; Responsive Design; Server-Side Scripting
Version; Control Systems; Writing Modules.
How many keywords should be on a resume?
Four to ten keywords. While keywords are crucial for resumes, you shouldn't go overboard with them.
What is the ideal font size for my software engineer resume?
The ideal font size is 11 to 12. Do not make the font size too big or too small.
References
Freecodecamp.org
Zdnet.com
Indeed.com
If you liked this article, then please subscribe to our YouTube Channel for WordPress video tutorials. You can also find us on Twitter and Facebook
Recommendations
Importance Of Social Media Listening
Biggest Fintech Companies In America
How to get a google voice number
Steps on how to delete cash app account