Most modern day businesses have been able to grow because they understand the importance of social media listening for their brands. Social media listening means monitoring conversations and activities on social media related to your business, industry, or niche, as well as your competitors. Of course, doing so takes effort and money, but the benefits are well worth it.
It's essential to include social media listening in your ongoing marketing efforts as it helps you identify what's working and what's not working for your competition, stay on top of the latest industry news, and monitor your customer conversations to identify and respond to complaints and inform future product development. Not to mention, it's a great way to stay engaged with your target audience. Here's why social media listening matters to your business in 2023 and beyond. 
Table of Contents
See How Your Business Performs

You can start by seeing how your business performs on the internet. You can see the actual data of people interacting with your business rather than making assumptions. For example, you can track likes, view comments, and see your followers.
You can also go deeper by looking into subjects related to your business to understand what people expect from your niche. You could even use social media to add social share buttons to your website and track how often people click on them.
Social media listening makes it easier to understand how your customers feel. You can gear your brand and products to make them happy as you identify their needs. Make sure you look into social media listening on all the major platforms.
Keep an Eye on Your Customers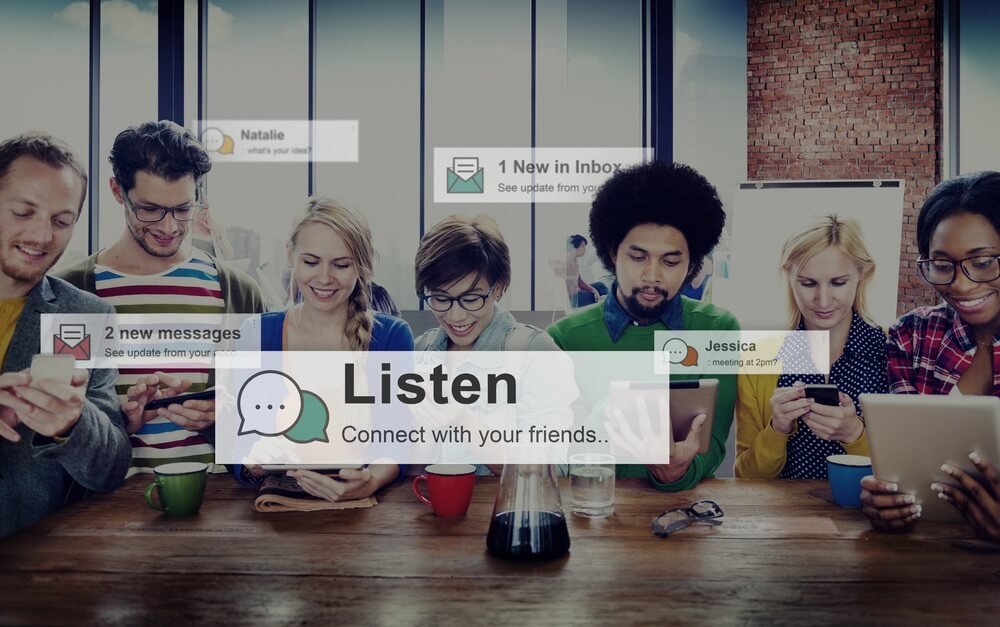 Social media listening also enables you to check on your customers. Keeping an eye on your customers will help you understand what appeals to them through their interactions and comments on social media.
For example, you may notice people like your business, but they end up disliking it after a while. That indicates a recent decision may have upset them, so they lost interest in your brand. You can quickly review your social media pages and see what comments people leave.
You can take it further by offering surveys to your social media followers. Doing so will make determining exactly how they feel easier for you since you can get direct answers to your biggest questions.
Improve Your Marketing Efforts

You can also use social media listening to improve your marketing efforts. Doing so involves looking at what your customers talk about and identifying ways you can improve your digital presence.
If you can't find a starting place to improve your marketing efforts, you can try some of these ideas. While you can utilize other points and ideas, these ones work well as a starting point for your business.
Interact with your customers
Update your social media pages
Show off your brand
Social media listening makes it easier to develop ideas and see how they go. You can see how people react and what they say about different posts and updates you make so that you can respond accordingly and make data-driven decisions for your business.
You can discuss the details with your marketing team to identify the best approach for your marketing efforts.
Offer Customer Service
Getting involved with social media and listening to your customers will help you with customer service. Not only can you find out what you should offer your customers, but you can directly offer them customer service through social media.
For example, some people may send you messages on social media, so you can respond to those messages and provide customer service. You have plenty of avenues and options for online interactions, so see how it can help you meet your customers' needs.
Doing so matters since consumers increasingly rely on social media for information. You can also hop onto social media and review the messages to get a feel for common questions and concerns. It'll provide a consistent history of your brand's customer interactions.
Check on Your Competition
Social media listening shouldn't only involve your customers but also your competition. You can look at what your competitors post to get an idea of what they do to appeal to their customers.
While you shouldn't copy competitors, getting a sense of their strategies doesn't hurt. Doing so will keep you informed, so you can know how to utilize your social media marketing properly. You can even search keywords to find similar brands that target a similar audience.
Such an approach will provide you with crucial information to improve your business. You can check on your competition regularly to see what you can change or improve about your own business.
Conclusion
Social media listening makes it easier to understand your customers and figure out what you should do. Even though it seems like it doesn't matter, you can figure out exactly how your customers feel through social media. Armed with a better understanding of what your target audience wants and needs and the types of content they engage with most will help you create data-driven marketing campaigns that produce results.
Make sure you apply social media listening to your brand to help you grow and improve as a business.
If you liked this article, then please subscribe to our YouTube Channel for videos. You can also find us on Twitter and Facebook.