Cash App is quickly approaching the popularity of Venmo as a method for transferring money to friends and family. However, the app has recently been in the news for all the wrong reasons, as customers are declining so also does the question of how to delete Cash app account, becomes frequent.
Even though the security breach, which is said to affect 8.2 million users in the United States, did not compromise information such as usernames, passwords, bank account information, or account access codes, you might still be thinking about completely deleting the app and switching to a different money transfer app.
But there are a few things you need to take care of first before you can forward with removing the Cash App from your phone. Continue reading, and we will walk you through the steps necessary how to delete Cash App account most effectively.
What exactly is the Cash App?
The Cash App is a money transfer service that is focused on mobile apps. You can send and receive monetary transactions expediently and directly, much as you could with PayPal or Venmo. But in addition to that, Cash App possesses a few additional useful capabilities.
In addition to facilitating money transfers, Cash App will also provide you with a bank account and a debit card that can be used at any automated teller machine (ATM). Through the use of the program, you are also able to trade stocks and Bitcoin. While you won't have to pay anything to use some of these services, some will cost you.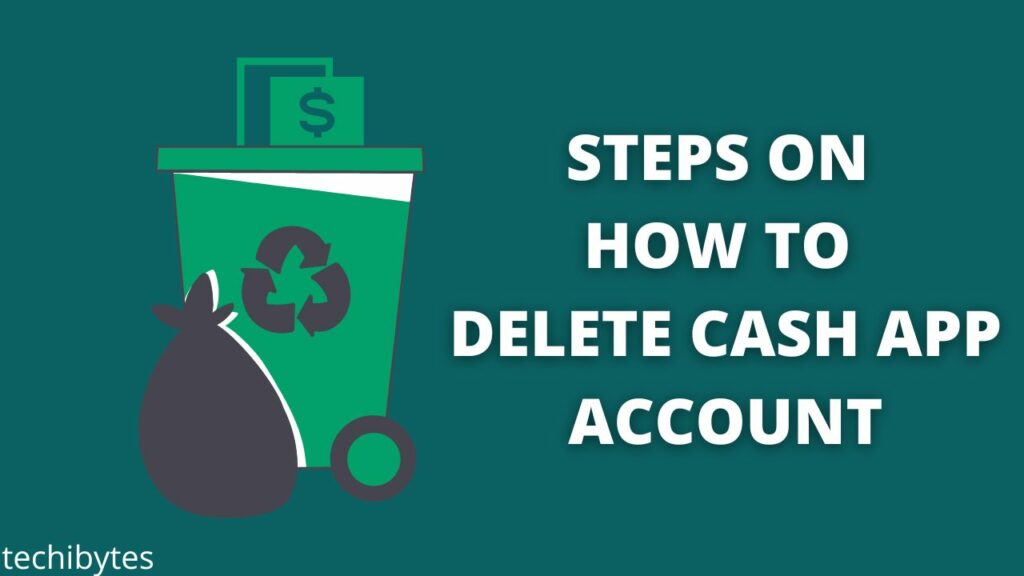 The Step-by-Step Guide on how to delete Cash App Account
Choose the "profile" icon that appears on the screen. After selecting the "support" link from the list of available alternatives that appears next.
When you click on the "support" link, you will be presented with a list of common assistance options. You will discover an option that says "something else" at the very bottom of the page.
You will be presented with a variety of additional account settings when you hit that button, and within that list, there is an item that you may select that is labeled "account settings." You'll be sent to the page where you may configure your account when you click that.
You can then remove your Cash App account by going to the account settings page, clicking the "close account" button, and then selecting the "close my Cash App account" option from the drop-down menu that appears.
After you have done so, you will be sent to a new page that provides an in-depth explanation of exactly what it means to terminate your account. Read it, and make sure that you comprehend all that's written there. Once you are ready, hit the button that says "confirm canceling account" at the bottom of the page.
After you have completed these steps, your $cashtag will be rendered invalid, and your account will be canceled. If at any point in the future someone decides to transfer money to that username, they will be met with an error message.
An Alternative Choice in place of deleting your account
Do not remove the application
It is difficult to resist the urge to just drag and drop the application into the trash. However, that will not resolve the situation with your account. This just indicates that you have deleted an application from your phone.
Your account is still operational, and we will keep a record of all of your financial information in its entirety. This implies that even if you deactivate your account because you are concerned about its safety, those anxieties will not disappear.
Here is how to pay with Cash app in store without card
Make a transfer of funds.
Transfer any remaining funds from your account to the financial institution that is already associated with your account if there are any funds left over. You are going to want to make sure that all of your Cash App funds have been moved into your regular bank account before you go ahead and cancel your Cash App account.
The following are the steps you need to take to transfer the cashback to your bank account:
You will be brought to the general home page of Cash App whenever you log in to your Cash App account. From this page, you will be able to give or request money from other people.
Find the symbol for your house at the very bottom of the screen. If you do so, you will be sent to the main page of the Cash App where you will see a button labeled "cash-out."
As soon as you push that button, the entirety of your cash will be immediately sent to the bank account you have linked.
Uninstalling the App From Your Device
You can choose to uninstall the cash app from your mobile device, below are steps on how to go about it;
You can remove the application from your iPhone or the Apple App Store if you have an iPhone.
On an iPhone 12, you only need to press and hold the app in question, and after that, select 'Remove App' from the accompanying menu.
On Android, there are several different choices available to remove the application. To uninstall an application quickly and easily, simply give it a long press and then select Uninstall from the context menu.
At this time, the Cash App balance on your phone has been depleted, your account has been canceled, and the app has been removed from your phone. If you change your mind about using Cash App Software in the future, you will have to create a new account and reinstall the app on your device.
FAQ
Why am I unable to cancel my Cash App membership?
Even if you deactivate the Cash App mobile app, your Cash App account will not be deleted. Before you can remove the account, you will need to use the app. However, before you can proceed with this, you will need to be certain that you have moved all of the money out of your account.
On the Cash App, Is It Possible to Delete Your Payment History?
Unfortunately, the Cash app does not allow you to remove your payment history on your own. If they are not logged in to your account, no one can view your payment history.
Is it possible to erase your Cash App account and start again with a fresh one?
If, after deleting your previous Cash App, you decide that you would want to make a new Cash App, you will have the ability to do so at any time. Even your e-mail address, your phone number, and the bank account that you use might be the same. However, if you create a new account, your old account's payment history will not be transferred over to the new account.
If I decide to cancel my Cash App account, what would happen?
If you cancel your Cash App account, you will no longer be able to send or receive money through the Cash App account from friends or family members. Additionally, the cash card stops operating, which prevents you from making any withdrawals from your account. Your payment and banking information, however, will be stored in the cash register's database.
Is it safe to use Cash App?
Your private details and financial means are safeguarded by Cash App, which makes use of cutting-edge fraud detection and encryption technology. Any information you provide is encrypted before it reaches the servers, regardless of whether you're on a public or private Wi-Fi network or using a data plan.
Conclusion
The Cash Program is a contact money transfer app that enables users to send and receive monetary payments from other individuals. Even though the application is a helpful tool for sending and receiving money in a short amount of time, deleting your account will require you to complete several processes before you can do so. When you are finished, you will be able to delete the program from your phone with ease.
17 Unique Best social media platforms for business
If you liked this article, then please subscribe to our YouTube Channel for videos. You can also find us on Twitter and Facebook