What are the best industries for startups in the world to build products around has been one of the questions of most entrepreneurs. Startups are now a dime a dozen, and every random techie wants to create theirs. While that's not a concern, there's something genuinely concerning: around 9 out of 10 startups fail, with 2 out of 10 failing in the first year.
:: Find out the reasons why startups fail
While there are many possible reasons why a tech startup might eventually fold up, two seem to stand out: marketing problems and lack of product-market fit. Of the two, the latter is by far the most common reason why most startups fail, causing a total of 34% of all startup failures.
Diving into that further, the main reason for the issue is starting a company in the wrong industry. If there's no audience for what you're offering, you'll lack a product-market fit, putting your firm at risk of folding up in no time.
To increase your chances of success, you may want to perform some research before settling for a specific industry for your startup. Startups fail in all industries, but your chances are much better in some than in others. With that said, here are some of the top best industries for startups worldwide.
What is the Best Industry in 2022?
There is no best industry for creating a startup since we've seen companies grow massively in almost all industries this year. The success (or lack thereof) that a company record is almost certainly not because in the wrong industry; tons of other factors could cause failures.
That isn't to suggest that some industries didn't experience a disproportionate level of growth in 2022. If I were to pick a winner, it would be fintech since the financial technology sector has been all the rage for the past couple of months now.
While it may not be the best industry for the average entrepreneur, that's the hottest thing on the market. If you want the best industries for new startups, head over to the following section to see the great top best industries for startups in the world. Read more on some growth hacks for startups.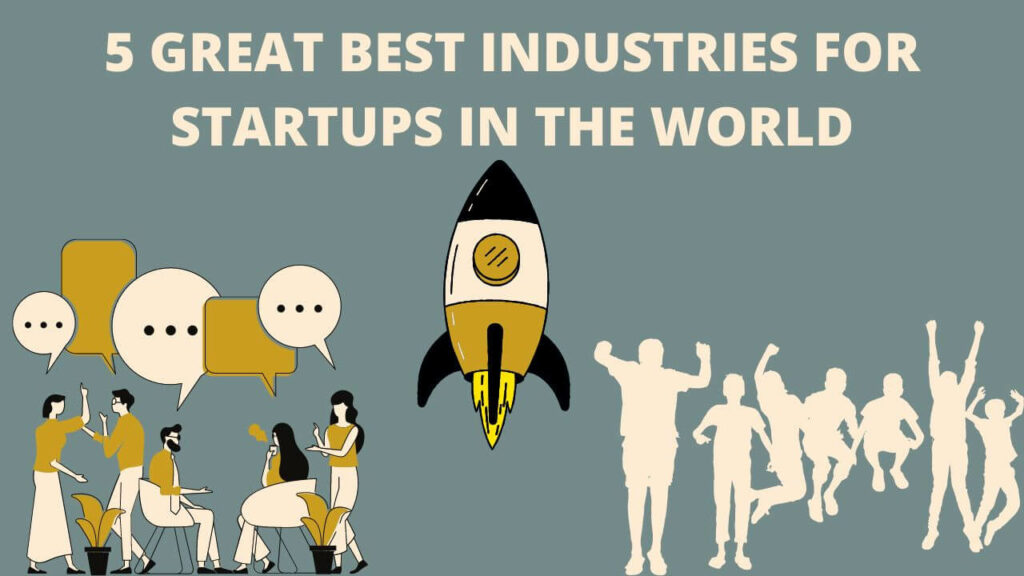 Which Startup is best for the Future?
Starting a company in a failing industry is something you should try to avoid at all costs as an entrepreneur. While you should try to go after instant success, you should also consider the future when drafting your business plan. When it comes to the best startups to create for the future, it's a really difficult question to answer. Innovations happen quickly and suddenly, and the ability of the business owner to keep up with the pace of technology is what matters, not what's the best "industry" for the future
Taking Nokia for example, the company, which was once the top phone manufacturer in the world, has to sell to HMD because it failed to innovate, even after being faced with competition from newer brands. Nokia was never in the wrong industry, it just failed to innovate.
With that said, there are some industries gaining traction recently for having the best promise. Creating a startup in biotech or starting a no-code app or website creation platform are some promising industries you should consider if you have the requisite skills.
Moving on from that, the following section will take a look at some of the top best industries for startups you should consider if you intend to start your business in 2022.
Looking forward to building something in tech but can't code? here are some amazing best no-code platforms to build great products
Top Best Industries for Startups
There are tons of industries out there for people looking to start their businesses. However, there's also one problem: many industries out there already have companies solving most of the problems customers have, which leaves little to no room for you to innovate.
However, there's this collection of companies that don't share the same fate. While you'll face some competition diving into these industries, it's nothing compared to what you should face naturally. But what are these top best industries for startups exactly?
Here are some of the industries I'd consider diving into if I had a million dollars to start a business in 2022.

1. Employment Services
With unemployment at all-time highs in most countries in the world, you should expect businesses in the sector to boom also, and they are. There are so many opportunities available in the employment sector, and people aren't nearly taking advantage of them.
For one, you can start a job aggregation platform where employers can source and hire talents. Jobseekers can hop onto these platforms, find applicable jobs, send applications, and get employed, with you doing the bare minimum as a middleman. You can monetize the platform using ad income and locking special paid features to jobseekers.
Alternatively, you can create a recruitment agency and help companies hire the best talent for them. It's not the most profitable venture out there, but there isn't a lot of competition. And if you can manage to scale, there's a ton of money that you could potentially make by working in the industry.
2. E-commerce
Mentioning e-commerce among a list of best industries for startups may sound weird, but the perceived competition in the e-commerce industry just doesn't exist. When you come to a continent like Africa especially, you'll notice a big void in the e-commerce industry waiting to be filled.
When you try to create a startup in the industry, you'll understand why most people simply stay away. The costs of shipping and promotion of an e-commerce platform are so high that it becomes difficult to turn profits in the long run. Taking Jumia for example, the platform continues to run at a loss year-on-year that it's hard to predict it won't close down suddenly.
Before going into e-commerce, you may want to do your due diligence and figure out the operating costs first. If you can keep running everything while keeping operating costs lower than the expenses, going into e-commerce is very promising.
3. Healthcare Technology
There's a reason why this field isn't very competitive: not so many people are qualified enough to create healthcare startups anywhere in the world. The requirements for starting anything health-related are so steep; after all, the regulators want to keep everyone healthy, at least.
If you happen to have the requisite skills required to create a healthcare startup, there's no better industry to venture into. There's almost no competition in the market, there's a huge market, and if you get your offering right, you shouldn't struggle to amass a steady stream of customers.
Some of the opportunities in healthcare tech is creating an interactive platform where professional doctors can interact with potential patients. Other opportunities on the market include a medical records keeping platform, sales of medical supplies, and a platform for dissemination of medical information; whatever works for you.
4. Leisure and Entertainment
After people spend most of their year working tirelessly, they usually like to take some time off for a vacation, on which they aim to achieve leisure and entertainment. Starting a company in this industry is not only very profitable but there's also a huge market simply waiting for you to launch.
To make the most of your leisure and entertainment startup, you want to create one that's based offline. Starting something like a casino, a miniature golf course, or an archery range should start to generate profit instantly, even if they require a very huge startup cost.
Another crucial part of the industry is going into game creation, which is also a part of leisure and entertainment. You can also create a travel agency that helps clients book flights and tickets to top resorts around the world, and depending on how well you plan, it can be crazy profitable, making it one of the top best industries for startups.
5. EdTech
EdTech is one of those industries that seem to have lots of competition, with there being no actual competition at all. Every year, millions of dollars should go into the pockets of some startups somewhere, but they don't, since they don't exist yet.
Try to find a platform that offers educational aid for kids with special needs or one that lets teachers get ideas for lessons. You can even try figuring out another video conferencing platform that works for education apart from Google Classroom and you'll see how little competition there is in education technology.
Of course, creating a startup based on any of the ideas mentioned above isn't as easy as it sounds. Depending on what you choose, you may need to learn to be an educator, with some requiring experience. If it's something you're willing to dedicate your life to, edtech is one of the top best industries for startups.
Which Industries are Most Attractive to Entrepreneurs?
Entrepreneurs have created startups in numerous industries this year that it's genuinely difficult to say which is more attractive than another. But then, when you go back to the books to check the stats, you'll discover that some industries got more attention than others, and they aren't necessarily the best industries.
Healthcare technology is an industry that started gaining more traction recently, with more entrepreneurs exploring the possibility of creating a business within the industry. Artificial intelligence is also the next big thing, and it's right on the mission statement of every new company out there.
Fintech startups and shared mobility are some of the most attractive startups to entrepreneurs, and you can confirm that with the number of rideshare apps you see on the app store for your operating systems. Do they make the list of the best industries for startups? Not exactly.
Conclusion
The world has generally seen an upsurge in the number of new tech firms over the past couple of years, but that's not very surprising. If you're planning to come up with your startup, it's crucial to find out some of the best industries for startups in the world to ensure you're set up for success.
This article looks into today's tech world and comes up with five such industries. In addition to that, I also outlined some of the hottest industries for tech entrepreneurs in 2022, and most of them don't align with the best industries for startups.
If you liked this article, then please subscribe to our YouTube Channel for videos. You can also find us on Twitter and Facebook.