The past decade saw the inception of hundreds of fintech companies across the world, with some of the biggest in the United States, as you'd expect. These companies have started threatening the monopoly of banks, giving willing users the option to choose how to manage their money.
There are several kinds of financial technology companies capable of operating legally in the United States. You can be a payment processor, as in the case of Stripe, an online payment service provider like PayPal or Square, or a cryptocurrency wallet provider like Coinbase; as long as you're facilitating fiancés with tech, you qualify.
To ensure people get the correct idea of what it means to be a fintech company in America, it's crucial to define and describe it before moving on. In the following section, you'll learn what fintech companies are before I go on to list the best fintech companies in America.
Table of Contents
What are Fintech Companies?
Fintech is short for financial technology, which is a term used to refer to the way technology is integrated to help improve the delivery of financial services. Financial technology services have been around since the start of the 21st century, but it was used exclusively as an insider term for developers working at the backend of financial systems.
It wasn't until the past couple of years that we started referring to consumer services as fintech products. When you think about it, it only makes sense that a company offering fintech products to customers will be referred to as a financial technology company itself.
That's what the companies thought too, and we started seeing a massive increase in the number of firms referring to themselves as fintech companies in America. From Chime to PayPal, it's not even an argument that these companies have all worked to integrate financial management with technology.
The advent of cryptocurrencies also expanded what we know to be fintech. If you'll agree with me, cryptocurrency is the epitome of financial technology, and all companies offering crypto-related services automatically qualify as fintech companies.
How Inflation is Affecting Fintech Companies in America
The aftermath of the Covid-19 pandemic, as well as the Russo-Ukrainian war, has led to a massive shakeup in the world economy, leaving every country breaking their inflation records. Since fintech companies in America primarily deal with money, it's not that difficult to understand that inflation will affect how well they can offer their services.
Inflation will likely affect fintech firms the same way it's expected to affect other companies across all industries. For smaller companies, getting the required resources and manpower to run the firm competently becomes increasingly difficult, no thanks to hyperinflation.
Also, the spending power of customers tends to reduce drastically when inflation occurs, making it likely for them to borrow even more often. Since customers tend to borrow from fintech companies compared to traditional banks, the huge load will certainly put a strain on the cash flow.
The excessive spending as the result of loan dissemination makes it harder for the fintech firms to turn a profit, and that doesn't exactly inspire confidence from investors. Without investment from sponsors, there wouldn't be enough money to go around, forcing fintech companies into oblivion.
How Many Fintech Companies are in US?
The United States has been the hottest market for fintech for around forever, and that doesn't look like it's going to change. Also, the existence of a lot of companies doesn't seem to be slowing down the fintech companies, which is generally a good thing.
As of 2020, there was a total of 8,775 fintech companies in America alone, and going by the look of things, the number is only growing. However, the raw number of fintech firms is not the only thing that's growing in the industry, but it's perhaps the most important.
In addition to it, the total number of customers adopting fintech companies in America is also rising rapidly as people are finding alternatives to traditional banks. Also, the total market cap of the industry is expected to hit nearly $1 trillion dollars, and the current growth of new companies made it even more believable.
In the following section, you'll get a list of the top fintech companies in America, complete with some crucial statistics about them. In addition to that, you'll also learn why they're so popular and what the future holds for them.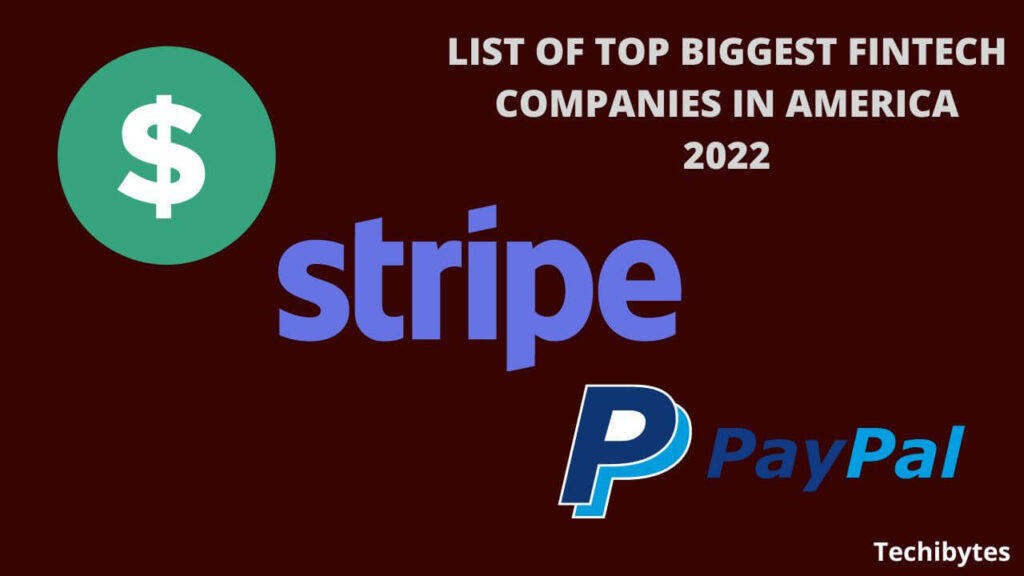 List of the Biggest Fintech Companies in America
Fintech is undoubtedly a big market on the American continent, with most of the fintech located in the United States. Here are some of the biggest fintech companies in the United States, how much they're worth, and what it is they do.
Here is a list of the biggest fintech companies in America.
1. Stripe
Stripe is a service that lets you accept payments from customers on your website by adding some lines of code to the website's HTML. It was founded in 2011, and over time, it grew to become one of the biggest fintech companies in America, outgrowing the likes of Chime and even Coinbase.
The company was valued at $95 billion in a Series H funding and it remains the fourth most valuable private company. While most analysts think the company will likely go public in 2022, we're already deep into the second half of the year and that reality is yet to happen.
2. Chime
While Chime doesn't officially refer to itself as a bank, it's basically a digital bank in more ways than one. It officially wears the financial technology company tag, but it's already being recognized as the biggest digital bank in the United States.
Chime manages to offer banking services to customers by partnering with a couple of registered banks, most notably, The Bancorp Bank and Stride Bank. Like Stripe, Chime remains a privately traded company at this time, delaying its much-awaited IPO following the massive inflation of 2022.
3. Klarna
Klarna is one of the pioneers of the buy-now-pay-later model, which has grown to be one of the most popular features of new finance apps. The eventual popularity of the feature didn't decrease the popularity that Klarna received as one of the first few apps to implement the feature.
The service worked by allowing you to schedule deferred payments in installments after purchasing something from a retailer. At the moment, the company is valued at around $46 billion, but following the state of the world economy, we could see that decrease following its next funding round.
4. Kraken
Kraken is a cryptocurrency exchange and bank based out of the United States. It was founded in 2011, and by 2022, the company already has an $11 billion valuation, one of the biggest in its industry. While its functionality was pretty limited compared to other alternatives, it's one of the few US-based exchanges you'll find around.
In 2019, Kraken was valued at around $20 billion, but the major shakeups that happened thereafter didn't allow it to retain such a value. It was first the Covid-19 vaccine that had a significant impact on Kraken's operations before 2022's Russo-Ukrainian war forced the company's value to dwindle massively.
5. PayPal
PayPal is probably the biggest name on this list, and for good reason. It's an online payments app that operates in pretty much every country with an internet connection and has been one of the biggest contributors to the world's adoption of fintech.
The service was established as far back as 1998 and has only grown in leaps and bounds since then. Unlike most of the companies mentioned earlier, however, PayPal has gone public since 2002 and is now worth around $112 billion on the stock market today, trading at nearly $100 per share.
6. Block Inc. (Square)
If PayPal Holdings had a direct competitor, it would be Block Inc. since the company owns and run Cash App, the explosive payment app making waves. Founded by Twitter founder Jack Dorsey and Jim McKelvey, Block Inc. launched Cash App in 2010 to disrupt the then-rising fintech market.
While most people know Block Inc. for its flagship Cash App product, there are many other popular apps that the company owns and runs. Tidal, the music streaming service, Weebly, the web hosting service, and Afterpay, the buy-now-pay-later service are all products of the company.
At the moment, Block Inc. is worth around $44 billion, trading at around $74 per share. Its 2013 product, Cash App (formerly Square Cash), was its first foray into fintech, and it appeared to be largely successful. Also, the company has made it clear that it only offers financial technology apps, not a bank.
7. Coinbase
Coinbase, as you probably already know, is an American company that offers a cryptocurrency exchange to customers. It amassed a lot of popularity during the crypto boom of 2020, only to fall massively in popularity ever since, while still maintaining a place as one of America's biggest companies.
The company laid off around 1,100 employees on June 14, 2022, after complaining about a global reduction in the utilization of cryptocurrencies for transactions. In the second quarter of 2022, the company also recorded a net loss exceeding $1.1 billion, setting a new record for itself.
In addition to the cryptocurrency exchange that the company is known for, it also operates the Coinbase NFT app that lets users trade non-fungible tokens, as well as the Coinbase Card, which is a Visa card that lets you spend your crypto.
Conclusion
There are upwards of 8,000 financial technology companies in the United States, and I certainly cannot list every single one of them. However, this list has covered some of the biggest ones that have made a significant impact on the finances of Americans over the years.
If you liked this article, then please subscribe to our YouTube Channel for videos. You can also find us on Twitter and Facebook.