Abuja is Nigeria's capital and is unarguably one of the fastest-growing cities on the black continent. One industry that has grown considerably in Abuja over the years is its IT sector. It's not on par with Lagos for now, but when you compare it to the average African city, it's pretty advanced.
With all I have said, it's only natural to want to acquire a tech skill when staying in Abuja. Tech skills make you more employable in the state, as there will always be a demand for competent software developers as new companies find their way into the federal capital city.
Unfortunately, there aren't enough physical coding schools to accommodate the number of potential students willing to learn programming and related concepts in Abuja. While the situation is slowly changing, trying to find a decent coding school near you may not yield the kind of results you want.
To help you understand your options, I'll show you some of the best coding schools in Abuja. In addition to that, you will learn about their entry requirements, what they teach, and some other details to help you get started.
Table of Contents
How Much Does It Cost to Learn Coding in Abuja?
Apart from facilities and expertise, the cost is another barrier to learning how to code for the average Abuja resident. If you live in Abuja, you should know the cost of living is slightly or significantly higher than average, depending on where you're taking your averages.
Consequently, you should expect coding schools in Abuja to charge a bit more than their counterparts from other parts of the country. Also, the prices are expected to vary depending on the number of hours of instruction per week and what kind of language you're learning.
Generally, you should expect to spend between ₦50,000 and ₦250,000 to learn coding from a physical class in Abuja. Classes that teach easier courses like web development will likely charge lesser, while you'll likely pay more for reputable coding schools teaching in-demand and highly technical courses.
Best Coding Schools in Abuja
If you're considering venturing into software development, here are the best coding schools in Abuja that will accelerate your goal.
1. Bizmarrow Technologies Limited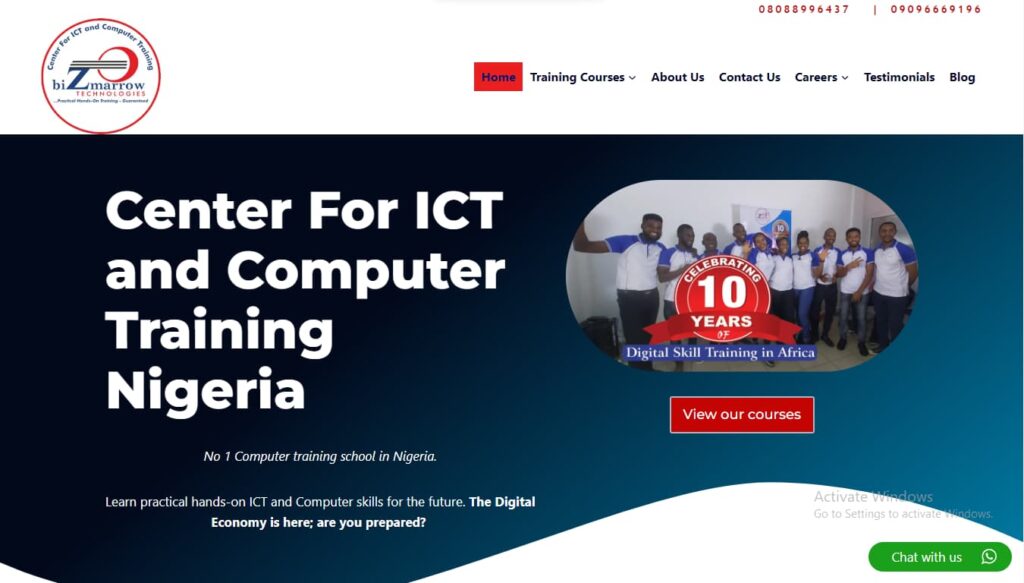 When it comes to the best coding schools, Bizmarrow Technologies is second to none. The ICT and coding school offers a wide variety of courses from basic computer concepts like Microsoft Office packages and digital office management to more hardcore technical areas like software development.
Bizmarrow Technologies has two locations in Abuja to allow learners easy access from any part of the capital city. They also offer one-on-one training for students, assigning them an instructor to take them through the entire learning process.
The coding school has a subsidiary: Kids & Tech, which also offers coding classes, but for kids. While the prices for courses from Bizmarrow Technologies are absent from the school's official website, they describe the fees as "very, very affordable" when compared to their practical hands-on training.
The organization's hands-on approach and project-based learning are reasons why it's an easy recommendation for anyone looking for the best coding schools in Abuja.
2. Codeworld Innovations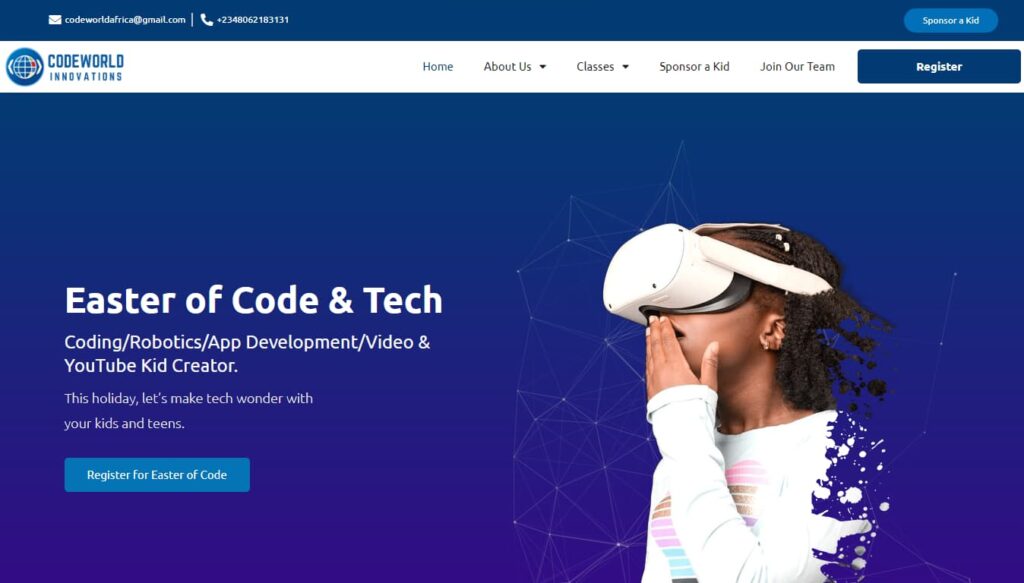 There aren't so many coding schools in Abuja for kids, and that's why Codeworld Innovations has come to fill the void. All of its programs are only for kids and young teens, specifically between the ages of 5 and 17.
The institution offers courses ranging from mobile app development to JavaScript programming and web development. There are also some soft skills like the Video and YouTube Creator course that prepare young people for a career in video content creation.
Codeworld Innovations claims to use curriculums based on lessons from Harvard and MIT, which automatically places it among the best coding schools in Abuja. While you shouldn't expect MIT-level scholars at the school, you should expect it to be better than the average coding course in Nigeria.
The school is located right at the heart of Asokoro, which is one of the most developed places in Abuja. While it doesn't list any prices on its website, I'd advise against making modest estimates. Despite catering to a relatively younger audience, it just might be the most expensive option on this list.
3. Abuja Data School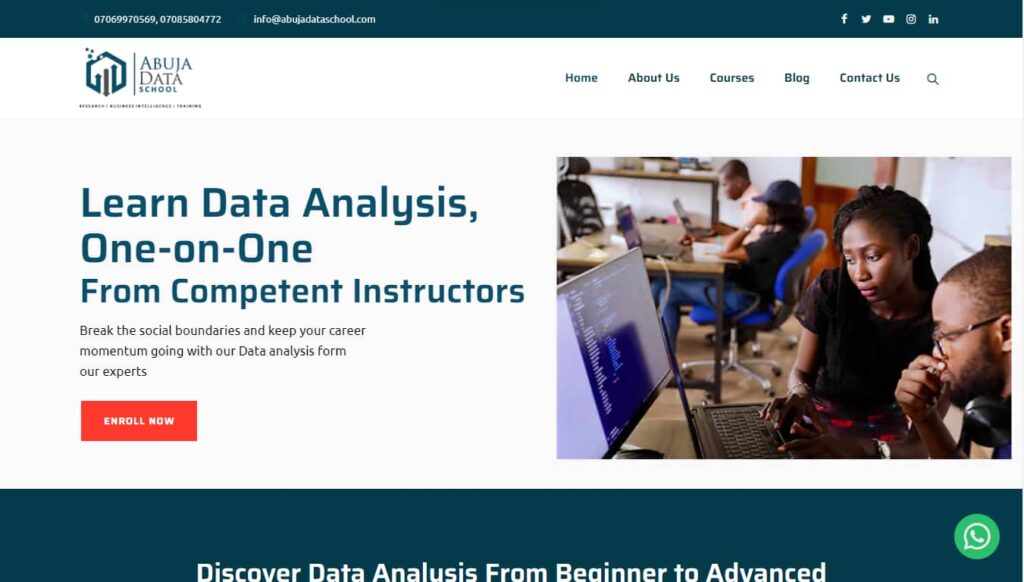 Abuja Data School is one of the more organized coding schools in Abuja, especially for individuals looking to study data science in the city. With the technical nature of the course, it's no surprise that only a select few schools offer it in Abuja, and here's an institution dedicated to teaching data science.
If Abuja Data School teaches all the data science technologies it offers on its Courses page excellently, it wouldn't only be one of the best coding schools in Abuja, but in the world. However, there's no way to tell if it does for sure. With tutorials for languages like R, Python, SQL, and Microsoft Excel, Abuja Data School is a data science haven.
Like most others on this list, Abuja Data School doesn't list the prices of the courses it offers on its website. However, it does offer detailed course outlines for each of the programs on offer so you know exactly what you're buying before entering your debit card details.
4. Early Code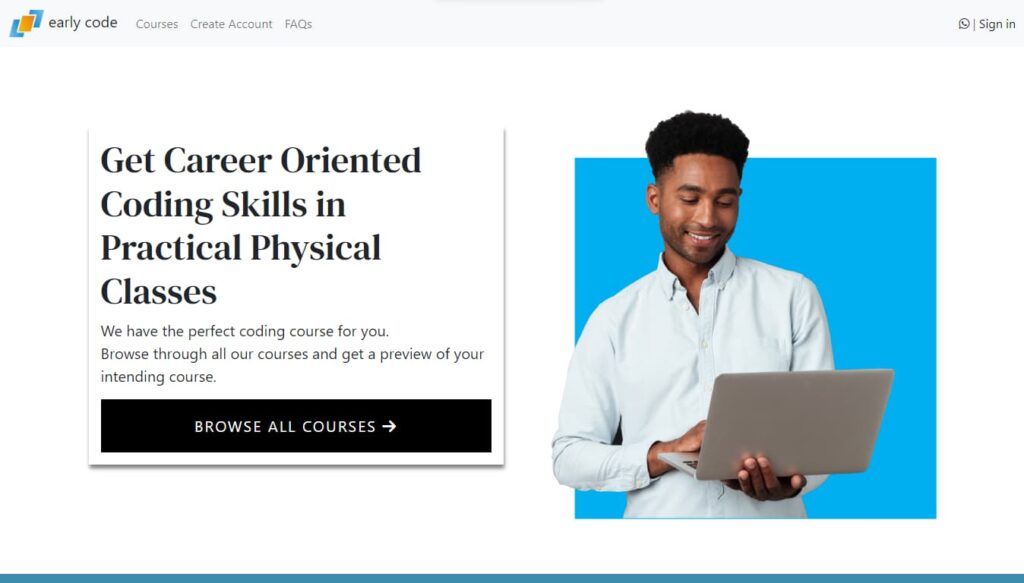 While Early Code is still a new entrant, it's quickly growing to become one of the best coding schools in Abuja. With its current momentum and the sloppiness of the competition, a few years is all that's separating this IT institute and a top spot among the best programming school in the nation's capital.
Early Code has several general courses for people interested in learning how to code. It also features the pricing for each of the courses as well as the course content showing you exactly what you'll learn over the course's duration. The school also has a Coding for Kids course, which introduces kids to the general concept of programming for only NGN30,000.
Like most other coding schools in Abuja, Early Code doesn't offer any of its lectures online. You register for a class, pay, attend physical classes, and interact with tutors and other students. Early Code also provides laptops in its training center for students lacking the equipment.
Courses from Early Code generally cost between NGN30,000 and NGN150,000, which is competitive, especially when you consider the fact that they make provisions for laptops. No doubt, Early Code is one of the best coding schools in Abuja.
Also find places to learn coding in Lagos Nigeria
5. GMTsoftware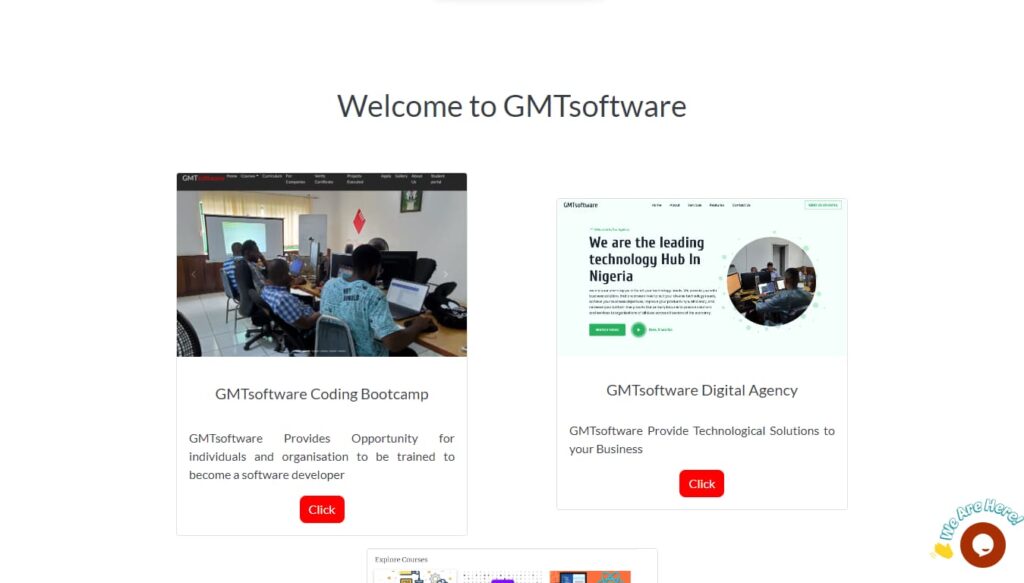 GMTsoftware is an Abuja-based IT institute that hosts regular bootcamps to teach students advanced software engineering courses. From full-stack software engineering to Hybrid iOS and Android development, GMTsoftware has exactly the right course for you.
Unlike most other coding schools in Abuja, they do feature the prices for their courses on their official website, which is impressive. If you're hoping to take any of GMTsoftware's 12 to 14 weeks boot camps, you should be ready to shell out NGN100,000 to NGN200,000 depending on the course, which isn't excessive for the value they claim to offer.
The school offers both remote and on-site learning opportunities, but remote learning isn't available for every course. Even when it's available, it comes at a higher cost, which is interesting since online courses are generally seen as inferior. The fact that it allows payment in installments makes it a good candidate for the best coding schools in Abuja.
6. NIIT Abuja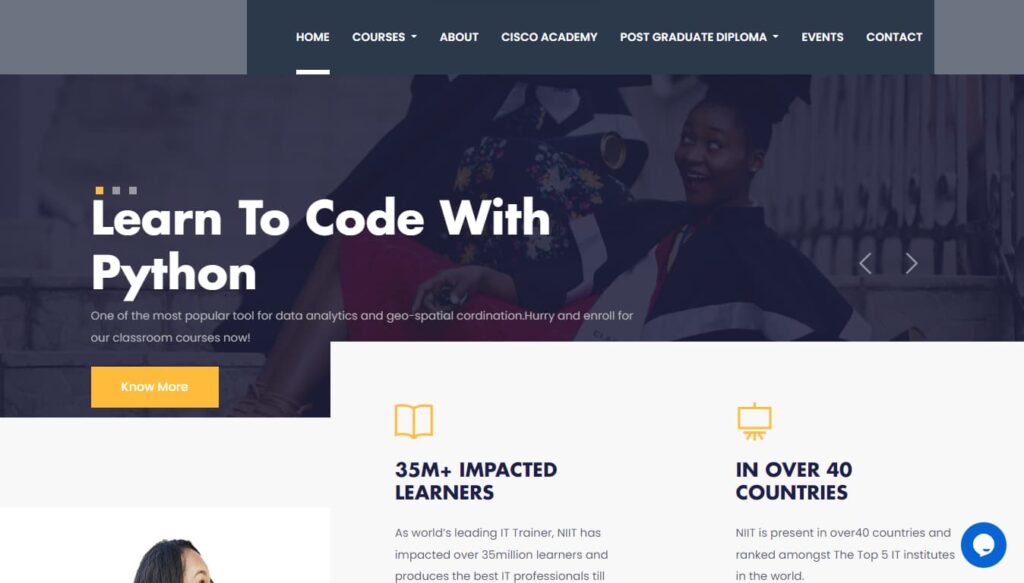 NIIT Limited is a multinational company in skills and talent development, offering courses students can take to develop marketable skills to make them employable. Since the organization's focus is on IT, it's no surprise that it's one of the best non-Nigerian coding schools in Abuja.
NIIT offers a plethora of courses in IT and related fields, including (but not limited to) diplomas in digital marketing and web development, as well as a postgraduate diploma in software engineering, and networking. There are less-technical certificate courses like web development and Microsoft Office at NIIT if that's what you're after.
Read about Free computer science courses at harvard
Most of NIIT's courses are full-time, mainly for people willing to dedicate most of their time to learning at the school. The website mentions nothing about pricing, but you shouldn't expect anything cheap; plus there's no option for online learning either. Even with those limitations, it remains one of the best coding schools in Abuja.
7. Geek Code Planet
Geek Code Planet is primarily a development company, but they also teach programming to students aged seven or older to introduce them to the tech industry. The company teaches every service it offers, and while the education page on its website is currently down, you can call them to make inquiries and enroll yourself or a kid.
8. Aptech Computer Education
Aptech is one of the better coding schools in Abuja for students with intermediate proficiency in programming and software development. It offers career and professional courses that are more advanced than courses you'll find with competing coding schools in Abuja.
Thanks to a partnership with Tantalizers, you can get your money back from Aptech Computer Education when you eat at the restaurant through course discounts. If you've been a fan of Tantalizers before now, Aptech is undoubtedly one of the best coding schools in Abuja for you.
9. Torbita Computer Training School Abuja
Torbita offers flexibilities that you can't get at many coding schools in Abuja: a combination of remote and onsite learning. Once you sign up for a course, you don't have to keep showing up at the center day in and day out; as long as you can connect online, you're good to go.
The computer training school has 52 courses, spanning categories ranging from video editing to mobile app development. As a result of their remote learning support, Torbita Computer Training School is an easy sell as one of the best coding schools in Abuja.
10. Skilltouch Computer Training School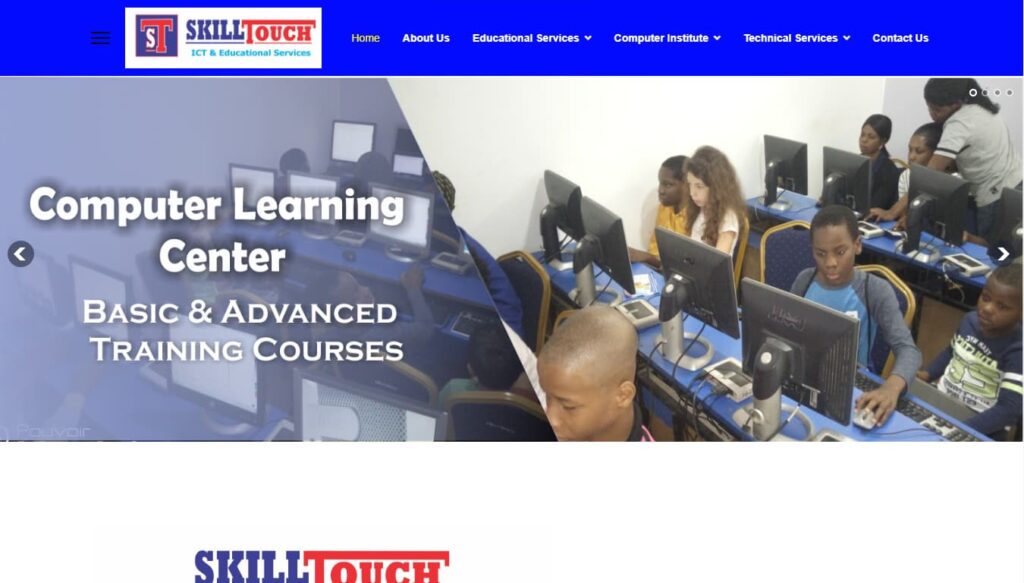 Skilltouch doesn't feature the most impressive library of courses, especially when compared to other coding schools in Abuja. You can learn frontend, backend, and full-stack web development, and that's just about it. However, given that the school is also a proper educational institution with functional nursery, primary, and secondary schools, their offerings start to look impressive.
Conclusion
Abuja is the capital city of Nigeria, which automatically makes it one of the best places to learn how to code. If you've decided to acquire a new IT skill, these 7 outstanding coding schools in Abuja will make that possible.
If you liked this article, then please subscribe to our YouTube Channel for videos. You can also find us on Twitter and Facebook.