Mobile app development platforms without coding are great platforms that you can use to create, develop, and publish your mobile apps without coding.
People often think of computer science and mathematics when they hear "code." When some people hear the word "code," they think of a scary language that only computer scientists can understand.
If you don't know how to code or don't have the funds to employ a development team, you can still design and construct an app using a no-code or low-code app builder. These "no-code" development platforms are changing the business world by letting companies improve their processes without having to pay for expensive programmers.
This article discusses the top seven mobile development platforms, features, and pricing options that don't require you to write any code.
What is no-code?
A no-code development platform is an alternative to traditional software development that lets business users who aren't tech-savvy build their own fully functional apps without having to learn how to code.
When it comes to innovation, no-code platforms put control in the hands of your entire organization, which is especially helpful for small businesses that lack the resources to hire a software developer or outsource to a software development house.
Initially, no-code was designed for product development team members who lacked coding knowledge. No-code development platforms make it easy for anyone to make fully functional apps by giving simple visual editors with pre-coded features like text boxes, videos, buttons, and more.
What is mobile app development?
Mobile app development process for mobile devices like smartphones and digital assistants, usually for the Android and iOS operating systems, is called "mobile application development." The app can be an app that come with the device, can be downloaded from an app store, or can be found online with a mobile web browser.
In many ways, making an app is like making any other kind of software, even web apps. But the main difference between making an app and making regular software is that apps for mobile devices can use the native features of the device.
For example, apps can use a smartphone's GPS, Bluetooth, camera, and microphone.
The smartphone app industry is dominated by Apple and Android devices and software. Even though apps could be made for other platforms, Android and iOS are the most popular.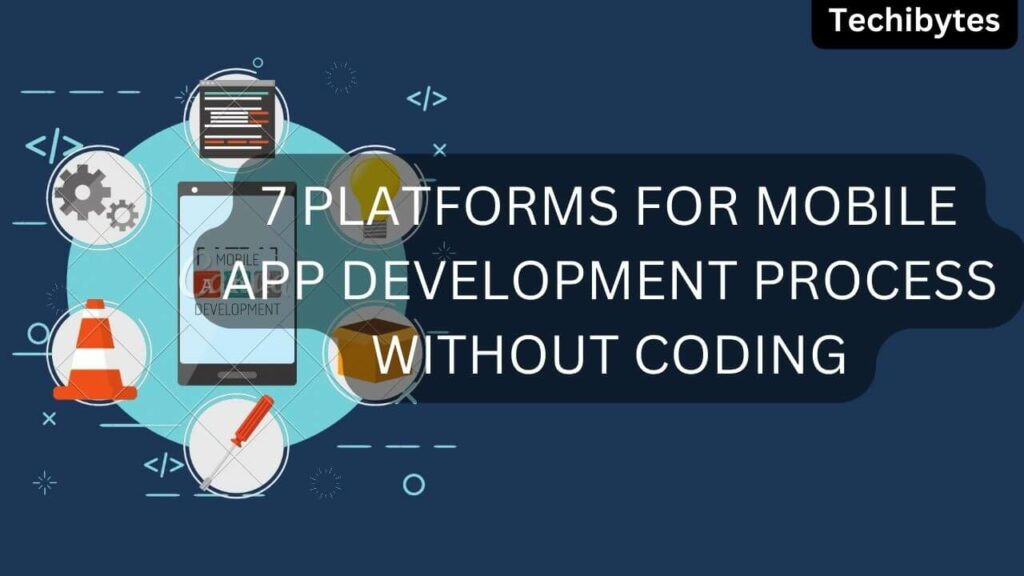 Can I Create a Mobile App Without Coding?
Many people have been asking whether you can develop a mobile app without coding, and the answer is yes. You can develop mobile apps without knowing anything about coding.
These days, anyone can take an app concept and make it a reality, and they don't even need to know how to code. Anyone with access to the internet can use an app maker instead of more traditional ways to make apps.
The following apps are great examples of that. It's also encouraging to know that mobile app development frameworks will keep advancing. It is to be anticipated that more and more mobile app builders will offer third-party connectors, hence enhancing the utility of developing dynamic apps.
7 Best Mobile App Development Platforms
These days, numerous mobile app development without coding will enable you to create an app in a short time. Here are seven of the top picks that we hope you enjoy.
Andromo
Andromo is a well-known mobile app development without coding, and you can use it to create Android mobile apps. With Andromo, you can create apps in three easy steps without knowing any coding.
Start a new Andromo project.
All you have to do is fill up a few short forms and give your app its own unique flair by adding features, images, and content.
To create your app, simply press a button.
Andromo is a fantastic platform for developers who want to create apps without writing code. However, it isn't perfect. Andromo doesn't have a preview panel like other app builders do. This means you can't see how your app will look when you add elements or change the formatting. They will send you an email with your finished app attached.
In other words, they won't help you get your app into the Play store. Making a single ad-supported app is free. As long as you're willing to pay $8 a month, the basic plan lets you host up to fifty apps and make money from them.
AppMakr
Anyone who owns a business and is interested in technology will find AppMakr to be a dream come true. It is web-based and does not limit either the number of apps or the frequency with which they can be updated.
It has a high-resolution photo gallery, push alerts, live updates, music and video streaming, chat rooms, Google map integration, shared events calendars, in-app shopping, and more. You can manage the performance of the app from a central dashboard. Tabs are used to organize the information you add.
AppMakr is widely regarded as one of the top free mobile app development without coding, but it requires a one-time payment before app publication.
Appy Pie
Appy Pie is a cloud-based app builder that doesn't require users to know how to code. You may use the platform to make apps for Windows, iOS, and Android and then upload them to the respective app stores. The process utilizes a drag-and-drop interface, and no additional software is required.
The last draft is a cross-platform program that runs on all major mobile operating systems, including Blackberry, thanks to its HTML5 foundation. You can track locations using GPS, send push notifications, get real-time analytics, and make money with ads.
You can also link your app to a lot of other things, like other apps, websites, blogs, audio, radio, and media feeds.
Appy Pie mobile app development without coding also has an appointment scheduler, which includes helpful extras like One Touch Call and QR codes that you may embed with custom codes and iFrames.
The app developer has a free version, but the paid version's monthly cost starts at $35.
Bubble
Bubble is a great mobile app development without coding. If you want to create an app with minimal coding experience, Bubble is the tool for you.
You can make a prototype, test it without using unfamiliar technologies like JavaScript or HTML too much, and then send the results to your customer-facing platforms. Bubble can host and launch your app, so you don't have to worry about managing a web server.
You can also change your own website while working on making your app on the platform. Bubble is a paid app development without coding that offers a free plan, but its monthly subscriptions start at $25 a month.
Adalo
Adalo achieves this goal by providing a straightforward process for designing and developing new mobile applications.
You can automate the addition of database settings and interactions with Adalo. Adalo can connect to your existing API. The final, fully functional version of your mobile apps may be released to the Google Play Store and the Apple App Store with the touch of a button.
On top of that, you can set up the dashboard to automatically update each user's information. Adalo has a free version, but its paid version starts at $50/month.
Makerpad
Makerpad is one of the best mobile app development tools without coding. With Makerpad, you can develop any app you want because Makerpad includes tutorials, tools, case studies, new apps, and many more.
In addition to these free tools, Makerpad gives businesses and entrepreneurs access to no-code solutions and premium services, such as training, implementation, and support.
Makerpad is a paid mobile app development without coding with different premium plans. You can either choose the $ 600 lifetime access or the $350 annual plan for personal use. They also have a business plan that starts at $3000 a year.
Appery
Appery is another astonishing mobile app development without coding. It's cloud-based and doesn't require you to know how to code, just like the other apps on this list.
One of the best things about Appery is that it lets you add plug-ins that will improve the overall efficiency and functionality of your app. Web development choices are limited, which is a significant downside of this software.
Appery does not have a free version, but it does have a 14-day trial. Its premium packages start at $25 a month.
Conclusion
Remember that no-code does not mean coding is now obsolete or unnecessary. We still need developers and their skills. But people who don't know how to code shouldn't let that stop them from starting businesses and making their ideas come true. It's encouraging to see a plethora of no-code development platforms available, as this broadens the scope of what may be made by people who aren't programmers.
It's essential to have a clear idea of what functionality you need before starting work on a mobile app's development. Also, know what you can do financially in the future. As a result, you'll be able to zero in on the systems that best fit your requirements.
If you liked this article, then please subscribe to our YouTube Channel for videos. You can also find us on Twitter and Facebook.