Digital marketing is one of the most important skills that businesses need today. It's also one of the most complex and constantly changing areas of marketing. Digital marketing benefits both small and big businesses in today's market. If you're not keeping up with the latest digital marketing trends, you're at a disadvantage.
Fortunately, there are a ton of great free resources out there that can help you stay up-to-date and learn basic digital skills that are applied in marketing. In this article, we'll share 12 of the best free resources to help you learn digital marketing.
What is Digital Marketing?
Digital marketing is the process of using electronic devices to promote or market products or services to consumers. It includes the use of online channels such as email, social media, websites, and mobile apps to reach potential customers.
Can I Learn Digital Marketing Online?
No matter where you are, what level you are, or what you want to achieve, you can learn digital marketing online. Keep in mind that online digital marketing courses are not one size fits all. The best online digital marketing course for you will fit your learning style, budget, and goals.
What Is the Best Way to Learn Digital Marketing?
The best way to learn digital marketing is to get experience. However, if you want to gain experience without actually working in the field, you can take an online course.
Many online courses will give you the opportunity to complete real-world projects so that you can learn by doing. There are also many free online resources that can teach you the basics of digital marketing and we will discuss twelve here.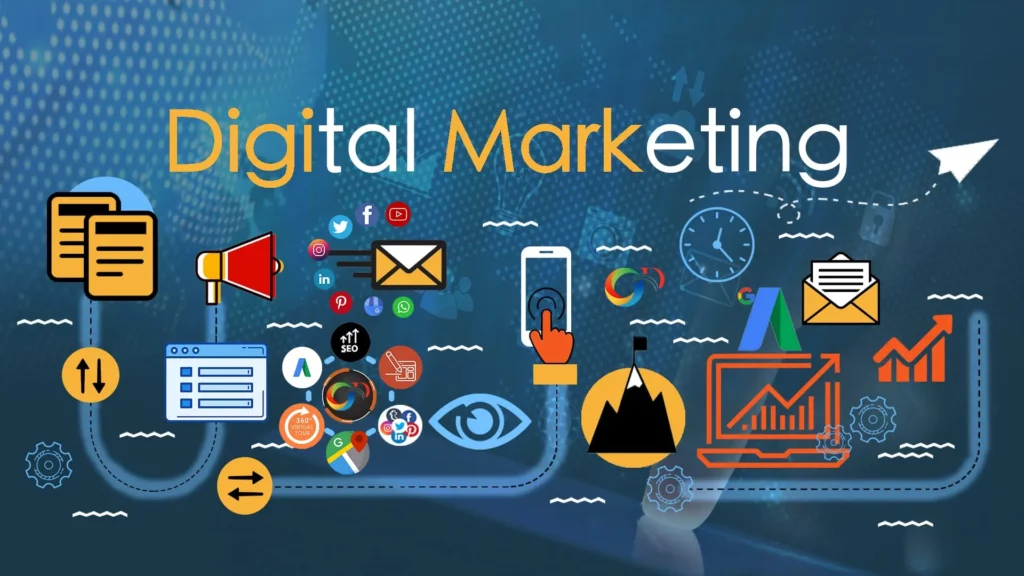 12 Great Free Resources to Learn Digital Marketing
Here are our 12 great free resources to learn digital marketing:
There is no better place to learn about digital marketing than from the pioneers themselves. With good cause, Google's free online course on digital marketing is at the top of our list.
It comes with free certification and covers every facet of digital marketing for both new and experienced users. Google's industry-recognized certification program is a great way to enhance your skill set and attract attention to your profile.
There are 26 lessons in this free 40-hour online course on digital marketing, which you can finish anytime and whenever you want. The various lessons in each module are broken down into text, video, and knowledge-testing quizzes.
Led by Rachel Sheldon, an inbound professor at HubSpot Academy, this introductory course to SEO covers all the basics you'd expect. You'll learn how to do keyword research, write title tags and meta descriptions, optimize your content, boost page speed, and more.
This course is meant as a primer for those with minimal experience. During the week after completing it, I decided to brush up on my understanding of Google Analytics, an additional tool for measurement.
Students who already have a basic knowledge of digital marketing can take this 24-hour course through LinkedIn Learning to gain the managerial abilities necessary to advance up the corporate ladder.
Students will learn the best practices for online marketing, how to use the most recent tools to develop a digital marketing strategy, and how to effectively advertise on social media platforms in this free online course on digital marketing.
If you already have a premium LinkedIn membership—as most marketers do—you may enroll in the course for free, or you can sign up for a trial and view the lessons for free for one month.
You'll learn how to "humanize" your copy, cultivate connections through lead nurturing, and apply these skills using the software company's free email marketing platform in this webinar hosted by Courtney Sembler, a senior manager at HubSpot.
You have three hours to take a 60-question exam at the end of the course, like with all HubSpot courses, with the possibility to earn an email marketing credential.
The nine topics and 28 videos in this course will push you to reconsider stale email marketing strategies and are interspersed with quizzes to help you stay on track.
Digital marketing, measurement, social media, analytics, and other topics are covered in lectures on Google Primer, a free app for entrepreneurs and marketers.
You can choose from the Business & Operations, Brand & Identity, and Marketing & Measurement major tracks.
With 10 broad topics for both new and seasoned marketers, the latter is especially well-rounded and pertinent. Making the most of a creative agency, crowdsourcing your user testing, and targeting the correct audience with an app campaign are a few intriguing points to learn.
We highly recommend Google Primer since it provides on-the-go training in an approachable format that is uncommon among courses.
Start with this course that has been approved by the Interactive Advertising Bureau Europe and The Open University for a thorough examination of the fundamentals of digital marketing. Over the course of 26 sessions, you'll learn about Digital Garage and how to develop and expand your online company plan.
The training also covers mobile advertising, SEO and SEM, and even how to start an online store.
A 40-hour course is actually not that much of a commitment, especially when you are allowed to pace yourself while being guided by video tutorials and hands-on exercises.
One of Scotland's best colleges is providing this comprehensive digital marketing course through Edx. The course can be finished in around 8 weeks if four to six hours per week are dedicated to training. The curriculum is extensive.
At the paid level of edX, a certificate for the course is available. However, it is free to audit the lessons in each module. You can read and view all of the course material.
The course's objective is to give participants a general understanding of business-related, strategic digital marketing. It's a perfect course to add to your resume or CV.
The slogan of Quicksprout is "Get Your MBA in Digital Marketing for Free," and this top-notch platform is filled with information to assist you in learning all you need to succeed.
The platform, which was established in 2008 by marketing guru Neil Patel, is managed by a group of gifted businesspeople under the direction of Lars Lofgren.
13 guides are included in The Beginners Guide to Online Marketing, a course and e-book that will help you master every facet of digital marketing.
It's a part of Ahrefs Academy, an online school with four thorough courses designed to help you become a better content marketer using the Ahrefs toolkit.
Blogging for Business consists of 11 modules and 40 courses, all of which are directed by Ahrefs CMO Tim Soulo. These consist of instructional videos on the fundamentals of idea generation, optimizing and advertising your content for growth, as well as fundamentals of important client acquisition channels and growth methods.
Additionally, there are supplementary videos that feature an in-depth interview with Noah Kagan, the creator of the daily deal portal Appsumo. The best part: This free course doesn't require registration.
Brian Peters, a former digital and social media manager at Buffer, teaches novices how to build a social media marketing campaign from scratch and the advantages of paid social advertising.
Key terms to understand, the marketing funnel, goal- and budget-setting, and optimizing campaigns for long-term success are all covered in the 10-lesson course.
The course has now been completed by over 21,500 students, and according to almost 50% of the reviews, this is because of Brian's engaging instruction and the practical examples he provided.
One of the best free online course providers you will find, with more than six million students registered on the website.
Students who take the Diploma in E-Business course benefit from learning Google Analytics and AdWords, search optimization, revenue metrics, analysis, campaign tracking, digital measurement, and other marketing-related topics. The free online digital marketing course, which takes six to ten hours to finish, has more than 84,000 students enrolled.
You will receive a Learner Achievement Verification Report once you've finished, or you can choose to spend roughly $20 to get a certificate from the website's online store.
While Google Ads portrays itself as being perfect for beginners, we believe you'll at the very least need some basic SEM understanding to follow the lectures with ease.
They follow a similar style to the courses on Twitter Flight School but go into more detail. Beginning with a pre-assessment, proceed through marking out each item. Some of the topics have optional videos to help you learn more about them.
Self-paced learning is something we appreciate. But fair warning: Take your time browsing the classes before committing to a topic because the sheer amount of courses (and topics) may leave you feeling overwhelmed.
Best Online Learning Platforms for Digital Marketing
Here are some of the best online platforms for digital marketing:
1. Skillshare
Skillshare is an online platform that offers courses to help anyone learn creative skills, including digital marketing. The site has a library of more than 24,000 video tutorials taught by industry experts.
2. Lynda.com
Lynda.com is an online learning platform that offers video courses on a wide range of topics, including digital marketing. The site has a library of more than 5,700 video courses taught by industry experts.
3. HubSpot
HubSpot is an inbound marketing and sales platform that offers a wide range of resources to help businesses grow, including digital marketing courses. The company offers a free online course that covers the basics of digital marketing.
4. Google Digital Garage
Google Digital Garage is a free online training program that covers a wide range of digital marketing topics. The program offers courses on everything from search engine optimization (SEO) to social media marketing.
5. Moz
Moz is a software company that offers a range of digital marketing tools, including a course on SEO. The company's Beginners Guide to SEO course is a free online course that covers the basics of search engine optimization.
Conclusion
Whether you are looking to start your career in digital marketing or simply want to learn more about the subject, there are plenty of great free resources available online. Courses above offered by the likes of Ahref, HubSpot, and Google can give you a solid foundation in the basics, while more advanced courses can help you develop specific skills. There are also plenty of free books and articles available on the topic, so you can learn at your own pace. Whatever your goals, there are plenty of great free resources available to help you learn digital marketing online.
If you liked this article, then please subscribe to our YouTube Channel for WordPress video tutorials. You can also find us on Twitter and Facebook