Artificial Intelligence has taken the world by storm and it has found its way into video editing. The development of AI technology in video editing has made it simpler than ever to produce high-quality videos.
Anyone can use AI video editors to make professional-looking videos, and you don't need any prior knowledge. The best part is that you don't need to be a tech guru to get started because these apps are simple to use.
In this post, we'll be taking a look at the 11 best AI video editors you should try. Make sure you read this post to the end because it will be very insightful.
Table of Contents
WHAT TO LOOK FOR IN AN AI VIDEO EDITOR
Choosing the appropriate video editing program is essential if you want to succeed in this cutthroat area of digital marketing. The following are some things to take into account when choosing an AI video editor
1. Cost
Cost is a very important factor to consider when choosing an AI video editor. You can start by testing their capabilities using free software. However, the majority of these AI video editors only accept a few file formats and offer few editing features.
You might eventually select a payment plan if it suits your needs after having a feel for the product. Some AI video editors have lower payment plans than others. It is advisable to pick an AI video editor that is within your financial budget.
2. Compatibility
Compatibility is another criterion to consider when choosing an AI video editor. The video format of your camera must be editable by the software you choose. Select software that is compatible with your operating systems such as Windows or Apple, or look for a cross-platform utility that can be used with all operating systems.
You should check to see if it is compatible with your other devices, such as your game console, camera, webcam, drone camera, microphone, and screen recorder.
3. Tutorials And Customer Support
For new video makers, certain platforms offer tutorials. Check the customer services included in your subscription before selecting an AI video editor.
Visit the website to see if the company offers online help, such as a discussion forum and product FAQs. Choosing an AI video editor with great customer support will be very beneficial when complications arise.
4. Ease Of Use
Select editing software based on your level of expertise. You can use reviews to figure out which brand and version will work best for your skill set.
Split screen and picture-in-picture features, which display multiple windows at once and make it simpler for you to review content while editing it, are examples of features to look out for when choosing an AI video editor.
This choice enables you to merge different video files. Additionally, it needs to feature keyboard shortcuts, hotkeys, and chroma keys, which let you merge two video streams or photos by separating their colors in the source image
You Might Like: 20 Best 3D Software For Animation (Free+Paid)
11 BEST AI VIDEO EDITORS
Below is a list of some of the best AI video editors.
1. Synthesia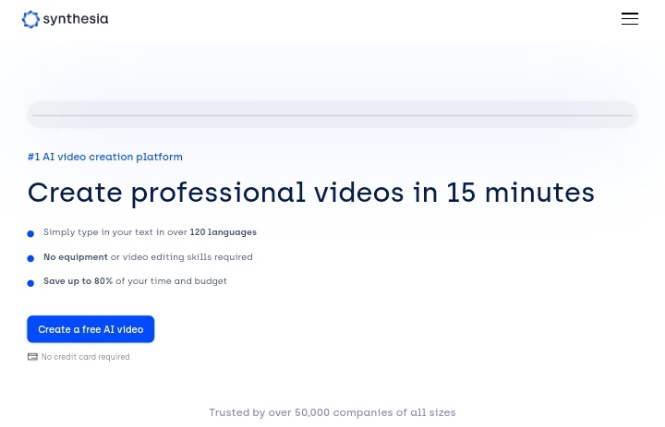 One of the best AI video editors, Synthesia, enables automated video creation from the beginning. You may quickly make instructional, marketing, and how-to films using Synthesia.
Numerous tools are available in the AI video editing program, including editors and storyboards.
Additionally, Synthesia gives you the option to curate videos in more than 60 languages. It's a feature that is useful and enables you to market to a global audience to gain more clients.
Synthesia can produce incredibly lifelike avatars that you can add to your films to enhance their appeal and engagement. Synthesia comes with a big library of pictures and designs that you may utilize liberally throughout your movies to help you create even more crisp videos.
To generate the ideal voiceovers for your videos, Synthesia also provides AI voices.
Synthesia offers two payment plans: Personal Plan at 30$ per month and Custom Plan; price available upon request.
2. Movavi
Since 2004, content producers have used Movavi because of its filters and transitions, which give videos a polished appearance. It is the ideal AI video editor for giving life to and disseminating your original ideas.
A Chroma key for changing backdrops, picture-in-picture mode, stylization or artistic filters, voice-overs, and one main screen from one source device with an inset window from another source device are some of its best features.
You may enjoy simple, elegant, and effective video editing with lightning-fast file processing and rendering. Using the extensive built-in library of example video clips, stickers, and music tracks, it can easily make short movies from your videos and photographs.
For a polished finished product, add titles, filters, transitions, and special effects. Use animation to smoothly pan around the things in your video.
Additionally offered are motion tracking, audio "denoiser," speed editing, audio improvements such as vibrato and robot effects, and audio correction (audio "denoiser"). Payment options for Movavi are usually made available on request.
3. Pictory
Pictory is a fantastic AI video editor. You can simply turn blog posts and articles into stimulating conversation starters with your audience with Pictory.
It uses your video's audio to create a transcript that you may use to alter the video. You won't need to repeatedly watch your film to discover the ideal moments. And don't worry if you need assistance getting started.
Their technology instantly syncs with more than 3 million stock images and movies, enabling you to quickly and easily produce a unique film.
You may input your script to this AI video editor and it will automatically search through its collection of royalty-free photos and movies to find the ideal visuals to accompany your text. Using this technique, attractive explainer movies may be made that are tailored to your message.
With its simple interface and capabilities, Pictory enables you to create fantastic videos out of any length script or pre-existing video.
It can be used with a Free trial. Users can also pay for Standard at $19 per month, Premium at $39 per month, and Enterprise at a custom price.
Read: 12 Best TikTok Video Editor (Free+Paid)
4. YouCam Video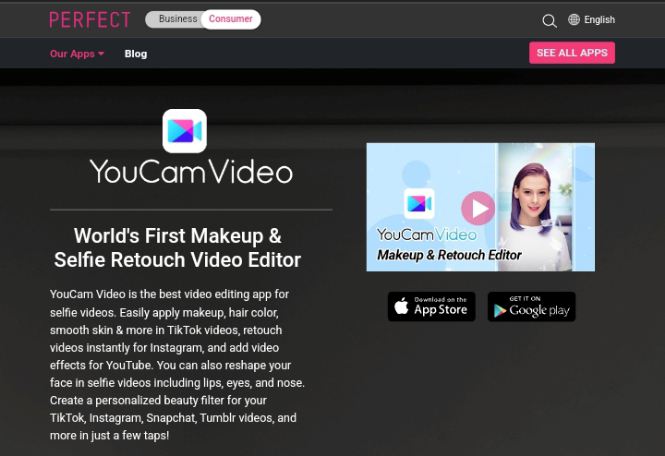 With AI-powered editing capabilities, YouCam Video stands apart from other AI video editors. With the YouCam Video AI video editor, you can give any clip a more polished appearance by adding AI-powered effects, retouching the backdrops, and more.
YouCam Video gives you the option to apply AI-generated effects to your videos thanks to its remarkable capabilities and a large collection of effects and filters.
The YouCam Video app, which has hundreds of AI video effects, will be your first choice if you want to add entertaining AI animation or holiday effects to your videos.
One of the greatest AI video skin retouching applications available is YouCam Video, which gives users access to AI-powered technology that enables them to instantly eliminate skin imperfections, smooth skin, and modify the form of their faces with a single tap in every video.
One of the best AI video editing capabilities in the YouCam Video app is video backdrop blurring. The YouCam Video app uses AI to identify persons in videos and to let video producers soften the background of videos.
5. Lumen5
The AI video editor with the best starting interface is Lumen5. Interestingly, making movies with Lumen5 is just as simple as making presentations.
Additionally, Lumen5 has hundreds of editable styles that you may utilize to produce polished films for any objective. You can create social media, marketing, and product presentation films from any marketing or blog content using this platform's powerful artificial intelligence algorithm.
Additionally, you can create amazing films using Zoom or recording. Additionally, a ton of royalty-free music and video resources are available in Lumen5 to make the creation of videos as simple as possible.
Lumen5 has 4 payment plans: the free Community Plan, the Basic Plan at $19, the Starter Plan at $59, and the Professional Plan at $149. There is also an Enterprise plan that caters to specific video editing needs and comes with custom pricing.
6. Descript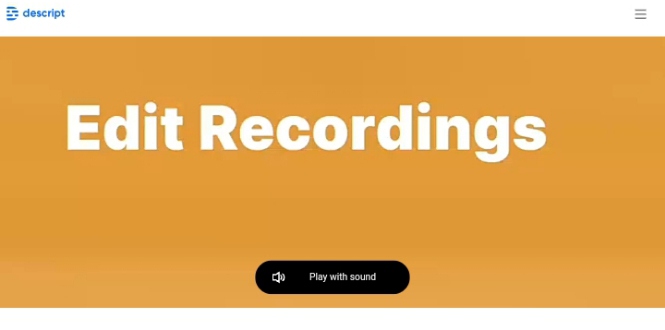 With the desktop AI video editor, Descript, you can edit your videos just like a text document. No more spending hours listening to recordings in search of the parts you want to cut.
You have the option of using the app to record or import your video into Descript. When you've finished, Descript will perform the work of producing a transcript for your video. You can alter your video by removing the text you see using that transcript.
Descript is a very useful video editing program. The text-based editing interface makes it incredibly simple and even enjoyable for individuals who are new to editing.
Since the UI is so different from something like Adobe Premiere, it can be a little challenging for more complex video editing. When you want to make a quick correction but don't want to start over with your video, the Overdub tool is fantastic.
The filler word elimination is tremendously helpful for improving your confidence and adding interest to your movie.
Descript charges per editor access needed. You can therefore have an unlimited number of seats for anyone who just wants to utilize the tool and provide feedback on your video.
Depending on how many editors will use the program, Descript offers tiers of fees. It has the free forever plan, Creator at $12 monthly for a yearly, Pro at $24 per month yearly, and Custom for groups of ten or more.
7. Runaway ML
Runaway ML is another excellent AI video editor. To assist you in producing videos that seem professional, the tool combines AI magic tools with several automation capabilities.
Runway's multitrack video and audio editing capabilities, which enable the creation of picture-perfect videos, are its finest feature. Green Screen is another feature that enables you to replace the video background with a transparent one.
The background of your choice can then be added. It automatically removes noise from the audio track and improves the quality using Runway's potent AI algorithms.
Runaway ML has Pro Plan at $12 per editor monthly which allows unlimited 1080p & 4K video editor exports and 500 GB of additional assets and Team Plan at $28 per editor monthly which allows you 1080p and AI Magic Tools exports, plus 1 TB of assets. Besides, there's a free plan that enables you to manage up to 3 projects and 5 GB of assets.
8. InVideo
InVideo is an excellent AI video editor if you want to make professional videos directly on your computer. You may upload new videos or use existing footage, select from a variety of templates and effects, then push publish without the requirement for expensive equipment or experience with challenging video editing software.
The cutting-edge AI technology can accurately determine the size and aspect ratio that will provide the greatest viewing experience for your video. Your InVideo-created videos will always seem crisp and beautiful when viewed on any device.
The payment plans are the Free Plan, which lets you create a 40-minute video with access to templates & media library, but your video contains a watermark.
The Businesses Plan at $15 per month with 60 videos per month and no watermark on videos. And the Unlimited Plan at $30 per month for unlimited videos each month.
Also Read: BEST AI IMAGE GENERATOR
9. Filmora
Filmora is renowned for its broad selection of artistic effects. To match your footage with music clips, the platform provides over 1,000 pre-made themes and an auto beat sync tool. Plug-ins for cinematic effects, motion graphics, and automatic audio and visual synchronization are still being added to Filmora's offerings.
This program can rapidly find and remove any jitters and over- or underexposed portions of your footage to create a clean montage. You can choose from six settings in its speed ramping tool to change the speed of your video portions. Additionally, Filmora provides capabilities for auto reframing, split screen, keyframing, screen recording, motion tracking, and masking.
All plan subscribers have access to more than 100 sophisticated tools for video, audio, and color editing, more than 200 professional-caliber visual effects, more than 1,000 pre-set templates, and more than 150 effects for picture framing. payment plans for Filmore are made available on request.
10. FlexClip
With the aid of the AI video editor FlexClip, you may edit videos without spending all day hunched over your computer, pausing and playing them. Without the hassle that comes with traditional editing, you may import your movie and utilize one of their templates or edit somewhat from scratch.
FlexClip's user-friendly method makes it simple to edit any kind of video, whether you're wanting to edit a straightforward movie to share with friends and family or you're a brand or business looking to edit and modify films to share with your audience and consumers.
They have a very user-friendly interface and thousands of additional capabilities to flawlessly edit your video without requiring you to put in many hours of work or employ a cumbersome tool.
FlexClip has a free version as well as three paid plans. The free version offers 1 stock video per project with a max of 12 projects. The Basic Plan costs $9.99 per month with custom branding and 720p HD downloads.
The Plus Plan costs $19.99 per month for up to 5 stock videos per project and 1080p HD downloads while the Business Plan costs $29.99 per month for unlimited stock videos and a video length of up to 30 minutes
11. Wisecut
Looking for a sophisticated yet user-friendly AI video editor? The video editing software Wisecut is one to look at. All the capabilities of conventional video editing tools are included in this AI video editor, along with automated procedures that enable you to swiftly produce videos of high quality.
You can quickly and easily add effects, music, and more with Wisecut, allowing you to make the most of your content without exerting too much effort.
Wisecut works best for amateur and experienced video editors that require an AI solution to swiftly and simply edit videos. Users may automatically add captions, transitions, music, and titles to their movies using the AI-driven video editing tool to build compelling narratives around their material.
Wisecut offers three different pricing tiers: Free Forever which offers 30 minutes of low-resolution video editing each month, Starter which offers 4 hours of medium-resolution video editing per month and Professional which comes with 10 hours of high-quality video editing every month
Also Read: Best AI Art Generator You Must Use Today
HOW AI HAS MADE VIDEO EDITING EASIER
1. Color Correction
Video editing requires color grading, and AI technology makes it quicker and more effective. Based on the footage's content, AI-powered color-correcting technologies can automatically change the colors and exposure levels.
These tools may instantly fix frequent problems with skin tones, white balance, and saturation, which can save editors a lot of time and work. Additionally, it makes sure that the color and tone are uniform, which might be difficult to accomplish manually.
Tools for color grading powered by AI can pick up lessons from earlier color grading choices. By reducing mistakes and irregularities in color grading, this learning process makes sure that the finished video has a polished and expert appearance.
2. Automated Video Editing
The most important elements of raw video footage, such as objects, people, and backdrops, are automatically identified and extracted by algorithms used in AI video editors.
The AI algorithms can also automatically put together the material into a compelling video after the pertinent pieces have been found. Because they are no longer required to manually filter through hours of film to identify the perfect clips for their project, this can save video editors a lot of time and effort.
3. Speech-To-Text Transcription
AI-powered transcription tools can convert spoken words in a video into text. These tools use machine learning and natural language processing (NLP) technologies to reliably record speech, independent of the speaker's accent.
The video will therefore be more accessible to a wider audience, including those who are deaf or hard of hearing, by using this text to create closed captions, transcripts, or subtitles.
Finding particular content inside a video may be made simpler by having a transcript of the spoken words. For instance, a user doesn't have to watch the full video to find a particular word or phrase they're looking for because they can just search the transcript for it.
4. Facial Recognition
Artificial intelligence-powered face recognition technology can be used to recognize people in a video and follow their movements over time. Then, as they move in and out of focus or alter their location throughout the video, AI technology can follow their movements.
Editing interviews and other similar forms can benefit greatly from this. For instance, during an interview, the AI can review the video and determine when each participant is speaking, at which point it will automatically change the camera angle to provide that person with the best possible perspective.
Without the need for intensive manual editing, this can contribute to making the finished result look more polished and professional.
5. Audio Editing
AI-powered audio editing technologies can boost voice clarity and automatically remove background noise or music. This can save post-production editors a lot of time and effort.
These technologies examine the audio signal using sophisticated algorithms to find undesired noises like hums, hisses, and clicks. The required material, such as speech or music, is then preserved while these sounds are removed.
These instruments magnify the voice while minimizing any undesirable distortion using sophisticated filters and equalizers. In podcasts, video voiceovers, and other audio material types where the voice is the main focus, this can help to make the voice more comprehensible and easier to hear.
CONCLUSION
AI video editors are very easy to use. Most of them can pretty much do whatever you desire to achieve in your videos. Just pick one that you understand how to use and delivers what you desire.
We hope you found this post as insightful as promised. Kindly let us know what you think.
If you liked this article, then please subscribe to our YouTube Channel for videos. You can also find us on Twitter and Facebook
REFERENCE
https://renaissancerachel.com
https://www.demandsage.com
https://www.perfectcorp.com
RECOMMENDATIONS