When you think of the best e-commerce platform for startups, what comes to mind is the following?
First and foremost, you think of your e-Commerce platform as the front window of your online business, because individuals are prone to window shopping, you want to provide them with a platform that encourages them to spend more and provides them with a positive customer experience.
However, e-Commerce hosting platforms are also software tools that allow online retailers to manage their websites, marketing, sales, and operations from a centralized location behind the scenes. They link with other business tools, allowing merchants to consolidate all of their operations into a single point of contact.
To support long-term company growth, an ideal e-Commerce platform is built to assist customers in finding the products they want, equip staff with the marketing tools they need, and provide assistance both before and after the platform is installed.
Do you require a platform for your e-commerce business? Yes! No matter if you're extending your brick-and-mortar store's online sales, or beginning from scratch with an entirely new e-Commerce business, you'll need an e-Commerce platform (unless you have millions to spend on building your own, which is something most entrepreneurs don't have on hand).
What Qualifies as the Best E-commerce Platform for Startups?
Customers now expect more from e-commerce than merely replicating the in-store experience; they expect personalized purchasing experiences that include rich media and video, and they expect them to be available on any device at any time. Furthermore, with customers becoming increasingly impatient, high-performance issues and the absence of downtime are playing an increasingly important part in determining brand perception and customer retention.
Fortunately, there are a plethora of e-Commerce platforms available for startups to select from, all of which may make their little business appear to be a major player. All you have to do now is choose the one that provides the most beneficial features for your e-Commerce business.
Consider the following considerations while making your decision:
Because you are unlikely to have an IT professional on hand, you should find the software simple to use.
Good SEO resources (again, with the help of an IT professional…)
Inventory tracking (why should you be tracking inventory by hand if you're paying for a platform?) and customer service.
The administration of shipping and fulfillment (this is especially critical if you're dropshipping)
Scalability is an important factor (you need a platform that can grow with you)
With just a few keystrokes these days, you can discover everything and everything you need on the internet.
E-commerce systems make it simple to order things, movies, and even food from the comfort of your own home or on the go using your laptop or mobile device. Online shopping platforms make it easier for clients to shop online, and they also make it easier for new enterprises to get off the ground. If you wish to start an online store in 2021/22, you will have a wide variety of possibilities to select from.
The e-commerce business is expanding at a rapid pace in tandem with technological advancement. According to the United States Census Bureau, the total sales of e-commerce web portals have reached 80.3 billion, indicating that they are on their way to becoming the dominant force in the industry.
Today, every firm wants to establish an online presence as well, since it is the most efficient means of connecting with a large number of customers, because there are so many options accessible on the market today, it may appear to be simple to create an e-commerce website. However, when it comes to selecting one of them, things become a little more tricky.
One of the most important decisions you'll have to make is which e-Commerce platform you'll employ to run your business.
Here are some of the greatest e-commerce platforms for new businesses to consider.
INTERNATIONAL BEST E-COMMERCE PLATFORMS FOR STARTUPS
1. Shopify
There is no doubt that Shopify is the most popular e-Commerce platform, and for some good reason it has a slew of useful features that are also incredibly simple to use. Store demands can be handled with apps from the Shopify app store. People that are serious about selling might also benefit from Shopify. Since it's so easy to integrate with social networks like Facebook Ads and Instagram, dropshipping shops (e-Commerce businesses that don't keep inventory but instead ship directly from a supplier) enjoy it.
2. BigCommerce
BigCommerce is a popular e-commerce platform among small businesses and major corporations alike with the help of a selection of templates, you can quickly and easily personalize your online shop, making it more appealing to potential customers and increasing sales.
For those of you who are a little more technically savvy, you can even change the HTML and CSS to make it even more personalized.
BigCommerce, in addition to providing an easy-to-use interface, provides a highly intuitive dashboard for managing products, orders, and return requests.
3. Ecwid
Ecwid includes a dashboard that is easy to navigate (and we love how during onboarding it tells you how far into completing your store setup you are). You may start selling with as few as ten things, and expanding your product line is simple (and unlimited).
Using Ecwid, you can sell on any device, across many websites (including blogs and social networks), and across multiple platforms (including mobile devices). Ecwid also includes a customer address book, a shipping calculator, and inventory tracking.
4. Limelight
Limelight is the most expensive platform on our list, but it offers high performance, dependability, and security, allowing businesses to give fantastic online experiences to their customers. It's also very scalable, given the fact that client demand frequently varies significantly over the year (the holiday rush, for example, or the release of a hot new item).
By operating on one of the world's most extensive private networks, Limelight avoids the congestion of the public internet, which results in speedier delivery of content and shopping carts. Of course, many firms may find the high price tag to be prohibitively expensive.
5. Square Online
With Square Online, the popular mobile point-of-sale system, physical store owners who want to go online can now do it with ease. Traditional shopkeepers may be unfamiliar with eCommerce, so the company made it as simple as possible for them to get started selling, from an Instagram account to a full-fledged e-commerce site.
Other unique capabilities include the ability to receive donations for charitable websites, online food ordering for restaurant websites, and online scheduling with Square appointments.
6. Squarespace:
Drag-and-drop elements on Squarespace websites add a lot of visual appeals. They provide a wide range of tools for creating e-commerce websites. Squarespace features like SKUs and many versions are widespread in the workplace. Over 1 million websites have been built with their bespoke templates and It began with the creation of blogs, but as it grew, it added more web development services.
Online shopping platforms in Nigeria
Jumia:
Nigerians love Jumia, which is a prominent e-commerce company. Established in May 2012, Jumia Nigeria is the country's answer to Amazon.com. Jumia Nigeria's fame has spread far beyond the continent's borders, with Amazon's Alexa rating it as Nigeria's most popular e-commerce website. On Jumia, you can sell just about everything. To get started, go to the Jumia Marketplace page on your computer or smartphone.
Konga:
According to the company, Nigeria's Megastore was "created out of the goal to provide with speed and precision so that you would never have to worry about accessing your needs and wants at your convenience."
To assure quick and efficient delivery, it possesses huge warehouses loaded with supplies and strategically positioned in important locations such as Lagos, the capital of Abuja, and Port Harcourt In addition, Konga allows small enterprises to sell and display a wide range of products on their website.
Payporte:
Launched in September 2014, PayPorte is already serving a wide spectrum of customers, from children to young adults in urban areas. Nigeria's preferred online shopping store, according to the e-commerce giant.
Also, PayPorte collaborates with small local businesses by displaying their products to a wider audience on its platform, giving them access to new clients, better logistical support, and the chance to grow their business even further.
VConnect Nigeria:
Until recently, VConnect was recognized as Nigeria's company listing website. However, the website just launched an open marketplace for its businesses to promote their products and services. VConnect, like any other Nigerian e-commerce website, offers a wide range of additional services to its customers, including logistics and payment processing With Nigerian Affiliate Marketing.
Kara:
Daily, thousands of customers come to Kara.com.ng to shop for everything from Mobile Phones to Electrical and Power Supplies, all at some of the cheapest prices you'll find anywhere online in Nigeria. In addition, Kara has a marketplace where other entrepreneurs can offer their wares.
Printivo Store:
In Nigeria, Printivo is the most well-known online printing store. Nigerian designers create free templates for Printivo's customers to use online. Using Printivo Store, designers and print suppliers can offer their prints and designs to people around the country and make money online. Printivo is a marketplace for print designs, as opposed to other e-commerce platforms.
Jiji Nigeria:
Established in 2014, Jiji.ng is a rapidly expanding Nigerian free classifieds site with a high level of security. When it comes to selling and buying nearly anything, Jiji makes it simple and hassle-free. To maximize your reach and profit as a Seller or business owner, you may use the website to publish free classified advertising for your products and services.
8. Obiwezy:
With the great objective to be Nigeria's home of pre-owned electronics like cellphones, PCs, smartwatches, iPads, and accessories Obiwezy company was started in January 2010. You may acquire quality used phones from them with warranty support, and you can also help them exchange their old phones for a new one. The Obiwezy company helps its customers by offering repair services, consultation, and follow-up services after the sale.
Ajebomarket:
One of Nigeria's largest men's online fashion retailers, Ajebomarket, was established in July 2013 with the goal of being the greatest in Africa. Its high-end goods are aimed at both children and adults. Check Ajebomarket for men's fashion items such as cufflinks and shirts, or shoes and bags.
10. Flutterwave:
Being an online payment service provider, It has established Flutterwave Store, an online portal for African merchants to sell online by constructing digital stores, and to create a store, merchants are asked to fill out basic information about themselves and bank accounts when they visit the website. A merchant ID is then assigned to conduct business with clients, and the platform allows small and medium-sized enterprises (SMEs) to establish online stores without having to maintain any sort of inventory.
11. Bumpa: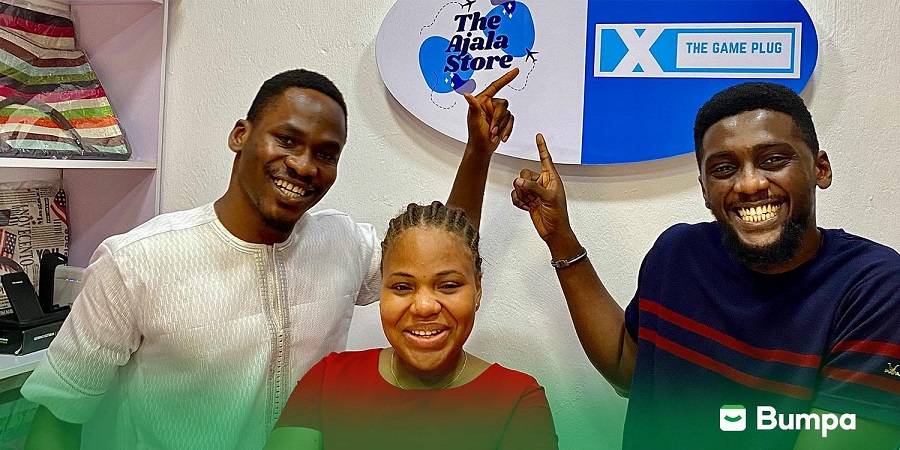 Bumpa is an e-commerce platform that aids merchants and enterprises in moving their operations online, allowing merchants with no programming or technical skills to set up an e-commerce store on their mobile phones. Considering their latest pre-seed raise of 200k, bumpa helps its customers manage inventory/items, fulfill orders and track sales, take online payments, create a free customizable website for listing products, request logistical assistance to enable them to deliver physical products easily, and interact with clients.
E-Commerce Builder Platforms for Small Businesses
Wix
In addition to its free website builder features, Wix also provides e-commerce plans for new business owners. If you pay annually, you will receive a free name as well as $300 in advertising vouchers. Costs are very reasonable, with the lowest plan costing only $17 per month. It costs $25 per month to use Wix's most expensive plan, which includes the following extras:
Support over the phone
Priority treatment
Ticket support
Analyze your site's user experience and search engine optimization
Wix lets you sell both physical and digital goods, which is typical of most e-commerce sites. However, it has characteristics that will be useful to a wide range of companies. Customers can plan appointments or sign up for classes using booking features, for example. Create a personalized music player with Wix Music, sell digital downloads, and keep track of sales and performance statistics all in one place. When running a restaurant, you can take online orders, accept reservations, and send email reminders to customers. As a result, it's not simply for an e-commerce platform for small businesses.
Magento
If you're an established retailer looking to expand your sales online, Magento is the finest e-commerce platform for you. Magento is used by some of the world's most well-known companies, as you can see by a quick look at its website. There is no cost to download the software; nevertheless, a developer will be required to create anything spectacular. Several Magento partners can assist you in creating an online store that integrates with your physical location.

Magento is quite picky about the third-party developers it allows to contribute to the open-source project. The firm offers enterprise-level solutions to help you create an integrated omnichannel strategy. Using a real-time inventory system, customers may place orders online for pick-up at your store. One theme is included in your online store for free; all others cost between $29 and $500. The following parts of your business will be easier to manage if you add extensions to your account:
Accounting
Content administration
Support for clients
Marketing
Payments
Security
Reporting
Other e-commerce platforms for small businesses include the following:
Big Cartel is a great tool for artists looking to make money by selling their work on the internet. Anyone selling up to five products on a Big Cartel-branded website is entitled to a free subscription.
In terms of open-source commerce software, there's OSCommerce. You don't have to pay anything to use it, but you will have to find a place to host it if you do. Thousands of free extensions are available for use if you know how to code.
Compared to Shopify, Volusion has been criticized for collecting extra costs that aren't readily apparent. Transaction fees have replaced SSL certification and bandwidth fees as a source of revenue for the business.
Weebly is a fantastic platform for those just getting started with setting up an online store. It would be even better if there was a customer log-in area.
Conclusion
People today are strapped for time, especially when it comes to making in-person purchases at brick-and-mortar retailers. They prefer to do their shopping and browse on their mobile devices or PCs. This market base may be captured and your clients kept up to date on all of your latest offerings if you have an e-commerce site.
FAQ
How Do I Select The Best Platform For My E-Commerce Website?
Do your homework before you start developing your e-commerce website so you can make an informed decision on the finest platform. Always keep in mind what you're trying to market when making a sale. Online storefronts vary greatly in their ability to manage inventories and offer a variety of products. Before choosing a platform, think about the design possibilities, payment methods, site security, integration with other tools, features, and pricing.
What Are the primary functions of e-commerce websites?
These websites are platforms for buying and selling since they assist online shoppers in making secure purchases from online retailers. It also aids in the collection and use of demographic data from a variety of sources, which makes customers feel better about their shopping experience.
For what reasons do businesses require e-commerce?
Ecommerce has grown in popularity recently since it provides businesses with a wide range of opportunities, from marketing to expanding the number of products available, all of which contribute to increased sales. You can easily set goals and meet them with an optimized and well-designed e-store that provides round-the-clock customer care.
What Kinds Of E-Commerce Exist?
Internet commerce, sometimes known as e-commerce, refers to a wide range of business transactions that take place via the internet. B2B is for business-to-business; B2C stands for business-to-customer; C2B stands for customer-to-business, and C2C stands for customer-to-customer.