Creating anything is possible these days with the power of AI. AI is so efficient that the things they create can hardly be distinguished from reality. And when it comes to image or picture creation, AI excels. Most AI tools involved in image creation and editing are doing exceptionally well.
AI face generators are one of the AI tools that produce amazing results. They produce such magnificent outcomes that you'll need to be told, "This Person Does Not Exist" before you figure it out.
In this post, we'll be taking a look at some of the best AI face generators that can produce fantastic results. Now, this post will be super insightful, so we'll urge you to read it to the end.
Table of Contents
WHAT IS AN AI FACE GENERATOR?
As its name suggests, an AI face generator is a tool that helps you create photorealistic human faces using Artificial Intelligence. Such tools are known for using advanced machine learning algorithms to understand all the features of a human face. After learning that, these tools emulate actual human faces to generate new ones within mere minutes.
The best thing about AI face generators is that it does not take a lot of technical knowledge to use them. Anyone with a basic knowledge of how to operate a computer can use it to create hyper-realistic portraits without breaking a sweat. These tools also let users unleash their creativity by allowing them to do more than just make portraits.
The majority of AI face generators today allow you to design whatever bodies or scenes You can imagine. Because of this, AI face generators are effective tools for making portraits for a variety of uses.
You Might Also Like: Best Profile Picture Maker
WHY ARE AI FACE GENERATORS IMPORTANT?
In today's digital age, AI face generators are becoming more and more significant. These tools are essential to many facets of our lives, including biometrics, digital entertainment, and security.
Realistic avatar creation for video games and other interactive media is a key application for AI face generators. In the past, game designers frequently turned to using generic avatars that lacked a realistic or appealing appearance.
However, today, incredibly accurate 3-dimensional representations of individuals with a variety of appearance options, such as eye color, hairstyle, and facial features, can be made using AI face generators. As a result, there are more visually appealing characters for gamers to connect with and enjoy playing.
AI face generators are employed in biometric security protocols, such as facial recognition software used for identification, and enhancing the immersion of virtual gaming.
These systems' technology depends on being able to precisely capture each person's distinct facial features so that they can be recognized by the system each time someone tries to access their accounts or gadgets. AI face generators will be more and more crucial parts of the global security architecture as this technology develops.
One of the most intriguing uses for AI face generator technology is its potential use in virtual reality settings like social networking experiences, where users are represented convincingly by avatars rather than their actual faces. Users would be able to protect their online privacy while still feeling as though they were conversing with one other from other locations.
It is evident that AI face generator technology has a wide range of applications in our increasingly computerized society and will only get more advanced with time, thanks to fresh developments in AI research and development.
AMAZING BEST AI FACE GENERATOR
The following is a list of some of the best AI face generators that produce amazing results:
1. This Person Does Not Exist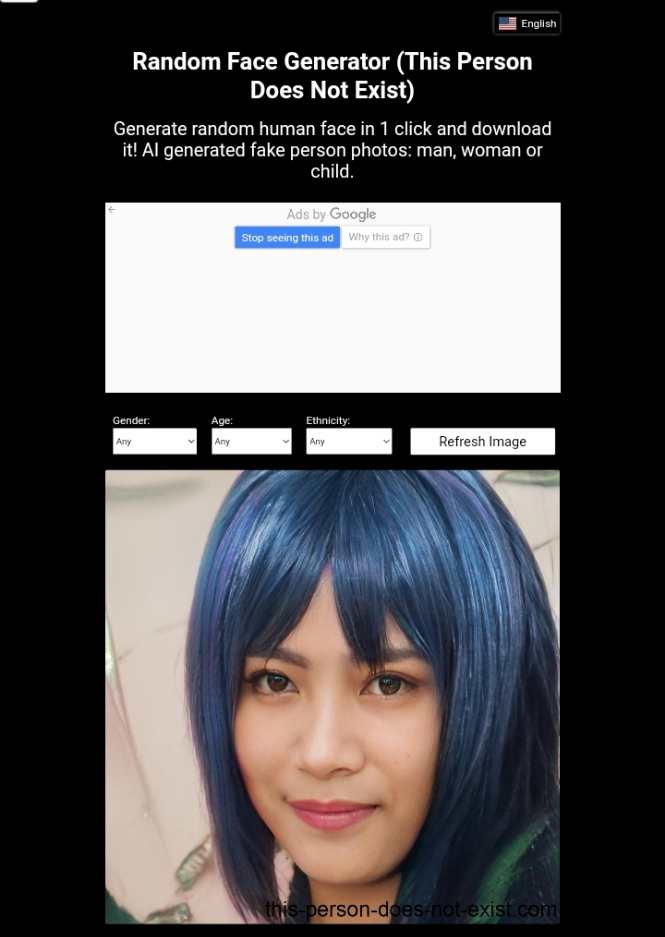 The first AI face generator on our list is This Person Does Not Exist. This Person Does Not Exist, as the name suggests, allows users to quickly and accurately make images of nonexistent persons. The application will construct a face based on the gender, age, and ethnicity you select for your ideal false portrait.
You can reload the image to receive a new result if you are unhappy with the output. When you are happy with the outcome, download it and utilize it in any projects you are working on.
Currently, This Person Does Not Exist only offers a free download of your generated portrait for personal use. You must pay $14.95 to purchase it solely for projects.
2. Generated Photos
The next AI face generator on our list is Generated Photos. This tool focuses on producing beautiful pictures of people's faces. Generated Photos claims to use a proprietary dataset produced in-house, in contrast to certain other AI algorithms that use photographs taken from the internet.
This collection is made up of tens of thousands of photographs collected in a controlled setting after the publication of the model guaranteeing each face's uniform appearance and high quality.
To use this AI face generator, you'll have to pay $199 per year. Nevertheless, they do provide a risk-free 3-day trial. There are no returns, though, if you forget to end your subscription before the trial period has expired. So be mindful! They also provide a $19.99 per month subscription service.
This generator is simple to use and provides a wide range of customization options so you may create the ideal face for your requirements.
3. Fotor
Fotor is not just one of the most popular, but also one of the best AI face generators. You can quickly create distinctive, photorealistic human faces with Fotor's online AI face generator. You only need to enter text prompts and the AI algorithm will handle the rest.
You can input the sex, age, and other characteristics to ensure that the final product closely resembles the desired face. Your selection of facial angles, eye colors, skin tones, accessories, and other features will completely change how your AI-generated faces look.
Apart from allowing you to make realistic faces, Fotor also lets you build faces in several other styles, such as cyberpunk, anime, 3D, illustration, etc. You can also design whatever you can imagine, including landscapes, cartoon characters, animals, and digital art. This online AI face generator from Fotor is cost-free.
You Might Also Like: Best Face Editing Apps (Paid + Free)
4. Deepswap
Deepswap is next on our list of the best AI face generators. This internet tool can produce amazing AI human faces. It allows users to insert themselves into movie sequences, create AI faces from images, and much more—all without having to download anything. Everyone can use this web-based program since it is fully web-based.
Deepswap is a fantastic AI face generator and it's also perfect for face-swapping photos with friends or well-known celebrities, or even for making incredibly humorous gifs that users can post on social media.
Deepswap is accessible for free, although it has several fantastic premium features. Free users can still use the app, albeit with fewer free uses and shorter video uploads. You can subscribe for as little as $4.99 per month or $49.99 per year to enhance your experience.
5. NightCafe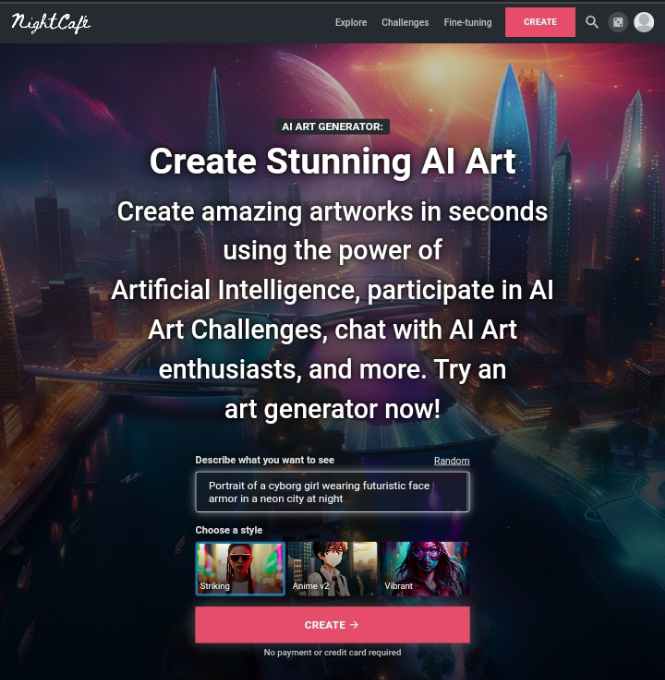 Next on our list of best AI face generators is NightCafe. When given a brief description of your requirements, NightCafe will produce gorgeous, hyper-realistic images of hypothetical individuals that you can use everywhere. Furthermore, you have a variety of styles to pick from, including color photographs, black and white photos, artistic portraits, and more.
To make things more convenient for you, NightCafe customers can design many faces at once. NightCafe is a cross-device application. This implies that regardless of the device you're using (a smartphone, tablet, or computer), you can design lifelike faces.
Currently, NightCafe provides its astounding AI face-generating services without charge. Consequently, you don't need to spend any money at all to make stunning portraits.
6. DataGen
DataGen is another outstanding and effective AI face generator. It offers professional features like total control over intrinsic and extrinsic camera settings and a variety of structural arrangements for hair, complexion, age, and other factors.
You also have access to a range of facial measurements that may be precisely adjusted to suit your demands as well as numerous lighting settings. This wonderful tool can generate up to 100,000 faces in the finest resolution image format, along with more than 5,000 different hair and beard style possibilities. You can use a free trial version or get in touch with the seller to learn the price.
7. FY! Studio
FY! Studio is next on our list of best AI face generators. This one requires you to enter a text description to produce a face. You can select a style for your AI face after entering the details. It has many settings that make it a fantastic tool for individuals who want greater control over the output.
The outcomes of this AI face generator are intriguing. You can pick one of four AI faces. You should try the FY! Studio today.
You Might Also Like: BEST AI IMAGE GENERATOR
8. SoulGen.ai
The next AI face generator on our list is SoulGen.ai. You can easily construct your virtual soulmates using this AI face generator. You only need to enter a word prompt and select a soulmate style for SoulGen.ai to instantaneously create an AI face. You have the option of requesting that your soulmate resemble a real person or an anime character.
SoulGen.ai offers free image creation with a few features. But you can purchase its Pro plan for $9.99 per month or $69.99 for 12 months to unlock its full power.
9. FaceMagic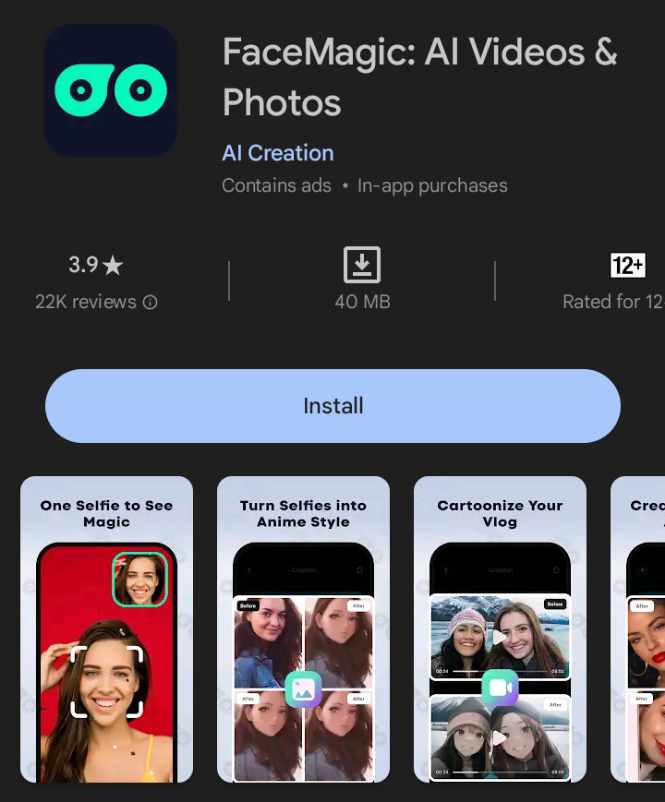 FaceMagic is also another fantastic AI face generator. This mobile app provides free users with a sizable amount of daily material and is available for both Android and iOS. Its highly sophisticated AI system makes face-swapping simple
You can face-swap images, put yourself into movies and TV shows, and make animations to send over WhatsApp or iMessage with just a few touches.
Although using FaceMagic is free, the premium experience is significantly superior. If you're serious about AI face generators, this software is a must-have because it allows you to add your content and erase watermarks from photographs using credits.
10. BoredHumans.com
BoredHumans.com is another very popular AI face generator that allows you to quickly build AI faces. With the help of BoredHumans.com's Fake People tool, creating digital beings is made simple.
An enormous library of 70,000 images of real people served as the basis for its AI algorithm's learning. This has enabled the fake person generator on boredhumans.com to produce distinctive, lovely AI-generated photos that resemble actual individuals. Right now, the fake person generator on the official BoredHumans.com website is cost-free.
11. Protypr
Next on our list of best AI face generators is Protypr. Prototypr simplifies the process of creating digital portraits and avatars. With just a few clicks, you can quickly and effortlessly create bespoke photos thanks to the interface's expertly-built customization possibilities.
You can add life to your images with incredibly realistic effects by using cutting-edge features like auto-smoothing and real-time photo enhancement tools. Prototypr also offers customized options like color changes or warping, allowing you complete control over the final product.
It's the ideal tool for graphic designers and regular individuals who want to give their photographs a unique touch without having to cope with challenging editing software.
12. Anonymizer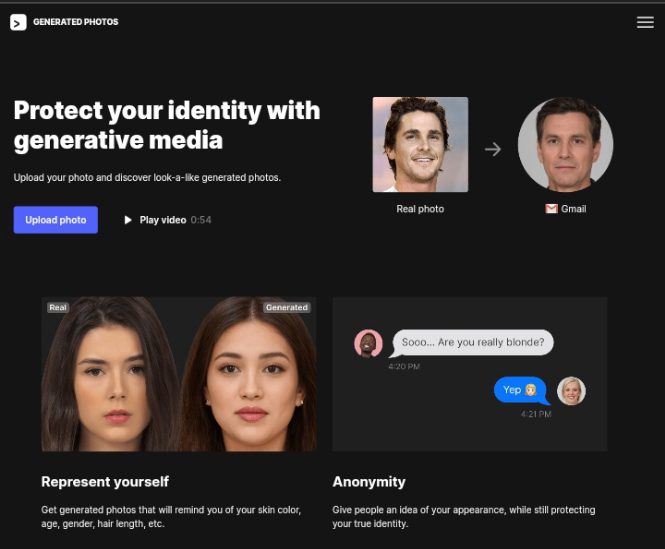 Anonymizer is also one of the best AI face generators. It is an excellent tool for protecting your identity when using generative images. Using their photo as a guide, you can produce portrait images that seem similar to each other. You can maintain your skin tone, age, hair length, and other characteristics for an accurate portrayal.
Anonymizer, as the name suggests, gives you the ability to describe your appearance to others while staying anonymous. As of the time of writing, Anonymizer is available for free use for personal purposes. To use it for business purposes, you must speak with them and buy one of the offered commercial licenses.
You Might Also Like: Using Different Tools To Add Pictures To Videos
13. SwapStream
Concluding our list of the best AI face generators is SwapStream. This tool is specifically for people who want to hide their identity while streaming. With no need for downloads, this web application allows you to edit your face while streaming to any streaming platform.
Your webcam and the streaming service are connected using SwapStream. Before it gets to the streaming website, it modifies the raw video, changing your face in the process. You can use the tool to replace your face with any of the AI-generated faces the app offers, which is ideal for trolling your audience.
SwapStream is the ideal solution for you if you want to invite a well-known celebrity to your stream, so look no further.
FAQS
Is it OK to use the faces I generated for business purposes?
Usually, you are allowed to use created images for profit. However, a lot of websites or programs will demand that you pay for a subscription. The cost of a subscription can vary depending on the plan you choose to buy and the tools you use.
What are the prices of AI face generators?
The price of AI face generators might vary greatly depending on the complexity and type of features you require. AI face generator services can range in price from $100 to $1,000 for simple applications like producing a batch of stock photographs for a website or social media campaign. Due to the number of calculations needed by the AI system, more complicated applications like real-time video face swaps may cost thousands of dollars.
What Software Can Integrate with AI Face Generators?
Tools of many kinds, including design and animation tools, can be combined with AI face generators. For instance, a designer may swiftly build characters for a video game or online game by using AI-generated facial traits. After that, animated figures may be created from these generated faces and added to 3D scenes using animation software. Furthermore, CAD or CAM programs might be integrated with AI face generators so that a user can simply modify and polish an AI-generated face's features.
FINAL WORDS
AI face generators are spectacular tools that can generate whatever you want them to. You just have to pick the most appropriate AI face generator. The list above contains some of the best AI face generators out there. Pick one from our list to meet your needs.
We hope you found this post as insightful as promised. Please feel free to drop a comment in the comments section below.
If you liked this article, then please subscribe to our YouTube Channel for videos relating to this article. You can also find us on Twitter and Facebook.
REFERENCE
https://m.jpost.com
https://geekflare.com
https://www.jeffbullas.com
RECOMMENDATIONS