Since the introduction of smartphones, photography has permeated every aspect of our daily lives. Over 5 billion photographs are being posted every day, according to some estimates. Of course, this just reflects the limited number of pictures we decide to show others, and chances are, the bulk of them have been edited in some way.
Editing pictures before uploading them is now a generally practiced norm. This has led to the emergence of tons of face editing apps. In this post, we'll take a look at some of the best face editing apps. This post is insightful therefore endeavor to read it through.
Table of Contents
WHAT ARE FACE EDITING APPS?
Face editing apps are apps that enable users to modify and retouch portraits, selfies, and photos of faces. They can alter current images or take brand-new ones using a range of techniques, like face morphing and red-eye removal. Both amateur and professional photographers frequently utilize these apps.
WHY PEOPLE USE FACE EDITING APPS
1. Give Yourself a Makeover
While we should be unduly self-conscious about our appearance, we all have flaws and faults. In some cases, a flaw in a photo can lessen the impact it would otherwise have. Using face editing apps can whiten your teeth a little, erase the red eye, and even out your skin tone giving you a total makeover.
2. Simple Interface
The user experience and project completion of face editing apps are quite straightforward. Because their interface resembles social media platforms, these applications make it simpler for users to become familiar with the ins and outs of the editing apps.
3. Better Than In-Built Editing Apps
The face editing apps that can be downloaded from the internet are far superior to those that can be found on the phone's memory. In terms of quality, these apps surpass the built-in face editing apps on phones. They are more tenacious and provide many more possibilities.
4. Excellent For Newcomers
The greatest approach for a beginning photographer to become familiar with a camera and the numerous aspects of a camera and a photo, such as tone, brightness, contrast, etc., is through face editing apps. Amateur photographers can realize their photographic ambitions and concurrently learn with face editing apps.
5. Fast Processing
While a lot of an app's performance is dependent on the speed of the computer or phone you are using, face editing apps typically have the built-in speed needed to process photos and offer you more filter options quickly.
You might like: Top 10 Best Video Editing Apps For Android
BEST FACE EDITING APPS
The following are some of the best face editing apps you can download:
1. YouCam Makeup
YouCam Makeup is one of the best face editing apps. The best face-shaping tools available are all included in the free selfie software, which you can use in both live camera and photo editing to enhance your appearance. With this effective face editing app, users can easily edit their face form on either side as the app recognizes both left and right angles, chin shape, cheekbones, jawline, and forehead naturally. 
It has an AI-powered photo-to-cartoon tool that allows you to create cartoon versions of your portraits, which makes it ideal for establishing standout profile photographs.
YouCam Makeup is also known for having excellent auto skin retouching tools to quickly and efficiently cover up blemishes, dark spots, uneven skin tone, and redness with a few taps. It's the best virtual makeup selfie app, and you can use it to add hundreds of different beauty filters to photos or your face in real-time.
The YouCam Makeup software, which excels in face editing and comes with hundreds of beautiful photo backgrounds, animations, and photo effects, is also excellent for simple selfie editing.
2. Snapseed
Snapseed is one of the most popular and impressive face editing apps available today. Snapseed is also a free face editing app. To help your image stand out, you can find a variety of helpful tools, filters, presets, and other features. Both JPEG and RAW files can be opened by Snapseed, which is available for iOS and Android smartphones.
Users of Snapseed can enhance their photos with numerous effects, change the contrast, add a subtle glow, and more. You can smooth skin, bring your eyes into sharper focus, and include face-adjusted lighting in your photograph by using the Face Enhance tool. Its broad features can also be used to give a Bokeh effect to your photos or change the pose of pictures based on 3D models.
3. BeautyPlus
BeautyPlus is one of the most widely used face-editing apps worldwide. When you use this app, you'll see why it's so widely used. This face editing app produces high-quality photo adjustments in half the time other apps do.
The capability of this face editor app to eliminate skin imperfections and change the face's contour particularly stands out.
To ensure that certain of its functions function properly, the app also makes use of face recognition technology. While employing facial recognition can be risky to user privacy, the privacy policy indicates that scans for facial recognition are not maintained.
4. FaceApp
FaceApp is next on our list of best face editing apps. It is an extremely popular and widely used AI face editing app in recent years. FaceApp is renowned for leveraging cutting-edge AI technology to generate remarkable selfie editing effects, such as the celebrity-approved face aging tool and face switching.
Users can choose from a variety of beauty effects to test out on their selfies using the Impression feature. The FaceApp engine will modify the photo to make it more attractive overall by adding cosmetic effects as well as natural face reshapes like lip plumping and face slimming.
It is available for download on iOS and Android devices and costs $9.99 per month and $59.99 per year.
5. PicsArt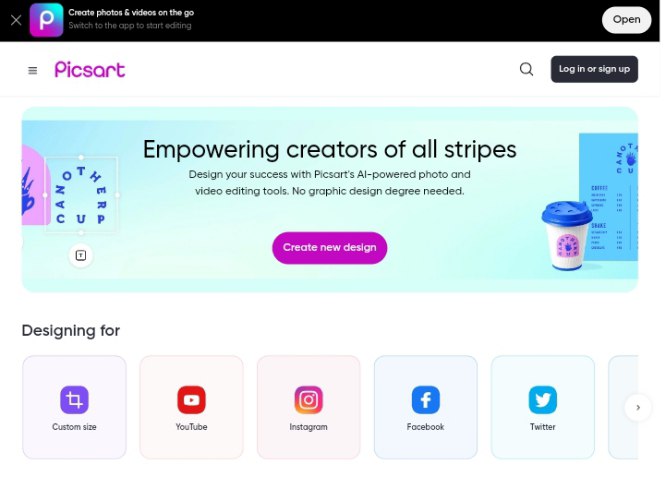 PicsArt is another face editing app that is renowned for its sophisticated editing tools, elaborate backgrounds, and beautiful photo effects. It also provides a variety of face modification capabilities so you can prepare your selfies in one app. Users can automatically or manually blur the skin in images with PicsArt retouch.
It also provides tools to alter the size of the skull, the length of the chin, and the forehead, but only for premium users. PicsArt can still be a quick remedy if you're searching for a rapid cure for your skin, though.
You might also like: 14 Best GIF Maker Apps
6. Peachy
Users of iOS should consider Peachy if they're seeking a straightforward yet powerful face editing app. It contains more than enough tools for face shape and editing, in addition to pre-set filters, to produce well-edited photos.
Hilarious avatars with a cartoon motif can be made using Peachy, which is quite popular on social media. The downside to this face editing app is that it lacks many sophisticated tools like other apps.
7. Fotogenic
Fotogenic, an all-in-one face editor app provides a special assortment of simple features made to improve your photos. It has a user-friendly UI and all the key capabilities you could want in a face editing app.
Using Fotogenic, you can easily smooth your skin, achieve brilliant white grins, brighten your lips, alter your facial features, and more. You can also add tattoos, build up your body, give your skin a bronzed appearance, and even eliminate undesired things from your photographs with this app.
8. Facetune
The next app on our list of best face editing apps is Facetune. Facetune Selfie Editor has many helpful face-reshaping features. You can edit your appearance in real-time with tools for contouring, tone, and face shape. Your selfies can seem better and more professional thanks to the app's additional filters and effects, such as backdrops and relighting.
FaceTune stands out because of its dual editing capabilities for photographs and videos, making it a preferred app for individuals who also want to beautify their video content. FaceTune is a fantastic option for people who wish to produce results that look professional.
It can be used on both iOS and Android devices. It costs $5.99 per month, $35.99 for a year or you can use the one-time purchase of $69.99.
You Might Also Like: Best AI Art Generator You Must Use Today
BEST FREE FACE EDITING APPS
The following is a list of the best free face editing apps you can download on your device:
1. AirBrush
Airbrush is another outstanding face editing app. With the help of Airbrush, selfie enthusiasts of all skill levels can easily edit their faces. It has capabilities for editing the face contour and smoothing the skin for a more natural appearance.
What's remarkable is that the majority of the Airbrush app's retouching capabilities are intended to be used manually, making them better suited for users who like to edit photos with finger swipes rather than auto-detection.
2. PhotoDirector
PhotoDirector is one of the best face editing apps out there. It is an all-in-one photo editing app that has a ton of features and tools for improving your photos. It includes expert AI-powered tools that can modify backdrops, animate your photos, remove people or objects from them, and much more. It is available on both the App Store and the Google Play Store for free.
With only a few finger taps, you can edit the form of your eyes to get the greatest possible appearance. Acne, blackheads, uneven skin tone, and any other imperfections that you don't want viewers to notice in your photos can be easily removed by PhotoDirector's blemish remover. You don't need to manually eliminate your flaws like you would with other apps because it detects them automatically.
Using the face reshape tool, you can even thin down your face for adjustments that seem professional and natural. With the help of AI-powered technologies, PhotoDirector instantly recognizes your face and utilizes a sliding adjustment bar to let you choose how much of the desired effect to apply to widen or narrow the shape of your face. With this app, you can automatically edit the faces of numerous people.
It can be downloaded on iOS and Android devices.
3. Perfect365 Makeup Face Editor
Another great face editing app is Perfect365 Makeup Face Editor. It is ideal if you want to give your photos a creative flair. You can edit practically every feature of your face with this simple-to-use app for face retouching, from eliminating tiny lines to changing the color of your hair. On Perfect365, you can choose to add eyeshadow, lipstick, wacky hair color, or simply a light touchup for a no-makeup look.
This outstanding face editing app for makeup and face-tuning is available for both Android and Apple devices. With Perfect365, you can add unique backgrounds and a variety of makeup styles to your photos. You can fully customize the color pallet to build your color combinations.
4. Fotor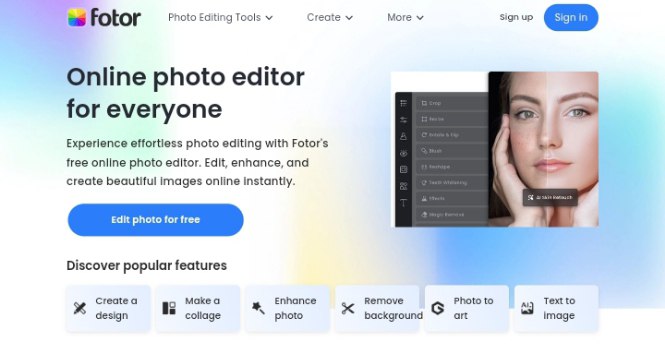 Fotor has an extensive selection of tools and functionalities. It is a versatile face editing app. It is renowned for its beauty filters and auto-retouching features. With just a few touches on Fotor, you can rapidly improve your selfies and pictures. It offers a variety of photo effects to lighten your skin, improve skin tone, and erase blemishes.
This face editor provides options for red-eye reduction, teeth whitening, hair color customization, and face sculpting. Fotor is a must-have app for anyone who edits photos, regardless of expertise level thanks to its user-friendly design and potent editing capabilities.
In addition to these effective face editing tools, Fotor also has an AI-powered photo-to-cartoon capability that can transform your portrait into a cartoon appearance, making it ideal for producing standout profile photographs.
Fotor also allows you to edit images by changing the background, removing the background, and changing the hair color. It can be downloaded on iOS and Android devices. To use this app, Fotor Basic is Free, Fotor Pro costs $3.33 per month while Fotor Pro+ costs $7.49 per month.
5. YouCam Perfect
YouCam Perfect is another amazing face editing app. With the face shaper in YouCam Perfect, you can edit particular features of your face and decide how much of it is reshaped.
The face-shaping tool in YouCam Perfect allows for both manual and automatic editing. You can drag the slider to select the area of your face that the AI will automatically detect, then select how much of your face you wish to slim down. For even more accurate facial editing, there is a manual option.
6. VSCO
VSCO is mostly recognized as a photo editing tool, but it also has a variety of lovely effects that can improve your facial characteristics making it one of the best face editing apps. The filters from VSCO are made to provide a beautiful, artistic touch to your images. You have the flexibility to create the style you want thanks to the app's ability to change the filter intensity.
VSCO provides fundamental editing capabilities including exposure, contrast, and saturation adjustments in addition to filters. VSCO is a favorite among Instagram users and photographers because of its simple interface and premium filters.
You can construct your looks and distinctive filters for convenient plug-and-play alternatives with a wide selection of filters to suit any style and even automatic recommendations. It is available on iOS and Android devices. To use this app, the Starter plan is Free, Plus costs $7.99 per month while Pro costs $12.99 per month.
FAQs
Which face editing apps are the most complete?
The most complete face-shaping tools are found in YouCam Makeup. This app makes it simpler than any other to achieve the look you want, and you can use its additional capabilities to alter other aspects of your appearance besides your face shape, such as your cosmetics and hair.
How can I get face editing apps?
On the Play Store and App Store, there are several face-editing apps. They provide a variety of services, including artificial intelligence (AI)-based photo filters, hair coloring, and teeth whitening.
Which face editing app is the best?
Given that each of them offers a variety of distinctive features, it is challenging to single out one face editing tool as the finest. Your selections will determine which app is the best for you to use to alter your face. But for all kinds of users who want to alter their facial features, FaceApp is a fantastic program.
CONCLUSION
Regardless of how skillfully a photograph is taken, post-production and editing have always been necessary. You can use the outstanding face editing apps mentioned above to enhance your face in pictures. With these tools, you can do practically anything, from smoothing wrinkles to brightening filters and teeth.
We hope you found this post very insightful. Feel free to leave a comment below.
If you liked this article, then please subscribe to our YouTube Channel for videos relating to this article. You can also find us on Twitter and Facebook.
REFERENCE
https://www.perfectcorp.com
https://www.fotor.com
https://vpnoverview.com
RECOMMENDATIONS