Have you heard about people who make money while sleeping, the passive income? I know a friend who told me not so long ago that before he wakes up in the morning, he should have received an alert of money paid into his account. Even if he doesn't do anything for the rest of the month, he will continue to make steady passive income online monthly.
This confidence draws my attention to sharing more light on how you can successfully make passive income online. Suppose you are a fresh graduate still looking for a job and live in the part of the world where the unemployment rate is at its highest.
Or you are just looking for additional means of making extra income without necessarily having to quit your current job; maybe you're just making plans for your retirement, then this article is right for you.
In this article, I will show you how to harness the power of technology to make passive income. A passive income gives you extra and better financial security. But deep down inside, you know you've always wanted more. More money. More financial freedom. More flexibility. And I believe that you will take action after reading.
Table of Contents
What is passive income?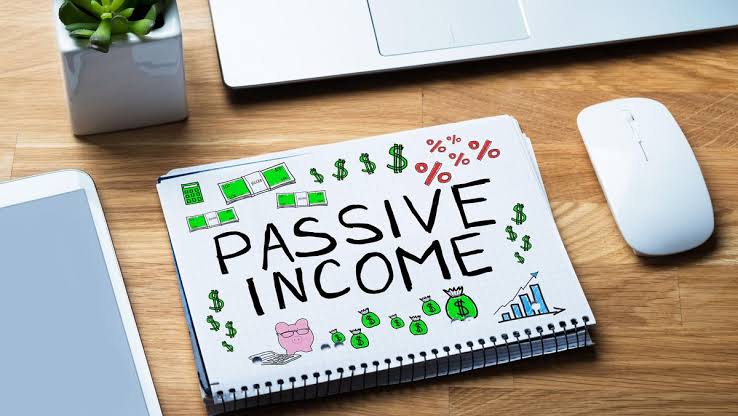 Here comes the golden question, What then is passive income? How many streams of income should you have? What are the best passive income ideas in 2021?
In a layman's term, passive income is money you made online primarily through work or investment that requires little or no minimal labor to earn and maintain. It's a steady flow of income where you expend little effort to grow the income and do not need busywork after a certain period.
Most passive income sources will initially require time, energy, and effort to set things up. But if you get it right, you will get to a point where you can easily sit back, relax, and regularly enjoy steady passive income.
You can choose as many passive income ideas in 2021 that you can handle depending on your capacity and your financial goals; there's no rule of thumb about this.
But having at least a few is an excellent way to begin. Provided one is not disturbing the other.
So without further ado, let me show you how you can earn passive income. Most of these ideas require little or no capital to begin, and location is not a limitation. You don't need profound know-how before you start; what you need is your commitment to learning, a smartphone or computer, and an internet connection.
Passive Income Ideas
Start a Dropshipping Store
Affiliate Marketing
Run a Blog
Create YouTube Videos
Create a Digital Course
Invest in Stocks
Write an eBook
7 ways to make steady passive income online
1. Start a dropshipping store
Dropshipping is one of the most profitable passive income sources you'll find online today and that's because there've been a lot of people who have made tons of money successfully doing this.
With dropshipping, you can find trending products on popular e-commerce websites like AliExpress, Amazon and Oberlo marketplace that you can then sell online to customers around the world.
You can sell products in various dropshipping niches from fashion to home decor to gadgets to beauty. The magic in dropshipping is that you build your own business and control how much you charge for the products. In fact, out of all the passive income ideas on the list, dropshipping is the one where you have the most control over your earnings.
Literally drop shipping is having your own ecommerce business with little or no capital. To start dropshipping today, you can sign up for Shopify. Once you create an online store, you can sign up to an e-commerce site to find high-quality products to sell and you will continue to make massive passive income.
2. Affiliate marketing
Without any doubt, affiliate marketing is unarguably one of the biggest way to earn easy money in Nigeria. I've met young guys who made their first million in a few months through this business.
What then is affiliate marketing? With affiliate marketing, you get to promote a third party's product by including a link to the product on their site or social media account. Once you make a sale through that unique link, you get a percentage from the sale. Amazon might be the best-known affiliate partner, but there are other platforms like eBay, Awin, ShareASale, expertnaire and learnoflix.
Affiliate marketing is particularly common with website owners, social media "influencers" and bloggers due to their large audience. Instagram and TikTok have become huge platforms for those looking to grow a following and promote products.
You could also consider growing an email list to draw attention to your blog or otherwise direct people to products and services that they might want. On average most affiliates in Nigeria make from 50,000 to 200,000 monthly depending on how big your audience is,and how much sale you make.
Also read: Best investment and savings platform in Nigeria
3. Create a Blog
Do you love writing or you have a strong passion for pretty much anything? Then blogging might just be what you should consider. We can't talk about blogging in Nigeria and not mention Linda Ikeji who showed the world that you can truly make not just millions but billions of naira from blogging.
Blogging is the most popular passive income stream for most Nigerian youth. Blogging has helped countless entrepreneurs earn passively through Affiliate links, Courses, Sponsored posts, Products, Book deals, Google Adsense and more. I
I would personally advise any youth complaining about unemployment or maybe you're still in school and you have some free time, this is one career you can carve out for yourself. You just have to be willing to try.
It's true that it might require serious effort to build a blog with a large audience at the initial stage. However, it's a tried and tested means of generating an audience organically and also by building an email list.
The good thing about blogging is you can continue to earn decent earnings even after many years of updating the blog as long as it is still running and getting consistent traffic. On average most Nigerian bloggers make $100 to $2000 monthly and there are big blogs that make up to $50,000.
You don't need any serious technical skills before you can start a Blog, and you don't need much capital either. In Fact you can start a successful blog with your smartphone just ensure you are connected to the internet and you're on your way to earn steady passive income online. For assistance on how to set up a successful blog read this.
4. Start a YouTube Channel
In this day and age, anyone could literally become a YouTuber, so what exactly does it entail? Being a YouTuber is all about making great video content and uploading it on YouTube.
Are you passionate about cooking? Or you love traveling and making great videos of your journey? Just put it on YouTube. As more people show interest in your content you will grow your subscriber base to be qualified for the YouTube partnership program where you get to make the real money.
Don't forget you can also include your affiliate marketing links to your content and will still make decent passive earnings from each sale. The secret to creating a successful YouTube channel is creating content on a consistent schedule for a long time. That's it. If you stick with it for the long haul, you'll eventually start reaping the passive income rewards.
5. Dividend stocks
Dividend stocks is one of the oldest and surest ways of making passive income not just in Nigeria but all over the world. This has continued to be so many people's retirement plan to continue to make a decent income after leaving work.
However, You will have to do plenty of research to find good stocks and invest a significant amount of money to receive large dividend checks. But, if you consistently invest money into dividend stocks you can amass a nice residual income over time.
Shareholders in companies with dividend-yielding stocks receive a payment at regular intervals from the company. Companies pay cash dividends on a quarterly basis out of their profits, and all you need to do is own the stock. Dividends are paid per share of stock, so the more shares you own, the higher your payout.
For any of these investment opportunities, make sure you open an account at the best online brokerage, and get rewards while doing it. There are different platforms in Nigeria you can check up online that have simplified this process.
There are even platforms in the country now that allow you to invest in foreign stocks. With dividend stocks, you literally allow your money to do the work but you have to do your due diligence by checking the right stock to invest in and then you're on your way to earn steady passive income.
Also read: Best Cryptocurrency to invest in
6. Create a digital Course
The demand for digital courses have been on the increase, especially since the lockdown, now that there are even more people online looking to consume good content or some of them just looking for what to learn with the time they have.
So many people are now willing to pay for digital courses. I know of a lady called Pelumi, who created a digital Course on Mini Importation. She posted the course online, charged ₦3500 per copy and made massive sales from it.
Holly Johnson, a professional freelance writer who earns over $200,000 per year creating online content, is another successful entrepreneur who is doing well with course sales.
Johnson launched her Earn More Writing freelance writing course in 2017 and has sold over 700 courses for $199 each since then. One beautiful thing about digital Courses or products is, you can sell over and over, there are other types of digital products you can dive into. I'm talking about videos, audio books, online instruction guides, and basically anything else you can market and sell online.
Whether you decide to sell a course on your own website or on a platform like Udemy, you'll find customers who want to learn something from you.This is something anyone can do. Just think of an online product you can create that solves a problem or provides a service. Once you create it, you can sell it over and over and earn passive income.
7. Write an E-Book
Ebooks became very common in 2009 and 2010 and are still a hugely popular content medium. There's still a pretty good number of people who make massive passive income from writing ebooks to this day.
Sure, it's a highly competitive market. But if your writing chops are stellar, you could find yourself with a decent slice of the profits. You can create how-to ebooks on popular niches and marketing them, you could build a fanbase of loyal readers.
I know a guy called Otuene who made an eBook on "10 ways to make money with your smartphone" . He taught skills like graphics design using Canva, how to build your WhatsApp audience and other skills to make money using the mobile phone. Each EBook is sold for ₦1,000 ($2) and on a regular basis, he makes ₦70,000 to ₦120,000 every time he decides to market the same ebook.
Many people also make money making Amazon Kindle eBooks. There are even free books you can repackage and make it your own, that's if you can't really write. So there's no excuse, anyone can make a decent passive income selling ebooks online.
I hope you can pick up one or two things from this list and make some passive income for yourself. The truth is, everyone has something to teach, and everyone has something to learn. Just make sure you're targeting the right audience. I can't wait for you to come back with testimonies of how much you've made. Kindly use the comment section if you know of any other ideas to make steady passive income in Nigeria.
If you liked this article, then please subscribe to our YouTube Channel for videos. You can also find us on Twitter and Facebook.