There's no denying that smartphones have simplified everyone's lives. Smartphone has surpassed all other aspects of human life as the most crucial. It represents a significant milestone in the evolution of the mobile phone industry. What functions does your phone not have?
Commonplace tasks formerly exclusive to laptops may now be accomplished on the go with the help of Android apps for graphic design. It's possible to do the strategic planning, presentation making, and other administrative tasks essential to running a company.
Additionally, Android has been an excellent tool for graphic designers, with many free Android apps for graphic design available in the Google Play Store. Making professional-looking graphics for your company is as simple as downloading one of the many free Android applications dedicated to the task.
Read on for a comprehensive list of the best Android apps for graphic design.
Table of Contents
15 Best Creative Android Apps For Graphic Design
Though there are many Android apps for creative design, not all will do a great job. Below is the list of the top 15 creative apps for Android devices.
Canva
The number one on our list of Android apps for graphic design is Canva. Canva's user-friendly interface and library of high-quality premade templates have made it one of the most widely used graphic design programs on the web. Canva is a free video and image editor for Android. You may make films, greeting cards, social media postings, and more.

In addition to a built-in photo and video editor, it offers a vast array of other valuable features, such as a collection of over two million royalty-free images, smart mockups for visualizing your design, and a suite of collaborative tools.

You can download Canva for Android at no cost. Canva Pro, the app's premium edition, costs $12.99 per month or $119.99 per year.
Adobe Capture
If you own an Android phone, Adobe Capture is the best graphic design app you could ask for. The gadget's features may surprise you. Adobe Capture employs AI to transform your photos into vector art instantly.

Furthermore, graphic artists can benefit greatly from this program. We sincerely desire that all graphic artists are already familiar with this software, but if not, you may find it on the Google Play Store. Obtaining Adobe Capture is as simple as searching in the PlayStore.
Infinite Design
There is no end to the usefulness of the Infinite Design app for Android's built-in graphic design gallery. This app aims to facilitate the production of illustration and graphic design within mobile devices. In addition to star ratings, Infinite Design provides several other powerful tools for making stunning illustrations. Images can be manipulated in Infinite Design in various ways, including zooming, rotating, and panning.

One of the most impressive features of Infinite Design is the ability to create 3D cityscapes under various predefined constraints.
Adobe Creative Cloud
If you're in the creative sector, you've heard of Adobe Inc., a software developer widely regarded as a forerunner in the graphic design industry. They have one of the best Android apps for creative design. 

Adobe Creative Cloud, sometimes called Adobe CC, is a subscription service that provides access to Adobe's suite of graphic design, video editing, web development, photography, and cloud services tools.

The app's slick, quick actions can automate complex operations to let you get started on your design right away. Easily erase image backgrounds, auto tone, auto crop, straighten, and auto white balance with these quick actions located in the Home area of the app.

Free Creative Cloud subscription trials are available and include 2GB of free storage space.

A variety of membership tiers, with discounts available for students, grant users access to numerous mobile apps for graphic design. For instance, for just $54.99 a month, you can subscribe to Adobe's Creative Cloud All Apps subscription and enjoy its many benefits.
SketchBook
You can now use your mobile devices as sketching tools. There is no longer any requirement for mobile devices or desktop computers. To facilitate the design process, Sketchbook allows users to draw rough drafts using a variety of brush sizes.

The purpose of this program is to make it easier to generate sketches on Android devices; however, in practice, this is a lot more difficult than it sounds.

You need a lot of talent if you want to make a sketch. Sketching on Android phones is trickier if you don't have a stylus. Despite the complaints, this tool is one of the best Android apps for graphic design, and it is perfect for those who prefer to use paintbrushes.
VistaCreate
Previously known as Crello, the Android app VistaCreate is a valuable tool. It's a website devoted to visual communication that provides many tools and options for producing professional-quality designs.

The goal of this Android app for creative design is to provide for anyone's design requirements, whether for work or play. It's also straightforward for people who have never worked with design software.

Quickly generate graphic design material for social media, blogs, advertising, and marketing with VistaCreate's extensive library of templates, tools, and resources. With VistaCreate, your smartphone or tablet may function as a full extension of your computer.

A VistaCreate Pro subscription costs $10 per month and grants your team access to premium features such as the Brand Kit Creator, extensive Creative Assets, and collaborative editing options. There is a free trial that lasts for 14 days.
ibis Paint X
Among Android users, ibis Paint X is far and away one of the most well-liked Android apps for graphic design programs.

This Android software for graphic design also provides fantastic tools for doing stunning drawings and sketches. More than 2500 materials, 800 fonts, 379 brushes, 66 extra filters, 46 screen tones, 27 blending modes, a recorded drawing process, a clipping mask, and other capabilities are included in ibis Paint X. Simply brilliant! Additionally, it has a very high rating (4.5 out of 5) in the Google Play Store.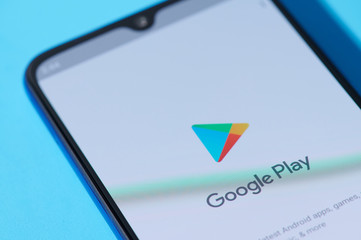 Logo Maker
Google Play is home to many Android apps for graphic design, but one of the most widely used is Logo Creator. Logo Maker's sole purpose is to facilitate the creation of logos, as suggested by the name. Read more about the best logo design apps for android

Logo Maker is a free, fast, and simple logo creation tool. You can make your ideal logo with little to no investment of time or money.

It's neat to browse logo design ideas based on various topics, from style and photography to vehicles and lifestyle to even Black Friday!

The program provides several tools necessary to create professional-quality logos, not only premade logo designs. These allow simple personalization with text, shapes, stickers, and backgrounds.
Adobe Express
Adobe Express, another product from Adobe Inc., is likewise a graphic design program. In addition to the other Adobe products, Adobe Express: Graphic Design is included in the Adobe mentioned above Creative Cloud All Apps package.

Adobe Express is a free app with 2GB of cloud storage space for no additional cost. You can make engaging visuals for social media, flyers, logos, and more using the program's plethora of pre-made themes, fonts, and royalty-free stock photographs.

However, a paid upgrade to the app is available for a monthly fee of $9.99. Access to additional Adobe mobile apps, 100 GB of storage, professional fonts and templates, and more are some of the perks that come with a subscription to the premium plan.

When you sign up for Adobe Creative, you'll get Adobe Express at no extra cost.
ArtFlow
ArtFlow is one of the best Android apps for graphic design that focuses mainly on digital drawing. The app has eighty unique brushes that can be used with the streak, fill and eraser tools.

Despite being featured as a staff pick in the Google Play store, ArtFlow has received overwhelmingly negative consumer feedback. The most common criticism I hear about the software is that it freezes up when users want to save their progress.

Since most people who try this program report positive experiences and find it more user-friendly and fluid, you may have a hardware problem.
Desygner: Graphic Design Maker
Desygner: Graphic Design Maker's user interface is so straightforward that even those without prior design knowledge can use it effectively. This app is compatible with any Android-powered mobile device, including tablets.

To make visuals for anything from social media posts and infographics to book covers, collages, and resumes, use Desygner. You'll be able to accomplish all of your graphic design goals with the app's many helpful features and tools.

The app has both free and premium versions. Desygner Pro+ can be had for only $4.95 a month if paid yearly or $9.95 a month if paid monthly.

The Desygner stock photo library contains more than 150 million photographs, making it the world's most extensive collection. With its Pro+ subscription, you may gain access to the whole library and many more fantastic design tools.
Adobe Spark
Adobe Spark Post: Poster & Graphic Design Editor is a great app to have on hand, mainly because it's free and can be used to create posters and other graphics on the go. With just a few taps, you can make a poster that looks like a pro made it in a matter of minutes.

You can start with one of the many available templates, customize it with your photographs and text, then apply one of the many available Design Filters to give it some visual flair. Others may find it overly simplistic, but the program has quite a bit of complexity, and with a little fiddling, you can create unique posters that stand out from the others.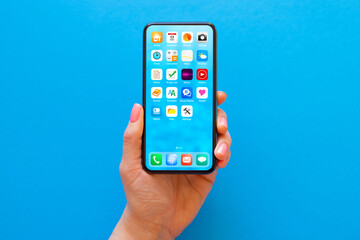 Find My Font
Originally released as a desktop app, Find My Font pioneered the field of font-identification software by allowing users to import images and then analyze the typefaces used or a visually comparable alternative.

Now that the app is available on Android, it has dramatically expanded its usefulness, enabling type-hungry designers to snap photos of types they come across worldwide and immediately find similar typefaces to utilize in their projects. The Android software, which uses a database of more than 150,000 fonts, promises to match text as small as 20px in height accurately.
Pixlr
Pixlr Express renamed Pixlr, is a great app that makes it simple to edit your images. Fantastic designs rely on great photos, and Pixlr is here to help you take those photos with absolute precision.

More than two million free filters, overlays, and effects are available in the app. It also has numerous social media story formats.

Pixlr is an easy-to-use mobile app for editing photos, including making collages, erasing backgrounds, tweaking colors, adding text overlays, and more.

When you're done editing your images on Pixlr, you can easily upload them to your favorite social media sites. Premium access to Pixlr's online and mobile products is available for a monthly fee of $7.99 (or $4.90 annually), depending on how long you commit to using the service.
GoDaddy Studio
Last but not least app of the best Android apps for Graphic design is GoDaddy Studio: Story Maker. The app also has a logo maker that lets you make your customized emblem without effort. You can also generate Facebook and YouTube banners with it.

Use GoDaddy Studio's resources to establish a solid, expert online persona and attract a sizable online following. Instagram story themes and a curated collection of stock photos are two more handy extras.

GoDaddy Studio: Story Maker is a free version available on Google Play that you can use to see the fuss. GoDaddy Studio Pro, a more advanced plan, is available for an additional $6.99 monthly.
Takeaway
We created this article to assist you in selecting the most suitable Android apps for graphic design. The Android apps for graphic design mentioned above are among the industry's best and help streamline your work as a graphic designer.
If you liked this article, then please subscribe to our YouTube Channel for videos. You can also find us on Twitter and Facebook.