AI is becoming more useful as it gets more involved in our daily lives. Essay writing can be a laborious and challenging task. Writer's block is all too prevalent, and essays can frequently become very difficult. Essay writing is now faster, more enjoyable, and easier thanks to AI essay generators.
In this post, we'll be taking a look at some of the best AI essay generators that can improve your writing. We'll urge you to read this post to the end as it promises to be very informative.
Table of Contents
WHAT IS AN AI ESSAY GENERATOR?
An AI essay generator is a piece of software that supports your essay-writing efforts. This entails coming up with ideas, organizing your essay, and even proofreading it for flaws. They are AI systems that employ machine learning and natural language processing (NLP) to write content.
It is a software that uses complex algorithms to produce writings that resemble those authored by people. To create essays, articles, and other written content, it analyzes a massive amount of data and learns from user patterns.
To produce articles that appear to have been written by a human, AI essay writers mimic the creative process of a human author and comprehend the subtleties of language, grammar, and syntax. These are appropriate for creating essays because they change their writing style to fit your particular requirements or target audiences.
You Might Also Like: Best Article Writing Services
BENEFITS OF AI ESSAY GENERATOR
1. Increased Productivity
The secret to productivity is effective time management, and an AI essay generator can aid by offering automated suggestions for enhancing the organization and flow of your essay.
It can also propose shorter, more concise ways to put ideas because of its built-in natural language processing features, which will help you finish your writing faster.
An AI essay generator can help you find pertinent materials quickly and can even create a bibliography according to the citation style you specify. Instead of spending hours on research or stressing about editing mistakes, this methodical technique encourages writers to concentrate on developing their points.
2. How To Get Past Writer's Block
Any seasoned writer would admit they occasionally have writer's block. You can get around this by using AI essay generators to assist you in coming up with concepts, outlines, and rough drafts. This will provide you with start-up ideas and inspiration.
3. Improved Writing Quality
Writing an outstanding essay entails having excellent writing abilities, such as linguistic fluency, maintaining a constant tone and style throughout the essay, and using improved syntax and sentence construction.
By boosting their language fluency to make it sound more natural, writers can increase the quality of their essays and make sure that the tone and language remain the same throughout the entire essay by using AI essay generators.
Automated editing suggestions and other AI-powered technologies aid in the grammatical and sentence structure improvement of writers. This makes it possible to convey concepts effectively while being accurate in your work. With these tools available to you from an AI essay generator, you can easily improve your overall writing from beginning to end.
4. Reduced Stress and Anxiety
You can experience less tension and worry when writing your essays if you use an AI essay generator as they offer dependable help, so you no longer have to feel under pressure to complete assignments by the due date. This lets you take pauses as needed without worrying about becoming behind schedule and returning refreshed.
Furthermore, knowing that the final product would be flawless allays any concerns you may have about flaws or blunders that might have slipped through the cracks in earlier drafts. With these advantages, hiring AI essay generators can make essay writing more relaxing and pleasurable.
CHOOSING THE RIGHT AI ESSAY GENERATOR
You need to consider the following before choosing an AI essay generator:
1. Consider Your Writing Needs
To choose the right AI essay generator, you need to consider your writing needs. Do you struggle to use proper grammar, construct clear sentences, or stay on topic? An AI essay generator can offer natural language processing capabilities once you've determined these problem areas to help you develop your writing abilities.
2. Research Your Options
Reading reviews, evaluating features and costs, and trying out demos or trials are other things you should do before choosing the best AI essay generator for your needs. You'll be better prepared to select an AI essay generator that suits your demands if you conduct a preliminary study in these areas.
3. Try Before You Buy
Use the free trial periods that the majority of AI essay generators offer. You can use these trials to decide if an AI essay generator is the best choice for your requirements. To make a wise choice during this time, examine the usefulness, simplicity, and accuracy of each instrument. Review the tool's comprehension of your writing style, and while editing, see if it offers any pertinent suggestions.
BEST AI ESSAY GENERATOR
The following is a list of all the best AI essay generators that can transform your writing. They include:
1. Textero AI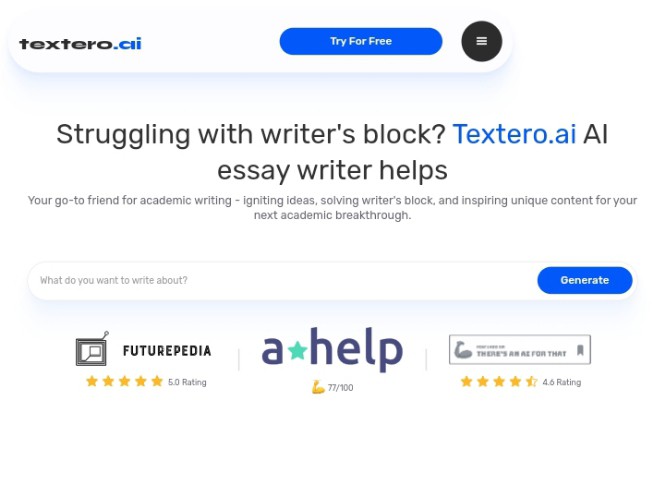 Textero AI is one of the greatest AI essay generators which has a user-friendly UI and sophisticated natural language processing capabilities. Textero AI produces excellent essays that meet the standards of students, professionals, and researchers because of its complex algorithms. 
The ability of Textero AI to write essays with outstanding precision and coherence is one of its key features. It analyzes the topic or prompt provided and produces pertinent, well-organized information. It takes grammar, syntax, and logical flow into account.
Textero AI's user interface is simple and easy to use. It streamlines the writing process so that you can concentrate on the content rather than becoming confused by technological issues. The program provides customization options, allowing you to modify the tone, style, and complexity of the created content according to your needs.
Due to their adaptability, essays can be written in any writing style and at any desired level of sophistication. That is why it is one of the best AI essay generators.
You can use Textero AI for free but it's limited to 3,000 words per month. To have unlimited words, you'll have to pay $16.99 per month.
2. Jasper AI
Formerly known as Jarvis, Jasper AI is one of the most flexible and sophisticated AI essay generators, having the capacity to create long-form articles such as email subjects, headlines for Google advertisements, and descriptions for YouTube videos.
It can learn your writing style, adjust to it, and help you create content that is comparable to what you write. It reformats your written material and takes into account user intent, target audience, and overall goal.
Jasper Al has 3 payment plans: Creator at $39 per month, Teams at $99 per month, and Business at a custom price.
You Might Also Like: Handy Tips on Creating a Content Writing Company
3. Rytr
This AI essay generator creates a variety of content, including emails, blog entries, storylines, and essays. Because it guarantees the supply of high-quality content, it serves as a useful tool for enhancing writing results and streamlining the writing process.
The customer reviews for Rytr show how well it does at delivering customer satisfaction. The majority of users adore the text that this AI essay generator produces.
This encouraging response implies that many clients have used Rytr frequently and depend on its capabilities to improve their writing. When experiencing writer's block, using an AI tool like Rytr can be especially helpful since it can offer motivation and support to get over such barriers.
For quicker content creation, Rytr has a chat feature. You can communicate directly with the AI generator using this functionality, which increases productivity and efficiency.
Those who like a darker color scheme while working may find Rytr's Dark Mode to be a useful option. As a result, it could be a useful tool for an AI essay generator that is completely user-centered and customizable.
It can be used for free for 10,000 words per month, or you can pay for the Saver Plan at $9 per month for 100,000 words per month, or the Unlimited Plan at $29 per month for unlimited words per month and access to the customer support team.
4. Jenni.ai
Without a doubt, this is one of the best AI essay generators available. Aside from producing excellent material, it also has useful features like in-text citations, plagiarism detection, and more. Businesses and academic institutions like Harvard, Google, MIT, and many others use it.
It uses the most recent AI models, including GPT 4, and is bilingual. It is also genuinely designed for students who are writing essays; rather than allowing you to generate a ton of generic content from a single prompt, it will enhance the essay-writing process with high-quality suggestions based on reliable sources before enhancing the experience with extra tools.
5. Quilbot
Quilbot is a flexible AI essay generator that is renowned for its precision, adaptability, and distinctive paraphrase capability. With the option to rephrase sentences while preserving the original meaning, Quitbot creates high-quality content. Using sophisticated algorithms to create essays with clear arguments, emphasizes originality and coherence in the resulting content.
You can paraphrase text using its paraphrasing capability without losing the integrity of the original idea. The quality and originality of the essays that are created are improved by this skill.
Another plus for Quilbot is her adaptability. It can produce essays on a variety of subjects while taking into account various academic disciplines and writing criteria. Regardless of the type of writing—a scientific report, a literary analysis, or a persuasive essay—Quilbot can help users create well-structured content that meets their demands.
The tool's user-friendly interface makes it usable by people of various technical proficiency levels. The user-friendly layout makes for a seamless writing experience by allowing you to move around the tool with ease and concentrate on the content rather than the details.
As a result, it's become well-known among college students as one of the AI essay generators, offering a fair playing field for everybody, regardless of their familiarity with the essay topic.
It can be used for free with limited possibilities or you can pay for the Premium at $9.95 per month.
You Might Also Like: AMAZING AI STORY GENERATORS
6. Caktus.ai
This AI essay generator was created with students and academic use in mind. With built-in citations and academic references, it facilitates essay writing. But it also aids you in coding, math, and science problems, among other things. It's a one-stop shop. If you're seeking a top-notch AI essay generator in the academic field, this is unquestionably a platform to take into account.
The last thing you want is to submit an essay that contains errors and instances of plagiarism from other works and persons. This problem is resolved by Caktus by interacting with the CORE database. In other words, the author of the essay has direct access to reliable data from peer-reviewed studies that may be mentioned while creating an essay or other content.
The built-in text editor can be used to format the essay once it has been generated, and you can then export it as a PDF, Word document, or another format. Since it was created with students in mind, using this tool to create an essay for class might be your best bet. It costs $3.99 per month.
7. GrammarlyGO
The widely used spell and grammar checker may now do more than just repair and enhance a language. GrammarlyGO is a potent AI essay generator released by Grammarly.
GrammarlyGO is the ultimate superpower for incorporating generative AI into captivating content creation. You can use this AI essay generator to create content from scratch for free if you have a Grammarly account. It simplifies writing by letting you select the level of formality, tone, and occupation you want. It has four different plans, Free, Premium, Business, and Enterprise
8. AI Essay Writer
Using artificial intelligence and deep learning, AI Essay Writer can do research and produce original, cutting-edge writings. Essay writing might be really difficult, but this tool makes it much easier. You can get a paper from the program that has been customized for your requirements. No more than two minutes will be needed.
AI Essay Writer is one of the best AI essay generators for creating essays in any field, including history, English, psychology, and others. It's a program that can produce engaging papers on any topic.
To help you create the essay you want, simply enter your topic, subject, number of sources, citation style, and description. It then searches through millions of pieces of material that are connected.
All of the information you provide will be considered. Because it offers 100% original content without sacrificing quality, this AI essay generator makes sure that all the papers appear just how they should. You can use this tool for free.
You Might Also Like: 14 Best Screenwriting Software
9. Essaybot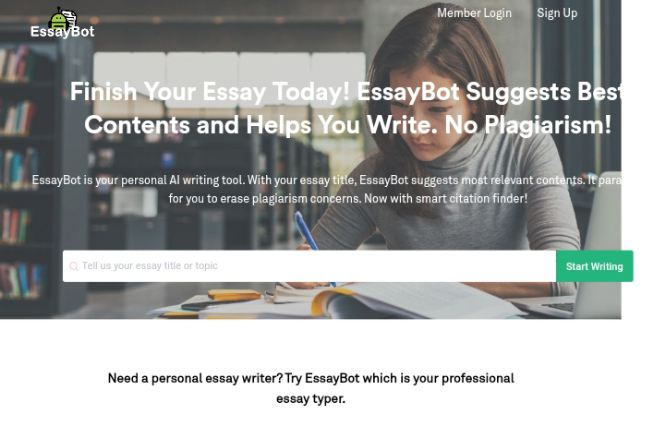 This AI essay generator called Essaybot seeks to support and direct students while they create essays. The platform's easy-to-use interface makes it usable for users with different degrees of writing experience.
You can use Essaybot to help you with your essay writing by providing topic ideas, outlines, and even research materials. This feature-rich approach guarantees that users have the resources to create essays that are coherent and well-organized.
It's crucial to keep in mind that Essaybot is an AI-based tool, and while it can be a great help, it cannot replace human input and critical thought. To make sure the generated content is accurate and original, it is important to check and edit it. 
When using Essaybot, users should be aware of the significance of accurate citations and references to prevent plagiarism-related problems. While Essaybot can be a useful tool for producing ideas and structure, to get the most out of it, you must view it as a writing assistance rather than an autonomous essay writer.
FAQS
Can I use AI to compose my essays for college?
You can use an AI essay generator to complete your college essays. Just make sure to ask your professor or instructor if you can use one before using it.
Does artificial intelligence write my essays for me?
The answer is no, AI doesn't compose your essays for you. They merely offer help with the writing process. You'll still need to generate and express your thoughts.
What's the best AI essay generator?
The AI essay generator that best meets your needs should be the best AI essay generator for you, and in this case, everyone's choice will differ. A wonderful option will be an AI essay generator that assists you with formulating, organizing, and proofreading your essays.
How much does an AI essay generator cost?
The characteristics you require will determine how much an AI essay generator will cost.
FINAL WORDS
There are countless numbers of awesome AI essay generators out there. The main problem will be choosing the best for your needs. We have listed some of the best AI essay generators in this post, it is now left for you to choose the one that suits your needs.
We hope you found this post very helpful. Do not hesitate to let us know what you think in the comment section below.
If you liked this article, then please subscribe to our YouTube Channel for videos relating to this article. You can also find us on Twitter and Facebook.
REFERENCE
https://www.demandsage.com
https://isotropic.co
RECOMMENDATIONS