The ability to manage your time well is the secret to productivity and efficiency. Nothing is more draining for a business owner than a full schedule. A to-do list and scheduling a couple of times on your calendar may help, but they can only go so far.
The good news is that you can utilize time management apps to manage your calendar, maintain focus, and increase productivity.
In this post, we'll be taking a look at the 20 best time management apps. Make sure you read this post to the end as it'll be very helpful.
Table of Contents
WHAT ARE TIME MANAGEMENT APPS
Time management apps are apps that help you manage your time. These apps are a system that makes it possible for people and companies to keep track of time thoroughly. One of the most practical methods to achieve productivity, which is something most of us aim for every day, is by using a time management tool.
There are so many tasks that need to be completed that it is simple to get behind and become overwhelmed, from to-do lists and calendar reminders to meetings and grocery lists.
One can now monitor and keep track of all the tasks and the time needed to finish them thanks to time management software. By using such apps, one not only achieves goals more quickly but also ultimately saves time.
WHY TIME MANAGEMENT APPS ARE IMPORTANT
It is vital to track your time. However, it is quite unnatural considering that humans cannot naturally recall every detail of the work we do. For this reason, people and businesses are switching from manual time-tracking methods like notepads and spreadsheets to sophisticated, purpose-built time management apps.
Below are some of the benefits of time management apps.
1. Provides Real-Time Analytics
Data mining and big data analytics are currently ruling the world. Today, the business of gathering data, organizing it, and identifying useful patterns has grown to be worth billions of dollars. For a small cost, time management apps handle all of this for you.
Time management apps offer real-time analyses of your staff's attendance, number of hours worked, number of projects completed, efficiency of work, productivity levels, and much more.
You might wonder, though, why gathering and evaluating data is so crucial. This data provides a picture of what is going on in your business, which is why.
To highlight the trouble spots in your company, they provide stern facts and data. Additionally, they support you in making the best choices for your business.
You Might Like: 9 Best Church Management Software
2. Monitors Employee Attendance And Prevents Absences
For any organization, maintaining an accurate record of staff attendance is crucial. It is a blessing to have software that keeps these records accurately.
Additionally, workers are less likely to skip work if they are aware that their attendance is being closely monitored.
Consider a worker who reports to work every day but spends the entire day loitering near the coffee maker. How can you determine how many hours he works?
The use of time management apps, which keeps track of the number of hours workers put in, can also help with this.
Thus, one of the main advantages of time management apps is that it upholds the employees' punctuality and sincerity. The number of hours and days worked by each employee is correctly tracked and shown.
3. Create Actionable And Measurable Goals
Setting practical and quantifiable goals for your organization is made easier by the insights you obtain from tracking time with dependable software. Examine the time spent on each employee's contribution to a particular project in addition to punctuality.
Analyze the data to determine how long employees are gone from their desks. With the aid of the data obtained by the app, stop any attempts at procrastination and improve speed and performance.
4. Establish A Less Stressful Workplace
A company may become overburdened with activities and projects. Your employees' productivity may suffer if they have too much work that needs to be finished. Additionally, exerting additional pressure on your employees may harm their health.
By allowing employees to use time management apps, you may help the atmosphere at your place of business become less stressful. Using the application, employees can order tasks according to importance.
Consequently, the program helps reduce the likelihood of ineffective multitasking, in which employees might believe they are performing more tasks than usual. These employees might be producing less work.
5. It Boosts Employee Morale And Productivity
How will it make you feel if you do your job honestly while your coworkers frequently miss work but still receive the same pay as you? Or what if you do all of your assignments on time while your coworker procrastinates for the whole day, yet your efforts go unappreciated?
A company can only run successfully and profitably if its personnel are motivated to do their jobs. However, when employees receive such unfair treatment, morale suffers among loyal and dedicated workers and overall productivity declines.
Furthermore, it is blatantly unfair to let some workers handle all the work while others are out having fun.
Every employee in the system is closely monitored by time management apps. It neither overlooks nor ignores criticizing dishonest employees. The program will know exactly how much work was done and by whom at the end of the day.
As a result, it fosters an atmosphere of equality and prevents any employee from getting away with laziness. Additionally, it gives the senior staff members a chance to recognize and reward the hard-working employees and puts them in the spotlight. This improves worker morale and productivity.
ARE TIME MANAGEMENT APPS EFFECTIVE?
We use time management apps because we struggle to effectively manage our time on our own. Time seems both endless and limited to us at the same time. It feels as though there is no end to the day and that we will live eternally. However, we are aware that each day is only a finite amount of time, and that one day we will pass away.
Recognizing that it is challenging for us to manage our time effectively on our own, time management apps assist us in implementing time management principles into our daily life.
If they weren't so effective, more and more people wouldn't be turning to them. Time management apps have helped individuals and businesses to be more productive. Making use of time management apps will revolutionize your daily activities.
You Might Also Like: 17 Best Team Management Software
20 BEST TIME MANAGEMENT APPS
There are lots of time management apps out there, but these are the best
1. TimeTree
One of the best time management apps is TimeTree, which enables seamless calendar and memo sharing between users. For busy families who want to keep everyone's schedules in one place, TimeTree is perfect.
This software is more than just a calendar; it also has a memo feature, which takes the place of the conventional to-do list on paper and pen and provides a dedicated location for managing one's hectic life.
TimeTree enables seamless memo sharing between users. You may sync your calendar with another user using the app's fantastic calendar feature. This makes organizing meetings and excursions quite simple. On Android, iOS, Mac, and Windows, TimeTree can be used without cost.
2. Timely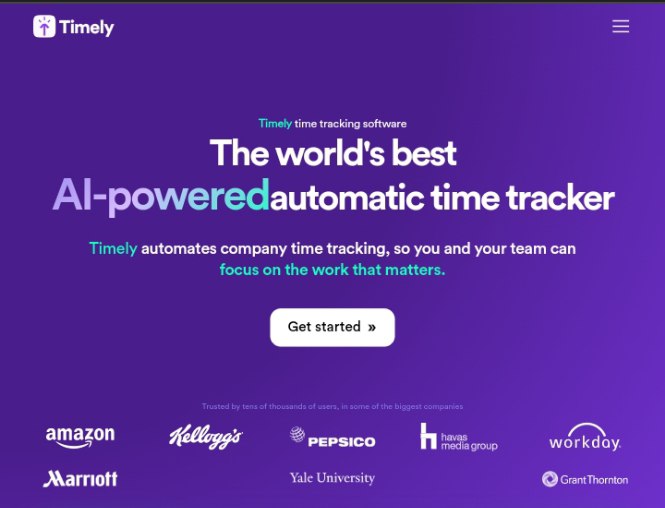 The Timely app is one of the automatic time management apps that keep track of how long tasks take and facilitates effective workweek planning.
To estimate how much time they will need to put aside each day to finish their activities, all one needs to do is provide their work week in advance. Timely is a browser-based application that may be used on Android, iOS, Mac, and Windows devices.
Your time spent looking through websites, papers, emails, and video calls is tracked by its memory tracker. This is very important. Knowing how long a task will take is one of the most crucial parts of time management. You may always access this information promptly with just a few clicks.
3. Microsoft To Do
A cloud-based task management tool is called Microsoft To Do. Users can handle their chores via a computer, tablet, or smartphone. The technology is created by the Wunderlist team, which Microsoft purchased. One of the most recent apps added to Office 365 is Microsoft To-Do.
It's a straightforward to-do list that makes day planning simple. You may use To-Do to boost your productivity and reduce your stress whether it's for work, school, or home.
To-Do offers a special method for classifying your tasks into lists, then integrating those lists into a My Day view to reduce clutter and keep you organized.
4. ActiTIME
ActiTIME is a project management solution with a robust online timesheet. It enables you to manage time through effective job planning, in-depth data analysis, and usage control.
ActiTIME allows you to divide up tasks among your team members, track hours worked (either manually or automatically using a timer), and generate a variety of reports to assess your productivity.
ActiTIME also automates client billing, invoicing, and time off management so you can spend less time and money on these procedures.
You have the opportunity to use actiTIME's free basic version if you collaborate in a team of up to three people! Larger teams can utilize this fantastic time management application for $5 per user per month after taking advantage of a free 30-day online trial.
5. Forest App
Want to focus and put your phone down? The Forest is an app that helps you take control of time, stay in the now, and regain focus. It is intended precisely to keep you working.
A seed is planted in the forest, and you may watch it develop into a tree. But the plan ends the moment you pick up your phone or exit the app. You only have one chance to preserve your tree (caution).
The majority of prominent mobile operating systems, including iOS and Android, as well as Chrome and Safari, support this free app.
6. Toggl Track
Because it was designed for professionals, Toggl Track can be used by freelancers, small businesses, and corporate teams alike. The ability to track time spent on tasks and provide reports to determine where people spend the majority of their time would help users become more productive.
Teams and individuals can both use Toggl Track. Toggl Track helps everyone track their time productively, which streamlines work for teams. It is one of the best time management apps.
Up to 5 users can use Toggle Track for free. Users can also choose Toggl Track Starter at 9$ per user per month and Toggl Track Premium at 18$ per user per month.
7. Evernote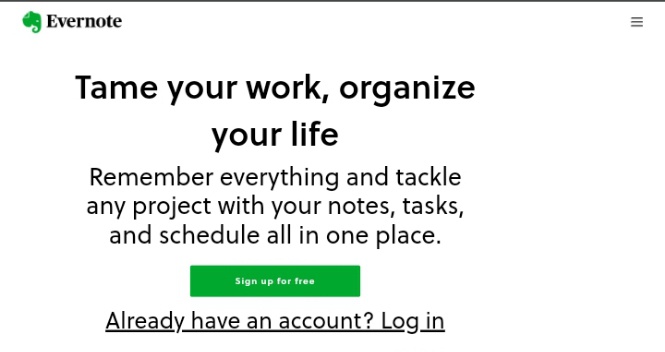 You are not alone if you ever feel that your disorganization is costing you time. By enabling you to take notes and organize them in one place, Evernote is here to help you manage your time.
Within the app, you can make projects and to-do lists. Additionally, you can save an article as part of the note using the web clipper feature if you need to save it as part of your research for a project. You may search your notes in Evernote to locate exactly what you're looking for.
8. ClickUp
ClickUp is an excellent productivity application that enables users from a variety of industries to manage their time efficiently, automate tasks, and collaborate in one location.
ClickUp is customizable and offers a feature-rich experience to remain on track, accomplish your goals, and keep track of every project update whether you're a solopreneur, a student, or on a team of any size.
With ClickUp's global time tracker and time estimates features, you can increase your productivity on any task. On a straightforward drag-and-drop interface, you can even select from over 15 views that are customizable and have adjustable due dates for your work.
Regardless of the project management approach you choose, ClickUp even interacts with over 1,000 additional time management apps so you can start saving time right now.
ClickUp can be used for free but you can choose the Unlimited Plan at $5 per member per month, Business Plan at $12 per member per month, or the Business Plus Plan at $19 per member per month.
Read: 11 Best Performance Management Tools
9. Google Calendar
Google Calendar is ideal for managing your daily, weekly, and monthly chores and projects. The overview provided by Google Calendar for meetings, tasks, and more enables you to schedule your duties wisely and efficiently.
To provide you with a much clearer image of your day, ClickUp gives you the option to link with your Google Calendar.
Google Calendar can be used for Free and you can go Pro at $6 per month or Enterprise which is Tailored to your business needs
10. Clockify
Consider Clockify as your tool for managing all the projects you and your team are working on. Reports are provided detailing the status of the project for you and each employee.
Additionally, you can create multiple workspaces, a bill based on time spent, and group people working on projects together.
11. TSheets
The QuickBooks TSheets app is a complete mobile timesheet tool that tracks time for teams of all sizes on any device. Employees may easily and swiftly log in and log out from a computer, mobile app, or time clock kiosk by using the TSheets app.
Its real-time notifications and approval feature enables you to keep a tight eye on all employee time management-related activities. The GPS tracking capability and the mobile time tracker are two interesting features.
Users can choose TSheets Basic for Free. This accommodates only 1 user. Alternatively, you can choose Tsheets Premium at $8 per month per user plus a $20 base fee per month or TSheets Elite at $10 per user per month plus a $40 base fee per month.
12. Harvest
Harvest is one of the cost and time management apps that uses time tracking to help users find out where their time is going. The software provides advanced time-tracking capabilities.
It has been fitted with a clever interface that is quick and simple to use. The production of invoices is one of Harvest's greatest features. Harvest's time-tracking tool makes it simpler than ever to create an invoice.
The pricing includes Harvest Basic which is Free, Harvest Solo at $12 per month, and Harvest Team at $12 per user.
13. TMetric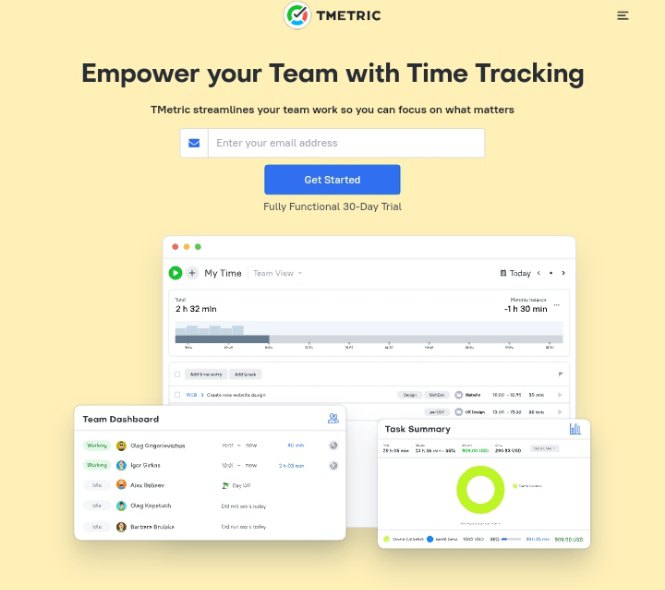 The TMetric app provides reporting and time-tracking features that can be automated with browser extensions. Invoices can be made and sent to clients.
When working with a remote team, the option for employee monitoring is also available. You can establish a working hour for each employee using the work schedule tool.
You can keep track of when staff are available and unavailable using a time off feature. When scheduling work, this will assist you in keeping track of employee absences. Using TMetric, screenshots are also possible.
The payment plans are TMetric Basic which is free, TMetric Professional which costs $5 per user per month and TMetric Business which costs $7 per user per month
14. TimeCamp
A distinctive project framework called TimeCamp produces transparent and intricate management. To support teams in working more effectively and completing projects on schedule and under budget, TimeCamp also offers services like reporting, budgeting, and invoicing.
Your actions are neatly divided into productive and unproductive ones by TimeCamp. The commercial edition of the program even aids in micromanagement through team collaboration and billing.
TimeCamp can be used for Free and you can upgrade to TimeCamp Basic at 6.30$ per user per month or TimeCamp Pro at 9$ per user per month.
15. Todoist
Task assigning and completion is made easier with the aid of Todoist. You can assign due dates to each work and assign different project labels to help you keep track of the deadlines associated with each project.
You can stay motivated to do the chores on time by earning "karma" points. These "karma" points maintain a reward system so that you are motivated to work harder and feel good about the task you have done. Both your desktop computer and your phone can be used to access Todoist.
16. ProofHub
The task management function on ProofHub aims to assist you in keeping track of your work and organizing the confusion caused by numerous jobs being delegated to numerous individuals.
It assists you in organizing all of your duties and carrying them through all of their phases. The tool consolidates all of your projects, teams, and communications, providing you complete control over your workload whether you're the team manager or a team member.
ProofHub has a free trial period after which you can pick the Ultimate Control payment plan at $89 per month billed annually or the Essential payment plan at $45 per month billed annually.
You Might Also Like: 5 BEST PROJECT MANAGEMENT BOOTCAMPS
17. Trello
Trello makes it simple to see what every team member is working on at a glance, ensuring that you never miss a step when working on a crucial project.
Use Trello if you want to effortlessly manage tasks and projects at a glance. You may examine and distribute assignments and projects across teams with this app, which was created to be used as a collaboration tool.
The visual collaboration tool shows progress and deadlines visually. Ideal for a team that wants to increase productivity and operates in a production line style.
The payment plans are Trello Basic which is free, Trello Standard at $5 per month, Trello Premium at $10 per month, and Trello Enterprise where you'll Contact Trello for price.
18. RescueTime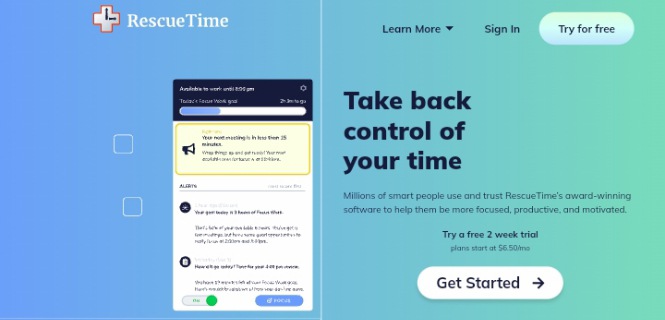 To be more productive, you must determine where you spend the majority of your time. Therefore, this well-known time management program will reveal precisely where you are devoting the most time.
Additionally, you can design alerts and notifications. RescueTime's capability to track offline occurrences is one of its distinctive features. You can use it, for example, to keep track of phone calls and meetings. To start and stop the clock on your desktop or mobile app, all you have to do is tap the time clock button.
19. Rize
Rize gives you a clear picture of how you spend your day, including how many hours you work, how much time you spend focusing, and how much time you spend switching contexts.
Additionally, you can see which websites are the most annoying. Gain insightful knowledge and easily create better habits.
20. DeskTime
DeskTime is one of the automated time management apps for businesses and independent contractors. This desktop and mobile tool can be used for efficient workflow management, time monitoring, and attendance tracking.
Businesses can fully control how their employees use their time each day at work thanks to this time management tool. DeskTime claims to provide industry-leading team monitoring and time-tracking services to provide you with a clear picture of your team's workflow.
You can track offline time with the aid of integrations with 3rd party apps for simple project and task management. Plan for one user that is free. The monthly cost for the Paid plan is $7 per user.
CONCLUSION
Time management apps might just be what you need to be more productive in your day-to-day activities. Select any of the apps from our list of 20 best time management apps and start your journey to productivity. We hope you found this post as helpful as promised. Feel free to drop a comment below.
If you liked this article, then please subscribe to our YouTube Channel for videos relating to this article. You can also find us on Twitter and Facebook.
REFERENCE
https://friday.app
https://www.proofhub.com
https://www.actitime.com
https://www.simplilearn.com
RECOMMENDATIONS