Making the ideal software selection for screenwriting is essential if you want to grow as a writer. The best screenwriting software can assist you in achieving your objectives by providing a distraction-free setting and making scene and character outlines simple.
This is why we have compiled a list of 14 best screenwriting software you can use in 2023. You will also get to know about the essential features to look out for so you can choose anyone that suit you the most. Stay glued as the next part of this article explains all you need to know about the best screenwriting software.
You can also read 8 Best Free Building Design Software
Table of Contents
What Are Screenwriting Software?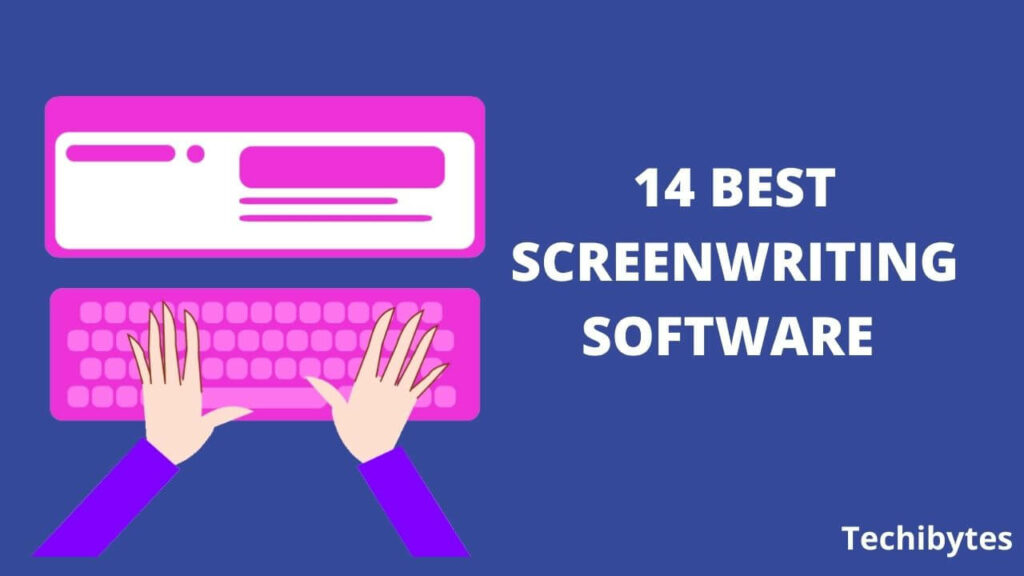 Software specifically created for authoring screenplays and scripts is known as "screenwriting software," and it functions similarly to word processors. Standard word processors can't meet screenwriters' unique needs (like Microsoft Word).
For instance, screenwriters who work with a large cast of characters want efficient shortcuts when typing character names. Similar to novelists, screenwriters must take notes, work with other authors, and have quick accessed to an outline. Screenwriters can use macros in Microsoft Word to make these functions easier to use, but doing so is a tedious procedure. Dedicated screenwriting software gives you all the features and advantages you need to swiftly and easily write amazing scripts.
The most significant benefit of screenwriting software is that it includes templates. Templates make writing really simple. Based on the type of script, choose a template, make the necessary changes, and publish. You can stay organized, save time, write swiftly, and concentrate on what's important by using the best screenwriting software.
What Feature Should I Look Out For Before Choosing The Best Screenwriting Software?
1. Templates

You may easily plot your story using screenplay templates. They provide the fundamental components of a screenplay in templates, which you can modify as necessary. Examples of additional aspects in the template include the headline, action, character names, conversation, transition, and shot. Your task will be much simpler and you will save a lot of time.

Read 10 Best Email Template Builder Software in 2022(Paid and Free)
2. Usage Ease

It isn't worth it if you have to spend a lot of time learning how to use a screenwriting tool and it takes training. The layout and user interface must be straightforward and intuitive. This is one of the thing you must watch out for before choosing a screenwriting software.

3. Cooperation

You shouldn't overlook real-time cooperation, as it is a crucial element. During the writing process, you must work together with editors, other writers, and numerous other stakeholders. The screenwriting software's collaboration feature makes it easy for you to work together with colleagues without using any additional tools. This maintains everything on a single platform and keeps it structured and streamlined.
Here are some platforms you could hire freelancers from
14 Best Screenwriting Software in 2022
1. Squibler
Pricing:
Free Trial – Take advantage of the 14-day trial period that offers the most fundamental capabilities (making drafts, altering templates, sharing options, etc.) without cost.
Squibler Pro (monthly plan): For $9.99 per month, you can upgrade to Squibler Pro and access its additional features (billed monthly).
The most effective yet user-friendly text editor for screenwriters is found in Squibler, the best screenwriting program available. You can get started without any effort thanks to the 30+ screenplay templates that are included.
It is quite simple to add headings, beat boards, and other items thanks to the drag-and-drop user interface. Multiple authors can contribute to a single narrative at once using its option for collaboration. You no longer have to deal with the trouble of submitting your article to several peers and then waiting for them to add their piece.
2. Final Draft
Pricing:
Free Trial: Download, install, and use the trial version for a full 30 days.
Full Version: $99.99 will get you the full version. Current users of Final Draft can upgrade for $79.99 thanks to a special pricing offer.
The industry's top screenwriting program is Final Draft. It has earned numerous honors throughout the years and is widely used in the entertainment sector.
Your task will be easier than ever with its selection of more than 300 templates. Final Draft is the ideal multi-device program because it works on Windows, Macs, and mobile devices.
3. Fade In
Pricing:
Free Demo Version: Download the demo version (3.0.636) of Fade In, which is fully functional, to explore all of its features.
Purchase the full edition if you appreciate the program and want to register as a permanent user. The full version is available for $75.
For writers who work in the television, game, and motion picture industries, Fade In screenwriting software is ideal. It has several practical features that make it appropriate for writers of different genres of scripts. It is a cross-platform program that runs on Linux, Mac, Windows, and mobile devices.
4. Trelby
Pricing: You may get Trelby, a powerful screenwriting tool, for free. The most recent version (2.2) is available for download from Linux and Windows computers.
In search of a free screenwriting program? One of the top free open source tools for screenwriters is Trelby. Developers frequently updated and enhanced Trelby because it is an open-source scriptwriting program.
They update frequently the software based on feedback from screenwriters. It is a cross-platform and compatible with both Windows and Linux.
5. Celtx
Pricing: The first year of the scriptwriting plan is $7.50 per month (paid annually), and the first three months are $10 per month (billed monthly). Take advantage of the 30-day free trial for Celtx Pro. To get this edition, get in touch with the sales department.
For big teams and businesses that want to plan, write, and shoot from one platform, there is a multipurpose scriptwriting and production tool called Celtx.
Screenwriters can easily get started thanks to the user-friendly and uncomplicated UI. It provides a number of features to assist with script formatting, production, cost control, reporting, collaboration, and other tasks.
It doesn't end up being a terrific choice for a screenwriter who is working alone on a single project.
6. WriterDuet
Pricing: Additional fees include $5 per month and $7.99 per month (paid monthly) (billed annually)
Pro: $11.99 per month (paid on a monthly basis) and $7.42 per month (billed annually)
$15.99 (paid monthly) and $9.992 (billed monthly) for premium (billed annually)
Real-time collaboration is the main goal of the straightforward but powerful screenwriting tool WriterDuet. As a tool for writing cooperation, it was created in 2013. Currently, it functions as a complete screenwriting program. It has tagging capabilities, an outline, and templates.
Due to the fact that it is a cloud-based program, you can access it from any location in the world. This software is essential if you have a group of writers and wish to write and edit a script at the same time without harming the work of the other writers. Its main advantage is real-time communication.
7. StudioBinder
Pricing: Free Plan (forever): Includes call sheets, contact management, and access to 1 project per company account.
Indie (monthly plan): For $29.00 per month, you may access 50GB of file storage for 10 projects and advanced tools.
Professional screenwriting is one of the many highly sought-after options provided by StudioBinder, a comprehensive cloud-based production management tool (such as script breakdowns, shooting schedules, script sides, etc.).
From pre-production to post-production, it enables production businesses and other creatives to maintain their organization, communication, and informational flow on a single platform.
8. Scrivener
Pricing: A 30-day free trial edition of Scrivener is available, and it is also available for a onetime purchase separately:
iOS – $19.99 for Scrivener access on iPad, iPhone, and iPod Touch; Dropbox account required for sync functions.
macOS: $49.00 (regular license) and $41.65 (educational license). Windows costs $49 for the "basic license" and $41.65 for the "pro license" (educational license)
For writers of all genres, including screenwriters, novelists, journalists, academics, non-fiction authors, and more, Scrivener is the go-to app. In addition to providing screenwriters with screenplay templates, Scrivener also gives them the freedom to create and arrange however they see fit.
To access all of its features, though, does take a little amount of learning. On Windows, iOS, and macOS, it is available for purchase and usage.
9. Highland 2
Pricing: Free lifetime access to the limited features of Highland 2. All features are accessible with the $49.99 upgrade for Highland 2 Pro.
The Highland 2 free version can meet your fundamental screenplay requirements. The user-friendly, efficient interface that Highland 2 is renowned for was developed by screenwriter John August, with the difficulties of a scriptwriter in mind.
You may learn Highland 2 in about five minutes. The navigator, the bin, live margins, and revision mode are the four basic screenwriting tools available. For Windows, macOS, iOS, and Android, you can download it.
10. Arc Studio Pro
Pricing: Essentials: $69 per year
Free: $0
Pro: $99 per year
Arc Studio Pro is a fantastic tool for producing professional-looking eBooks since it allows you to organize your content into multiple acts and gives you access to a large content bank.
Use Key Beats to draw attention to a particular section of your story, and the Content Cards tool to collect ideas from other authors' writing or to keep track of your own. It is one of the best screenwriting software you can have in 2022
11. KIT Scenarist
Pricing: On the internet, you can use KIT Scenarist, a free software program. A paid subscription follows the 30-day free trial period if you wish to access cloud services.
The majority of customers contend that KIT Scenarist is among the top screenwriting programs now on the market. It provides one of the best complete scriptwriting experiences available.
The fact that it is free and open-source software with such a high level of customizability is the nicest aspect. Additionally, it is utilized by over 3000 authors globally and offers updates almost monthly to stay current with technology (more than 70 updates to date).
12. Movie Magic Screenwriter
Pricing: There are various pricing tiers available.
The cost of The Movie Magic 6 is $169.
The update costs $89.95 (for Windows and Mac),
The 6.5 upgrade only costs $69.95. (only for Mac). There are three activation options available for each of them per purchase.
The $99.95 "academic" version provides two activation choices per purchase.
Award-winning program called Movie Magic Screenwriter is excellent for writing screenplays, books, comics, plays, musicals, and much more.
It allows customers to download a free demo version to try out the software and provides free online tutorial videos to make it easier to use. It can be used for preparing and submitting assignments and research papers in the educational sector.
13. Slugline
Pricing: The writing space in the free version is limited to six pages, and your short films won't ever require an upgrade.
Upgrade Version: $49.99 gets you limitless writing.
The simplest screenwriting program is Slugline, which simply needs that you concentrate on writing while it handles the rest. It makes use of Fountain's plain text screenplay format, which can keep your script safe on any device.
You can download slugline for iOS and macOS devices. Simply open the app and begin writing; no instruction or manual is necessary.
14. Storyist
Pricing: On iOS devices, Storyist costs $19, while on macOS, it costs $59 when purchased once. As well as a free trial, Storyist supports it.
The story development process, from planning and research to writing and editing, may be completed in Storyist, which is more than just a screenwriting tool.
It's still important to highlight even if it's only accessible to iPad, Mac, and iPhone users.
Using its text, outline, and storyboard functions, it provides structure to the screenplay process, organizing it from preproduction to postproduction.
See Best Free Tools for UI/UX Designers
What Is The Best Screenwriting Software?
The software that best serves your demands and boosts output is the best to utilize while writing on the big screen.
Keep in mind that screenwriting software can be somewhat pricey, but the investment will be worthwhile since it will save you time and effort while producing scripts or screenplays for films, television shows, video games, and other types of media.
Having said that, Squibler, Final Draft, and WriterDuet are some of the top screenwriting programs.
Have you seen 5 Best Brilliant Content Marketing Examples?
FAQs
How do I utilize software for screenwriting?:
It's crucial to get the appropriate program from the URL, install it, and adhere to the instructions before using any screenwriting software.
What advantages do paid versions have over free versions?:
In addition to obtaining better customer assistance, you will have more privacy and protection if you choose a subscription version. Paid services are less likely to include malicious viruses or malware than free software.
Everything About Web3 You Need To Know | 2022
Conclusion
Screenwriting software is very crucial for every scriptwriter. Go through the 14 best scriptwriting software in this article and choose the one that suits you the most.
If you liked this article, then please subscribe to our YouTube Channel for videos. You can also find us on Twitter and Facebook.