You have come to the right place if you are wondering how to get an internship with no experience. Internships can be a great way to gain hands-on experience and enhance your CV, and they're your major key to gaining a glimpse of what work-life looks like and what it's like to be an employee.
Securing an internship might be difficult, especially if you have no prior experience. However, even if you are a student or just starting out in your profession, it is possible to acquire an internship with the right strategy and preparation.
In this post, I will be giving out 10 tips on how to get an internship with no experience. You might want to read till the end cause I added a bonus tip at the end of the article.
Table of Contents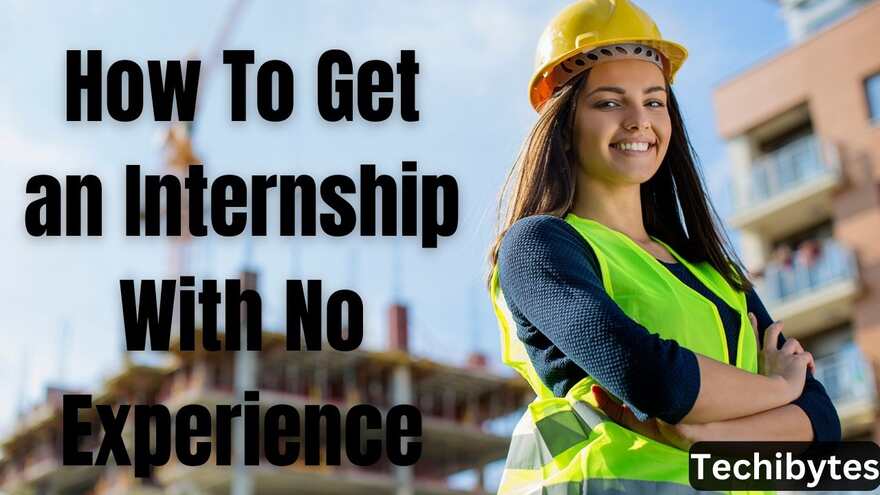 HOW TO GET AN INTERNSHIP WITH NO EXPERIENCE
Applying for an internship without previous experience, job skills, or references to attach to your application might be frightening. But don't worry; you're not alone in this situation. So, what do you do in situations like these?
PICK YOUR FIELD OF INTEREST

The first tip on how to get an internship with no experience is to pick your field of interest. Before narrowing down your search for the kind of internship you want, it is critical that you first explore alternative job possibilities for the degree program in which you are presently enrolled, and select a maximum of two or three career options that appeal to you the most.

Once you've decided what interests you the most, narrow down your top two to three options and hunt for internships connected to those professions.

If you study engineering, for example, you can learn more about various engineering careers, such as mechanical engineering, civil engineering, and so on. Once you've decided on whichever option appeals to you the most, you can start looking for an internship in that field.
CHOOSE THE TYPE OF INTERNSHIP AND LOCATION YOU WANT

Consider the type of internship you desire. Some internships are paid, while others offer academic credit. Others will provide either one or both. Some may require you to work on weekends, while others may only allow you to work on weekdays, so do your own research properly. 

Another factor to think about when searching for how to get an internship with no experience is your personal situation. For example, if you go back home for the summer break, you might be able to look for summer internships there. And if you need to finish an internship while still enrolled in college, you should look for a position close to campus.
CHECK FOR ON-CAMPUS OPPORTUNITIES

You could also look for internship opportunities through your department or other campus departments. These internships are often meant for students, which means they frequently fit around your class schedule and are suitable for people with no prior experience.
CONSULT YOUR CAREER CENTER

When applying for internships, your school's career center might be a valuable resource. Many institutions have links with local companies and can help you obtain an internship or volunteer position that is a good fit for you. Make use of this resource and take advantage of all the services it has to offer.

You may also work with your career center to create an effective cover letter and resume that will help you stand out from the crowd. Even if you lack job experience, the career center's professionals can assist you in discovering relevant talents or hobbies that can convert into attributes employers want.
PREPARE A GOOD RESUME

Another key factor to consider when looking for how to get an internship with no experience is getting a good resume or cover letter. The resume and cover letter are most likely the most significant parts of the application process. Your resume allows you to market yourself to prospective employers. 

Your resume helps you to market yourself to prospective employers.   highlight your many jobs, education, and anything else you'd like to include, such as interpersonal and technical abilities, or college groups you're a part of, such as the NSLS, in this section.  All of this demonstrates how your expertise may benefit the firm or group.

After you've updated your resume numerous times and believe it's ready, you can now send it to someone else for comments. You may have anyone read it and tell you how it sounds. Anyone, including friends, relatives, and, most importantly, the Career Services department at your school.

They've gone through thousands of resumes. And, because they have connections with many companies in the region, they understand what employers are looking for in a candidate and on a CV, so make sure to take advantage of their experience.
GET A GOOD RECOMMENDATION

How to get an internship with no experience wouldn't be much of an issue if you have a good recommendation letter. When applying for an internship or a job, some businesses will ask for a recommendation letter or references.

Even though it is not compulsory, it would be preferable if you went the extra mile and had a university professor or a previous boss testify to your character, talents, and expertise.

If you're going to ask someone for a letter of recommendation, give the writer plenty of time. The individual drafting the letter should not be pressured, since doing so would be unproductive.

Before offering references, approach these people and ask them if they would be willing to speak in your favor in front of your potential employers. They should be made aware of the situation ahead of time.
DEVELOP VALUABLE SKILLS

One tip you should pay attention to if you're looking for ways to get an internship with no experience is skill development. If you want to get an internship with no experience and beat out the competition, you must add value to yourself and demonstrate to potential employers how you are better than others. You can only accomplish this by developing high-demand skills.

Even if you don't have specific professional experience, there are many high-demand skills you have, and you should spend some time developing them. These skills are transferable, such as computer skills, leadership skills, and communication skills.

Consider these ways to learn or improve these essential skills:


Attend a weekend session on a professional skill, such as team building or specific computer software.

Join a club where you can learn and practice a transferrable skill, such as a debating club or a public speaking group.

Seek leadership positions in whatever groups you're a member of.

Develop your communication abilities by becoming an instructor.
NETWORK

Another important tip on how to get an internship with no experience is networking. Networking is essential whether you're a student or an employee, and it's one of the main things that help employees or students find jobs and internships with no experience.

Opportunities arise fast, therefore I recommend that you stay in touch with people in your field of interest to see if any new opportunities arise. Consider asking someone in your field of interest to be your mentor if you can connect with them. Through this connection, you could be able to learn more about the profession and benefit greatly with your job hunt.

Assume you get the opportunity to meet the CEO or recruiting chair of a firm at a club speaker presentation night or an internship fair. You can wait behind after their presentation to ask them questions about their career and get advice. Another strategy is to keep returning to your connections and Career Services.
OFFER TO WORK FOR FREE

If you're looking for how to get an internship with no experience, you should definitely consider offering your services for free. Many organizations need extra working hands but are limited because of their budget so they are likely to accept a volunteer because it will cost them close to nothing but trust me, volunteering comes with its own unique benefits.

You can find companies that are in line with your major or intended career, and submit a proposal to volunteer. Admission committees will look favorably on you as they will find you as a person who is actively seeking to improve personally while serving others without expecting anything in return.

Additionally, volunteering in charity organizations will also assist you to improve skills such as time management, collaboration, trustworthiness, and others.
PREPARE FOR AN INTERVIEW

Although not every internship you apply for will lead to an interview, you still have to be prepared for the right time because that is your golden opportunity to impress the hiring team and show them you are fit for the job.

Learn to carefully present each aspect of your resume and to relate and emphasize the talents that will bring value to the company you apply for as you prepare for your interview. Also, it is important you investigate the important qualities of the company you wish to work for. And finally, maintain your confidence, be well-spoken, and be polite to the panel.
BONUS TIP: CONSIDER FREELANCING
As promised, here is the bonus tip on how to get an internship with no experience. If you can't find an internship that is the perfect fit for you, consider freelancing or starting your own business. This will provide you with vital experience and abilities while also allowing you to get your name out there.
Advertise your services on social media platforms, online job sites, and in your school's information center. Without experience, you might have to lower your project prices or provide new and flexible payment plans, such as payment after services have been performed.
This eliminates a large portion of the danger that a customer may feel when employing you without previous experience.
Furthermore, having your own business will make you more appealing to potential employers and will offer you a competitive advantage when applying for internships.
CAN I GET AN INTERNSHIP WITH NO EXPERIENCE?
With an outstanding resume and the ability to promote your qualities, any internship can be potentially easy to get even without any experience whatsoever. But if you really want to improve your prospects, here are some ways in which you can easily find an internship:
Regularly browse through internship-focused websites, like Chegg Internships and Interns World.

Don't forget to check common job search websites, as well, such as LinkedIn, Indeed, and Glassdoor.

Follow companies you like on social media and check their websites often for open positions.

Attend job fairs and networking events, where you can speak in person to recruiters.

Email companies where you would like to work and ask if they offer intern positions.
TOP 5 SKILLS EMPLOYERS WANT IN AN INTERN
Employers always look out for a basic set of abilities and attributes when assessing applicants for internships and entry-level positions, regardless of your major or desired field. The following are the top five skills that employers look for in an intern:
COMMUNICATION
The ability to successfully communicate – to express ideas and deliver information — is essential in every job, whether with your boss, coworkers, or clients. Employers recognize it as a valued ability.

COLLABORATION
As an intern, you will most likely work with other interns and corporate workers. Collaboration requires the ability to communicate and relate well to others, as well as the ability to collaborate with others toward a shared goal.

TIME MANAGEMENT
As an intern, you won't have a syllabus to inform you what your deadlines are, so you'll have to manage your time and produce achievements on your own. Employers want to know that you can prioritize tasks and identify when it's suitable to multitask or focus on one thing at a time.

Read on how to stay productive everyday

ADAPTABILITY
As an intern, you may find yourself aiding the sales team one day and providing customer service the next. While you may be interested in a certain component of an industry, a desire to become acquainted with the many aspects of a business is undoubtedly seen as an asset, and also increases your exposure within the company.

TECHNICAL PROFICIENCY
You won't be expected to be an expert in whatever platform the organization uses, especially if you're wanting to intern for a company in a highly specialized area. However, you should be familiar with computers, and your ability to operate basic productivity applications will most likely be expected.
MY VERDICT ON HOW TO GET AN INTERNSHIP WITH NO EXPERIENCE
Attending college means that you'll have to face the reality that you'll need to acquire an internship sooner or later. Internships are crucial because they give you a taste of what work life is like and what it's like to be an employee.
While internships may be a fantastic way to gain a head start on your future job, acquiring one might be difficult, but with these 10 tips on how to get an internship with no experience revealed above, you can be one step ahead of the competition, and you wouldn't have an issue with how to get an internship with no experience anymore.
If you liked this article, then please subscribe to our YouTube Channel for videos. You can also find us on Twitter and Facebook