Stop for one second and imagine how boring the web would've been without memes. I can't even imagine that; I'm so deep into the meme "rabbit hole" that that's no longer a possibility for me.
For a long time, I used to think there was nothing more satisfying on the web than seeing a meme that you can relate to so well that you share it with your friends. That's until I discovered I could be the creator of those witty little JPEGs that will leave you rolling on the floor with laughter or feeling pretty annoyed.
Behold, ladies, and gentlemen: the best meme maker apps for smartphones. Before I start listing them, however, you'd be kind to tolerate a little digression so I can explain memes to the cavemen who may not know what they mean, wouldn't you?
Table of Contents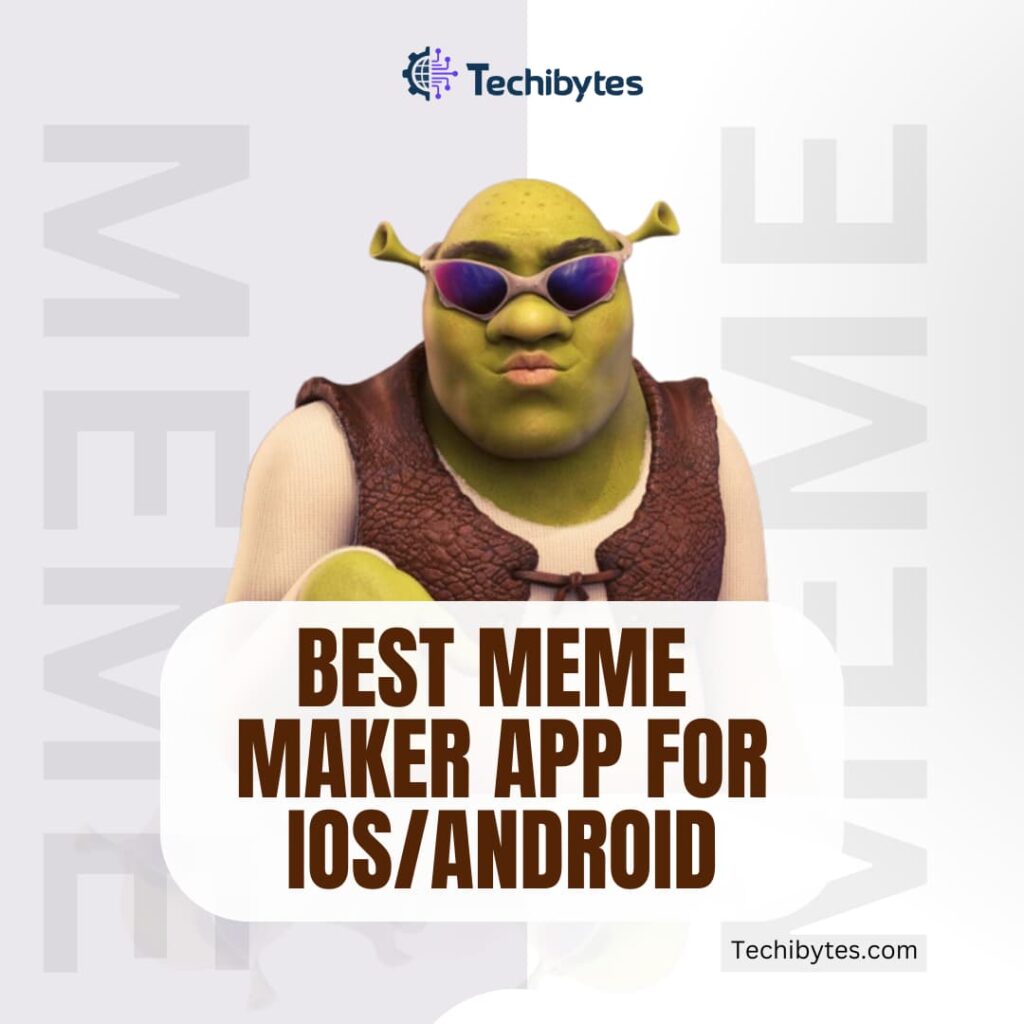 What are Memes?
So, caveman, a meme is an amusing item (image or video) that spreads widely on social media, usually with some variations. It usually comes in the form of captioned still images, and it recently became a phenomenon on social media platforms like Google, Facebook, and Twitter.
Memes typically don't carry any form of copyright protection; you can share them freely and make yours that others can also share.
Any fun picture or video can be a meme, but a few have gone incredibly viral over the past few years. Some of the most recognizable internet memes include the distracted boyfriend, the condescending Wonka, and the success kid.
Best Meme Maker Apps for iOS
With the ubiquity of memes in recent years, developers released tons of meme maker apps for iPhone, most of which you can get from the app store. Most meme maker apps already have hundreds of meme templates; you only select a template and caption it to create another viral tweet or Facebook post.
Without further ado, here are some of the best meme maker apps for iOS that you should consider trying.
1. Mematic
Mematic is the most popular meme maker app for iPhones, and deservedly so. The app works by providing tons of memes templates you can choose and caption. After captioning, you can save them to your device or share them on your social media platforms.
If your preferred meme template doesn't exist on the app, you can upload your image and caption it manually. The app is freely available on the App Store, and you won't have to pay to use most features.
However, the pro version starts at $3 per month that lets you use different fonts, stickers, and colors.
2. Memes.com
The Memes.com app isn't only for creating memes; it's also an entire social network built around them. Once you log in to your account on the app, you start seeing trending memes from other creators you follow. Other memers can also see your memes and follow your account if you want them to.
Aside from the general social network idea, Memes.com also features insanely powerful meme making tools, rivaling that of Mematic and other top players in the business. You can caption pictures, change your font, color, and size, and upload a photo, making it an excellent meme maker app for iPhones.
3. ImgPlay
Unlike Mematic and Memes.com, ImgPlay focuses on a unique but equally interesting form of memes: GIFs. For the uninitiated, a GIF is a format that carries short moving images or soundless video instead of an ordinary static image.
It brings a new concept to memes; instead of them being boring pictures, you can use short videos to convey even more information.
Since traditional meme maker apps make it challenging to caption GIFs, ImgPlay is the best answer. You can upload your existing videos into the app and trim them to get GIFs.
Alternatively, you can caption any template from the Tenor GIFs archive. Thanks to its unique offering, ImgPlay is one of the better meme maker apps for iOS.
4. Meme Keyboard
If you like to share memes via iMessage, you'd want Meme Keyboard on your apps list. Built right into iMessage, it lets you create and manage memes that you can send to friends and family with one click.
The app uses meme templates from Memes.com, and you can also upload meme templates from your camera roll. Meme Keyboard lets you search for popular memes, making finding memes to share with friends and acquaintances much easier. What's more, the app is free!
5. Meme Maker Pro
I'm not sure who'd want to pay to make memes, but if that's you, Meme Maker Pro would be one of your best bets. While the app has a free version, it's so limited that you'd want to upgrade to the premium version, which I have a hard time justifying.
The paid version comes at a whopping $9.99 per month, but you'll only have to pay $59.99 for an annual subscription. This app doesn't have much to improve, but again, it's only for a limited subset of people, and if they're paying, they deserve the best.
Best Meme Maker Apps for Android
Meme makers work on Android as they do on iOS, with some of the most popular ones on the Play Store being iOS ports. Here are the most popular apps you should try if you're trying to make memes on Android (like most other people).
1. Imgur
Imgur is more like the internet's largest repository for memes and GIFs, but it's also a decent meme maker app if you want one. The app might be a pain to use, as there's a flood of negative comments decrying how worse the app has gotten over the years. It appears to be a hit-or-miss experience, so you should try your luck.
If it works, you have a combination of one of the best social networks and meme maker apps in one package. The downside is that the social network aspect isn't as meme-focused as you'd expect it to be. It features tons of random pictures and political headline screenshots that don't quite qualify as memes.
On the bright side, you can choose the "memes" tag to force Imgur to bring up memes only. You can also upvote and downvote memes, leave comments, and post your memes for the community to react, even if you created them outside Imgur.
2. Memedroid
The fact that Memedroid combines the words "meme" and "Android" should automatically qualify it as one of the best meme maker apps for Android, but that's not the reason for its appearance here. It's legitimately one of the best meme maker apps for Android, and despite its descriptive name, it's also available on iOS.
The app shows you memes from other users and lets you rate them to form a social media-like experience. Compared to many alternatives on this list, the free version has a lot of room for improvement, but you can pay $3 for the pro version if you need it that badly.
3. GATM Meme Generator
GATM Meme Generator is one of the better meme maker apps exclusive to the Android operating system. With a 4.3 overall rating across nearly 80,000 reviews, you get a sense of the app's excellence and popularity, which are its best attributes.
If you're feeling bored, scroll through the memes other users have created, and you'll not be disappointed. The app has hundreds of templates you can adapt to make funny memes, but you can upload your pictures to create unique templates. Unless you specifically set your memes to be private, everything you create is accessible to every GATM member, which is sweet.
4. Your Web Browser
Installing a dedicated meme maker app works if you create memes often, but if you only need to caption a random image you found online, you may not need a full app. The web has several websites that let you import a picture or caption existing meme templates.
One excellent website you can use to create memes on an Android smartphone is Imgflip, which also has some social network features. You can like and comment on memes by other users, and others can do the same for your memes.
If you're willing to search well enough, you can replicate all the features of premium meme maker apps on a free website.
FAQ
How Can I Create My Meme?
You can create a meme on any meme maker app from above for Android or iOS. If you're on a PC, a website like Kapwing or Imgflip should work better, offering you more screen real estate to make edits that would be highly limiting on a smartphone.
Can I Make a Meme on My Phone?
You can make a meme on your phone if it runs the Android or iOS operating system. The Play Store and App feature several meme maker apps you can install to make simple memes from your smartphone. Another practical option is using sites that let you create memes using your web browser.
Do Memers Earn Money?
Generally, meme creators don't profit significantly from creating memes. However, you can gain employment within the content marketing department of a company that uses memes to communicate with customers. Even in such a position, you'll likely have other tasks to complement your meme creation task.
Conclusion
Your phone can already do a lot, but one extra thing you can use it for is making memes. With hundreds of meme maker apps on the Google Play Store and the App Store for iOS, you should never have issues creating funny memes or GIFs on an iPhone or Android smartphone.
If you liked this article, then please subscribe to our YouTube Channel for videos. You can also find us on Twitter and Facebook.