There are thousands of ideas of what you can do during the summer break, but what could be better than earning yourself a couple of bucks while schools stay closed? If I had a say on what you should do, I'd say trying to make money during the break is the best thing to do.
Working to earn money during the summer break isn't only great for your bank account, but it's also an excellent way to gain some work experience that makes you more employable after your education. In any case, it's almost inexcusable to not try to make money during the summer break.
Understandably, some of the biggest worries of students are the ways to make money during the summer break. In this article, I'll show you 20 great ways to make money during the summer, but before then, it's crucial to explain why summer breaks are important for students in the first place.
Why is the Summer Break Important?
With some parents and guardians concerned that their wards may lose knowledge and skills over the summer break, there's much evidence to suggest the contrary. Not taking a break from school activities will only make students bored and disinterested in any schooling activity.
Constant school activity makes it difficult for kids to connect with their parents, but the summer break offers a 'break' for them, giving them enough time to connect with the rest of their families. That alone is a morale booster that could potentially increase their academic performance in the long run.
Also, summer vacations offer students a chance to make some money by temporarily joining the labor market. Not only do they gain by earning, but they also get some work experience, which typically proves helpful after their education to help them get employed.
Great Ways to Make Money during the Summer Break
The summer break is an excellent opportunity for you to earn a couple of bucks before you have to go back to hectic academic work. If you're unsure about the ways to earn money during the summer, here are 20 clever options for you to consider.
Dogs are best for two things: being great companions and helping you make some quick bucks over the summer break. While dogs need constant exercise and attention, the majority of dog owners are so busy to provide that, and guess what: they're willing to pay you to do it!
You can find dog owners in your area, but if you're willing to look even further, there are walking apps you can use to find clients. With dogwalkers earning up to $20 an hour on Rover, you're free to fantasize about how much you could potentially do during the summer break.
2. Sign up for Fiverr
If you have any skill at all, you can go to Fiverr.com to create gigs. When people see your gigs, they can choose to hire you to render that service, and you get paid at the end. If Fiverr doesn't seem like your thing, you may want to try similar alternatives like Upwork or Freelancer. Here are other freelancing platforms to register on
3. Sell something
One of the best moneymaking ideas that people almost never consider is selling personal property. I know your PS 5 is one of your most coveted belongings, but selling that to buy a cheaper Nintendo Switch will leave you with some money, all without affecting you severely. You can take a look at some of the things you own to see which ones could be eliminated or replaced.
4. Start a blog
Starting a blog from scratch and growing it until it becomes profitable is definitely going to take some time, and as someone with virtually no experience, that time is likely not less than a year. Thankfully, you don't really have to start your blog from scratch!
Instead of starting anew, you can head over to Flippa to buy a blog. Most blogs being sold on the platform are already monetized; so, all you need to do is create content and earn. This step requires some investment, but it's well worth it.
5. Offer tech assistance for elders
If you've ever seen an elderly person trying to send a message on Facebook, you'll understand how difficult of a task it is for them. So, it shouldn't seem too unbelievable if I told you there are people willing to pay you to assist them in using their tech gadgets.
If you're moderately tech-savvy, you can help them out in exchange for money of course. In some cases, you don't even have to be present; you can simply connect to their computer remotely and help them sort out whatever it is that's causing them to worry.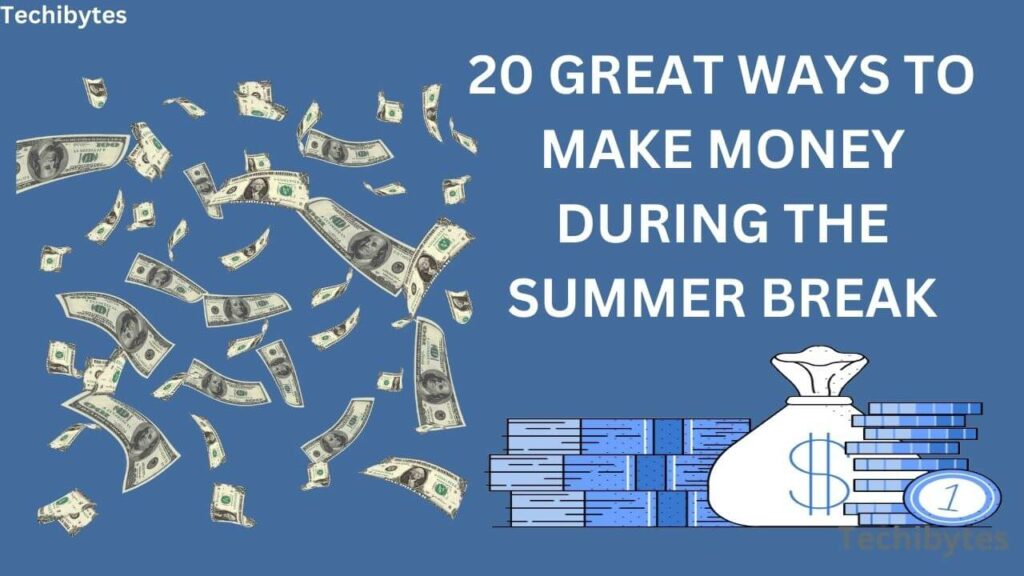 6. Become a sports referee
If you play a sport actively at the amateur level, there's a good chance that you know the rules through and through, even well enough to be an amateur referee. However, instead of offering that service for free, you can get paid for it, but that's only if you care to ask.
7. Answer online surveys
One of the easier ways to earn money during the summer break is by answering online surveys in exchange for payment. There are numerous websites out there that are specifically for answering online surveys for a little price from the creators of the survey.
Websites like Swagbucks, MyPoints, and Opinion Outpost all pay people to answer surveys. Since the competition is pretty fierce on these websites, you should expect to do some work to cut through the clutter and earn something significant enough for your time.
8. Teach a musical instrument
Knowing a musical instrument is already a great income opportunity for you, as there are tons of other people out there who want to have your level of expertise. While you could volunteer to teach them for free, asking them to pay a couple of bucks is what I'd do if I were in your shoes.
9. Babysit or housesit for neighbors
Babysitting needs no introduction, as it's one of the most popular ways for females around the globe to earn during the summer break. As for housesitting, however, it may be strange to some, but trust me, you can make some quick bucks by helping someone sit at home, literally.
As a housesitter, you're only required to stay in a house to give the impression that the owners are present. You may be required to perform some light maintenance tasks, feed the pets, collect and organize the mail, and in some cases, report suspicious activity around the home.
10. Rent out a room
If you're going on a vacation for the summer break, you don't have to leave your home empty while you're away. You can have it make money for you, even if your stay away will be very short. Most jurisdictions allow you to rent out your home without excruciating taxes, as long as it's in the short term.
Before embarking on this venture, however, you should consider checking out its legality for your jurisdiction. In some countries and municipalities, it's illegal to rent out a home for less than six months, so, you might want to keep that in mind.
11. Try delivery services
If you have a car and a valid driver's license, you can apply to GrubHub, DoorDash, or Postmates to become a delivery driver, earning you some extra income over the summer break. Given its simplicity, it's one of my favorite ways to make money during the summer break.
12. Try unskilled construction work
Construction work is about the most physically demanding opportunity on this list, but it's also one of the most rewarding. If your field of study relates to construction, it's an awesome way to get some field experience, while earning significantly in the process.
13. Become a swimming instructor
If you're somewhat of a good swimmer, you should never go broke, not during the summer when there's a surge in the number of people learning to swim. By becoming a swimming instructor, you can teach people what you already know about the activity and have them pay you to do that.
14. Become a virtual assistant
Freelance apps like Fiverr and Upwork list hundreds of virtual assistant jobs each day that pays decently, and you can always take up one of them to earn some income during the summer break. In most cases, you're already good enough to become one; you don't need any more training.
Virtual assistants are simply digital secretaries; you can work by helping your employer make phone calls, write emails, or schedule appointments. If you're wondering how it's any different from being a personal assistant, it's that you don't have to leave the comfort of your home.
15. Rent out your car
Not every teenager out there has a car, but if you happen to have one, why not lend it out throughout the summer break? This option is probably the most low-effort way to make significant money during the summer break while having to endure only minor inconveniences.
16. Start photography
One of the few skills that can guarantee you some short-term income is photography. If you can invest in a decent digital camera, you can venture into photography during the summer to earn some income for yourself. You can start by taking passport photographs or selling photos on stock photography websites; either way, you'll earn something.
17. Teach something
You don't have to be a licensed tutor to share knowledge. If you're a good cook, for instance, you can always teach people how to make some dishes and have them pay you for the skill. The classes could be physical or virtual; when you market it right, they'll come!
18. DJ at a party
With just a laptop and a good music taste, you can DJ at parties for some extra income during the incoming summer break. It may sound like a technical task at first, but by watching a YouTube video and reading a couple of blogs, you should be good enough to earn a few bucks an hour DJing at parties and having fun.
19. Become a lifeguard at a beach or pool
Swimming is a recreational activity that could be very dangerous when you have random people playing around in the water. Since parks, pools, and bitches are always full of random people, there's a need for lifeguards to always stay around for safety purposes.
If you think you're not well-trained enough to be a lifeguard, you don't have to worry; most of these centers offer a training program anyway. Also, this is one of the better-paying options on the list, so, you don't really want to sleep on it.
20. Become a freelance writer
If you think your writing skills are better than average, you might just be the perfect fit for freelance writing. You can earn money by being a freelance writer as long as you can write any kind of article that someone wants: school projects, blog posts, or even technical guides; anything goes.
Conclusion
For many, the summer break is an opportunity to abandon any work and take time out to rest and have fun. However, some others see it as an opportunity to make some extra money for financial freedom. If you incline more towards the latter, you'll find this list of 20 ways to make money during the summer helpful.
If you liked this article, then please subscribe to our YouTube Channel for videos. You can also find us on Twitter and Facebook.