Technology has evolved over the years after the internet bubble burst. Technology can be found in nearly every other sector. Take for instance marketing, many businesses are now adopting digital marketing over the traditional marketing strategy.
Businesses in the USA can now transact with other countries even without physically netting them. Business directors and managers can have virtual conferences and meetings without leaving their location with some video conferencing platforms.
The impact or benefits of how technology helps business growth and success of a business cannot be overemphasized. The way businesses decide to use technology can make or mar their success. If the benefits of tech are properly harnessed businesses will become more efficient and effective. In Nigeria, Africa technology development has improved the day to day activities of small businesses contributed to the success stories of Startups over there.
Are you thinking of ways on how technology helps business growth? Stay with us as we list out ways on how technology helps business growth in this article.
Table of Contents
Benefits of Technology in Business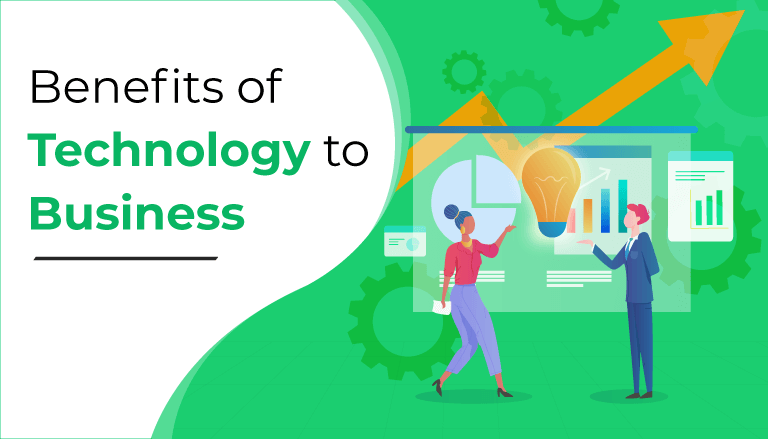 There are various ways technology helps business growth, remember some years ago people manually record financial statements and transactions, these documents are erroneously recorded somethings while other times they could be misplaced, but with the advent of technology people and businesses started using software like Microsoft Excel to prepare financial statements, this increased their productivity.
Now, this is one aspect where technology if used properly can lead to the growth of your business. Other benefits of technology in business includes:
How Technology Helps Business Growth
1. Data Storage on Cloud
Many businesses produce lots of data daily, traditional businesses had issues properly storing data hence losing important information.
Some years ago they couldn't store and manage data without spending on lots of high-capacity storage systems. However today the case is different, businesses can now store data through an online storage account. This data could then be shared with other people through an invite link.
Storing data in the cloud makes it possible for you to access the data from any part of the world, information stored in the cloud is backed up automatically, there's no limit to the amount of data you can store, and you can collaborate with other people on a single data.
2. Web-Based Payment
Many countries are moving towards a cashless economy. People now pay and receive money online. Technology helps business growth here by letting them receive and make payments online.
There are many payment options available and they're very flexible. Through this businesses can get access to a wide network of customers in different segments. When your business has various payment options you'll get lots of customers with their various preferences in payment options. It can be said that payment has been disrupted and the future of payment looks promising as well with alot of digital wallet introductions.
This modern system of payment has also reduced the number of fiat currencies a business might physically have. It has also reduced cases of theft and misplaced money.
3. Social media
Social media is another part of technology that if used properly will lead to massive business growth. Modern businesses can use social media to do lots of things that were previously impossible to achieve some years ago.
For instance, social media can be used for advertisement and brand development. You can advertise new products and services on your social media handle. It also helps you reach a wide customer base from any part of the world.
Social media can also be used to monitor and evaluate every part of your audience's behavior, this gives you an idea of what your customers like and dislike, a proper study of this will make you a better business owner. As a business owner that wants to grow your customer base, it is recommended you open various accounts on popular social media platforms to advertise your products or services.
4. Analytical Tools
One great aspect of technology that helps your business grow is the use of analytical tools like Google Analytics to evaluate the strengths and weaknesses of your business. There are other amazing tools for analytics aside from Google analytics.
You can use analytical tools to perform functions like monitoring the percentage of people that visit your website as well as how often your key customers engage with the site. You can also use it to know your page load speed. Analytical Tools come in handy when you strategically target key customers from your competitor's audience.
5. Using Productivity apps
There are various productivity apps you can get to enhance your business productivity at little or no cost. All you need to do is install these apps on your devices.
Apps such as Slack, Podio, Trello, Basecamp, etc. can be used to boost your business's productivity without you going through the stress of employing several productivity professionals, most of these tools can help you fight some of the common recruitment challenges startup face.
Majority of these apps offer their services free or for little money. The great thing about the apps is that you can link them to their desktop versions. Step up your business productivity by getting one of them today.
6. Improved Marketing Campaign
Marketing and advertisement have gone beyond the traditional method of physically advertising your products and services. Unlike the old method of paying high costs for conventional media advertisement and billboards, businesses are beginning to adopt digital marketing. 
Digital marketing makes advertisement provides a quick result. It is more efficient and effective, with digital marketing you can target a specific audience as well as easily evaluate the environment.
Digital marketing guarantees increased return on marketing, unlike the traditional marketing strategy. One great benefit of digital marketing is that you review campaign results before the campaign is over unlike the traditional method. There are several online courses on digital marketing that business owners can apply for to master the art of successfully implementing digital marketing for business growth. The great news is that you can access most of these courses at no cost.
7. Ease of Communication
Advancement in technology helps business growth by making communication easier and faster. For instance, business executives no longer need to risk traveling long distances for meetings and conferences as you can now virtually hold meetings. Apps like Zoom and Google meet are used for holding meetings and connecting people from anywhere in the world. 
There are also translation apps you can use to transact with clients of different cultural backgrounds and languages. Modern communication has pulled down the obstacles that hindered collaborating with foreign clients, today you can get transact business and collaborate with people in other countries.
8. Effective and Efficient Customer Service
One thing that promotes a business image is how they handle their customers. Satisfying your customers and clients is one way you can exceedingly improve your business and this is another area where technology has helped business growth. There are a few strategies to improve your business customer services which will immensely help your business.
Gone are the days when customers have to physically come to a company to lay a complaint about a product or service, these can now be done virtually. Most businesses now have chatbots, in-app messages, and online help desks on their websites to conveniently handle customer issues. Most businesses prepare online surveys to get customer feedback, others make provision for customers to drop reviews about their services or products on the business's website.
9. Virtual Assistant
This is also a cool way technology helps business growth, let's say you own a small business or you're just starting and you can't afford a personal assistant you can easily get a virtual assistant.

Virtual assistants are available on freelancing sites for little money. They can handle tasks such as scheduling a meeting, setting reminders, answering calls, and lots more, saving you time and energy to handle other important areas of your business. 
10. Use Video Contents to Attract More Clients
The modern business doesn't need to spend much on video content, unlike the traditional business that only uses television. Now you don't need a media house to advertise your products or services.

Technology has provided several platforms like YouTube channels, Instagram reels, and Facebook videos for businesses to reach potential customers. You don't need to spend much using a video.

These platforms are great for small businesses that are trying to cut down on costs. Videos help you create more brand awareness leading to more sales.
FAQs
1. How has technology helped small businesses?
Technology has helped small businesses in many ways such as helping them advertise their products or services through social media, instant payment or cash receipt via virtual cards, connecting with customers through emails, and lots more.
2. Has technology improved marketing strategy?
Yes, technology has improved marketing strategy through digital marketing especially for small businesses, most of them can now market their products and services on social media or the internet. This form of marketing is both cost-effective and covers a larger audience.
3. Can small businesses afford the use of technology?
Of course, Small businesses can afford the use of technology. It is cost-effective and time-saving. You can use technology to prepare daily financial statements such as the use of Excel. 
4. What Technologies are used in business?
Some technologies you can use to grow your business are computers, software, accounting systems, inventory control systems, productivity apps, business management apps, etc.
5. Is technology important for the growth of a business?
Yes, technology is an important criterion for the growth and development of businesses. It helps in improving productivity, the management of employees' or customers' data and contact, it increases the efficiency of products and systems, it saves time and money, and it secured customer data against cybercrime and hacking. 
Conclusion
Technology is one of the best and fastest ways to enhance your business growth. It creates a lot of efficiency and productivity while cutting down on cost.
Through technology, you can store data, prepare financial statements with little or no errors, track your business growth, hold virtual conferences, reach a wider audience through digital marketing, receive payments online, sell to customers in different parts of the world, and lots more. 
The benefits of technology in businesses are countless and the great part is that entrepreneurs, CEOs, small businesses, and startups can take advantage of these benefits to enhance their productivity and profit.
REFERENCES
Our Writers most times refer to other reputable publishers source to bring in more facts especially when it has to do with stats
Lifehack