The use of virtual cards is expanding in the business world, and it is expected that this trend will continue for some time. Businesses can now easily and securely transact without using real cards or cash by using virtual cards. With the growing popularity of virtual cards, it can be challenging to choose which provider will end up being the best fit for you.
In this post, we'll be taking a look at some of the top virtual card providers for businesses. Make sure you read this post to the end as it promises to be very insightful.
Table of Contents
WHAT ARE VIRTUAL CARDS?
Payment cards known as virtual cards can be used for contactless or online transactions. It is typically a single-use or restricted-use card connected to a business's current payment processing infrastructure. These cards can be used for contactless payments like Apple Pay as well as transactions made through websites and mobile apps.
There is no actual, plastic version of a virtual card. In its place, a CVV code and a set of sixteen digits, comparable to a credit card number, are produced at random by software. Credit or debit cards can be used as virtual cards.
Additionally, virtual cards provide companies with more control over where and how their money is spent. They permit payments without disclosing the principal card or account numbers of the business. Businesses also have the option of customizing the spending caps and expiration dates for each virtual card, which gives them more financial latitude.
Read: 17 Best Team Management Software
WHAT ARE VIRTUAL CREDIT CARDS?
Even though it only exists online, a virtual credit card functions just like a conventional credit card. Your credit card number is a distinct 16-digit string that also includes your expiration date and CVV. You can use it wherever you'd use a regular credit card, including on the phone, online, and in person (if you have the details).
Any purchases made with your virtual credit card are returned to your real credit card using your active credit limit.
WHAT ARE VIRTUAL DEBIT CARDS?
Virtual debit cards are a completely online product with no physical presence, just like virtual credit cards. Your 16-digit card number and expiration date are given to you.
A virtual debit card differs greatly from a physical debit card in that it is not based on credit. Your central account, which your 16-digit card number is linked to, will be used to pay for any charges you make.
All the advantages of a virtual credit card are offered by virtual debit cards, plus a few extras that make them a lower-risk option.
DO VIRTUAL CARDS WORK LIKE PHYSICAL CARDS?
Although they only exist online, virtual credit/debit cards function in the same ways as physical cards. Using a website or mobile app, virtual card providers will create a virtual payment card for you that you can use practically wherever you can make online payments. These cards are offered for free by several suppliers.
If you're contrasting physical cards with virtual cards, there are a few significant changes to be aware of. Their design is the primary distinction. Your account number, CVV code, and expiration date are all prominently displayed on the front and back of a physical credit or debit card. A virtual credit card doesn't have a physical presence; it only exists digitally.
In some ways, this increases security because it can't be stolen from your wallet. Your financial information is not made available to the business while using a virtual credit card, which is another distinction. The lack of data that could be stolen or hacked in a data breach, makes it a more secure method of payment.
Virtual cards also can be locked and unlocked for increased security. But, features do differ between virtual card providers, so carefully weigh your options.
WHY ARE VIRTUAL CARDS PREFERRED OVER PHYSICAL CARDS?
For online transactions and vendor payments, virtual cards have several advantages over conventional cards. The extra security they offer is their main advantage. Virtual cards provide an additional layer of security against fraud because they are not connected to any specific bank account or credit card.
Also, they give you more flexibility over the spending caps and delivery windows for each order, which helps you keep your costs under control.
Virtual cards can also be used immediately and quickly after registration, unlike physical cards, which need the user to wait for an actual card to arrive, making them quicker and more practical than physical cards. As there are no additional activation or maintenance fees, these are typically less expensive than conventional physical cards.
WHAT ARE THE BEST VIRTUAL CARD PROVIDERS?
The market is flooded with apps from virtual card providers to satisfy customer demand for online shopping and digital payments. The top virtual card providers for businesses are:
1. RAMP
Unlimited virtual and physical cards, automatic controls and approvals, and clever accounting connections are all features offered by Ramp, one of the best virtual card providers. The cards offer a flat 1.5% reward rate forever.
Ramp offers distinctive features like automatic HRIS sync, receipt capture, and bill payment that help you organize your finances. It has direct integrations with Sage Intacct, Xero, NetSuite, and QBO. You may manage your spending using Ramp before it happens.
Ramp has recurring limitations and transaction-level restrictions, supports Apple and Google Pay, requires no personal credit checks or guarantees, and lets you automate 95% of administrative operations. Also, it offers Currency compensation for travel abroad.
You Might Like: 20 Best Accounting Software For Small Businesses
2. DIVVY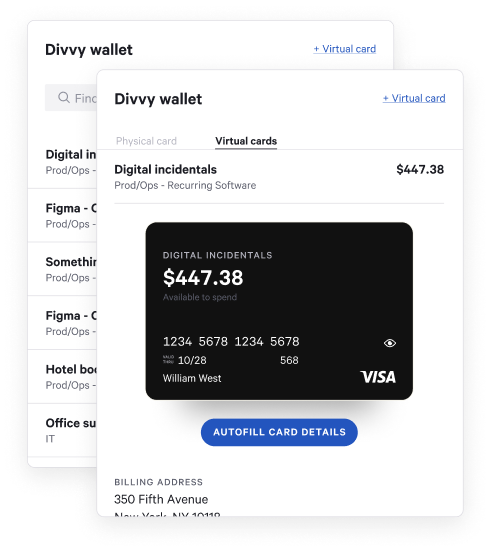 Divvy is one of the top virtual card providers that provide Virtual credit cards for all of your recurring payments and all of the retailers you visit. They are quick, free, and special. They are one of the top virtual card providers because you can create as many variations of their virtual cards as you want without paying a dime.
Because it integrates the usage of business credit cards with tracking and reporting on business costs, Divvy is also a great tool for managing corporate cash. The platform allows users to create unique subscription cards for each vendor their company deals with. After that, customers can decide how much money is on the card and set the limit.
Every month, the card's credit limit is automatically adjusted to ensure that all suppliers are paid on time and without incurring any fees for cardholders. Also, you have access to a live view of every VCC transaction. These cards' main selling point is the protection they give users against potential fraud.
The card protects you against problems like vendor overcharging and compromised accounts. You can immediately freeze a card if you notice suspicious activity.
3. WALLESTER
Wallester is one of the top virtual card providers. Modern payment technology is introduced by Wallester, making it easier to send and receive payments. You may easily, rapidly, and securely create virtual cards thanks to it.
Wallester is supported by a strong technology that gives users access to the most recent features, the ability to create and manage virtual cards and to see transaction history.
It is also committed to offering a trustworthy and secure payment solution that facilitates online transactions for both consumers and businesses.
4. WISE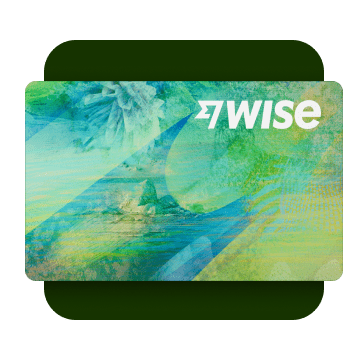 Thanks to a virtual credit card, Wise makes managing and regulating your spending while traveling abroad simple. The virtual card you receive can be used to make online transactions at current currency rates. Wise is one of the top virtual card providers.
Because the card may be frozen instantly after each transaction, it is the most reliable approach for combating fraud. You can unwind knowing that the UK Financial Conduct Authority is supporting Wise's virtual card.
The card may store more than 50 different currencies at once. Real-time currency conversions between various currencies are possible with its specialized app.
Also, these convertible currencies are easily usable for future online, offline, and international purchases. Nevertheless, you must first order a physical card to receive a VCC from Wise.
Smart is a fantastic choice for frequent travelers who want an extra layer of security when shopping abroad. With just three easy steps, you can receive your virtual card and put it in your Wise account online, where it is always available.
5. PST.NET
One-time-use virtual cards, recurring payments, loyalty awards, and other options are available from one of the reputable virtual card providers PST.net.
The company also offers several solutions to assist businesses in managing their payments and clients. Consumers can pay their bills online and make purchases at participating businesses using their virtual cards. Customers that want to protect their online payment information should choose this platform.
6. PRIVACY.COM
You are given a virtual credit card by Privacy.com after comprehensive internal and external assessments. As a result, using the virtual cards provided by Privacy.com is extremely safe. The issued cards are also cost-free if you want to use a bank account as the source of funds.
Because its virtual credit cards offer so many practical functions, Privacy.com is the greatest place to conduct private and secure transactions and one of the top virtual card providers. While completing the application won't take five minutes, it could take up to seven days for your VCC to be issued.
Also Read: 12 Best App To Trade Gift Cards In Nigeria
7. INTERGIRO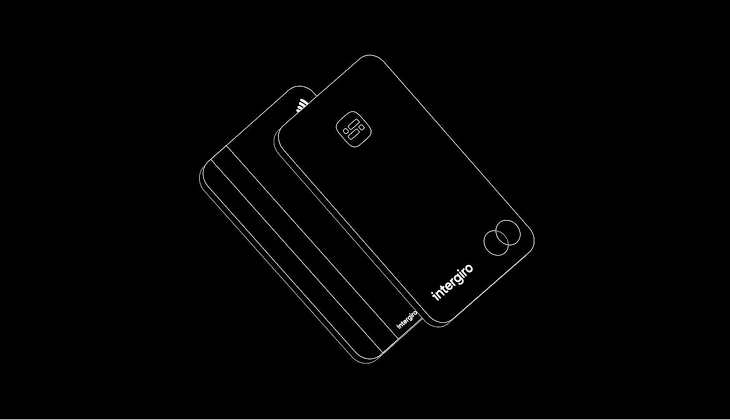 Companies can utilize Intergiro to accept virtual cards from all over the world for payments. The service, which enables both individuals and businesses to transact, offers access to real-time transaction data, safe encryption, and fraud protection. The payment options accepted by Intergiro include Visa, MasterCard, and American Express.
Businesses can also use this virtual card to make purchases from any retailer that takes American Express, MasterCard, or Visa. They are one of the best virtual card providers.
8. STRIPE
One of the top virtual card providers, Stripe, is an excellent money transfer service with great virtual credit cards and easy enrollment procedures. You may establish a virtual card on their website without signing a contract or shelling out a setup fee.
The special aspect of Stripe is that there are no monthly costs and you can create as many cards as you want. Also, these cards allow for a considerable level of customization because of the programmable card controllers.
You can set up your cards, pick certain merchants, and make one-time use or reloadable cards with only a few clicks. The Stripe account statistics dashboard is really simple to use and understand.
Using this dashboard, you may also add new cards, modify your spending restrictions, and freeze or unfreeze your current cards. With the use of Stripe's API administration services, you may create intricate rule combinations for absolute control over your virtual payment card.
9. AIRBASE
Being a SOC 2 Type II and SOC 1 Type II compliant organization, Airbase ensures the security and compliance of all service-related transactions. In addition to virtual cards, it offers analytics and reporting on spending and patterns in employee purchases, assisting businesses in making wise decisions and improving their financial management.
Together with several other functions, Airbase also provides automated payment scheduling and interaction with accounting and expenditure management software making them one of the top virtual card providers.
10. APPLE
Most people don't know this, but Apple is one of the top virtual card providers. The Apple Card is a virtual Mastercard credit card offered by Apple, the same corporation that makes iPhones, Macs, and other technology devices.
Because the two devices are connected, it is impossible to get an Apple Card without an iPhone. The use of the card is free.
Instead of showing you the minimum due amount, the app estimates the amount of interest you'll ultimately pay based on the payment amount you select. As a result, you'll be more equipped to decide how to spend your money based on the situation.
You can choose to pay monthly or with no interest on purchases of Apple devices. Cashback is unlimited and varies from 2% to 3% depending on the store. Your virtual Apple card can also be used to buy an iPhone or Apple Watch in person.
11. MESH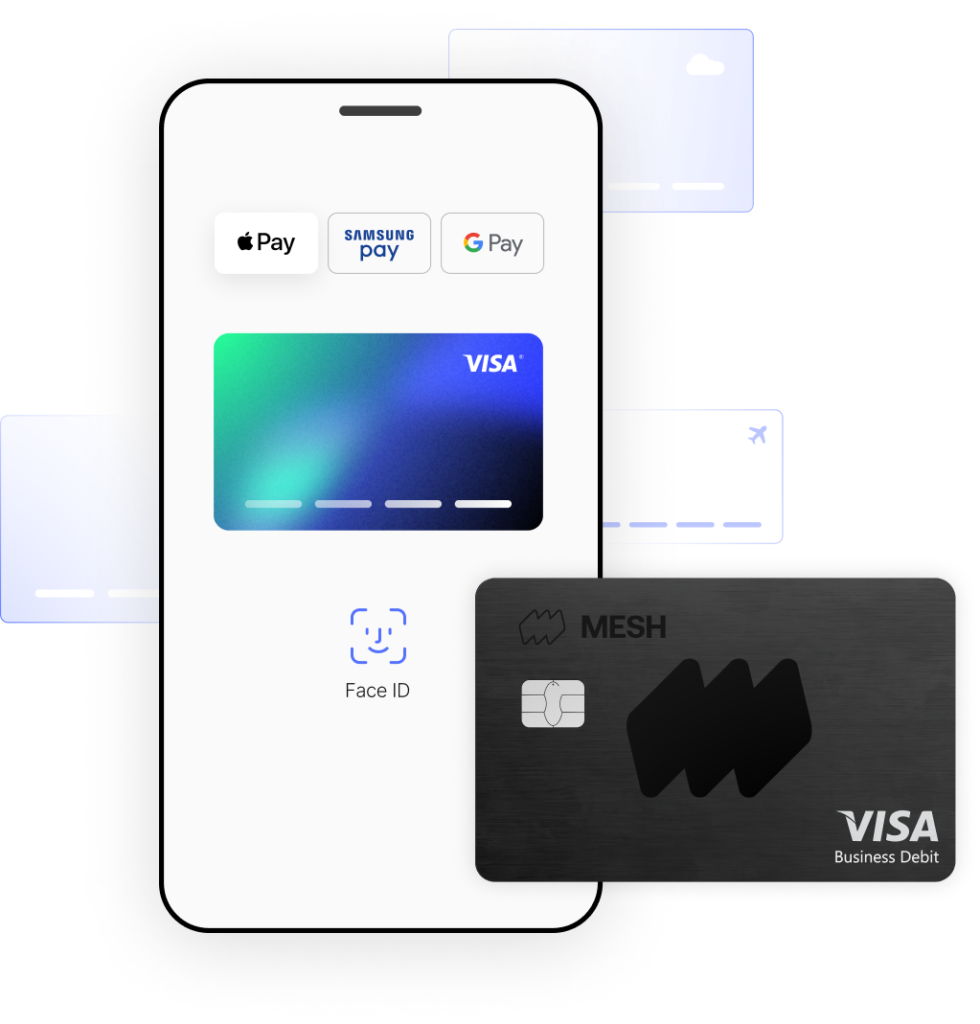 Businesses can swiftly and securely control their corporate expenditures thanks to Mesh's virtual business card solution. To assist organizations in managing and tracking spending, it provides an all-in-one corporate card, expense management, and accounting platform.
To assist organizations in making wiser financial decisions, Mesh offers data storage, real-time analytics, and secure payment options. They're one of the best virtual card providers. Additionally, it provides several services to assist businesses in managing their expenditure, such as automated expense tracking, virtual cards, and spending caps.
OTHER NOTABLE VIRTUAL CARD PROVIDERS
Blur
Blur is also one of the notable virtual card providers. Your payments, bank transactions, privacy, and passwords are all protected from fraudsters by Blur, a VCC provider.
You can check out using a phone, browser, or tablet. For each purchase, Blur can generate a unique credit card number. All devices can securely sync with it. This service can obstruct covert trackers, prohibit secret data collection, and more.
Stampli
Another notable virtual card provider is Stampli. Stampli helps businesses automate their accounts payable procedure. It offers a cutting-edge, secure, automated method of electronically paying vendors and suppliers, doing away with paper checks and labor-intensive manual procedures.
Many services are offered by Stampli, including fraud protection, cost reductions, and real-time tracking and reconciliation. You have more insight and control over your spending thanks to its virtual cards.
By simply clicking a button, businesses can swiftly and securely pay their suppliers, vendors, and contractors with Stampli.
US Unlocked
US Unlocked will enable you to shop for U.S. websites from anywhere in the globe. Anyone looking to acquire a US subscription, such as US Netflix, Hulu, Disney+, etc., will appreciate this payment option. They are also one of the top virtual card providers.
The business offers two different kinds of cards: a single-use card that can only be used once, and a merchant-specific card that locks to a certain merchant after a transaction.
Tribal
Tribal sells prepaid virtual cards that can be bought by e-businesses. Despite not being connected to a bank account or credit line, these cards perform similarly to typical debit and credit cards. They are associated with a user's account, which has money added to it.
The amount of money that can be kept on a virtual card is up to the owner. When making transactions online, the virtual card can be used just like a regular debit or credit card. This makes it possible for you to shop online without having a bank account. They're also one of the top virtual card providers.
CONCLUSION
Virtual card providers for businesses have a promising future. Virtual cards have become a desirable alternative for companies of all sizes as a result of the growth of digital payments and the rising desire for more secure payment solutions.
They are not only practical but also extraordinarily reliable and safe. Simply put, choosing a virtual card for your company can turn out to be a priceless tool.
We hope you found our post on the 11 Top Virtual Card Providers For Business very informative. Kindly let us know what you think.
If you liked this article, then please subscribe to our YouTube Channel for videos. You can also find us on Twitter and Facebook.
REFERENCE
https://www.guru99.com
https://www.brooksconkle.com
https://geekflare.com
RECOMMENDATIONS