Users of Whatsapp can communicate with one another using text messages, photos, videos, and audio files. The aforementioned service may be accessed through the Windows, iOS, Android, and Symbian operating systems, as well as blackberry OS.
Over two billion individuals across the world communicate with one another through the usage of the free messaging program WhatsApp. The fact that WhatsApp is available to users at no cost raises the question of how does WhatsApp make money?
It is in your best interest, to begin by gaining an understanding of the driving force behind Whatsapp's business plan.
Who is the owner of Whatsapp?

The company that now owns WhatsApp was once known as Facebook, Inc., but has since changed its name to Meta Incorporated. The first time that Meta purchased WhatsApp was in February of 2014 when the company was actively buying other businesses to add their services and money to what Facebook was already bringing in for them.
What is the business model for Whatsapp?

The business strategy of WhatsApp may be thought of as a multi-sided platform that links users who wish to chat with each other for free in a safe environment, regardless of the mobile operating system that each user's smartphone uses. Whatsapp has expanded its customer base to include commercial enterprises.
Currently, the most popular instant messaging program in the world is well ahead of any potential competitors that are even able to be seen in its rearview mirror. In February of the year 2020, the app already has over 2 billion users from more than 180 different nations.
The following is an example of a business model canvas that may be used to demonstrate WhatsApp's business model:
Customer segments of WhatsApp
Every person who owns a smartphone has the potential to utilize WhatsApp. People of all ages, from children to adults, can use it for personal or professional interaction, and it is of great benefit to people who need to connect across large distances at a cost that is either little or nonexistent.
WhatsApp's Unique Selling Points
Convenience: The user can interact with anybody else in the globe who possesses a smartphone and access to the internet, using an incredibly straightforward user interface, and instant communication is possible;
Users can communicate with one another at no additional expense through the use of text and voice messaging, internet calls, and file sharing.
Protection: WhatsApp encrypts every communication that is transmitted through the app. This prohibits any material that was discussed in private from becoming public;
Features: Over the years, WhatsApp has been adding new features that make sense to its users. Some examples of these new features include an in-built camera, group chat for up to 256 people, exchanging status, and sending files up to 100 MB in size;
Business: This is an application that can be used by businesses, and it can be used to promote the businesses in question through the use of advertisements. Even release catalogs can be made by businesses (doesn't the business model start to make a bit more sense now that you read that?).
WhatsApp channel
The primary route is the mobile application itself. In addition to it, there are other options, such as the Google Play Store, the Apple App Store, and, to a lesser extent, social media.
WhatsApp's CSR
The zero-ad and free-of-charge policy of WhatsApp, together with its customer support, end-to-end encryption, and relatively user-friendly service, all contribute to WhatsApp's positive reputation among its user base.
Vital Resources for WhatsApp
The framework of the app itself, particularly the server and the platform, is the most significant key resource. This is because it supports the app's functionality. In addition, its human resources staff consists of engineers, programmers, developers, designers, marketers, and so on. Additionally, it should be noted that the WhatsApp brand was built on the principle that there should be no advertisements.
Key WhatsApp activities
The primary functions of the application are geared around providing the user with the optimal experience that may be offered. As a result, they include activities like the research and development of software, providing assistance to customers, and ensuring the confidentiality of information and data.
WhatsApp Partners
Sequoia Capital and Facebook were, without a shadow of a doubt, indispensable collaborators in the development of WhatsApp. In addition to these, its primary partners include internet providers, mobile firms, OS integrators, app marketplaces, and more.
The SWOT Analysis of WhatsApp
Strengths
Customer base: the number of users is one of the most important factors for the success of any social media business, and WhatsApp has over 700 million users;
Technology: WhatsApp is built on a robust technology that provides high-quality connectivity and is seldom down for extended periods. It has not been reported that there have been any serious problems or failures;
Price: There is no cost associated with using the app for customers;
Brand: When people think about messaging applications, this is the first brand that comes to mind;
Availability: WhatsApp may be downloaded for free on iOS, Windows, and Android devices, making it accessible to users of all operating systems;
Customer happiness is increased when a platform does not contain any advertisements.
Weaknesses
Data privacy: the corporation has not been able to offer users any solid evidence that their data would be kept private;
People who reside in places where internet access is not readily available will be unable to access the application because it is only available online.
Opportunities
Penetration of the internet: because the internet is still growing, particularly in economies that are still developing, it may soon reach a larger number of users;
The advancement of technology: Given that WhatsApp was one of the first companies to enter the industry, the company is in a position to capitalize on the opportunity to provide innovations to its large user base ahead of the competition;
The number of people using smartphones is steadily growing, much like the number of people using the internet. This is a worldwide phenomenon.
Threats
There is always the risk that WhatsApp may be threatened by new ideas, as it is impossible to predict what new technologies will become available shortly.
Restrictions: Although the software may now be downloaded and used in every region of the world, new regulations may prohibit it from having the same level of functionality as it has at present, causing it to lose market share.
Barriers to entry: Since virtually anybody is capable of developing a product comparable to WhatsApp, it is not difficult for new entrants to capture market share.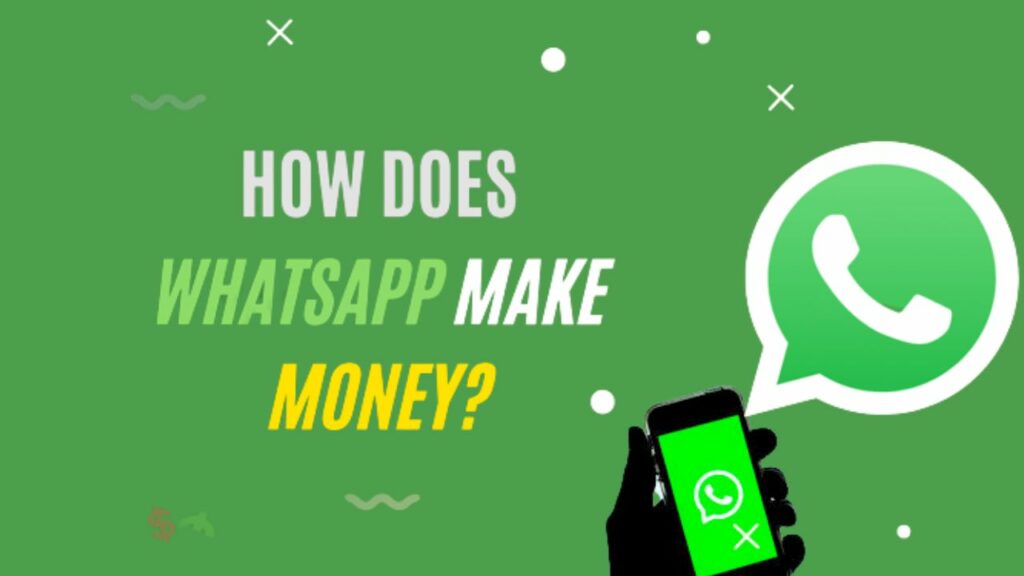 Without adverts, how does Whatsapp make money?

The first version of WhatsApp was a "freemium" service, which meant that users could send messages for free for the first year but then had to pay $0.99 a year to continue using the app after that. They have moved away from this particular type of business and are no longer utilizing in-app advertising.
How does WhatsApp earn money in the United Kingdom?

In the past, WhatsApp relied on a subscription model to generate revenue for the company. It cost one dollar to download and then continued to cost one dollar every year after that.
Meta finally got rid of the one-dollar price and made WhatsApp a free service with the expectation that customers would use it to interact with companies and that the businesses would be responsible for covering the cost of such communications.
How does WhatsApp make money?

Two distinct income streams contribute to Whatsapp's overall financial success:
1. WhatsApp for Businesses
Although the service is offered at no cost to end-users, commercial enterprises have the option of subscribing to WhatsApp for Business to make use of the platform for customer service and sales. Numerous well-known companies, like Netflix, Uber, and Wish, are among those that make use of the WhatsApp Business API.
In the beginning, it actively pushed companies to make use of the site and deliver prompt replies. Businesses will be charged extra by WhatsApp for any delayed reply. Therefore, the company would be required to pay a fee for replies received later than 24 hours after the first inquiry if they were received at all.
The new business application programming interface (API) for WhatsApp for Business allocates fees according to a messaging tier. The following are the fees:
First 250,000 messages: $0.0085 per message
Next 750,000 messages: $0.0083 per message
2 million messages: $0.0080 per message
3 million messages: $0.0073 per message
4 million messages: $0.0065 per message
Above 10 million messages: $0.0058 per message
To put it simply, a company's rate will decrease according to the number of communications it delivers.
2. WhatsApp Wallet (Pay)
The payment method known as WhatsApp Pay is quite comparable to PayPal. Users can send money to one another for free, whether it be to friends, family, or enterprises. A fee of 3.99 percent of the transaction amount is assessed to the recipient of the money.
This program, like many others that send money, establishes a connection to a connected bank account so that money may be transferred from or added to that account. At the moment, this service is only accessible on certain smartphones in the countries of India and Brazil.
FAQ
Does WhatsApp provide a payment system for views?
As long as each of your WhatsApp status updates has at least 42 views, you will receive payment for each advertisement that you add to your WhatsApp status using the Druve app. Your designated bank account will receive the payout, which is determined by your view grade.
Does WhatsApp charge users for the ability to share photos?
The sharing of images on WhatsApp does not cost anything. It is also important to know that forwarding messages on WhatsApp will not result in the generation of any revenue.
What level of privacy does WhatsApp offer?
There are over 2 billion (that's right, billion) users of WhatsApp all over the world, making it one of the most popular messaging programs available. It is beneficial to your privacy since the software encrypts your texts and calls automatically and uses end-to-end encryption for all of your communications.
A WhatsApp call has a fee associated with it, who pays for that?
In contrast to ordinary phone calls, the recipient of the call will not be responsible for any fees associated with doing so. On the other hand, using WhatsApp requires both parties to pay data rates to make or receive a call. You must be aware of the network that you are using for the WhatsApp call to avoid being shocked when you receive the bill for the call.
Conclusion
You cannot invest directly in WhatsApp, but you may gain an understanding of how the massive messaging platform contributes financially to its parent firm, Facebook. As it strives to preserve its market dominance among encrypted messaging services, WhatsApp is becoming an increasingly important source of income for the company.
If you liked this article, then please subscribe to our YouTube Channel for WordPress video tutorials. You can also find us on Twitter and Facebook