The last decade has seen an explosion in the use of instant messaging services. Instant messaging has gone a long way from its inception with chatrooms offered by companies such as Rediffmail and Yahoo. Businesses may now expand their client reach and deliver exceptional service using chat platforms such as WhatsApp and Facebook Messenger.
There is numerous WhatsApp marketing strategy available to help you stay connected with your clients – especially given that more than 50% of WhatsApp users visit the app daily. Even better, you can be certain they will see your messages because texts have a 98 percent open rate.
Taking advantage of WhatsApp's popularity, its Business Account enables companies to use the network to connect with their customers. A WhatsApp business account's primary idea is to integrate businesses with clients and manage orders online. It's a perfect platform for promoting and managing communication between consumers and organizations of all sizes, from small to large.
WhatsApp Marketing – What is it?
WhatsApp for Business provides enterprises with an opportunity to sell their goods and/or services and boost their exposure. Businesses may use the site to offer bids and advertise products by sending links and multimedia assets such as films, infographics, brochures, and catalogs.
Additionally, it assists businesses in doing research and development. Users may create group conversations with up to 256 friends on WhatsApp, making them suitable for organizing focus groups. Businesses may use group chats to organize, plan, and distribute invitations to corporate events.
Businesses all around the world have recognized the potential of WhatsApp marketing and are utilizing a variety of techniques to promote their brands via the messaging app. Uber, MakeMyTrip, and Singapore Airlines all use WhatsApp for Business to run their marketing efforts.
WhatsApp Marketing Benefits for Your Business
Using messengers to enhance your marketing approach is a fantastic opportunity. There are four advantages of utilizing WhatsApp for business advertising.
Profound customer relationships
Over 55% of consumers who use messaging applications report feeling more linked to a company. This makes WhatsApp marketing an impenetrable technique for developing long-lasting, meaningful relationships with customers. Maintaining this relationship enables firms to minimize costs since client retention is 5-25 times less expensive than acquisition.
WhatsApp gives businesses a broad set of customizing options out of the box. You may send customized welcome messages, special discounts, and birthday greetings, for example. This technique increases customer engagement with a business – more than 70% of consumers claim they engage only with tailored marketing communications.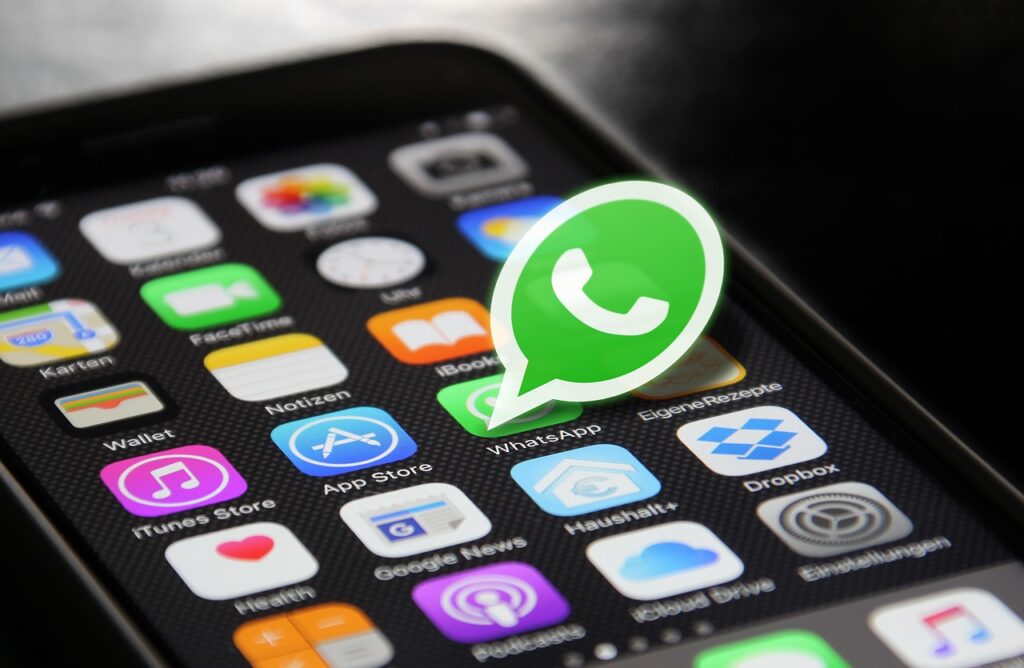 Increased conversion rate
It is critical to select the optimal route for your initial interaction with clients. Individuals may get dissatisfied with phone calls while remaining unreachable via email or social media.
This is where WhatsApp comes in helpful since it can move your prospects closer to making a purchase. Businesses report that 40% of their WhatsApp messages get responded to. Even better, messaging results in conversions. Specifically, messaging a prospect following the initial contact can raise the lead generation by 112.6 percent.
Increased sales
WhatsApp marketing acts as a type of sales wizard. Adding a WhatsApp phone number to your website is a simple strategy that can result in a 27 percent increase in sales leads.
The ability to communicate with a company via any messaging app appears to create trust in potential customers. At least 66% of consumers are more hopeful about purchasing a business that is engaged on messengers.
Even better, you may treat WhatsApp as a standalone sales channel for your business. It is plausible, given the rising trend toward purchasing using chat applications. Approximately 60% of customers expect they will increase their usage of messengers to make purchase decisions.
Marketing costs are reduced.
WhatsApp is an extremely cost-effective marketing tool, which appeals to small companies. All that is required to get started is the installation of an app and an Internet connection.
Meanwhile, the likelihood of your message reaching the consumer is quite high. A user checks WhatsApp around 23 times every day on average.
WhatsApp marketing increases conversions boosts revenue, enables you to develop deep, meaningful relationships with clients, and costs virtually nothing in regards to marketing expenses.
How to Market using WhatsApp?
WhatsApp offers a diverse range of prospective clients across all demographics, geographies, and locations. As a result, it remains an untouched market for any sector. However, how can you make the most of WhatsApp marketing? The following are some effective methods for WhatsApp marketing:
Campaign Development:
You may increase brand awareness and discussion with the use of online and offline marketing, as well as WhatsApp for Business. Campaigns can be tailored or open to the public, which helps develop interest and traction.
Automated Responses:
WhatsApp is an excellent marketing tool for communicating with prospective consumers. With the use of WhatsApp's APIs, you may automate messages, requiring less human work.
Promotion, Notification, and Retention:
By utilizing WhatsApp for business, you may send automated alerts to consumers who have opted in. Messages such as new offers, discounts, subscription renewal and expiration, and new product and service arrivals may be delivered from time to time. These communications aid in client retention and sales growth.
Extending Influence:
With the aid of WhatsApp Business, you may connect with new consumers. You may entice them to join by sending them promotional messages via other platforms such as Facebook or your site.
Once they've subscribed to the WhatsApp promotions, you may contact them with offers and promotions, just like you would with customers.
Community Discussion Forum:
You may form a group with your consumers and subject matter experts to increase interaction. This will assist both new and existing customers in comprehending your brand, items, and services, as well as pitching fresh arrivals.
Ways to develop an effective WhatsApp marketing strategy
1. Establish your objectives and key performance indicators
Establish your marketing objectives before you begin developing your WhatsApp marketing plan. This phase will assist you in refocusing your attention on significant tasks and drawing a line between them and the superfluous.
Begin by re-evaluating your sales strategy and identifying weak points. Consider the company objectives you may accomplish with your WhatsApp marketing approach. Determine the key performance indicators (KPIs) that will assist you in determining whether you have attained these objectives.
2. Identify your intended audience
Understanding your target audience underpins and defines all of your marketing activities. You can employ a variety of strategies to ascertain your target audience. A famous example is the building of client profiles.
Another approach is to employ the jobs-to-be-done paradigm. If you decide to remain with this one, consider the following:
~ What motivates consumers to purchase your product?
~ What benefit do they hope to derive from it?
~ What are the desired outcomes?
Whichever strategy you choose, avoid guesswork and supposition; instead, investigate your audience. You may create customer profiles by conducting surveys on social media and using data from Google Analytics, your CRM, Facebook, and Google Ads, among other sources. These tools will assist you in identifying your typical consumers' demographic and geographic traits.
3. Download the business application
WhatsApp released WhatsApp Business as a stand-alone application to address the needs of small and large businesses. This utility has several useful supplementary features, including the following:
~ A profile of your business that includes critical information such as your address, business statement, email address, and site.
~ A catalog Is an online gallery of your items.
~ Labels that assist you in keeping track of customer conversations. For example, you may categorize interactions based on their state in the sales funnel.
~ Rapid and automatic responses to maintain contact with clients and deliver rapid responses.
~ Statistics for tracking communications sent, delivered, acknowledged, and read.
4. Create a persona for your brand
Individuals like to interact with other individuals, not with a faceless corporation. Thus, to do successful WhatsApp marketing, you must first develop your brand identity. A brand persona is a collection of the characteristics, attitudes, and values that your brand possesses.
Do you recall market leaders? Each of them has its personality. For example, Apple looks to be innovative and smart; and Nike appears to be passionate and vigorous. Your brand almost certainly has a personality as well; investigate it and identify the most relevant characteristics. Your tone of voice and discussions with potential on WhatsApp will be shaped by this character.
Convince your consumers that they are interacting with a real person. Attempt to sign using a person's name rather than a firm's name.
5. Compile a list of contacts
If you intend to use WhatsApp for purposes other than customer assistance, you will require a contact list. The most effective strategy to obtain one and acquire new connections is to utilize subscription forms. Distribute them across your website's pages and include a lead magnet – such as an eBook or discount – as a lead magnet.
Consider multichannel forms – these let your users select how they want to get updates – by email, WhatsApp, or Facebook Messenger, for example. This strategy enables you to interact with consumers via their preferred channels. As a result, this method increases engagement and conversions.
6. Develop your communication strategy
Compared to other mediums, WhatsApp messages have an exceptional open rate. However, if your material is irrelevant or badly created, your marketing efforts on this channel will be futile.
Begin by defining your primary subjects and the ideas you wish to convey. Make an effort not to confine your messaging to advertising messages; remember to amuse and enlighten your audience as well. Maintain succinct communications – consumers frequently check WhatsApp on the fly and lack the time to read lengthy messages.
Multimedia resources such as films, animations, or still images can help reinforce your messaging. Emojis are also useful for WhatsApp marketing. If you wish to interact with them, pick objects with cheerful faces or individuals rather than business-themed items.
Another factor to consider is the frequency of messages. If you inundate your visitors with messages every hour, the likelihood is that they will become irritated with your brand. It is recommended to stick to the widely accepted practice of sending five to ten messages every week.
7. Provide superior client service
The majority of customers communicate with brands using messaging applications. 59 percent of consumers say they receive faster replies and 50 percent believe they receive better guidance and care via messengers. This is where WhatsApp marketing comes into play.
WhatsApp enables your brand to quickly respond to client inquiries and give real-time service. This feature becomes critical when 28% of clients want assistance within an hour and 18% expect an instant answer.
Maintaining such a pace may be difficult, but WhatsApp enables you to give customer care 24 hours a day. All you need to do is use a chatbot and give it common inquiries and responses. This strategy may enable you to save 30% on customer support expenditures.
To summarize, developing a WhatsApp marketing plan entails defining objectives, researching your target, offering high-quality content, and cultivating positive interactions with your consumers. Certain businesses have honed these tactics to perfection. In the next section, we'll look at some instances and ideas for WhatsApp marketing.
WhatsApp Marketing Strategy: Proven Techniques for Increased Sales
Apart from extending your client base, there are various ways to increase your sales. The following are some strategies for optimizing business growth with WhatsApp Business:
Automated Messages
WhatsApp for Business enables you to customize pre-configured automatic message templates. Depending on the customer's question, welcome, collection of information, waiting, and away messages might be triggered. This assists in reducing the workload associated with manually responding to simple customer inquiries and assuring timely responses.
Additionally, automated messages may be utilized to deliver personalized greetings to consumers on holidays, birthdays, and anniversaries. This aids in client retention and relationship development, as well as serves as a CTA reminder.
WhatsApp Status:
Through WhatsApp's 24-hour 'Status' function, you may reach a broader audience by advertising your goods and/or services. With the aid of this WhatsApp marketing tool, you can keep your consumers updated about new offers, events, promotions, and discounts.
Additionally, you may share links to your business's page or even other activities to direct clients to the proper page.
Profile Information:
As a company, you should retain your profile photo as your firm's logo. While you may update the display image regularly to incorporate promotional messaging and discounts, you should guarantee that your brand is easily identifiable by using the company name or logo.
Additionally, you should use the title of your firm in the name section rather than your own. This assists users in recognizing a business or brand. It is advised that you mention your address and/or working hours in the 'information' area.
Multimedia:
Nowadays, everyone enjoys videos and memes. Thus, posting humorous films to advertise an event or a new product, or making memes to inform customers about seasonal discounts, is an effective method to leave a lasting impression.
Additionally, you may use audio snippets such as theme tunes to promote your goods and/or services. However, keep memes, videos, and audio samples brief and memorable.
Conferencing through Voice/Video:
Establish a WhatsApp video/voice call conferencing system for engaging with prospective consumers or resolving customer service issues. Video and voice conversations provide for a more personalized experience for customers and can aid in product increased sales.
FAQ
How can brands use WhatsApp to boost sales?
With the advent of 'WhatsApp Business,' WhatsApp has boosted companies' ability to tap into this massive userbase via 'Conversational Commerce,' which is a conversational interaction between a company and a client to answer product inquiries or provide support to the customers.
How can I communicate with a consumer using WhatsApp?
Establish unambiguous expectations.
Maintain as much transparency as feasible.
Add a human touch to it.
Send to the main page.
Provide your business hours in response.
Who is WhatsApp's target market?
People aged 15 to 45 account for 66% of the WhatsApp audience. This enables you to develop relationships with a youthful and engaged shopping audience. It does have a high degree of user participation.
How is WhatsApp marketing carried out?
WhatsApp marketing is the practice of advertising and interacting with your company's products and services using the widely used messaging app "WhatsApp."
How can I enhance my communication abilities on WhatsApp?
Sentence completion
Tone. As with email, determining the tone of your message is challenging.
Grammar.
Make a call, with authorization.
Utilize emojis.
Get straight to the point.
Conclusion
WhatsApp marketing is an exceptional chance to strengthen your brand and develop meaningful, long-term relationships with customers. To maximize your results, expand your reach beyond WhatsApp and master all of your consumers' preferred mediums. Additionally, test messages on Facebook and Telegram, and strengthen your marketing approach with email and online push notification campaigns.