As the popularity of podcasts continues to expand, more people want to get involved in the developing sector to monetize their knowledge or passions. Podcasting appeals to many people, from amateurs who want to share a passion while also supplementing their income to company owners who want to develop their client base and establish their expertise. So, wouldn't it be wonderful if you could be compensated for the work you enjoy doing? However, the issue remains as to how to make money with podcasts?.
Put in the effort to create amazing content, post new episodes constantly, and connect with your audience. You will ultimately be able to create a show that generates revenue with each episode released. People who work on their podcasts for several hours each day may earn a decent income.
In this post, we'll go over how to make money with podcasts, when you should start thinking about monetizing your podcast, and then we'll go over several other ways to make money with podcasts.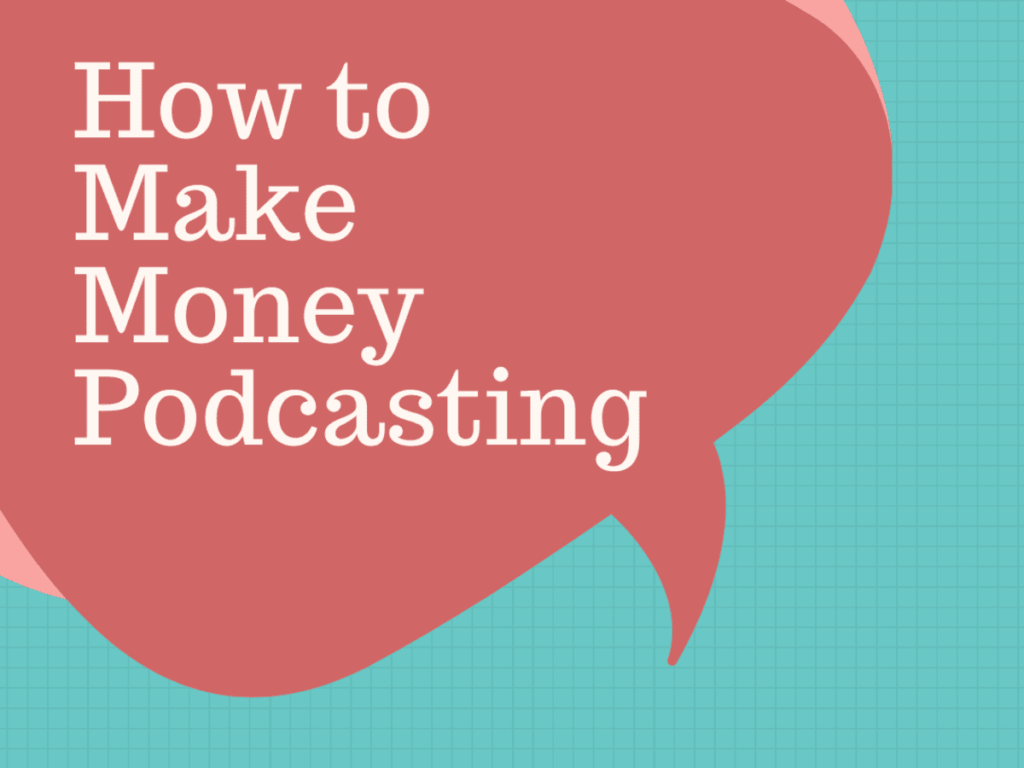 PROCEDURES TO FOLLOW BEFORE STARTING A PODCAST
You must concentrate on several crucial components to grow an audience and develop your podcast.
• Audience
Identify your target audience and consider it throughout the creation of your website. Every time you publish an episode, make a strategy for how you'll advertise it. Consider who you aim to reach and how you'll communicate with them.
• UX
The User Experience. Always keep the user's perspective in mind. You want your podcast to be easy to find and listen to as possible. Marketing advice from Apple Podcasts recommends that you optimize your program for mobile platforms like smartphones and tablets. Make certain that your logo appears fine when seen as a small thumbnail and that your website is mobile-friendly, before publishing.
• Aesthetically appealing
The visual and textual elements should reflect the same overall concept and tone as the episode itself when it comes to your podcast. A consistent visual and tactile experience throughout your platform is essential—cover art, web design, and online activity should all consistently reflect the podcast's brand.
• Collaboration
It is possible to grow your audience by collaborating with other podcasts, and you may make guest appearances on other shows and cross-promote with other podcasters to achieve this. Having high-profile guests on your program and mentions from influential people can help you grow your audience.
WHEN IS THE APPROPRIATE TIME TO CONSIDER MONETIZATION?
At this very moment, there is no decent time to begin thinking about monetizing your podcast than right now. But let's be clear about something. You can begin monetizing your show from the very beginning, but this does not imply that you will be able to monetize your broadcast from the very beginning. Do you see the difference? As soon as you are able, it would be best to begin laying the groundwork for revenue, which includes building a large community of subscribers and selecting the most appropriate hosting platform. Then, as your audience expands, you will begin to reap the rewards.
You may set up a Patreon profile for your podcast before you release your first episode, but don't go into it with the expectation that you will have fifty Patreon subscribers for every episode. In reality, you may only be able to obtain two. To link your listeners, cross-promote your community organizations as a starting point in developing your community foundation. For example, when a listener subscribes to your podcast through your Patreon account, you should direct them to your Facebook group. They may share their experiences, ideas, and views with other listeners about your podcast, growing your community.
Being patient with oneself during this process is important because, as the phrase goes, "all great things take time." The key is to think of it as a long-term endeavor. Start monetizing right away, but make a long-term business plan as well. It will be difficult, and you will have to work hard, but if you persist with it wisely and truly, you will finally succeed.
HOW TO MAKE MONEY WITH PODCASTS
The truth is that there are several methods to monetize a podcast. When it comes to monetization, the most popular podcasts employ a variety of tactics, resulting in revenue flowing in from a variety of sources. Here are a few examples:
1. Sponsorship deals
The majority of podcasters rely on sponsorships as their primary source of income. There are times when sponsors' products or services are advertised during the podcast. You've probably noticed that your favorite shows include a few mentions of their sponsors throughout each episode. The amount of money you make from a sponsor is determined by the number of downloads your episodes receive. 
In this case, the sponsors pay the cost per mille (Mille is Latin for "thousand"). Rates vary from $18 to $50 per thousand impressions (CPM), while famous podcasts can earn significantly more.
Advertisements might be priced differently depending on where they run in your show. Pre-roll advertisements appear at the beginning of the broadcast and run for around 15-30 seconds. Post-roll advertisements air after the broadcast for 15-30 seconds. They have the same monetary value to advertisers. Mid-roll advertisements are more lucrative since the viewer is captivated during the moment of the advertisement.
Occasionally, the sponsor will provide you with a script to read. Other times, the sponsor will provide you with greater latitude. At the beginning of your advertising pitching career, it is advised that you charge $15 for pre-and post-roll advertisements and $20 for mid-roll advertisements.
2. Personalized aid, which may include premium content
Direct support is when you ask your fans to pay you money to help you fund your performance. If your material and personality are strong, many individuals will be happy to donate a little money to help you continue to produce episodes of your show.
This is one of the first methods that podcasters who want to monetize their program are given since it is simple to set up. The most effective technique is to set up a Patreon account and build a page explaining why you deserve support and a page to collect money.
A wonderful method to encourage your audience to support you is to provide them with premium content in exchange for their support. You might charge them for early access to episodes, extra episodes, downloadable materials, live chats, or access to publications and Facebook groups.
3. Commissions from affiliate sales
Affiliate sales are comparable to sponsorships in that you get compensated based on the amount of product you sell for another firm rather than by the number of downloads. For each sale, the other firm compensates you with a commission. Audible offers a well-established affiliate network, which many podcasters and YouTubers use to make money. Audible provides you with a customized affiliate link that you can use to advertise your products. When someone purchases something after clicking on your link, you receive credit for the transaction and earn $15.
If you want to monetize through affiliate sales, make sure the firm provides you with a specific URL that is simple to mention and easy for your listeners to comprehend.
• A good affiliate URL is www.sponsor.com/your-name.
• Affiliate URL that should not be used: www.sponsor.com/63hgh22?=3mbo6
4. Associated goods
Another typical method of monetizing a podcast is by selling associated merchandise. This might include products, courses, consulting services, publications, or admission to live events, among other things.
The truth is that when it comes to promoting your items, you are not required to operate your fulfillment facility. Depending on your preferences, you may utilize a drop-shipping service or a print-on-demand service to ship orders to your consumers. All you need is a location for them to make an order on your website.
5. Coaching and consulting services
Even if you already have a great variety of information in your field that you're willing to share with the world, each person is unique and has questions about your sector based on their own experiences, which you can answer.
As a result, why not consider getting some coaching? Explain to your listeners on your podcast that you have a few additional hours and would want to help a certain number of individuals if you don't have much more time.
Take it a step further by researching what the others are doing in your industry and determining how you can differentiate yourself from the competition. Only you have had the experiences, culture, and character qualities that are unique to you. Consequently, even if there are other trainers in the same business as you, no one else is like you, which is to your benefit.
Once you begin to receive coaching customers, pay close attention to what they have to say to figure out what challenges they all have in common and expand your coaching company with their needs in mind. Your customers will be more likely to share your podcast and material if you build stronger relationships with them and aid them in their lives through coaching services, and this is because they will know and respect you on a deeper level.
So, how exactly can you make more money using Spotify?
The inclusion of a podcast on major platforms such as Spotify Podcasts might assist in making your program more accessible. The following are the fundamentals of publishing your podcast to this site; for further information, see their websites. Spotify will offer you instructions on promoting your podcast to the service if your hosting platform is one of the company's aggregator partners.
Alternatively, you may do it manually by registering with Spotify for Podcasters (free). Even if your host instantly distributes your show to Spotify, you'll still need to sign up for Spotify for Podcasters to access a dashboard containing information about your show and notifications about new episodes. It may take several hours for your podcast to display in the app after you have submitted it.
And, how can you make more money using Apple?
If you want to submit a podcast to Apple Podcasts, you must first create a Podcasts Connect account and then create an RSS feed that includes the needed tags, at least one episode, and artwork (if applicable). Apple's podcast site, Podcasts Connect, will check your RSS feed URL to ensure it fulfills technical standards, has the proper tags and includes show cover image and episode media assets. 
You may submit your RSS feed URL to Podcasts Connect here. You should submit your podcast for review when it has passed validation, which might take up to five business days.
Suppose you want to have your show on a large platform. In that case, there are many advantages, including increased listener access, marketing resources and tools, and the ability to be starred in site roundups. However, before deciding if it's the right fit for you, there are some limitations to consider. It may be a time-consuming process to design your podcast to fit all of the standards, and Apple Podcasts has strict rules on the type of content that can be posted on their platforms.
ALTERNATIVE SOURCE OF INCOME ON PODCAST
There are various extra methods to generate income from your podcast, even if you do not have a huge following. Some of which are;
• Selling branded items, regardless of the amount of your following, if it is loyal, might be a fantastic choice for you to consider.
• You might create additional cash by selling tickets to live performances of podcast recordings or by hosting events that are linked to podcasting.
• Podcasts may be useful environments in which to test and develop ideas for several other projects, such as novels, films, television series, and other media that have the potential to generate more cash.
• Promoting a company's goods and services on a podcast, especially if the podcast is associated with a business, may be an efficient approach to generate more visitors for the organization and improve sales.
• Once you've become comfortable producing and maintaining a podcast, you may offer your services as a podcast consultant or producer to other people.
• In a similar vein, you might build a course to offer, either on podcast-related themes or on content linked to your podcast.
• Podcasts are a great method to display your expertise in a certain topic of study. Once you've established yourself as an expert on a subject, you may start earning money from your expertise by giving public speeches.
FAQ
How much money are you able to earn via podcasting?
As a rough estimate, if your podcast receives approximately 10,000 downloads each episode, you might expect to earn between $500 and $900 in affiliate sales every episode.
How many views does a podcast need to earn money?
You typically need a broader audience of at least 5,000 or 10,000 monthly listeners to operate with them. Midroll is one of the major ad networks, Authentic is another major network, and several podcast hosting businesses also have their networks.
Are you compensated for appearing on a podcast?
Guests on podcasts are not compensated, and their "remuneration" is derived through audience exposure and promotion of their services, e-books, and goods, among other things.
Is it worthwhile to start a podcast?
Creating a podcast together might be an incredible opportunity to explore your shared hobbies and possibly earn some money. If you decide to create a podcast with friends, you should consider the following points: Who will be the show's hosts? You may specify numerous hosts or a single "primary" host.
Is it possible to earn money podcasting?
The big names attract a significant number of listeners and generate a large quantity of advertising cash in return. AdvertiseCast reports that the average 30-second cost per thousand listeners (CPM) is $18, while 60-second CPMs are $25.
How long would it take a podcast to generate revenue?
During the first 30 days of the debut, you should begin to observe growth in your podcast, and that growth should continue month after month, even if it is only a tiny number. In the podcasting industry, slow and steady expansion is desirable.
How much revenue do YouTube podcasts generate?
Podcasters may earn anything from $10,000 and $500,000 every episode. However, it might be frightening to begin due to the lengthy and difficult procedure. To advertise your podcast effectively, you must have the proper equipment and invest significant time and work.
CONCLUSION
Making money while showing off your professional knowledge or sharing a pastime may be accomplished by creating and hosting a podcast. Selling commercials, engaging in affiliate programs, selling subscriptions, and raising money through crowdfunding are key ways a podcast might make income.
Expanding the reach of your program by distributing it on major platforms such as Spotify or Apple Podcasts will assist you in growing your following, which in turn can help attract sponsors. However, even if your podcast does not have a huge audience, it may generate cash through various means, including selling tickets to live concerts, advising others on how to run a podcast, and monetizing your skills through speaking engagements.
REFERENCES