Netflix has a wide variety of TV shows, movies, documentaries, cartoons, and other forms of entertainment available for streaming.
Please do note that most of the websites and methods here might not work for persons outside the United States of America. You can read further down and see which would work for your geolocation.

Techibytes Editor
According to a 2020 study, the typical Netflix user spends 3.2 hours per day using the service, with some spending far more time. Think about how cool it would be to make money watching Netflix for those 3.2 hours.
The good news is that you can stop daydreaming about getting paid to watch Netflix since it is possible to do so from the comfort of your home.
When you turn on Netflix, you can relax and wait for the money to roll in. It would help if you didn't think you could make money watching Netflix. You still put in some effort.
Don't worry; it's not a lot of work, and this article will tell you all you need to do to make money watching Netflix.
8 Ways To Get Paid For Watching Netflix
There are various ways to make money watching Netflix, but for the sake of this article, we will focus on the eight major methods.
1. Become a Netflix Tagger.
The best and easiest way to make money watching Netflix is to become a Netflix tagger. Have you noticed that you can filter your Netflix search results by genre, age range, or even language to get exactly the show you're searching for?
Tagging helps make it easy to do this by organizing media in a way that's straightforward to browse. Netflix uses this method to recommend a film you might enjoy if you liked the one you just saw.
The editorial analyst profession, frequently referred to as a "creative analyst," requires no special training or education to enter.
The only catch is that getting hired as a Netflix Tagger isn't exactly a walk in the park. Opportunities arise seldom and are quickly filled when they do. Therefore, if you want to work as a tagger, keeping an eye on Netflix's job postings is important.
How Much Does Netflix Pay Taggers?

Taggers typically collaborate with other professionals, such as content managers. However, the nature of their roles may vary based on the team they're a part of.

How much are they getting paid for all of this effort? Glassdoor estimates the average tagger's hourly salary at $23.08, despite Netflix's traditionally tight-lipped approach to employee remuneration. Netflix pays a yearly salary of around $48,000. Consider being a Netflix tagger if you want to make money watching Netflix.
2. Create an Account with EduBirdie
You can make money watching Netflix when you sign up as a smart watcher on Edubirdie. EduBirdie has reportedly employed people to watch Netflix in exchange for payment. Edubirdie may receive hundreds of applications for a single position, but it may only hire 20 people.
Any EduBirdie Smart Watcher can get a free month of both Amazon Prime and Netflix. This Smart Watch program was developed by EduBirdie, an online educational platform, to explore the factors influencing viewers' propensity to learn.
The participant is asked to watch three episodes from each of the ten TV shows and then complete a survey on their viewing experience.
How Much Does EduBirdie Pay?

All Smart Watchers will get a one-time payout of $1,000. Please check back frequently to learn when this position's next application deadline is.
Here are some great programming movies to watch
3. Register on Swagbucks
It doesn't matter if Netflix is hiring right now or not; you can still make money watching Netflix in your spare time. This is possible because of Swagbucks, a fantastic online rewards program.
People like you can earn prizes and money on Swagbucks for doing surveys and viewing movies. Also, there is no cost to sign up for Swagbucks; there is nothing to lose! An excellent feature of Swagbucks is the $5 welcome bonus you receive after signing up.
To receive your $5, please sign up with your email address and confirm your registration. After signing up with Swagbucks, the first step is to install the app on a mobile device.
How Much Does Swagbucks Pay?

We mentioned earlier that Swagbucks doesn't pay actual cash; they reward their users with points. You may earn prizes on Swagbucks for watching videos if you accumulate enough points.

You may cash them in for rewards like gift cards to popular stores like Amazon and Target. Swagbucks can also send your payment to you through your PayPal account. 
4. InboxDollars
Another method to make money watching Netflix is through InboxDollars. InboxDollars is one of the best-known survey sites, InboxDollars. It is well known for compensating users for watching movies and responding to related surveys.
Although the pay isn't as high as it would be if you worked as an editorial analyst, you can still make money watching Netflix instead of just viewing Netflix.
When you join up for InboxDollars, not only do you earn $5, but you also get some consolation.
How Much Does InboxDollars Pay?

Although it may not seem like much, InboxDollars pays you $0.01 for every video you watch. Still, if you watch enough videos, you can make some real cash. You will get $35 per month if you can watch ten videos. Completing deals and installing applications might earn you up to $50.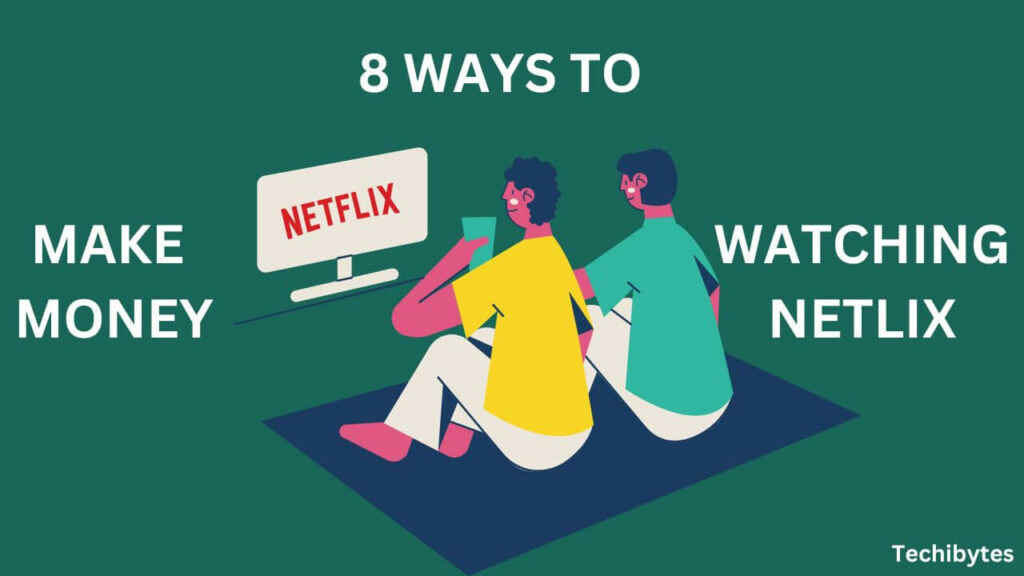 5. Begin A Blog
You may start a blog about your Netflix binge-watching experiences. After seeing each episode or watching the whole thing, create a review of a TV show or movie.
Don't just sit on those critiques; put them online and see your blog views rise. Users visiting your site to read articles about shows they are thinking about watching might generate revenue through advertising. You could have a stimulating debate about TV shows or let people ask for reviews of specific programs.
You will make money watching Netflix through blogging when advertisements appear naturally inside the text of your blog entries. You will also get compensation when readers view and interact with the ads.
How Much Do Bloggers Make?

Display and affiliate advertisements may earn bloggers anywhere from $0.001 to $0.0025 per page view, depending on the niche. Getting 1,000 monthly visits will allow you to break even on the expense of maintaining the blog, providing you with a monthly income of $10–$25.
6. Transcription and Caption
Another way to make money watching Netflix is by transcription and captioning. If you have a passion for movies, excellent listening skills, and a fast typing speed, Netflix may be looking for you. The English language isn't always used in productions, though. Users can now access Netflix in 190 countries, but not all speak English.
To make its movies accessible to a wider audience, Netflix pays professionals to subtitle and translate them. The ability to transcribe and caption audio and video is a must if you want to work as a captioner for Netflix.
But Netflix does not recruit captioners internally. They use websites like Rev.com.
These services rigorously screen potential workers to ensure they meet Netflix's high requirements. You may also sign up with independent production businesses whose movies are subtitled and translated before being uploaded to Netflix.
How Much Does Netflix Pay Transcribers And Captioners?

When using a third-party service like rev.com, Netflix spends roughly $5 per minute to have its shows captioned. You will likely make more if you are fortunate enough to work directly with Netflix.
7. Become a YouTuber
You can make money watching Netflix by joining the YouTube community and reviewing films there. You'll need resources like a high-quality camera, computer, tripod, editor, and graphic designer to make photographs and thumbnails. You need not rely just on professionals to make professional-quality graphics.
Read this tips on how to grow your youtube channel
Videos uploaded to channels like ScreenRant and Screen Junkies can receive millions of views. If you have a Gmail account, you may use it to sign into Youtube and create your channel. Remember to include well-optimized search terms in your channel description so that the relevant people may find them.
How Much Do YouTubers Make?

At an average of $0.01–$0.03 per ad view, a YouTuber may make $18 for every 1,000 ad views or around $3–$5 per 1,000 video views. Experts have speculated that a popular YouTuber may earn as much as $5 for every 1,000 views of their videos.
There are some youtube alternative app you can use as well to do movie reviews and generate revenues too
8. MyPoints
MyPoints is an established rewards platform that has provided its users' with real-world benefits, such as monetary compensation for performing simple tasks like video viewing.
When you play your Netflix playlist, you can make money watching Netflix on MyPoints. The Netflix app on your phone will pay you. Create an account with MyPoints at no cost. If you sign up right now, you can receive a bonus of $10.
How Much Does MyPoints Pay?
By watching videos on MyPoints, you may earn up to 500 points per day. After completing your playlist, you can pay in your points for rewards like Amazon and Visa gift cards.
Final Thoughts
Our article has covered most ways and methods to make money watching Netflix. You may begin by watching Netflix's originals like movies, TV series, and documentaries. Remember that only those with the necessary work experience, age, and college degree will be considered for the position of tagger on Netflix.
In addition to the opportunities mentioned above, there are more ways to monetize your online video streaming activity. You may start to make money watching Netflix if you take the time to look for the correct app and download it.
If you liked this article, then please subscribe to our YouTube Channel for videos. You can also find us on Twitter and Facebook.