Halloween doesn't sound like a huge event, but Americans spend an unbelievable amount of money designing for the period. From buying candies to spending on spooky costumes to mark the unique day, there are just so many ways people spend their money during the period.
With pretty much everyone spending during the Halloween period, you can capitalize on that and make some of the money they spend. It's surprisingly easy to do that; if you're selling what people want to buy, they'll buy from you, especially when you're actively marketing it to them.
Besides, selling items is only one of the easy ways to make money during Halloween. If you have special services you can render during the period, you may also want to charge people some bucks for it. This article will outline some easy ways to make money during Halloween.
How Profitable is Halloween?
Halloween is an industry of $10 billion annually. That is a lot of money. The majority of the money generated during Halloween is shared by a small minority who have discovered the profitability of the festival and are already working towards harnessing it.
Americans alone spent upwards of $10 billion during last year's Halloween, with the average spend of each American exceeding $100 for the first time. In short, every single one of your friends is a potential spender of $100 during Halloween, and that money has always gone someplace else.
In order to capitalize on that spending and make money during Halloween, you need to sell items that people are seeking during the period. If you have products that are in high demand, the marketing shouldn't be too difficult since the target audience already knows what they want.
When trying to sell something during Halloween, you want to ensure that it's something that people actually want to buy. The following section will show you some excellent ideas of what to sell on Halloween.
What Can I Sell on Halloween?
Selling items isn't the only way to earn money on Halloween, but it's by far the easiest. That way, you only buy items that you know people want to buy during the period, and you market them to the people around you. Your sales and profit margin will depend partly on the strength of your network, and partly on the mass appeal of the items you're selling.
When choosing things to sell for Halloween, you generally want to avoid items that are easily accessible. If someone can get it by driving down to the nearest grocery store, why would they buy from you? For someone with a huge network of friends, it could work, but it's not the best option for the average Joe.
With that said, some of the items you can sell on Halloween include different kinds of Halloween costumes and masks. Spooky items like spider earrings, spider bowls, and glow-in-the-dark makeup are also excellent examples of items you may want to sell on Halloween.
What Do People Spend the Most Money on for Halloween?
A smart way to get ideas on what to do to make money during Halloween is trying to get ideas of what people are more likely to spend their money on during the period. With around $10 billion spent on last year's Halloween, knowing the right thing to sell will get your fair share of the billions.
When breaking down what Americans are more likely to spend their money on, candies came among the top by a long shot, and that isn't exactly surprising. Americans spend around $3 billion a year on candies alone, with the spending of the average person close to thirty bucks.
Next to candies, people also seem to spend a significant amount of money on spooky outfits, with people spending just as much as they do on candies on outfits too. The average person spent around $33 on Halloween outfits in 2021, with Americans spending $3.3 billion in total.
Also, the fact that pumpkins are rapidly going up in price seems to scare no one away from the Halloween tradition. People also seem to spend a ton of money on pumpkins during Halloween, with projected American spending of over $700 million.
Home decoration is another Halloween tradition that seems to gulp a lot of money during the Halloween season. People are willing to spend significantly to make their homes feel spookier throughout the period, as it's generally part of the festivities of Halloween.
In the following section, you'll learn how to take advantage of these common spending categories to make money for yourself during Halloween.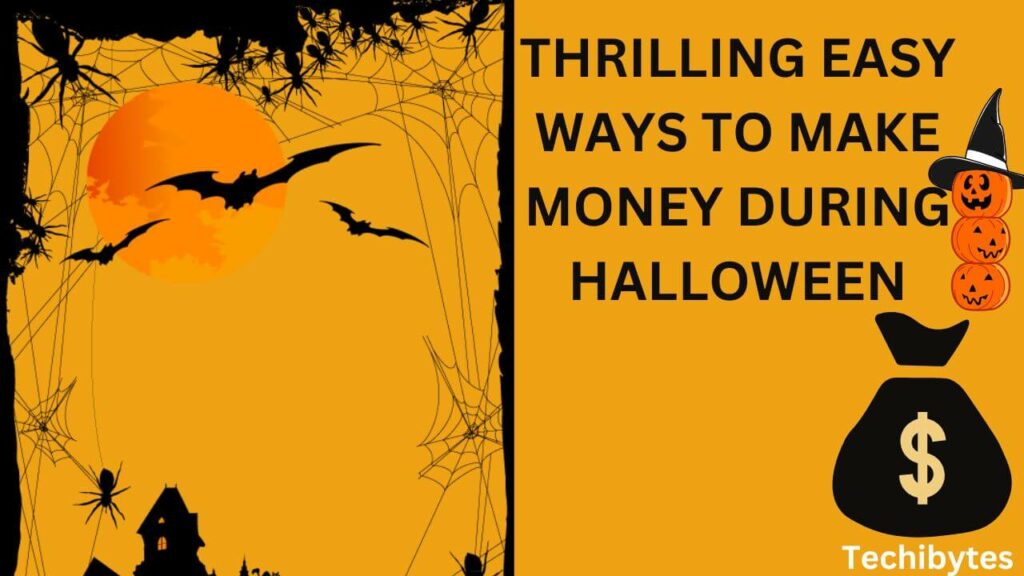 10 Easy Ways to Make Money during Halloween
If you're after a couple of ways to score some quick bucks during the Halloween period, here are some easy ways to make money during Halloween I'll recommend.
1. Sell new or old Halloween costumes
Your old Halloween costumes only look old to you; if you can make them look as good as new, you can sell them off to people after adorable Halloween costumes. There are several online marketplaces for getting rid of your old Halloween costumes, most notably Letgo and Facebook Marketplace.
Also, you should note that you don't have to sell old costumes. If you have the skills required to create new ones, you can always make and sell them during Halloween. You can get simple Halloween costume ideas off the internet, make them into new outfits, and sell them at a premium.
2. Offer face-painting or makeup services
Face painting and weird makeups are a part of Halloween celebrations around the globe, and you can make quite a bit offering those services to interested individuals. To do that, you need basic knowledge of face painting or makeup, which isn't that hard to come by.
You can charge your friends or people around you for their face paintings. As long as you're good, they won't only pay you, but they'll also refer you to other people they know, potentially earning you a lot during Halloween.
3. Plan Halloween parties
A paid Halloween party is definitely not an easy job, but it's doable if you have the experience and wherewithal to see it to fruition. It's much easier to make money by hosting Halloween parties when your friends' circle is dominated by adults.
When planning a party, ensure you hire experienced DJs and make the entire theme somewhat spooky. You want to create a Halloween-like feel to ensure people believe they're getting great value for their money.
4. Host a haunted house
If you have a pretty huge space to spare, you can design a haunted house and charge people to take a tour. You want to make your haunted house spooky enough to be worth the dollar while being also interesting to convince the customers to come back next year if there would ever be one.
5. Sell homemade Halloween treats
If you're into making cookies and candies, you can make a lot towards the Halloween season and sell them to friends and relatives. You should be careful with this method because of its risk. While it's certainly one of the easy ways to make money during Halloween, it's also one of the easiest ways to get yourself in legal trouble; so sell to friends and families only.
6. Grow a pumpkin patch
Carving pumpkins is one of the most important parts of Halloween for most people, which is why growing pumpkins to sell is one of the easy ways to make money during Halloween. Growing pumpkins is easy and has huge returns, as long as you find people to buy them.
However, the primary downside of trying to earn using this method is that pumpkins take around three to four months. So, unless you've been planning way ahead of time, it's already too late to try making money using this method.
7. DJ at Halloween parties
The pandemic is now over, and it's technically legal again to organize and attend Halloween parties. If you have some experience with DJing, you can showcase your skills at Halloween parties in your area and get paid for it, of course.
Here are some halloween games to play online too
The downside of going this route is that you are a single person, and the party organizer can only pay you so much. When you compare this method to growing a pumpkin patch or selling treats, you'll notice that it has a much lower earning prospect.
8. Entertain a crowd
You don't have to be a face painter to offer a service during Halloween; there are numerous parties during the period, and pretty much every single one of them has only one goal: entertaining the audience. If you can help them achieve the goal, they'll gladly pay you to perform.
Most kinds of entertainers are generally welcome at Halloween parties: magicians, musical artists, comedians, and the like. If you intend to perform at a Halloween event, simply call the organizers to see if your skills are required.
9. Offer babysitting and pet sitting services
Adults like to get involved in Halloween almost as actively as kids do, and you may use that as an opportunity to earn. If you can find someone who's looking to attend a Halloween party but isn't willing to go with their kid, you can offer to help them look after their babies while they're away.
Another interesting earning opportunity during Halloween is petsitting. While most people don't travel for Halloween, it's not impossible to find a family going for a fun Halloween weekend. You can help them look after their pets while they're away for a couple of dollars an hour.
10. Offer Halloween decoration services
Most people always decorate their houses to look intentionally spookier during Halloween to keep the spirit of the event. However, if you see the number of people desperately trying so hard (and failing) to decorate their houses, you'll understand how profitable this service can be.
You can let friends and acquaintances know you're offering the serving for a fee, and if they're not free enough to do it themselves, they'll definitely hire you. Unlike DJing at parties, this service can fetch you a significant amount of money.
Conclusion
There are many easy ways to make money during Halloween, but that doesn't make earning during the period easy. If you want to make money using any of the methods listed above, you have to work hard and network. Combining two or three of the suggested ideas will help you earn more.
If you liked this article, then please subscribe to our YouTube Channel for videos. You can also find us on Twitter and Facebook.