It is no longer news that AI can perform wonders. Aside from the fact that AI has penetrated every aspect of technology, it has transformed how tasks are executed today. It has brought speed, expertise, and ease.
AI has had great success in image editing. Graphic and imaging was one of the first sectors to experience the potency of AI. There are now several AI image enhancers that can turn your photo editing process around. We'll be taking a look at some of these AI image enhancers you need to try. This post will be very informative so we'll urge you to read it to the end.
Table of Contents
WHAT IS AN AI IMAGE ENHANCER?
An AI image enhancer is a tool that uses artificial intelligence to improve picture quality and size without ruining it. This enables the use of an image in larger formats.
An AI image enhancer can make sure that your image is amplified without looking unduly manipulated or losing its beauty, whether you need to make a logo larger for a billboard or make a piece of digital art stretch over a fifteen-foot canvas.
Different AI image enhancers use a combination of techniques, including diffusion and cutting-edge neural network models, to improve photos while preserving their personalities. An AI image enhancer can be useful to you if you frequently edit photos or deal with a lot of photographs in your daily life.
You Might Also Like: 14 Best Meme Generator Apps
HOW DO AI IMAGE ENHANCERS WORK?
There are fewer pixels in a low-resolution image than a high-resolution one and this makes them appear fuzzy or low-quality. Enhancing is necessary to improve the image quality. One would need to add information in the form of pixels to an image to appropriately enhance it.
Naturally, this cannot be done without taking a fresh photo. The use of image-enhancing methods is the second-best choice. Regular enhancement is the process of boosting a low-resolution image's resolution to improve the visual quality.
AI image enhancer, however, adopts a fundamentally different strategy. AI uses deep learning models to forecast the location of the missing pixels rather than attempting to improve the quality of an image by increasing its resolution.
When a low-resolution image is uploaded into an AI image enhancer, it creates an image using a neural network that is downscaled to resemble the original input image. To do this, the AI enhancer has to be properly trained on millions of photos to forecast how the image will appear at high resolution.
BEST AI IMAGE ENHANCER
Here are some of the best AI image enhancers you can use to improve your image size and quality:
1. Icons8 Smart Upscaler
Beginning our list of best AI image enhancers is Icons8. It supports a variety of file types. Icons8 is primarily a design assets company, but it has expanded into the internet tool market with solutions like Smart Upscaler.
You can submit one image at a time to be enlarged using the user-friendly interface and examine a side-by-side comparison after uploading your photograph, allowing you to see a preview of the AI's improvements to your images.
The desktop version of Icons8 Smart Upscaler (GoProd Mac) has background removal features. The GoProd Mac program is a good choice if you're searching for something to assist with routine image processing. The Icons8 Smart Upscaler, on the other hand, is a lean and effective AI image enhancer.
The Icons8 Smart Upscaler features a straightforward user interface and workflow, and it also allows you to maintain a history of your optimized files. This is excellent if you wish to download your photographs again or better optimize them. Before downloading, you can choose to enhance your photographs by a further 4X.
Anyone looking for a simple and convenient online solution to enhance photographs quickly and easily should use Icons8 Smart Upscaler.
It can be used for free and you can use paid subscriptions beginning at $9 monthly
2. Gigapixel AI
Topaz Labs' Gigapixel AI is the next AI image enhancer on our list. It applies lifelike detail to the photographs it is processing using deep learning and its well-trained neural networks.
You can use the full benefits of this computer program regardless of the operating system you use because the utility is accessible on both Mac and PC. You can upscale a variety of photographs by up to 600% with Gigapixel AI without sacrificing quality.
Gigapixel's AI can widen your photos' aspect ratios, providing you the ability to convert web visuals into useful assets that can be applied to higher-resolution applications like print and video.
Gigapixel AI functions as a stand-alone item. It can, however, also be incorporated into the Adobe Creative Suite. With Gigapixel AI, you can easily integrate AI-powered upscaling into your current photo editing workflow because it integrates with Adobe Photoshop and Adobe Lightroom.
The versatility and tools offered by Gigapixel AI will be adored by photographers and designers. Gigapixel AI is a fantastic tool to have in your toolkit as you work through optimizing photographs for your next project, whether you are performing preflight duties for printing or working on photo restoration. It requires a one-time fee of $99.
3. Topaz Photo AI
Topaz Photo AI is an AI image enhancer that automatically improves the quality of your images. It improves the resolution, reduces noise, and sharpens your photographs using deep learning.
By enhancing your image quality, this tool frees up your attention so you can concentrate on the artistic side of photography. It warrants your attention and is undoubtedly a contender for the title of one of the greatest AI photo enhancers.
For photographers who wish to concentrate on their creativity and leave the technical details to AI, Topaz Photo AI is one of the finest options. It's excellent for enhancing photos for higher quality, eliminating noise, and sharpening images. Using this AI image enhancer requires a lifetime deal for $199 with a year of product upgrades
You Might Also Like: BEST AI IMAGE GENERATOR
4. AVC Labs
Next on our list of best AI image enhancers is AVC Labs. With the help of deep learning, AVCLabs Photo Enhancer can increase the image resolution by 400%, sharpen the details, get rid of flaws, and even erase compression artifacts.
It can upscale varied photographs naturally, with the right and appropriate features intact, because it has been trained on millions of images of various genres, including portraits, wildlife, anime, landscapes, and more.
It also has an AI Face Refinement model that was created primarily to improve portrait photography without having to worry about a laborious editing process. With the help of artificial intelligence, you can instantly obtain attractive photographs with high-quality skin tones, free of imperfections, and enhanced lips and eyes.
5. Luminar Neo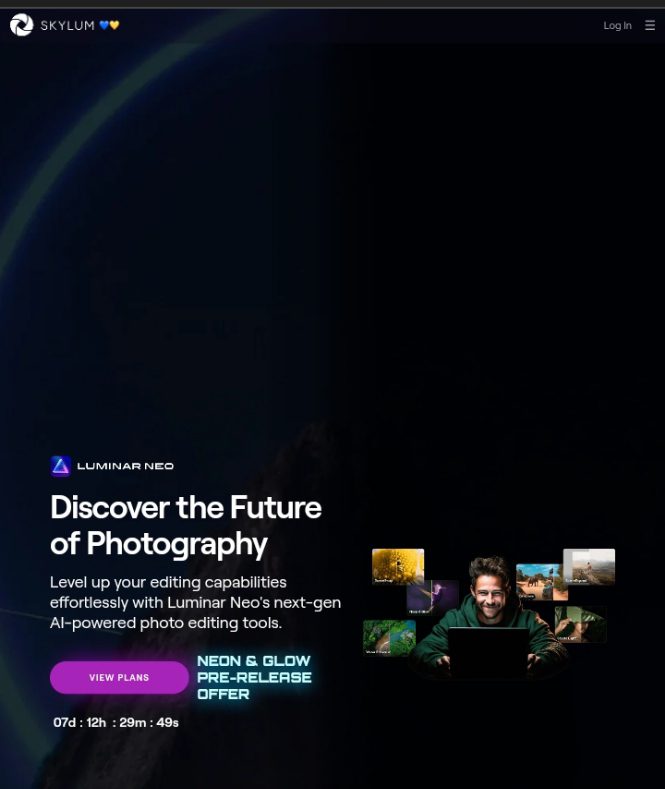 Luminar Neo is one of the best AI image enhancers. It has several features such as Portrait Bokeh AI, Relight AI, Sunrays AI, Sky AI, and Enhance AI. These tools enable you to manipulate shadows, highlights, contrast, and tone as well as produce out-of-focus background effects, brighten gloomy images, add sun rays, replace the gray sky, and add sunlight.
Photographers and digital artists who want to use AI for artistic photo enhancement should use Luminar Neo. It's perfect for people who want to apply distinctive effects to their photos and manage different facets of their images. This makes it a useful tool for both amateur and experienced photographers. It costs $9.95 per month or $199 for a lifetime as an LTD
6. Upscale.media
Upscale.media is one of the best AI image enhancers. It works with numerous file types to enlarge and enhance photographs and can be used on Apple and Android devices. Only one image can be processed at a time using the free version of the program. However, users of the premium plans have the choice to simultaneously magnify several photographs.
One benefit of this web software is its interface's simplicity. This platform concentrates on the crucial task of correctly upscaling your photographs using artificial intelligence. Its user-friendly interface makes it stand out as it works best for people who infrequently need to employ online picture upscaling solutions.
Upscale.media is perfect for anyone looking for a quick and simple web-based platform to upscale photographs. It can be used for free but requires an initial paid plan of $40 a month.
You Might Also Like: Best Profile Picture Maker
7. HitPaw Photo Enhancer
HitPaw Photo Enhancer is a very popular AI image enhancer. Using this application, you can upsize your photos without sacrificing their quality. HitPaw's Photo Enhancer can function on a variety of photos, including landscapes, animations, architecture, and nature.
A face enhancer is included with this enhancer. Therefore, after resizing your photographs in HitPaw, you don't need to launch a different image editing program.
You can also colorize and revitalize your old photographs with a single click, preserving old memories and creating new ones together. With HitPaw's denoise model, you can automatically remove noise and correct low-light issues from low-quality images without affecting the original image.
If you're looking for a desktop tool that can do a little more than your typical photo upscale, HitPaw is a great choice. You can use HitPaw Photo Enhancer for free or you can opt-in for the paid plans starting at $35.99 a month
8. Adobe Photoshop (Firefly)
In the area of digitally made art, Adobe Photoshop is a very popular brand name. Photoshop now features Adobe Firefly, a potent generative AI engine that Adobe recently unveiled. Automatic subject selection, generative fill, and neural filters are just a few of the AI-powered Photoshop features that can significantly alter the look and emotion of any image. It is one of the best AI image enhancers.
All the Photoshop capabilities that designers and photographers have relied on for years, such as blending modes, image resizing, and creating GIFs, will be improved by this fascinating AI integration.
Neural filters have been a feature of Photoshop for a long. They can be used to add brand-new aspects to an image that are contextual. Photoshop can employ a neural network to create new content/pixels that are contextually appropriate to the original image rather than relying on the image's original pixels.
With generative fill, you can pick a specific area of a picture and input a text-based prompt to change that area of the image. For experts and amateurs who wish to advance photo editing, Adobe Photoshop is the greatest option.
Photographers, graphic designers, and digital artists who require sophisticated editing tools and AI-powered capabilities to improve their work will find it to be excellent. Photoshop is a staple in digital creative work and ought to be a tool that most professionals make good use of. An Adobe subscription costs $20.99 per month.
9. Deep Image AI 
Deep Image AI is a fantastic AI image enhancer that works with both Windows and Mac OS. Online image upgrading is made simple by Deep Image AI. The platform only supports upscaled images up to 5000 × 5000 pixels in size, or 25 megapixels. Both registered and unregistered users have access to the same features.
It takes just a few clicks to access Deep Image AI, upload a picture, and begin upscaling. For its upscaling features, it uses sophisticated AI algorithms, which produce photographs that look natural and you can incorporate the upscaling tool into your coding projects.
10. Movavi Photo Editor
Movavi Photo Editor is next on our list of the best AI image enhancers. There are three sliders in the AI-adjust control box: the HDR lighting that modifies the contrast and brightness, the Enhance that regulates color balancing, and the Denoise which helps your image be free of digital artifacts.
The standard exposure, color, and sharpness parameters can then be used to fine-tune the modifications. You can also modify particular portions of your shot using the selecting tools.
Movavi has a specialized Restoration AI that can colorize black-and-white photos and remove dust and blemishes. This AI image enhancer is excellent for automatically restoring images and giving your photos a certain style. However, it is not intended for current users of Adobe Lightroom or Photoshop who edit images using layers or local modifications.
You Might Also Like: Best Face Editing Apps (Paid + Free)
11. Vance AI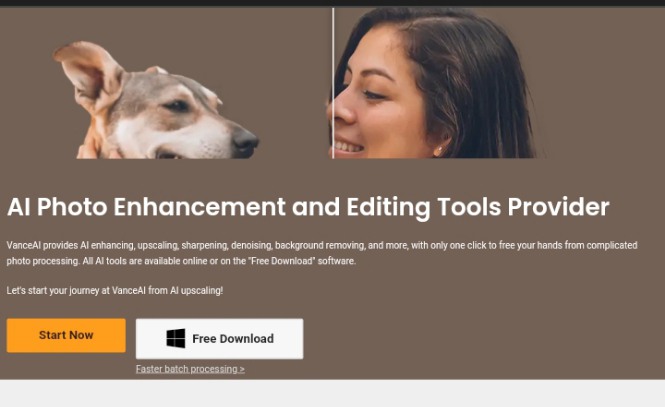 The last but not the least AI image enhancer on our list is Vance AI. You can enhance your image by 800% with Vance AI. This restores the beauty of photographs with low resolution.
Vance is a fantastic AI image enhancer that also can upscale anime. It is one of the best tools for upgrading little anime photos. It has a 16x scaling capability for anime graphics. You can simply upgrade small anime images to backgrounds with this tool.
You can get a terrific sense of the product with the free plan and you can upgrade to a premium plan which begins at $9.90 if you want top-level upscaling or are a more ardent user.
FAQS
Do AI image enhancers work?
Yes, AI photo enhancements have shown to be very successful. The field of AI picture editing has advanced significantly in recent years, resulting in the creation of tools that can save processing time, enhance image quality, and provide a wide range of other advantages. These tools keep the original quality of the image while carrying out activities like erasing imperfections, boosting colors, and changing image backgrounds. AI picture enhancers can significantly streamline and enrich your photo editing process, regardless of whether you're a skilled photographer or just a casual user.
Is HitPaw Photo Enhancer worth it?
It's important to think about using HitPaw Photo Enhancer. The user-friendly interface of the HitPaw software enables users to fully express their creativity. It is one of the best online video enhancement tools, allowing users to make amazing videos, photographs, and music, share them with others, and enjoy them on any device. It is an excellent option for improving and utilizing multimedia content because of its extensive multimedia capabilities.
What is an AI image enhancer?
An AI image enhancer is a piece of software or equipment that uses cutting-edge algorithms and artificial intelligence to increase the aesthetic appeal and quality of digital images. These applications allow you to easily enhance images by uploading them and applying cutting-edge procedures that maintain data while improving the image's overall aesthetic quality.
FINAL WORDS
The top AI image enhancers available right now are given above. Some are desktop software with full functionality, while others are mobile apps. Each of them excels at what they do and brings unique aspects and features to image enhancement. Look over our list, take note of the essential characteristics, and maybe you'll locate the best AI image enhancer for your upcoming project.
We hope you found this post very helpful. Kindly let us know what you think in the comment section below.
If you liked this article, then please subscribe to our YouTube Channel for videos relating to this article. You can also find us on Twitter and Facebook.
REFERENCE
https://expertphotography.com
https://www.codingem.com
https://www.unite.ai
RECOMMENDATIONS