Africa was pretty late onto the tech scene. While the west was creating services that would later become groundbreaking like Amazon, Facebook, and Google, we waited, relegating ourselves to the consumer status while they shaped the future of tech.
While Africa was late to the party, we've come up with several powerful tech companies that are currently shaping the world of tech. The continent might not have anything like Google or Facebook yet, but all developments start somewhere.
In this article, I'll show you 13 of the most powerful tech companies in Africa that give you an idea of how fast the continent's tech ecosystem is developing. You'll also get a summary of what they do and why they're the best in their categories.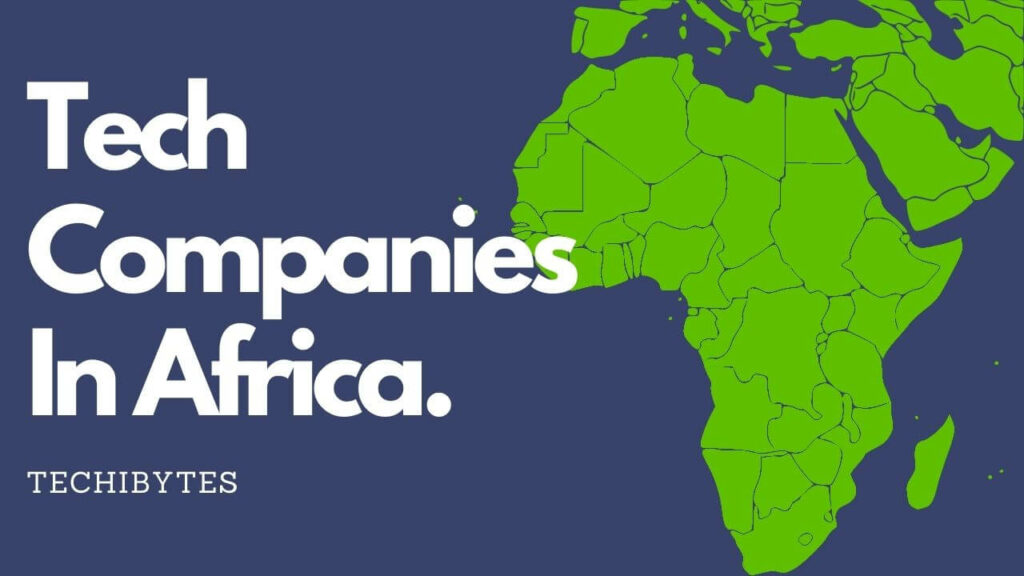 Top Tech Companies in Africa
Compiling a list of the top companies in Africa from hundreds of the available startups is a pretty difficult task. Some of the factors contributing to the inclusion of the companies include their popularity, relevance, industry, value, and growth potential. However, the list isn't in any particular order.
With that out of the way, let's take a look at 13 of the top tech companies on the African continent.
When Iyinoluwa Aboyeji, Adeleke Adekoya, and Olugbenga Agboola founded Flutterwave in 2016, nobody thought they'd become one of the most valuable Nigerian tech companies. Today, Flutterwave still holds the record for the highest amount ever secured by an African tech startup in a funding round.
While Flutterwave is headquartered in California, it operates primarily in sub-Saharan African countries like Nigeria, Ghana, South Africa, etc. By 2022, the company is already worth a whopping $3 billion, making it the most valuable African startup ahead of Chipper Cash and OPay.
The service that Flutterwave offers hasn't changed much since its inception. It offers a payment system for merchants and service providers in Africa. After its partnership with PayPal, Flutterwave made it possible for African merchants to offer goods and services and have foreign customers pay with PayPal.
Paystack is technically not an African-owned business since Stripe's acquisition, but it still caters to the same African audience, qualifying it as an African company. Its only mission? Helping businesses in Africa become more profitable, envied, and loved; in order words, offering payment services to merchants across the continent.
When Stripe acquired the company in 2020 for about $200 million, it exposed Paystack to a wide new world of opportunities. For instance, it became the first payment service to become an Apple Pay official partner, making it even easier to transact with Apple Pay users around the globe.
In addition to that, Paystack has become one of the most popular payment options for vendors using WordPress's WooCommerce and it relaunched an old feature that offered an e-commerce store for solo entrepreneurs.
Releaf is an Agritech company that focuses on using technology to grow food factories in Africa. To quickly move farmers out of poverty, the company focuses on industrializing Africa's agricultural industry by harnessing the latest technological standards.
In addition to offering agric-based industrialization to African farmers, Releaf also focuses on raw material logistics to food factories from farmers. By sourcing directly from over 1,000 smallholder farmers, Releaf has provided factories with 7.5 million kilograms of crop items, making them one of the most formidable tech companies in Africa.
4. Chipper Cash
Chipper Cash is another African unicorn that focuses on facilitating cross-border payments across African countries. The company achieves this mission by building apps and software that simplify payments between individuals and merchants on the African continent.
Founded by Ham Serunjogi and Maijid Moujaled in San Francisco, Chipper Cash has operations in Nigeria, Ghana, Uganda, Tanzania, Kenya, South Africa, and Rwanda. Since the company is yet to go public, it still retains the unicorn title, being one of the most valuable private tech companies in Africa.
5. OPay
OPay is a mobile payments service designed to simplify the process of paying bills, sending and receiving money, and ordering foods and groceries. Since there aren't lots of companies in this when it launched in 2018, it quickly grew to become one of the biggest tech companies in Africa.
Ways to Transfer money internationally
The fintech firm achieved unicorn status in August 2021 after a $400 million investment from primarily Chinese sources. It also became the first Africa-focused fintech company to reach a $2 billion valuation before being overtaken by the likes of Flutterwave.
Etop Ikpe has certainly made some waves in the auto-tech segment since he found Autochek after a stint with Cars45 as the CEO. With the experience of the founder, you can trust that Autochek has everything you'll ever want in an auto-tech company, and more.
You can fix your car, buy a car, sell a car, or apply for a car loan with Autochek. The website also has an Autodoctor bot that tries to diagnose what's wrong with your car using your complaints. Since the company is still in its early stages, there's a lot of room for it to grow as a huge African tech firm.
Kuda Bank prides itself as the first full digital-only bank operational in Nigeria. While based in London, it was founded by two Nigerians, Musty Mustapha, and Babs Ogundeyi, and it's also targeted at an African audience, qualifying it as one of the top tech companies in Africa.
Listed by the World Economic Forum as one of the seven African tech startups of 2021, you should already have an idea of Kuda Bank's scale. While it hasn't achieved unicorn status yet, it's worth over $500 million, qualifying it for the rarely-used title: emerging unicorn.
Andela describes itself as a global talent network that connects brilliance with opportunity. In simple terms, the company simply connects companies with engineering talents in developing countries like Nigeria, Kenya, Rwanda, and some other African companies.
From the company's official website, you can choose to either find work or find talent, both of which are pretty straightforward. The startup achieved unicorn status last year after partnering with dozens of top tech companies in Africa and around the globe.
Ever since Jobberman was founded in an Obafemi Awolowo University dormitory in 2009, competing platforms have struggled to catch up with the success of the jobs aggregation platform. The company runs a job portal that lists job applications across different companies for people looking for jobs.
With Jobberman being the single largest job placement site in sub-Saharan Africa, it's not surprising to see it in a list of the top tech companies in Africa. The website may have been acquired by Ringier One Africa Media, but that doesn't prevent it from being an African tech company.
Here are list of African Companies that have raised pre-seed in recent times
10. MTN Group
MTN does feel somewhat out of place in a list that's mostly dominated by startups and emerging unicorns. However, with the strides of the telecommunications company in fintech, it's about time we quit pretending it's not one of the biggest tech companies in Africa.
MTN is headquartered in Johannesburg, South Africa, but it has operations in almost every country on the continent, including some outside Africa. While the company started with voice and data telecommunication services, it has now expanded operations to fields like mobile banking, lending, insurance, and digital services.
It wouldn't be too farfetched to credit Jumia with conceptualizing and popularizing the idea of e-commerce in Western Africa. If you've purchased something online over the past few years, there's a very good chance that you bought it on Jumia.
Jumia has a simple vision: to become a beloved shopping destination for Africans. To simplify the novel idea of internet shopping for Nigerians, Jumia integrated logistics service to the e-commerce outlet. With that, you don't have to worry about how products get to you; simply order, pay, and wait.
Jumia was one of the earliest African tech companies to officially achieve unicorn status, but it wouldn't maintain that for long. Soon enough, the company went public, making it an exited unicorn struggling to turn profits since then.
You're probably tired of reading about fintech startups in this article. I understand; I'm tired too, but what are we to do when almost every major tech company in Africa is into fintech?
Charles Ifedi and Mitchell Elegbe founded the company in 2002, decades before the fintech boom in Africa. Initially, it launched as a transaction switching and processing company for Nigerians, before switching to a payment system linking merchants with consumers, as well as a digital payments service.
The company made giant strides in the Nigerian finance industry by launching Verve and Quickteller. It also inaugurated the Interswitch SPAK National Science Competition for promoting science, technology, mathematics, and engineering in the country.
13. Helium Health
After losing a friend to fake medications, the founders of Helium Health came together to find a solution to the problem. From there, the goal of the company quickly grew to accelerate Africa's transition to a technological and data-driven healthcare sector.
As of March 2021, the medical technology company has over 7,000 medical professionals on board, as well as 290,000+ monthly patient encounters per month. The company is based in Lagos, Nigeria, and the majority of its operations are based in Africa, making the company a top African tech company.
Conclusion
There are much more than 13 tech companies in Africa, but there have to be some giants. From Flutterwave to Jobberman, all of the companies listed in this article are some of the largest in their categories, and they only seem to be on a growing trajectory.
If you're looking to invest in the African tech industry, any of the companies recommended above should be a good choice.
Do you think I'm missing one of the tech heavyweights in Africa? Let me know about them down in the comments below.
FAQ
Are there unicorns startups in Africa?
Yes, there are about 7 unicorn startups in Africa and you can find more about them in a detailed article on our previous post
What is the biggest tech company in Africa?
Flutterwave is considered african biggest tech company in africa, as at the time of article publication
If you liked this article, then please subscribe to our YouTube Channel for WordPress video tutorials. You can also find us on Twitter  and Facebook