Udemy is undoubtedly the best marketplace for online learning, featuring an extensive collection of courses spread across different categories, from software development to learning musical instruments. In short, you'll struggle to find a way around Udemy if your goal is online learning.
Sadly, there's a problem with Udemy, especially for users from developing countries: you need to stream all the courses directly from the site. This may not sound like a problem to most Udemy users, but for the tiny minority that experience frequent network issues, the issue is a bit disturbing.
Following the footsteps of platforms like YouTube and Netflix, Udemy released downloads and offline play features on its mobile app, but it's still very limited. Not only do most creators prevent you from downloading their course content, but you also can't move or share what you've downloaded like you would an MP4 video file, for instance.
The solution is using an Udemy course downloader. These downloaders typically come in the form of an app or website that takes the link of whatever course you need to download, fetches the MP4 files, and lets you save it to your computer for offline playback.
This article will outline some of the best Udemy course downloaders you can use to save video lessons from the platform to your computer for offline viewing.
Table of Contents
Is It Possible to Download Udemy Videos?
It's certainly possible to download videos from Udemy, as this article becomes pointless otherwise. There are several ways to go about the process, including an official method that lets you access courses you've bought on the learning app offline.
However, there are several issues with Udemy offline play, making it a pretty terrible Udemy course downloader. The primary gripe most users have with the feature is how it's impossible to access the course content outside the app after downloading them.
Ordinarily, downloading video content within an app should make it available on all of your phone's video players, but as is the case with YouTube and Netflix, Udemy encrypts your downloaded videos, making it impossible to open them with third-party video players. In short, that means you can't transfer the videos across devices and they disappear once you uninstall the Udemy app.
Another issue with downloading Udemy videos is the 30-day expiry after download. Once you download a course from Udemy, you must take it within a month or everything you've downloaded will automatically delete, requiring you to reconnect to the internet to take the course.
Needless to say, those are too many limitations for something you pay for, especially since there are alternative Udemy course downloaders. In the following section, you'll learn about the best Udemy course downloaders for saving the platform's video courses for offline viewing.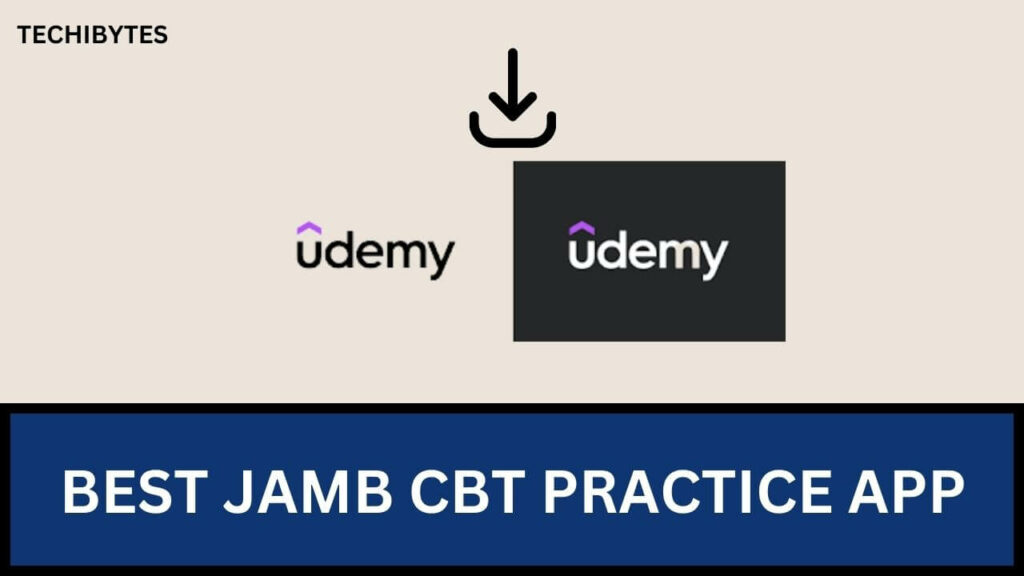 Best Udemy Course Downloaders
Before continuing, it's crucial to note that we do not recommend any of the following websites officially. They're helpful resources we found related to the topic of the discussion, but we do not guarantee their safety or legality. We also can't guarantee that all the Udemy course downloaders will stay up for the foreseeable future.
With that clarified, some pretty nifty Udemy course downloaders perform their jobs excellently well without slapping too many restrictions on you. Most of these platforms also work for free, sometimes only requiring you to pay for the course itself before downloading. You should also find something that works on your device, regardless of your operating system.
Without more ado, here are some Udemy course downloaders to help you escape Udemy's disdain for offline course playback.
1. Allavsoft
Allavsoft has proven to be the most reliable way to download Udemy course contents in a format that makes them playable on third-party video players. You can also share those videos across your devices, making this solution a superior alternative to anything the Udemy mobile app offers.
The app is free for up to five courses, after which you'll need to pay to continue using the app. With the app's reliability, the charge doesn't seem excessive. You shouldn't find it too limiting if you need the feature; if you can purchase up to five Udemy courses, paying a few bucks to download them shouldn't be over the top.
It's crucial to note that this app only allows you to download courses that you've already paid for on Udemy. You can also download free courses without paying, but who uses those free courses on Udemy anyway?
How to Use the Allavsoft Udemy Course Downloader
The Allavsoft Udemy course downloader is only available for PCs, specifically the macOS and Windows operating systems. If you were hoping to watch the videos on an Android or iOS smartphone, you can always download them from your computer and transfer them to the phone later.
Also, you should note that Allavsoft is more than just a Udemy course downloader; it also lets you download from BBC, YouTube, Crunchyroll, Adobe TV, and a whole bunch of websites that lack support for video downloads. In short, 20 bucks for a lifetime subscription to the software is one of the best deals of all time.
With that said, here's how to use Allavsoft as a Udemy course downloader.
Download and install the software from the official website. There are different versions for Windows and Mac, so ensure you download the appropriate one for your system. Launch the software after the installation.
Head to the Udemy course you intend to download and copy the link.
Insert the link into Allavsoft and select your preferred download quality. You can also choose what video format you prefer, as the platform supports several.
Click on the big blue download button to start downloading the course. If it's a paid course, you'll have to log into your Udemy account to start the download process to prevent piracy.
As far as Udemy course downloaders go, you'll struggle to find something that works as well as Allavsoft.
2. Video DownloadHelper Chrome Extension
Udemy course downloaders don't have to be websites or desktop apps; this Chrome extension works for downloading videos off the web. While it's not as good as Allavsoft, it works for some Udemy courses, at least according to reports from people who have supposedly used it.
Trying to use the extension as a Udemy course downloader didn't work out well for me, as the extension couldn't even read the video on the page. While fans specified that the extension only works for select Udemy courses, it's disappointing to see it's of no use to me.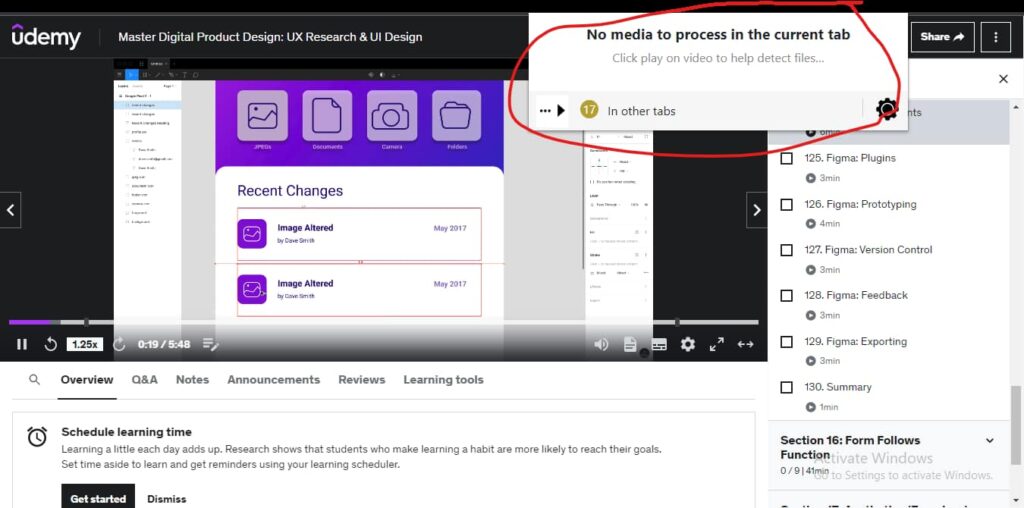 Using Video DownloadHelper is easy; install the extension from the Chrome Web Store and pin it to your browser. Click on its icon when an Udemy video starts playing to access the download options. Since you need to start playing the video to use the extension, you must buy the course before trying the extension: no piracy.
While I won't say this Chrome extension is one of the best I've used, we're talking about a very niche market here, so anything goes.
3. Using YouTube-Dl
YouTube-Dl is a pretty technical Udemy course downloader for users familiar with the command line interface, as it lacks a graphical user interface. While it's free to use, the fact that you need to use it from the command line shows that it's not targeted at the average user.
If you're unfamiliar with the command line, however, you can use the tool by copying and pasting the commands, which is not quite as difficult as you imagine. The fact that it downloads from YouTube, Deezer, and many other online platforms also makes its steep learning curve worthwhile.
To install YouTube-Dl on your computer, you'll need to head to the platform's official website to download the program. The website is a bit unstable, so you should consider trying it later if it doesn't open when you try it for the first time.
When you try launching the program after installation, it will open in a new command prompt window on Windows or a terminal window on Linux or Mac. To download a course from YouTube-Dl, enter the following command.
youtube-dl -u [email protected] -p P@ssw0rd https://www.udemy.com/course-url
Replace the "[email protected]" with the email you used while signing up for Udemy, "P@ssword" with your password, and the URL with the course's hyperlink. The program should start downloading the specified course to your computer.
While it does run into some hiccups every once in a while, it's still much more reliable than the Chrome extension I listed earlier.
4. Using the Udemy Mobile App
You probably already know I'm not a big fan of this, but the Udemy iOS and Android mobile apps are excellent Udemy course downloaders in their own right. However, that's only true if you never have to transfer the videos to another device or even view it on a third-party app on your phone.
Unlike most other methods here, the Udemy mobile app is insanely reliable, which isn't surprising, as it's a first-party solution. If you want something that works without all the bells and whistles or fondling with your command prompt in administrator mode, the app may be the Udemy video downloader to try.
You can download videos in the Udemy mobile app using the small download icon after each video title in the course outline. After downloading, you want to ensure you take the course within 30 days as the download expires, forcing you to enable your internet connection after that timeframe.
If the limitations don't affect your use case, the Udemy mobile app might be the only Udemy course downloader you need.
Conclusion
If you're paying to access a course, you should be able to view it wherever and however you want, which is the point of Udemy course downloaders. We do not recommend pirating courses from Udemy, but if you intend to download courses you already pay for, you should try the websites, extensions, or apps above.
If you liked this article, then please subscribe to our YouTube Channel for videos. You can also find us on Twitter and Facebook.