Anyone completing the paperwork to create an LLC or corporation will notice that the state filing office requires the name and address of the entity's registered agent. Delaware mandates that every company operating there have a registered agent.
Having an LLC registered agent has lots of advantages. So even if Delaware State doesn't mandate it, having one will be very helpful.
In this post, we'll be taking a look at some of the best LLC registered agents in Delaware. Do well to read this post to the end because it'll be very informative.
Table of Contents
WHAT IS A REGISTERED AGENT?
A registered agent is a named person or firm that agrees to accept legal documents and state notices on behalf of a business entity. They are also known as statutory agents or commercial registered agents. Any legal documents if the business is embroiled in a lawsuit can fall under this category.
Companies are required to list a registered agent when establishing a legal body, such as an LLC or corporation. This person or business must have a physical address in the state where the business is registered and be accessible during regular business hours. A physical address is essential because it offers a trustworthy point of contact where official documents can be delivered in person.
Although a business owner or a partner can act as their registered agent, privacy concerns are frequently raised because the registered agent's information is made available to the public. As a result, many companies use expert registered agent services. These services focus on managing legal paperwork and other governmental notifications for companies while keeping the specifics of the businesses out of the public domain.
To provide greater value to the companies they represent, registered agent services frequently include extra benefits such as business formation services, compliance services, basic mail forwarding services, and digital mail forwarding. They are the perfect option for people who don't have a permanent address or who travel frequently because they offer an online dashboard for simple access to mail and papers.
Therefore, a registered agent is essential to ensuring that a firm complies with state regulations and that key legal and tax paperwork is handled properly and promptly.
WHY HIRE A REGISTERED AGENT SERVICE?
A business registered agent service has several definite advantages which include the following:
1. Better Privacy
When you use a commercial registered agent service, you may typically replace your address on the documents establishing your company with the address of the registered agent's Delaware office. This prevents your address from appearing on mailing lists, lessens junk mail, and enables you to create some much-needed separation between your personal and professional lives.
2. Much Less Paper
Commercial registered agent services often have the infrastructure in place to get documents to you faster and more efficiently than an individual registered agent could. They can keep track of notices and deadlines (such as the due date for your company's annual report), freeing up your attention for more urgent issues.
3. Greater Flexibility
It's typically best to use a commercial registered agent service that can operate in more than one state and won't change its registered office every time you move if your business wants to relocate, open a second or third location, go entirely online, or expand its operations to multiple states.
BEST LLC REGISTERED AGENT IN DELAWARE
The following is a list of some of the best LLC registered agents in Delaware:
1. MyCompanyWorks – Registered Agent Service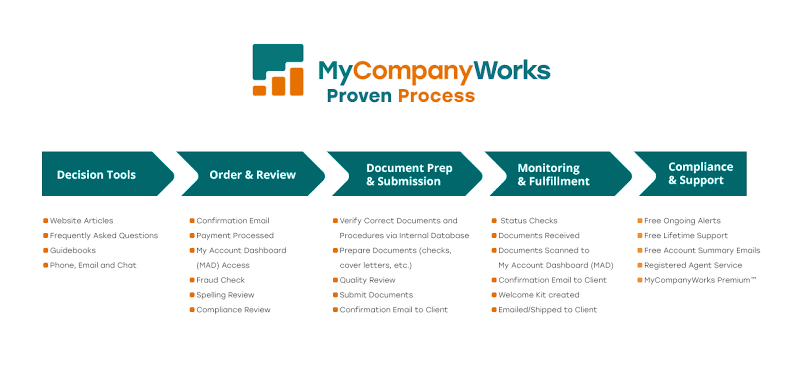 MyCompanyWorks is one of the best LLC registered agents in Delaware. Recently, it was purchased by Registered Agent Solutions Inc. (RASI), a significant participant in the corporate compliance sector (also known as Registered Agent Service for big businesses). MyCompanyWorks is an independent company that focuses on helping small business owners.
MyCompanyWorks scans and uploads every mail delivered to your LLC, including official notifications from the state. To ensure you have all the information you need to respond or get in touch with your business counsel if your Delaware LLC receives a legal document (also known as service of process), they will send it to you through overnight mail.
2. Northwest Registered Agent
Northwest Registered Agent is the most popular of all the LLC registered agents in Delaware. It offers reputable and reliable registered agent services in Delaware. This online LLC service offers a variety of services, such as scanning and transmitting papers, a Delaware street address, and a customer care team available to resolve any inquiries.
They safeguard their website with data encryption, Norton and Trustwave monitoring, and other measures to protect your data. Because of this, Northwest Registered Agent offers one of the most secure internet gateways available. Your documents will be secure thanks to this function.
The Registered Agent Services costs $125, the Basic LLC Formation Plan costs $39 + $119 State Fee while the Full Service LLC Formation Plan costs $225 + $119 State Fees.
You Might Like: Managing Your Startup Business Budget to Reduce Risk
3. LegalZoom
Next on our list of LLC registered agents in Delaware is LegalZoom. They offer personalized legal forms and will help you with a variety of legal issues. For good reason, LegalZoom is a well-liked Delaware registered agent service.
They provide a range of services for business formation, from corporate compliance and firm formation through trademarks and copyrights. You will receive an office location and online access to your papers with LegalZoom's best-registered agent service.
Due to their reputation and track record of accomplishment, they charge a little bit more than some of the other Delaware registered agent services. The Registered Agent Services costs $299 per year, the Basic LLC Formation Plan costs $0 + $119 State Fee, the Pro LLC Formation Plan costs $249 + $119 State Fee, while the Premium LLC Formation Plan costs $299 + $119 State Fee.
4. Harbor Compliance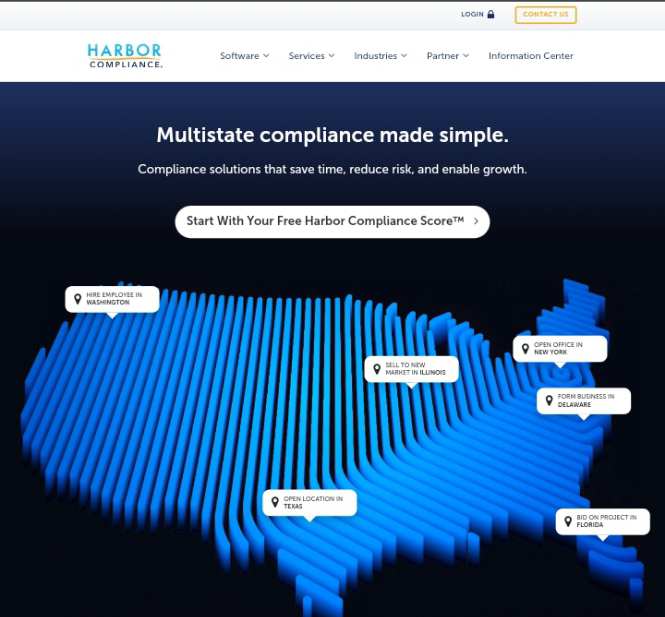 Harbor Compliance is also one of the most outstanding LLC registered agents in Delaware. As your LLC registered agent, they give you a Delaware street address, accept mail and service of process on your behalf during regular business hours, scan your paperwork and upload it to an online repository you can access, and notify you of impending compliance filing deadlines so that you can keep your corporation or LLC in good standing with the Delaware Division of Corporations. These could be things like franchise taxes and other required tax filings.
They have simple sign-up and setup procedures, and it's easy to sign up for registered agent services across several states. Harbor Compliance's low price is their main selling feature. They simply demand $99 yearly. They are therefore the most affordable full-service registered agency in the entire sector.
5. ZenBusiness
ZenBusiness is one of the most amazing LLC registered agents in Delaware. They are known to be a trustworthy and cost-effective registered agent solution. They are perfect for new businesses and people with little resources.
Their Delaware registered agent services come with all the elements required to make sure your company complies with Delaware laws, such as document filing and record keeping.
Their Starter plan is free and all of their plans offer access to their annual report service. The main drawback of these packages is that a free registered agent service is only available if you create an LLC through them.
The registered agent service starts at only $199, making it one of the most affordable, the Starter LLC Formation Plan costs $0 + $110 State Fee, the Pro LLC Formation Plan costs $199 + $110 State Fee, while the Premium LLC Formation Plan costs $349 + $110 State Fee.
6. Inc Authority
Inc Authority is next on our list of best LLC registered agents in Delaware. It is a website-based service that provides help with LLC creation and business ownership, including support with essential paperwork and other legal needs.
The Nevada-based organization claims to have over 30 years of experience with small businesses and has assisted in the formation of over 250,000 corporations and LLCs annually.
The free LLC or corporate formation services offered by Inc Authority are one of its main benefits. Free of charge, Inc Authority will register your business name, create the necessary paperwork, digitally preserve your records, and serve as your registered agent for a full year. Customers just pay the necessary filing fees to the secretary of state.
You Might Also Like: 20 Best Free Business Listing Sites In Canada
7. Rocket Lawyer
Rocket Lawyer is one of the best LLC registered agents in Delaware. Companies in Delaware have access to a variety of legal service choices from Rocket Lawyer, including agent services.
Companies have access to a range of tools and services which consists of a searchable attorney database, legal forms, and an online legal library.
The Registered Agent Service costs $149.99 for non-members while the LLC Formation Plan costs $99.99 + $119 State Fee.
8. IncFile
IncFile is one of the most reasonable LLC registered agents in Delaware because of its solid reputation in the sector. IncFile provides a variety of services, including a free LLC formation service. IncFile offers a registered agent service for just $119 and will always be accessible during regular business hours at the same time.
IncFile has inexpensive plans and a simple interface. Know that if you don't have a fundamental understanding of registered agent language and its function, a lot of add-ons and upgrades could lead you to get a service that you don't need.
The Registered Agent Services costs $119, the Silver LLC Formation Plan costs $0 + $119 State Fee, the Gold LLC Formation Plan costs $199 + $119 State Fee, while the Platinum LLC Formation Plan costs $299 + $119 State Fee.
9. SunDoc Filings
SunDoc Filings is one of the best LLC registered agents in Delaware. It offers the fundamental requirements for your company. It stands apart because of its dedication to promptness and effectiveness.
One of its prominent features is its same-day document delivery service, which is essential for companies that value rapid response to their legal and compliance obligations. Its strong infrastructure, which is distributed across all 50 states, allows it to handle and process heavy document loads swiftly and effectively.
They'll provide you with a Delaware street address and accept mail, legal papers, tax notifications, and process serving on behalf of your Delaware corporation or LLC. You enjoy all these at just $159 a year.
It also provides volume discounts for larger corporations that operate many entities in various states at competitive prices. SunDoc Filings puts a priority on customer convenience by offering safe, round-the-clock online access to corporate information, tailored reporting tools, and a thorough history of the service process, giving firms quick access to vital information.
You Might Want To Read: How Technology Can Boost Your Business Communications?
10. LegalCorp Solutions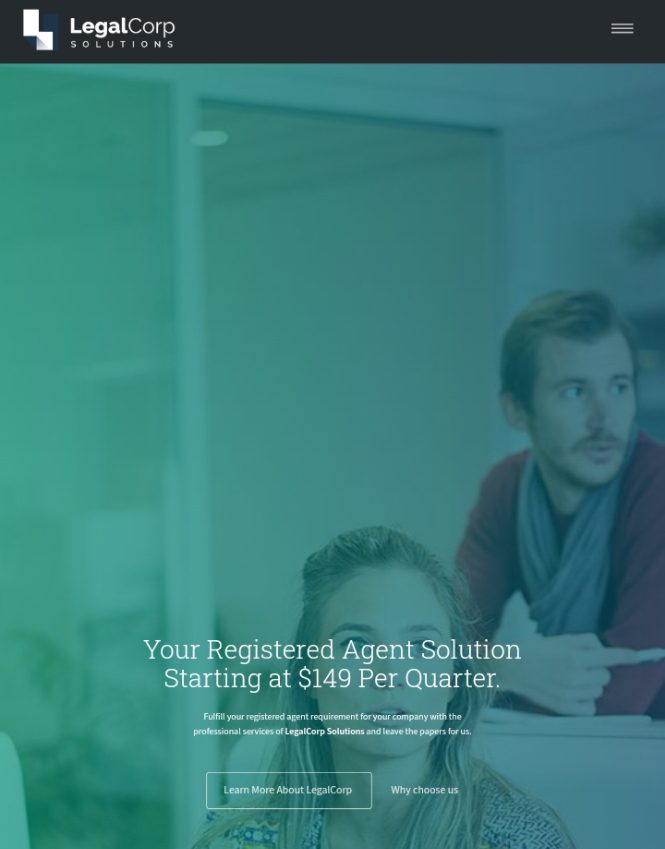 LegalCorp Solutions concludes our list of the best LLC registered agents in Delaware. LegalCorp Solutions has its headquarters in Wilmington. It was formed by serial business owners who were dissatisfied with the available registered agent services, so they decided to start their own business.
LegalCorp Solutions charges the highest price compared to other LLC registered agents in Delaware. They charge $149 for each quarter or $596 per year.
REQUIREMENTS FOR LLC REGISTERED AGENTS IN DELAWARE
It's crucial to understand what the law requires of LLC registered agents in Delaware if you're thinking of appointing one for your company. The following are some requirements for LLC registered agents in Delaware:
The agent must be an entity with a regularly operating office in Delaware or a Delaware resident who is regularly accessible at a specified location inside the state. This is done to make sure they can accept the service of the process and carry out other registered agent responsibilities.

A registered agent located outside of Delaware must have a license to conduct business in the state.

The agent must accept and forward service of process and other communications on behalf of the company.

The Registered agent ought to preserve current records of your company's contact information, such as the name, address, and phone number of the person who is permitted to receive correspondence from the registered agent.

It's critical that your registered agent abstains from actions that could result in legal action being taken against them by the Secretary of State. Such actions could be taken if you don't match the requirements, have a criminal record, or behave fraudulently.

The annual report or notice must be sent to your company through registered agents. The Delaware Secretary of State's obligations should be met by these records or electronic notifications.
FAQS
Can I act as my registered agent in Texas?
An entity cannot be its registered agent in Texas, even though an officer, owner, or employee may act in that capacity. Another business entity, such as a service company, can be hired by an entity to operate as its registered agent.
Do I need a registered agent in New York?
Every corporation, limited liability company (LLC), limited liability partnership (LLP), and limited partnership in New York MUST have a registered agent, that is: a domestic entity founded in New York; or. a foreign entity that is registered in another state, territory, or country yet conducts business there.
Can I use a registered agent address as my business address?
Most of the time, no. You simply need a registered agent to receive business-related official documents from the government. It is not intended to be used as your business address or to receive normal mail.
Who can serve as an LLC registered agent in Delaware?
A registered agent is required to represent any legal entity created, incorporated, or registered in the state of Delaware. In general, these entities are required to have and keep a registered agent in Delaware, who may be either the entity itself, a Delaware resident, a domestic or international legal entity, or any combination of these.
How much does it cost to change my Delaware registered agent?
The Change of Agent form will only cost each company $50 to submit. Technically, the total cost for this procedure could be $100, but that would only apply if an agent left on their own accord, in which case your company would not be liable for their $50 fee. Only after they resign are you in charge of replacing them.
Must my registered agent be located in Delaware?
Yes. If a person is acting as your registered agent, that person must reside in Delaware. If your agent is an organization, that organization must either be a Delaware domestic business or have the right to operate in the state.
CONCLUSION
It's crucial to choose the right registered agent for your corporation or LLC. It plays a crucial role. It can have severe effects on the business if done incorrectly. Every person who is in charge of selecting the registered agent in their home state or another state should give hiring a qualified registered agent great consideration. We hope you found this post very informative. Do not hesitate to drop a comment below.
If you liked this article, then please subscribe to our YouTube Channel for videos relating to this article. You can also find us on Twitter and Facebook.
REFERENCE
https://www.llcuniversity.com
https://www.zenbusiness.com
RECOMMENDATIONS