Before I talk about some of the Best Banks in Canada, there are important things to know before you make your choices. For now, there are about 29 domestic banks, 24 foreign bank subsidiaries, 27 full-service foreign bank branches, and three foreign bank lending branches in Canada and of course, new fintech is springing up too.
In this article, I'll be discussing some of the Best Banks in Canada, What you should know before you decide on a preferred bank, take into consideration which branches are convenient to your home and place of work, what their opening hours are, and who offers the best banking offers in Canada for your financial needs, also the best bank for international students in Canada, if you're also thinking investment, I'll tell you about some of the best banks in Canada for investing and more, just ensure you read to the end.
If you live in Canada or you just relocated to Canada or probably you're outside Canada and you're just researching for the best Banks in Canada for your needs or whatever reasons you need these resources, you should know that in Canada, there's what we called the 'Big Five Banks in Canada'. Which are usually RBC, TD Canada Trust, Scotiabank, BMO, and CIBC. And, some may even know that occasionally National Bank of Canada and HSBC Bank sneak in and expand that list to seven. 
That being said, you should know there are dozens of banks in Canada you would love to consider—including a growing number of fintech, digital banks, and neo banks—each offering its own suite of personal banking products and unique services. 
Combining through this endless pool of banks to find a bank that fits specific needs and helps you reach your savings goals or mortgage or investment or even loans could be quite difficult. That's why in this article, I've streamlined this number to you. You should also note that Banks included in this list are insured and covered by The Canada Deposit Insurance Corporation (CDIC), which means that deposits are insured up to C$100,000. 
On this list, some of the banks here are under the category of Chartered banks, Trust and Loan Companies, Cooperative credit movement, Insurance Companies, Digital Banks, and Securities dealers.
The Top Banks in Canada are:
Toronto-Dominion Bank (TD Canada Trust)
Royal Bank of Canada (RBC)
Bank of Nova Scotia 
Bank of Montreal (BMO)
Scotiabank
Canadian Imperial Bank of Commerce (CIBC)
Desjardins Group
National Bank of Canada
HSBC Bank
Laurentian Bank of Canada
Canadian Western Bank
The Best Banks in Canada you should know in no particular order include:
1. Toronto-Dominion Bank
Founded in 1955, Toronto-Dominion is one of the largest (top-most) banks in Canada, and it was ranked 66th in 2015 on Forbes Global 2000. TD Bank provides personal and commercial banking products and services in Canada, the United States, and several other countries. The bank employs around 90,000 individuals and serves 11 million customers through its 1,150 branches.
TD Bank controls around C$1.202 trillion of assets. The net income of this bank as in the year 2020 was C$ 11.9 billion, and the revenue in the same year was C$29.9 billion. 
TD Bank is headquartered in Toronto-Dominion Centre, Toronto, Ontario.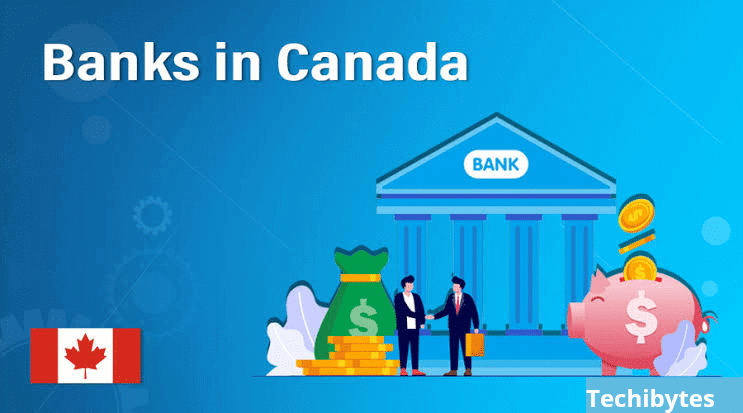 2. Royal Bank of Canada
Royal Bank of Canada prides itself as the second-largest bank in controlling assets in Canada. Royal Bank of Canada was founded in 1864 and headquartered in Toronto. It provides services through five segments: Personal and Commercial Banking, Wealth Management, Insurance, Investor and Treasury Services, and Capital Markets. The bank currently employs around 84,000 staff and serves 16 million customers.
RBC controls total assets of about C$1.67 trillion. In 2020, the bank acquires a net income of C$11.4 billion and a revenue of C$42.8 billion.  
3. Bank of Nova Scotia (Scotiabank)
Scotiabank was established in 1832 and headquartered in Halifax in the province of Nova Scotia. It is the third-largest bank in terms of controlling total assets. 
Scotiabank majors in personal and commercial banking services, wealth management, and corporate and investment banking. It currently employs around 90,000 individuals and serves 23 million customers in 55 countries. 
Scotiabank controls about C$906.332 billion. In 2020, it generated a net income of C$6.78 billion. Its revenue in the same year was C$25.3 billion. 
4. Bank of Montreal (BMO)
BMO is one of the oldest financial institutions in Canada, the bank was established in 1817 (more than 200 years ago) and is headquartered in Montreal, Quebec.
BMO is the fourth-largest bank in Canada, in terms of total assets acquired. The bank currently employs over 45,000 staff and serves around 12 million customers. It provides retail banking, wealth management, and investment banking products and services.
BMO has exciting offers for newcomers (those who have arrived in Canada within the last five years) it offers 12 months of no-monthly-fee banking, a first-year free safety deposit box, unlimited electronic transfers, and more. 
In addition, BMO is the only bank with a joint telco offer that gives you bonus cash and 3GB of monthly bonus data for one year with chatr Mobile™
BMO controls about C$708.617 billion of total assets and earns revenue of C$22.2 billion in 2020. In the same year, the net income of the Bank of Montreal was C$5.10billion. 
BMO is believed by many to be the best bank in Canada.
5. Canadian Imperial Bank of Commerce (CIBC)
Established in 1867 and headquartered in commerce court, Toronto. CIBC offers its service through three strategic business units: Retail and Business Banking, Wealth Management, and Capital Markets.
Canadian Imperial Bank of Commerce is the fifth-largest bank in total assets in Canada and it is the third strongest bank in the world, according to Bloomberg Markets magazine. It also has one of the largest ATM networks across Canada and top-ranked online and mobile banking services. 
At this time, CIBC controls total assets of C$560.912 billion. In the year 2020, it has generated revenue of C$ 16.2billion, with a net profit of C$3.79 billion. 
CIBC has a presence in the United States, the Caribbean, Asia, and Europe and currently employs 43,890 staff. 
6. Desjardins Group
Desjardins group isn't exactly a bank but it is the largest association of credit unions (cooperative group) in North America.
The group was established in 1900 and has its headquarters in  Levis, Quebec. It operates through four business segments: Wealth Management and  Life and Health Insurance, Property and Casualty Insurance, Personal Services, and Business Services.
The financial institution has a range of services that includes chequing accounts, stockbroking, insurance, asset finance, investment banking, consumer finance, and more.
It has about 50,000 people working for the group, serving more than 7million customers in 30 countries. It issues both MasterCard and Visa credit cards. 
The financial institution control Total assets acquired of about C$377 billion, yearly revenue of C$11.4 billion (2020), and a net income of C$2 billion (2020)
7. National Bank of Canada (NBC)
National Bank of Canada is one of the best Banks in Canada, it was established in 1859 and is headquartered in Montreal.
The bank provides personal banking, commercial banking, insurance, and payment solutions and services to its clients.
National Bank offers newcomers a custom package of services valued at up to $600, this newcomers who choose to open an account with National Bank will also benefit from a year of access to their Assistance service for newcomers.
NBC controls total assets of about C$343.6 billion. In 2020, it generated a revenue of C$7.8 billion and a net profit of C$2.5 billion.
The bank currently employs around 26,000 staff and serves 2.4 million customers through its 450 branches.
8. HSBC Bank 
HSBC Bank of Canada is a subsidiary of HSBC holding PLC and comes at number eight on my top best Banks in Canada. 
The bank operates through three business segments: Commercial Banking, Global Banking and Markets, and Retail Banking and Wealth Management. 
HSBC Bank Canada has one of the most impressive international reaches among all the major banks in Canada, ranking as the 7th largest bank in the world by total assets according to S&P's Global Market Intelligence report in 2019. 
HSBC Bank control total assets of about C$115.0billion (2021), a revenue of C$1.7 billion (2020), and a net income of C$308 million (2020)
The bank has about 6,000 staff and millions of customers in Canada.
9. Laurentian Bank of Canada
Founded in 1846 as one of the oldest financial institutions in Canada and headquartered in Montreal, Quebec, Laurentian Bank of Canada aims to serve individuals, small and medium-sized enterprises, and independent advisors. It offers investment products, including fixed-rate investments, indexed investments, mutual funds, systematic savings plans, retirement projection plans, registered plans, and guaranteed investment certificates.
The Bank controls total assets of about C$45.2billion. In 2020, this bank generated revenue of $854.7 million. And in the same year, a net profit of $114.0 million. 
It operates in over 145 branches, with offices in British Columbia, Alberta, Nova Scotia, Newfoundland, Ontario, and Quebec. The bank has a workforce of more than 3 thousand people.
10. Canadian Western Bank
Founded in 1988 and headquartered in Edmonton. The bank operates in western Canada and provides mortgages, loans, personal accounts, investment products, business accounts, small business lending, insurance, and credit card services.
The bank controls a total of assets of about C$35.3 billion. The revenue and the net income of the Canadian Western Bank in 2020 were C$270.6 million and $805.2 million, respectively. 
It also employs more than 2000 workers across 42 branches in Canada.
Best Banks in Canada for international students
If you're an international student in Canada or you're just planning to move down to Canada to study, you should definitely consider opening an account with one of these banks because of convenience, the service, and the opportunity they offer.
Scotiabank
The Scotiabank StartRight® Program allows you to open a bank account before you arrive in Canada, with unlimited no-fee international money transfers.
For newcomers to Canada, you can receive your first year of banking with Scotiabank for free, without any monthly charges.
It also has a variety of products and services custom-made to new international students.
RBC
whether you are preparing to move, just arrived, or settling into life in Canada, RBC has convenient suites of products and services for its newcomers
RBC's newcomer banking offer presents up to $550 value.
Their customers can also take out cash from any ATM, including ATMs from other banks, without paying any fee.
Tangerine is known as the best online bank in Canada. Online-only banks have grown in popularity, appealing to many of the 76% of Canadians who do most of their banking digitally. Online banks deliver their services through their website, on the phone, and on their phone apps so customers don't speak to a teller or visit a branch. 
charges $0 on the services that most other banks charge for. For instance, there are no monthly or annual fees, and the debit transactions, pre-authorized payments, and email money transfers are unlimited. Though it doesn't have physical branches, you'll get free access to 3,500 Scotiabank ABMs and 44,000 ABMs worldwide through Scotiabank's Global ATM Alliance.
Best Banks in Canada for investing
HSBC provides unique services and product offerings that connect Canada's global citizens to overseas markets, seamlessly moving funds for them across borders, and saving them money when they travel.
HSBC doesn't charge Premier account holders fees on global wire transfers less than $10,000* and among other benefits allows them to make real-time transfers between HSBC global accounts. 
Account-holders are also paired with a dedicated Relationship Manager, who can leverage HSBC's network of investment professionals in 26 countries on new investing opportunities. It is also one of the best banks in Canada for new immigrants.
How to choose the Best Banks in Canada for me?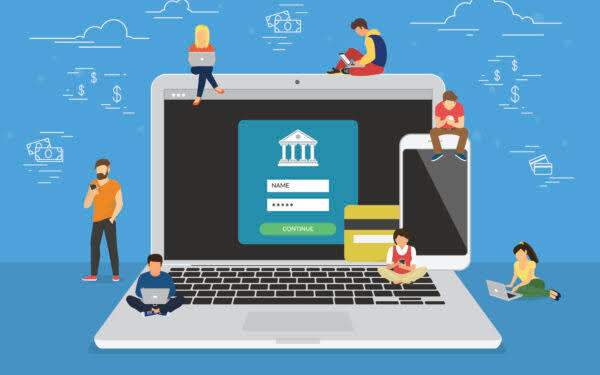 When choosing which is the best bank in Canada for you, be sure to learn about how your bank deals with each of the following to avoid future regrets.
Many banks in Canada charge you to have a checking or chequing account (known in other countries as a 'current' account).
Fees range from $5 to $30 per month, depending on the number of monthly transactions you wish to make. You may be able to have these fees refunded if you maintain a sizable balance, typically in the $3,000 to $5,000 range at least.
Normally, you would use your bank ATMs without charges, However, if you use another bank's ATM, then you may incur a fee for each transaction.
Using these privately-owned ATMs can cost as much as $4 or $5 each time, so try to avoid using them.
International money transfers:
When you relocate to Canada, you'll have some money you'll be looking to transfer into your new account.
Wise (formerly TransferWise) and CurrencyFair are two of the best platforms to make international money transfers in Canada.
Surprisingly Cheques still remain a popular payment method in Canada. In fact, many employers will request a 'void check' at the beginning of your employment. This is because it will contain the bank details they require to transfer money to your account. A void check is simply a check with the word 'void' written across it. Your bank may give you some of these for free when you open your account.
Checkbooks are often required for paying rent or enrolling in a service, such as daycare if you have children. It can cost up to $40 for a book of 100 cheques, so be aware of these costs when choosing the best bank in Canada for you.
The Interac e-transfer system is a collection of Canadian banks and merchants who all use the same payment system.
Money can be transferred online simply by entering the receiver's email address — you don't need the other person's bank details.
Both parties must have a Canadian bank account that has Interac email transfer capabilities.
What you should know before opening a bank account in Canada:
1. Read their terms and conditions carefully: 
3. Research the incentives or rewards on offer. 
4. Inquire whether a deposit is required before account opening and, if so, when you may withdraw it back.
5. Ask about their fraud protection policies