We all know Gumroad has set a standard when it comes to selling goods online. Although Gumroad has lots of advantages, there are some downsides that customers can't deal with, hence they seek alternatives that can provide what Gumroad lacks.
In this post, we'll be giving you some Gumroad alternatives. These Gumroad alternatives have one or two advantages over Gumroad.
Make sure you read this post to the end because we will mention some Gumroad alternatives that'll be very beneficial.
Table of Contents
What Is Gumroad?
Gumroad is a simple-to-use service designed to assist artists and designers in quickly selling goods online. It is, in essence, a hosted eCommerce platform that enables you to create an online store without having to worry about hosting, online payment integrations, or inventory management because everything is already taken care of.
Gumroad doesn't require you to be a technology expert to utilize it; the setup is rather simple and doesn't call for any prior knowledge. Gumroad also lets you make some simple customizations to your online shop, giving it a distinctive appearance.
But the lack of a monthly charge is Gumroad's key selling feature. That implies that you get to set up an internet store and start selling goods without spending any money
Why Should You Search For Gumroad Alternatives?
Gumroad appears to be a fantastic option, but there are a few issues with it, so you might want to hunt for another option. If you genuinely want to sell something online, you would still have to pay to utilize Gumroad even if it doesn't require a monthly fee.
Gumroad deducts an outrageous 10% of your income each time someone buys your goods, plus credit card fees, from your earnings as transaction fees.
Also, several online reviews criticize Gumroad's technical support for being inadequate. Let's face it: One of the most important resources for your eCommerce business is likely your online store. Hence, you must be completely certain that you have someone to turn to in case of need.
Apart from that, there are a few small issues that can cause you to reconsider joining Gumroad. For instance, they lack features like product upselling and boost offers, which are crucial for operating an internet business. You also won't have immediate access to your earnings because Gumroad only pays vendors once every week.
Gumroad has been a popular choice for customers in part because of its tiered pricing structure. Your fees would be cheaper the more money you brought in. The fees ranged from 2.9% to 9%.
Customers would only be charged a 2.9% fee if they have previously made at least $1,000,000 in income. A 5% fee would be charged to those who had previously earned between $10,000 and $100,000.
Around the end of January 2023, Gumroad implemented a 10% flat usage tax for all customers. This cost did not include PayPal or credit card processing costs. to many users, this is on the high side hence the need for Gumroad alternatives.
Best Gumroad Alternatives
Some online platforms that provide better Gumroad alternatives include.
1. MemberPress
The finest WordPress membership plugin for selling online courses and digital products with subscription models is MemberPress.
It's one of the best Gumroad alternatives because of how user-friendly the plugin is. You can quickly build a membership website, configure different subscription tiers, and manage who has access to what products and content.
To design and sell online courses, MemberPress has a drag-and-drop course builder functionality. In addition, it has a virtual classroom feature that creates an engaging learning environment.
Automatic drip content is a feature that MemberPress provides that Gumroad does not. You can deliver paid material to members over time or once they've finished a specific module using the plugin.
Pricing for MemberPress's Basic plan begins at $179.50 per year. You can choose the Pro package if you want additional features like quizzes and premium integrations.
2. Shopify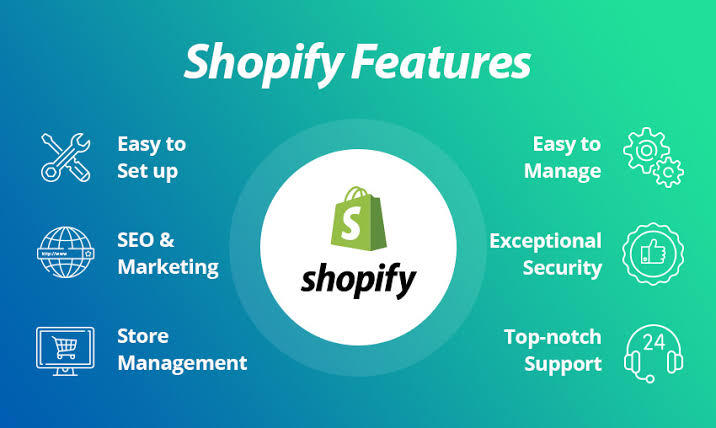 Shopify is unquestionably deserving of a place in the list of Gumroad alternatives as one of the most widely used eCommerce systems.
Without any prior expertise or knowledge of web design, you can create an online store using Shopify, an all-in-one eCommerce platform. Also, they have succeeded in developing a vast ecosystem that features 3000+ helpful apps and various store themes.
The main benefit of Shopify is its complete customizability. With the right combination of app integrations, you can sell just about anything in your store, from physical goods to subscription services and digital goods.
On the other hand, be prepared for Shopify to add a premium to the majority of third-party app connections. For instance, the monthly prices for the apps can range from only a few dollars to $100 each month, while the paid store themes for Shopify are priced between $140-$180.
You should be prepared to pay a large sum of money each month once you add this up and your subscription price. Instead of having a free plan like Gumroad, Shopify has three subscription options that cost between $29 and $299 per month.
3. Payhip
If you want to offer your consumers a smooth checkout experience, Payhip is an excellent platform. It specializes in boosting the sales of your digital products and expediting transactions.
The checkout page is not only attractive, but it is also fairly responsive.
This guarantees that consumers will have a wonderful experience whether they're using a desktop, laptop, tablet, or smartphone. It is one of the best Gumroad alternatives.
Even better, Payhip enables you to include a checkout option on whatever platform you choose. You can include a checkout on your website, blog, or social media accounts. Payhip asserts that it has improved checkout conversions. Because of this, your consumers will be able to finish a transaction in a matter of seconds.
Every major credit card or PayPal can be used by customers to make payments. A system for affiliate marketing, a choice to offer coupons, and social discounts that give your followers discounts in exchange for tweets and likes are additional elements that you might find appealing.
Payhip had a Free Plan where a 5% transaction fee is charged, a Plus Plan at $29 monthly and a 2% transaction fee, and a Pro Plan at $99 monthly.
4. Sellfy
One of the superior Gumroad alternatives is Sellfy. It was first created as a platform for the sale of digital goods, and it has quickly risen to the top of that market. Sellfy later evolved into a completely hosted eCommerce option for producers and artists.
Every product you can think of can now be sold through your Sellfy store, including digital, physical, subscription, and print-on-demand items. Sellfy is even easier to set up than Gumroad
You may almost immediately start selling your goods with Sellfy; it won't take you more than ten minutes to create an online store from scratch. Simply submit your first item, select a payment method, and begin selling.
It's also crucial to remember that Sellfy stores are completely adjustable; you can easily change how your store appears by using the Store Customizer tool. You won't have to worry about upfront costs or unsold inventory with Sellfy's print-on-demand service because you won't be paid for product fulfillment until after a sale.
In contrast to Gumroad, Sellfy doesn't deduct any commissions, transaction fees, or other costs from your earnings. Also, you'll never have to worry about unforeseen or covert expenditures.
Three paid subscriptions, starting at $29 per month or $19 per month if you choose a yearly membership, are available from Sellfy. The fact that there are no transaction fees on any of the plans is another reason why it is one of the best Gumroad alternatives.
5. Mighty Networks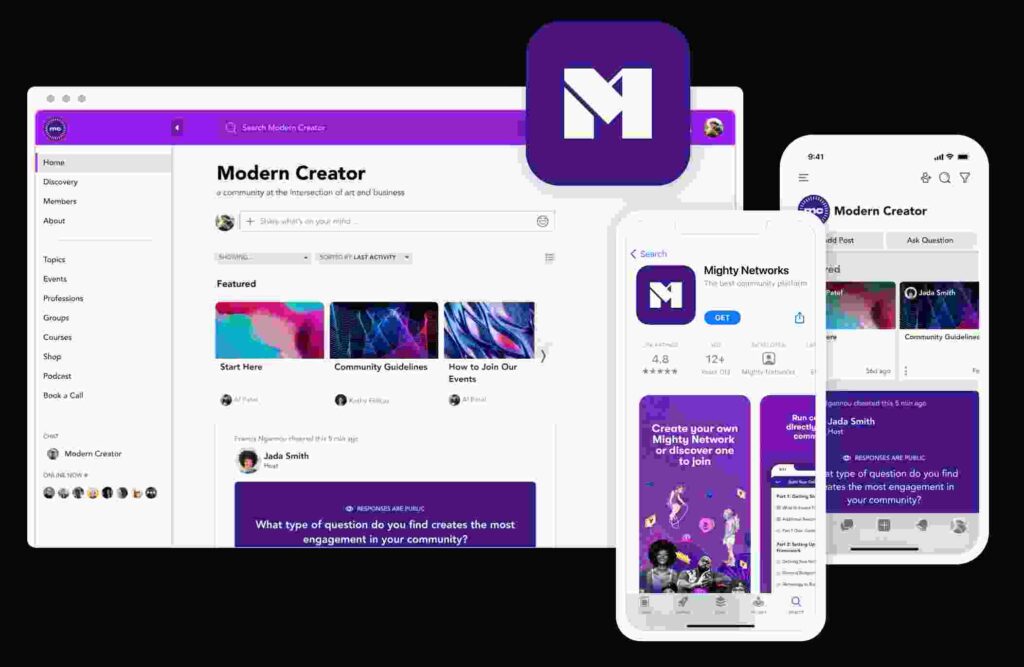 Mighty Networks is one of the best Gumroad alternatives if you want to sell some form of subscription. Mighty Networks, named the best community management software by G2, is a strong community engine that offers you a fantastic area to connect members.
Your Mighty Network's customizable Spaces can combine an integrated community forum, member profiles, chat and messaging, bespoke discovery areas, native live streaming, and video, as well as event and Zoom integration, and they start at just $33 per month.
You can establish various subgroups that you can charge more for or select multiple pricing tiers or packages when selling memberships.
Because it was created for them, Mighty Networks is a much better alternative for memberships and/or courses. Try it out for yourself for a full 14 days before you believe us!
6. Soundwise
The only tool on this list that is specifically designed for podcasters and other producers of audio content is Soundwise and it is one of the best Gumroad alternatives.
You can utilize it to generate income by selling premium podcasts and audio programs or by giving them out to grow an email list that you can then monetize.
On Soundwise, you can charge a one-time fee for audio programs and premium podcasts, as well as provide subscriptions and rentals. To offer potential clients a taste, provide free trials and samples, Build sales pages for the web and mobile to advertise your programs, and assemble listener comments to enhance products.
Soundwise has four paid plans which include the Starter Plan at $23 per month, the Plus Plan at $59 per month, the Pro Plan at $119 per month, and the Platinum Plan at $469 per month.
7. SendOwl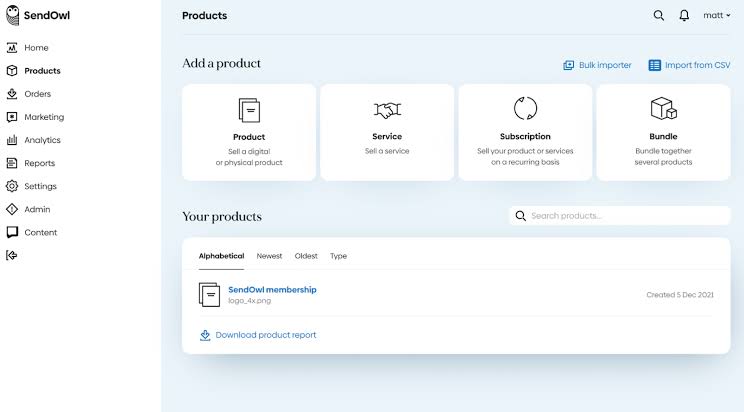 For those looking for an easy way to sell digital goods, SendOwl has emerged as one of the top Gumroad alternatives. Its primary goal has always been to offer creators and small businesses a simple and elegant checkout solution. And they seem to be doing it fairly well.
SendOwl is simple to use. Simply establish an account and upload your product to get started. When it's finished, you'll receive a Quick Sale link, the option to share your product on social media, and produced code that you can use to add a Buy Now button to your blog or website.
In addition, SendOwl provides a variety of helpful marketing capabilities, like upselling, cart abandonment, discounts and vouchers, pay-what-you-want pricing, and gift cards. The majority of eCommerce platforms and outside marketing firms are compatible with SendOwl.
SendOwl doesn't have a free plan and its price structure is a little confusing. Three tabs—Standard, Self-hosted, and Subscription—offer several pricing plans on their pricing page, allowing you to select the one that best suits your needs. Their entry-level Basic package is $15 per month.
8. Lemon Squeezy
The simplicity of Lemon Squeezy is about as easy as an online store can get and that is why it is one of the best Gumroad alternatives. It provides you with all the resources you need to sell your digital goods.
Without writing a single line of code, you can set up an online store in a matter of minutes. All websites built using Lemon Squeezy are SSL-secured and load without any issues on mobile devices.
You can sell your goods using this platform from any location. You can share your checkout URL with prospective customers or embed the checkout overlay.
You will be able to start selling courses, ebooks, videos, audio files, design assets, and other digital products, just like with other platforms. You can sell subscriptions. But did you know that you can sell software with Lemon Squeezy?
With the help of Lemon Squeezy's built-in analytics, you can see how well your online business is doing. Moreover, you can create invoices for your clients. Even tax compliance will be taken care of by the business.
There is no monthly fee with Lemon Squeezy; instead, a transaction fee of 5% plus fifty cents for each sale is charged.
9. SamCart
Creators can market and sell an unlimited number of courses, coaching sessions, digital downloads, services, and subscriptions using SamCart.
Also, the software includes a drag-and-drop sales page builder that makes it simple to create a unique landing page for each product.
SamCart designers can boost sales with helpful features like pre-sale order increases, various subscription kinds, and one-click upsells.
SamCart provides users with themes and an intuitive store builder so they can create sales pages for their products. Exciting marketing strategies are also available that can raise conversion rates. It is one of the best Gumroad alternatives.
SamCart pricing includes Launch at $49 per month, Grow at $99 per month, and Scale at $199/per month.
10. Podia
Next on our list of best Gumroad alternatives is Podia. One of the top venues for promoting and selling digital goods is Podia. Courses, webinars, ebooks, and even paid communities can all be sold.
With the help of this platform, you can create a mobile-friendly website that is tailored to your requirements. If you don't already have one, you can add your domain or a Podia subdomain. You can advertise your company and items to everyone on your email list thanks to certain email marketing tools.
Also, the live chat widget allows site visitors to communicate with you if they have any questions.
A characteristic of affiliate marketing also enables you to use your audience as a sales force. For those who wish to increase sales without spending money on marketing, this will be crucial.
The fact that Podia provides round-the-clock help is one of its amazing features. Therefore you can contact the organization if you have any problems while working on a project. If you are unable to accomplish that, Podia does provide a wealth of materials, including manuals, articles, videos, tools, and webinars.
The following are the monthly prices: Mover Plan at $39, Shaker Plan at $89, and Earthquaker at $199. There is a free plan with transaction costs.
11. Patreon
Patreon is one of the Gumroad alternatives that are worth mentioning. A platform for creators to monetize a following is called Patreon. It is best recognized for its patronage concept, which allows customers to formally pledge their support for a favorite creator.
This implied that you could make money off of anything on Patreon as long as you could find enough patrons.
However, Patreon has grown to incorporate more than just contributions over time. Tier-based supporter levels with prizes can be put up by creators.
These benefits frequently take the form of merchandise, time spent with the artist, appearances in creative projects, or further material. On Patreon, there are many different paths to success.
The real drawback of Patreon is comparable to that of Gumroad. As long as you don't generate much money, you pay little when the platform charges you a percentage of your sales. The more you produce, the more it will cost you because up to 12% of your earnings will go to Patreon.
Having said that, people are aware of Patreon's flexibility, which allows you to monetize in a variety of ways. It's a great substitute for Gumroad.
Conclusion
Our list of Gumroad alternatives is now complete. But which platform ought you pick? That all depends on your requirements and the kinds of goods you wish to market. Budget, existing company requirements, and potential future requirements should all be taken into account.
If you don't have to worry about switching platforms later, expanding your business is always simpler. We hope that these Gumroad alternatives have inspired you to monetize your creative energy or sell your work online! Kindly let us know what you think.
If you liked this article, then please subscribe to our YouTube Channel for videos. You can also find us on Twitter and Facebook
Reference
www.mightynetworks.com
bloggingwizard.com
https://blog.sellfy.com