As the world continues to embrace digital learning, online quiz makers are getting more famous day by day. Both teachers and business owners have found more use for them.
Not only are they so effective and beneficial, but online quiz makers are also very easy to use. You don't even require any coding skills. That means anyone can use them.
You may be wondering which online quiz makers are the best. To ease your search, we have compiled a list of the best online quiz makers out there, both free and paid.
Do well to go through this post to the end as it'll be informative and help your search.
Table of Contents
Online Quiz Makers
Online quiz makers are softwares that are designed to solve the stressful process of making quizzes. It is a modern-day tool that has both the fundamental and sophisticated criteria to finish the process of making a quiz.
Teachers and instructors both rely on e-learning and smart instructional techniques in today's digital age. They can create quizzes, grade assigned homework, and view student scores using online quiz makers or online test maker software.
Online quiz makers allow you to create online quizzes. To evaluate a candidate's understanding of a certain subject or item, a quiz maker program is utilized. Because there are so many online quiz makers available, you must pick the best one.
Why You Need Online Quiz Makers
Online Quiz makers have many benefits that exceed just creating a quiz. Some of the benefits of online quiz makers include
1. Large Number
A teacher or survey manager in charge of a big number of test or research participants benefits greatly from online quiz makers. No matter how big the test site is, a huge number of participants can take the test at once with the help of the survey tool if they are all connected to a reliable internet connection.
2. Automate The Development And Evaluation Of Quizzes To Save Time
Saving time is one of the biggest advantages. There is no need to spend time reviewing all of the questions at home because good online quiz makers will grade the quizzes immediately.
Having immediate feedback allows you to talk with your pupils about the solution and examine the errors together. It's a great chance to assess students' understanding as they respond to questions because some online quiz makers also let you see the results instantly.
3. Randomizing Quiz Questions And Answers
With the use of online quiz makers, quiz questions and answers may be randomly generated quickly and efficiently rather than having to manually arrange and distribute questionnaires to each test taker.
Online quiz makers complete the task quickly, allowing you to focus on other aspects of preparation. Because questions and answers appear to be completely distinct from the surrounding test takers, there is typically little danger of examination malpractice or skewed survey results.
4. Awareness And Feedback
You can learn useful knowledge in a lighthearted, casual approach by using online quiz makers. To raise awareness of their brands or to increase engagement, marketers can employ online quiz makers as a component of their social media marketing plan.
To make lectures more interactive and engaging, instructors might construct a quiz. Regular quizzes, which should not be assessed or evaluated (this is crucial), have been shown to increase memory retention, foster engagement, and make learning enjoyable.
5. Cost Effective
Online quiz makers are very cheap. Free modes of most online quiz makers give you access to create online quizzes for students. This eliminates the cost of conducting examinations physically.
What Are The Best Online Quiz Makers?
The best online quiz makers out there include:
1. ProProfs Quiz Maker
You can use ProProfs Quiz Maker, a cloud-based software tool, to make and distribute online quizzes and tests as well as run secure assessments for evaluating students and employees. You can add media and feedback to your questions, generate them in more than 15 different forms, and automate the grading.
A quiz materials collection with over a million ready-to-use questions on nearly every subject is included with ProProfs.
With more than 100 choices and configurations, ProProfs Quiz Maker provides a user-friendly and mobile-responsive interface. It offers an extensive question bank with more than a million ready-made questions and an excellent reporting system with illuminating statistics. It is one of the best online quiz makers.
Both free and subscription options are available with ProProfs Quiz Creator. The monthly premium plans range from $20 (paid annually) to $200 (monthly) (billed annually).
Moreover, ProProfs offers discounted rates for K12 educators, with premium plans starting at $3.99 per instructor per month (paid annually) and increasing as high as $9.99 per instructor per month (billed annually).
2. Thinkific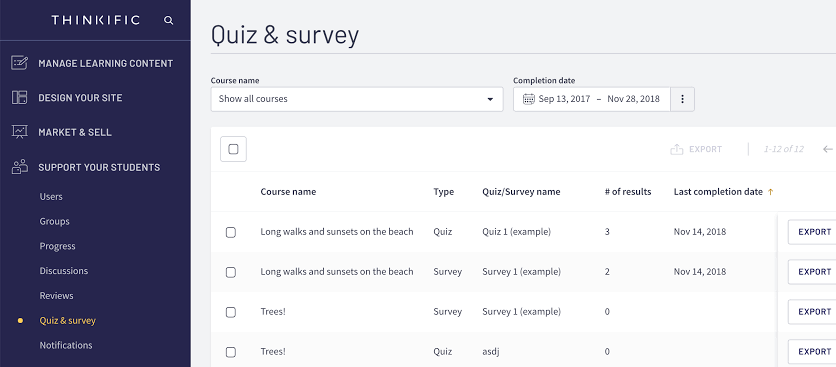 Next on our list of best online quiz makers is Thinkific. Thinkific is primarily recognized as a platform where instructors and business owners may build online courses for both their clients and students.
Users of Thinkific can nevertheless develop tests to supplement their online courses. This is particularly beneficial for educators who want to assess students' knowledge following each lesson.
Users can design multiple-choice questions for their audience using Thinkific. You have the option of including multiple right answers in a question. You can incorporate images, audio files, or video files into the questions and answers using this tool's WYSIWYG text editor.
The quiz builder on Thinkific contains a question bank that is randomly generated to create a different quiz for each student, thus aiding teachers. To make sure that students genuinely comprehend the course, teachers can also set a passing grade criterion within quizzes.
It offers a free forever plan, a Start Plan at $149 per month, a Grow Plan at $249 per month, and an Expand Plan at $299 per month (paid yearly). For the Thinkific Plus (Enterprise) Plan, you need to contact them for your unique price.
3. Survey Anyplace
With skip logic, outcomes, and custom scoring, Survey Anyplace is one of the more sophisticated tools available, enabling you to construct quizzes with a strong emphasis on customization.
You can see why this tool is so well-liked by HR organizations when you consider that it can be fully customized to match your branding and that responders can obtain a personalized feedback report after the quiz. It is one of the best online quiz makers.
Survey Anyplace has three Pricing systems. The Basic Plan costs $39 per month per user while the Professional Plan costs $59 per month per user. To subscribe to the Enterprise Plan, you'll need to contact them for pricing.
4. Typeform
Typeform is next on our list of best online quiz makers. Quizzes, conversational forms, and surveys that boost user engagement can be made with Typeform's assistance. This promotes data collection and improves memory. Quizzes are a tool that instructors and trainers use to make learning more engaging.
Several question types, including those that include images, are supported by this system. Using this approach, creating online tests is quite simple. While creating a new quiz, there are a lot of free templates to select from. Logic jumps are permitted in this system. A quiz can reply to a user's responses thanks to a logic jump.
For instance, one should avoid asking questions that are pointless given a previous response. Additionally, it has a calculator tool that can show responders various questions dependent on their overall score.
This quiz creation service provides three premium options (Basic, Plus, and Business), with prices starting at $25 per month, in addition to a free plan. The limited use of the free plan makes it an excellent tool for system evaluation.
The key distinction between the other paid plans, which are offered as monthly or yearly subscriptions, is the number of responses and users permitted. Also, Typeform offers teachers and students a discount of either 25% off the monthly plan or 40% off the annual plan.
5. Testportal
Testportal is a platform for knowledge and talent assessments in business and education. It aids in the creation of informative online tests by hiring committees, training groups, and educators everywhere and it is one of the best online quiz makers.
The insight engine, which provides thorough test statistics and analytics and enables in-depth data access, is its most significant asset. It also includes affordable proctoring solutions and an easy-to-use question editor. It also provides excellent graphs and charts for in-depth analysis and insights.
It provides adjustable score settings, question categories, time limitations for each quiz and question, and randomization. Additionally, it features a variety of questions that are enhanced by an advanced equation editor and attachments (images, videos, and audio files).
Testportal provides a 14-day free trial and pricing beginning at $29 per month. Moreover, teachers only have access to the Free EDU plan.
6. Woorise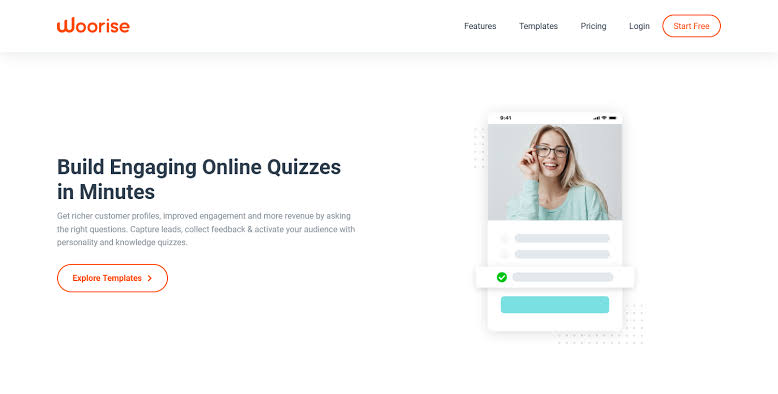 Woorise is next on our list of best online quiz makers. Create interactive quizzes, as well as personality tests, calculation tests, contest tests, tests, recommendation tests, score or assessment tests, and recommendation tests, using Woorise. Using Woorise's cutting-edge drag-and-drop builder, you may start from scratch or get right in by selecting one of their templates.
Woorise offers 40+ different questions kinds, making it simple to create online tests, surveys, polls, and quizzes. Major marketing automation solutions like HubSpot, ActiveCampaign, Constant Contact, MailChimp, and others can be combined with quizzes.
Woorise is a fantastic tool for small businesses because it enables you to develop a variety of interactive campaigns, including landing pages, forms, surveys, viral giveaways & contests, the ability to accept payments, and more, to gather leads and engage your audience.
Woorise has a free but limited plan. To enjoy all its features, you can pay for the Basic Plan at $29/month, the Grow Plan at $49/month, or the Pro Plan at $99/month.
7. FyreBox
Create multiple-choice tests, scenario-based tests, and rules-based tests using Fyrebox. Photographs may be used in tests. Real-time quiz scoring calculation and, if preferred, email delivery of quiz results. It is one of the best online quiz makers.
This system's strength is its simple interaction with other contact management systems, including its ability to link to more than 500 applications via Zapier. The Fyrebox staff can quickly create interactive quizzes for clients, and these quizzes may be chatbots on Facebook Messenger.
Via the integration with Zapier, participant data may be exported automatically to more than 500 applications.
For each of the system's online quiz creator plan levels, a 14-day free trial is available. With the monthly plans, a user may upgrade, downgrade, or cancel at any time. For a few leads, there is a free plan that provides a very minimal service. The premium subscription plans are either monthly-based or feature a yearly price break.
8. SurveyMonkey
Simple polls and questionnaires may be quickly created with Survey Monkey, and the basic version is free to use. The software includes hundreds of templates and questions that were created by "survey methodologists" and are intended to elicit the correct data from respondents.
Although you can alter the look and feel of your quizzes and surveys, a common complaint is that the Survey Monkey logo prevents you from fully branding the surveys. This is one of the best online quiz makers.
SurveyMonkey offers a different type of payment plan. They have the Team Advantage Plan which costs $25/month per user, the Team Premiere Plan at $75/month per user, and the Enterprise Plan – this requires you to contact them for how much you'll pay.
9. Outgrow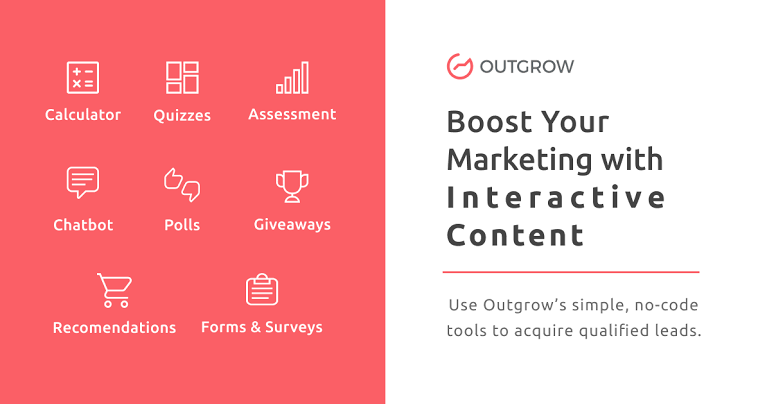 Outgrow is next on our list of best online quiz makers. With the tool Outgrow, you can build interactive tests, polls, giveaways, chatbots, surveys, and quizzes to generate leads and increase conversions.
You may create quizzes with this quiz maker's user-friendly drag-and-drop builder without any prior coding or design knowledge. If you don't want to start from scratch, there are more than 1,000 pre-made designs available for various industries (including eCommerce, B2B, and B2C businesses).
Depending on your objective, you can add conditional messages and branching logic, as well as alter the templates to reflect your brand. Once your quiz is complete, Outgrow gives you the option to embed it in a variety of places on your website, including an email, sidebar, modal popup, full-screen, chatbot, and floating rectangle.
Outgrow has a 7-day free trial after which you have to pay for either the Freelancer Limited at $14/month, the Freelancer at $25/month, the Essentials at $95/month, or the Business at $600/month (billed annually)
10. Qzzr
With the help of the straightforward online quiz maker Qzzr, you can increase leads, engagement, and money.
To make your quizzes appear completely at home on your website, you can easily customize the fonts and colors as well as add unique photos, videos, and animated GIFs using the user-friendly interface.
You may check the statistics and examine the responses to learn what matters to your quiz takers, and then tailor the messaging and content based on their responses. Paid subscriptions begin at $24.99/month or $16.67 when billed annually.
Free Online Quiz Makers 
1. HubSpot Forms
You don't need any technical knowledge to utilize HubSpot's free form builder, although it's one of the more sophisticated form builder tools. With the help of the drag-and-drop form builder, you can quickly design forms that can be connected to your contact database and used to turn unidentified website visitors into leads. Because of the tool's adaptability and modification, making quizzes is very simple.
When someone submits your form, they are immediately forwarded to HubSpot's no-cost CRM. Once they are in your CRM, you can manage and cultivate connections with your contacts more effectively by setting reminder tasks, calling them, and sending them targeted one-to-one emails. Although it is free, it is still one of the best online quiz makers.
2. iSpring Free
iSpring Free is an online quiz maker that is entirely free of charge for creating interactive HTML5 and SCORM quizzes and surveys that can be published on your website or LMS. This no-cost quiz generator utilizes the incredibly recognizable interface of PowerPoint as an add-in.
With iSpring Free, anyone, regardless of coding or technological proficiency, can easily create tests and surveys. You may create tests and surveys with iSpring Free by using question templates for multiple-choice, multiple-response, and short answers. To make quizzes more engaging for learners, you can include graphics, audio, and videos.
You can also decide how many times a student can take your test again and how many points are awarded for each correct answer. For instance, you may award more points for difficult questions and fewer for easy ones.
3. Google Forms
Within G Suite, there is a free and simple form tool called Google Forms. Although the UI isn't extremely flexible and the functionality is on the basic side, you can still create nice forms and quizzes to collect client information. You can directly import data into Google Sheets for analysis since Google Forms is a component of G Suite. Its popularity makes it one of the best online quiz makers.
4. Jotform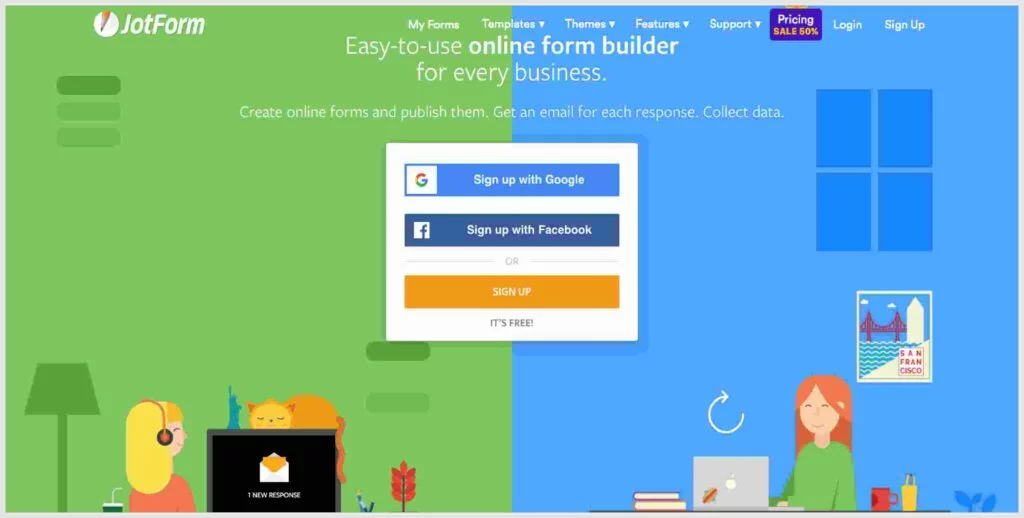 With the help of the free online form builder Jotform, you can create interactive, professional-looking forms in a matter of minutes without any coding knowledge.
You may create forms for quizzes and tests using Jotform, which is one of its interesting features. You can construct multiple-choice style forms with the Quiz Form tool on Jotform, which are ideal for website quizzes for a variety of uses, including online courses, lead generation, and more. The quiz scores can be emailed, compared in the app, or displayed to the user after completion.
The best thing about Jotform is that it creates quizzes and tests easily by using form templates it is one of the best free online quiz makers and it doesn't involve any coding.
5. Interact
The free plan that Interact offers is particularly beneficial for educators and trainers on a tight budget. With the paid subscription service, Interact allows users to collect emails while also allowing for the free creation of quizzes.
As a marketing technique, the paid subscription plans are used to gather email addresses from quiz participants. The style and feel of quizzes can be changed, and Interact Certified Consultants can be hired to assist in quiz creation.
There are no limits on the number of quizzes or quiz takers under the free plan. That is why it is one of the best online quiz makers. If a teacher doesn't need to collect the quiz takers' email addresses, this simple free service is fantastic.
There is a 14-day free trial available for all levels of this quiz maker's commercial subscriptions. The premium subscription plans charge monthly or provide a discount for yearly payments. Lite, Growth, and Pro are the three premium subscription tiers.
Up to 60,000 email addresses may be gathered annually with the Lite plan ($39/month or $324/year). Following the Growth strategy, 120,000 email addresses may be gathered annually. The Pro package permits the annual collection of an infinite number of email addresses.
6. Playbuzz
Playbuzz is a wonderful choice for people who want to jump in and try their hand at developing quizzes without the upfront expense, despite being full of tacky-looking adverts. Test it out, and if you like it, switch to a premium quiz creator with more options and a cleaner, ad-free interface.
The gadget is a wonderful choice for beginners because it is quick and simple to use. Furthermore, it's simple to publish your polished quizzes on social media once you're done. That's why it is one of the best online quiz makers.
Conclusion
The benefits of online quiz makers surpass their downsides. They make setting quizzes and exams so seamless as they do everything for you and even more.
We hope our list of the best online quiz makers was very helpful and has helped your search. Kindly let us know what you think.
If you liked this article, then please subscribe to our YouTube Channel for videos. You can also find us on Twitter and Facebook
Reference
myelearningworld.com
www.thinkific.com
blog.hubspot.com