There are many networks and best platforms to sell digital products; choosing the right one for your business may be daunting. There is something for everyone, whether digital downloads, online courses, coaching, or subscriptions.
There is no end to the number of marketplaces that are optimal for selling digital downloads. For merchants and providers of digitally downloaded items, many eCommerce platforms are accessible. Starting an online company is more straightforward with the appropriate tools to sell your items whatever you want, and selling digital downloads in the correct marketplace allows you to increase your income flow.
So it is important to consider the question, where to sell digital products? what free platform to sell digital products are there? what are the best digital products to sell online? what are some digital products ideas and their pricing key features?
What Exactly Is a Digital Product?
Digital products are intangible resources or materials that may be supplied online without requiring physical inventories to be sourced or managed. These items are distributed in downloadable or streamable formats, including PDFs, MP3s, movies, software, and templates.
The Benefits of Digital Product Sales
Save Time: In selling digital items, you eliminate inventory sourcing and management requirements. Additionally, you avoid dealing with shipping and logistics.
Save money: Acquiring, storing, and delivering physical things is expensive, as is inventory management. You can eliminate these costs with digital items.
Scalable: Digital items can be scaled indefinitely. There is little difference between supplying ten units daily and ten thousand units daily. (However, when your business grows, you'll need to hire extra customer service representatives and modernize your website to accommodate the increased traffic.)
Profit margins are high: Because digital items do not require the acquisition and management of physical inventories, profit margins on digital products are relatively high.
Automation Potential: Automating digital product distribution is quite simple, allowing you to focus on building your business.
How can I sell my digital products?
1. Brainstorm and Conduct Research
Avoid overthinking or being overly critical of your ideas – you can always turn a 'poor' concept into a good one. And keep in mind that you do not need to be an expert in producing a digital product; all you need is to provide value in some form.
2. Identify a challenging problem that can be resolved
Once you've compiled a lengthy list of potential ideas, it's time to shift gears and begin assessing them. Consider the issue that each proposal solves carefully during this process.
3. Confirm Your Concept
You do not want to invest your time and energy in generating digital items that do not sell. Thus, before developing your first digital product, it is advisable to validate your concept.
4. Create a Digital Product for Online Sale
After validating a viable concept, it's time to construct your digital product. You'll need to pick a format if you haven't already. If feasible, start with a simple structure; you can always upgrade your digital items as you gain a better understanding of your customers' wants and preferences.
BEST PLATFORMS TO SELL DIGITAL PRODUCTS
To determine which platform is ideal for you, compare each site's primary features and price options; this will help you pick the best platform to sell digital products.
A few of those features are personalization, ease of use for creating easy digital downloads, and the ability to boost income through order spikes or upsells. The following are the best effective venues for digital goods sales: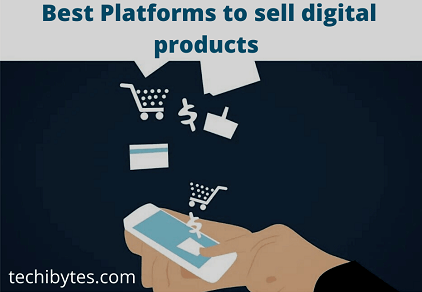 1. Shopify
Shopify is best recognized as an ecommerce platform in its entirety. Shopify, arguably the most popular ecommerce platform globally, enables you to sell any goods. The corporation is home to over a million enterprises worldwide.
With Shopify, you can tailor your business experience to your brand's specific demands, thanks to various customizable designs and a slew of marketing options. Additionally, you may take advantage of the free trial to learn how the service operates before signing up. Besides making it simple to sell real things globally, Shopify also helps digital vendors.
Shopify has you equipped whether you're selling memberships to a membership site for professional learning or want to offer digital downloads such as website templates, art, or something else entirely. This incredible product is backed up with some of the most remarkable customer support on the market, as well as a network you can rely on to provide aid when you need it.
Shopify offers a 14-day free trial, after which you may subscribe to Basic Shopify for $29 per month. Additionally, $79 and $299 packages are available for more sophisticated functionality.
2. Sellfy
Sellfy is a popular and cost-effective platform for selling digital items online, as well as material things. Sellfy streamlines ecommerce by supporting over 60,000 producers worldwide.
Sellfy will assist you whether you're selling personalized shirts and clothes, music, or digital downloads. Most significantly, the solution has an incorporated visual builder that enables you to rapidly get your store up and operating with minimal coding skills.
Sellfy aids you in selling in a variety of contexts, with webpages that are instantly adapted for mobile devices, a selection of languages, and several payment options. Here, you'll find everything you need to do rapid conversions.
Pricing: A 14-day free trial is included, followed by monthly subscriptions beginning at $19. (billed bi-annually). If your annual revenue exceeds $200k, you must contact the team for a tailored quotation.
3. Podia
Podia is a website established exclusively to sell digital goods online. From online classes to digital memberships, Podia enables you to share your skills, material, and other services with the world.
Podia's strength is that it tries to replace a variety of different goods in your marketing framework, including email marketing and communication tools, as well as your service for creating an online shop.
With Podia, you can completely design your shop and sales pages, making it easy to establish a solid online presence. Your price package includes unlimited hosting, as well as support for up to 11 languages and 22 currencies; This means that you may sell wherever you like.
Marketing is simple with connections such as Google Analytics and Facebook Pixel. Additionally, you may use photographs, videos, and testimonials in your ads.
Pricing: Begin your Podia journey with a 14-day free trial. Following that, the price begins at $39 per month for the "Mover" package and $79 per month for the "Shaker" plan.
4. BigCommerce
BigCommerce is undoubtedly one of the most popular ecommerce systems available today, and its strong search engine makes it ideal for larger retail businesses. However, smaller companies and online merchants may profit from BigCommerce as well.
The beautiful thing about BigCommerce is that it consolidates all of the tools you need to operate a successful business in one location. You do not need to incorporate a plethora of different devices into your regular workflow. Rather than that, BigCommerce has more functionality than any other top platform; this also eliminates the requirement for plugins and integrations.
Additionally, BigCommerce enables you to track the money generated by your digital sales with real-time analytics and reporting. In this manner, you can determine which of your goods generate the most cash for your business.
BigCommerce offers a free version to get you started. Following that, the entry-level plan begins at $29.95. However, additional packages are required for features such as professional reporting, abandoned cart saves, and bespoke SSLs.
5. Thinkific
Thinkific is yet another ecommerce platform that places a premium on the financial benefits of online instruction. With Thinkific, you can use your brand to build a formidable enterprise for online education and explore the benefits of knowledge sharing.
Over 40,000-course developers and 30 million students already use Thinkific to share their skills online. If you're seeking a service that enables you to sell eBooks online, many more straightforward options are available. However, if you're looking for one of the most robust course-building tools available, Thinkific is your best bet.
While Thinkific is not the lowest platform for selling online courses available today, it is one of the most complete. If you're looking for a customizable teaching experience that will help you market as well as sell your courses, Thinkific may be precisely what you need.
You would be particularly taken with the drag-and-drop editor, which enables you to customize every course component, from the quizzes used to educate consumers to the text style. Additionally, you may incorporate your own Google Docs into the mixture.
Pricing: Your first course is entirely free, and there is a 30-day money-back guarantee. To access advanced features, you must subscribe to the Basic plan, which costs $49 per month, or the Pro package, which costs $99 per month. There are no transaction costs.
6. PayHip
PayHip is a global e-commerce platform with over 130,000 merchants. You may sell various digital items through the platform, from ebooks and subscriptions to software and music.
Although client store sites are somewhat limited in personalization, they share a strong resemblance to the Pinterest layout. However, whether you maintain a blog, website or want to sell directly through social media, PayHip makes it exceedingly simple to integrate the checkout and shopping cart. Even better, these functionalities may be customized to match your business.
Additionally, the checkout is responsive, allowing customers to make orders regardless of the operating system they're using. If you want to sell membership or subscription services, each member will have their account. Additionally, you may provide free samples of your services.
Each transaction is paid promptly, and customers may pick from a range of payment options, including PayPal or Stripe, as well as their credit card (Visa/MasterCard/American Express, etc.). Additionally, you may accept payments in a variety of currencies.
Pricing: Each plan includes limitless items and all features; the only variation is the transaction cost. The transaction fee on the Free Forever plan is 5%; this fee is lessened to 2% on the Plus plan. The Pro plan includes no transaction fees, and PayPal/Stripe fees remain applicable.
7. SendOwl
Unlike Sellfy, which enables the sale of physical and digital things, SendOwl focuses exclusively on virtual material. SendOwl was built with simplicity in mind, so whether you're a newbie starting in the virtual environment, SendOwl will assist you in achieving your goals with ease.
One of the most distinguishing aspects of SendOwl is its ability to integrate with any site. If you already have a Shopify or WordPress website, you may incorporate the service and start offering digital items without starting from scratch.
SendOwl enables you to sell digital items to consumers in various ways, including through email signatures and social network postings. There are several payment methods available and a variety of language possibilities. SendOwl's file management is also good, making it a top choice for content limitations and memberships.
SendOwl's base plan is $15 per month, but you can switch to Premium for $24 per month or business for $39 per month. There is also a $9 monthly "basics" option, and everything starts with a free trial period of 30 days.
8. Gumroad
Gumroad is a software platform dedicated to empowering creators, ranging from artists and authors to educators and podcasters. Gumroad makes it easier to earn money for creating and selling what you love, whether it's books and comics or music.
Gumroad is entirely free to use, which is an excellent plus, and you may accept a variety of payment methods. However, it's worth mentioning that most payments have an additional fee. The program includes everything from an affiliate center to assist you in increasing your online conversions to an incredibly simple-to-use interface for video streaming and gated content.
Gumroad is a one-stop shop for artists, authors, and other creative people to sell directly to customers online. Online, you may sell license keys, pre-orders, and various other items. Additionally, there is a no-cost alternative.
Pricing: Free to begin with, with costs for each online transaction. If you want advanced features, you'll pay $10 / month plus a transaction fee of 3.5 percent and 30 cents.
9. Teachable
Teachable is among the most common and accessible ecommerce systems for selling online courses. This uncomplicated platform features a clean and intuitive layout that makes it simple for your learners to go from one class to another.
Teachable excels at video content delivery and offers a variety of valuable options for selling courses, including customizable checkout and thank-you sites.
Teachable is particularly handy since it enables you to track your whole customer experience; the service integrates with everything from Google Analytics to MailChimp to help you determine how students learn about you and what motivates them to convert. You receive a personalized domain and extensive navigation options, among other things.
Teachable's pricing begins at $39 per month; however, you may pay as little as $29 per month if you pick yearly payment options. Additionally, you incur a 5% transaction charge on the lowest tier, but these fees are waived when you upgrade.
FAQ
What platform is the most effective for digital goods sales?
It all relies on the requirements of your web business. However, if you don't already have a website, you'll want to discover an all-in-one platform with little to no transaction costs and readily available templates to help you get started.
Where can I sell my ebooks and other digital products?
The optimal location to sell digital items is on your website since you will have greater control over your SEO and will retain 100% of your income. However, if you are new to ecommerce, it is recommended that you subscribe to an ecommerce platform so that you are not responsible for backend operations.
What is the most effective method of selling digital products?
You may attempt lead generation; if you're successful in generating leads for your organization, you can reach out to them using social media or email marketing. Additionally, you might look for an ecommerce platform that includes a built-in marketplace.
Are digital items available for sale on Facebook Marketplace?
There do not appear to be any limits on selling digital items on Facebook Marketplace; nevertheless, services such as house cleaning aren't permitted.
What digital items are available for sale online?
1. Digital educational items
2. Tools and templates for the digital age
3. Digital items with a license
4. Memberships
CONCLUSION
There is no better moment than the present to begin selling digital items. According to the latest statistics, ecommerce is expanding right now, and this rise is expected to continue. There are several excellent tools available; the key to selecting the appropriate software is to ensure that you understand your platform's requirements.
Some solutions function entirely on transaction fees – these might be beneficial if you're just getting started.