In today's technologically advanced world, the use of computerized accounting is growing quickly. Few individuals are aware that accounting software has the power to completely alter how an organization manages its accounts.
In this post, we'll be taking a look at the 20 best accounting software for small businesses. This post will be very informative so try to read it to the end.
Table of Contents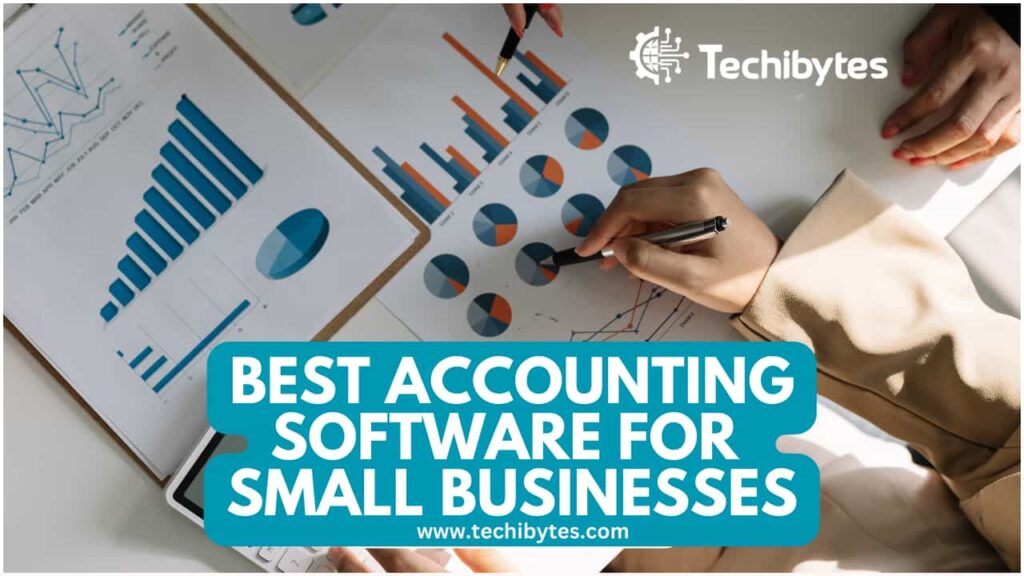 What Is Accounting Software
Computer programs called accounting software assist companies in keeping track of their revenues and costs. Moreover, reports like balance sheets and profit and loss statements can be produced using the software.
The majority of accounting software packages have tools for managing inventories, tracking payments and receivables, and issuing invoices.
Transactions will show up in a queue once a business's bank accounts and credit cards are synchronized with the accounting software and may then be categorized into the categories located on the chart of accounts for the company. Transactions start to appear in the financial statements of the company once the appropriate category has been chosen.
Benefits Of Accounting Software
Saves Time

By enabling users to link their business bank accounts and credit cards with the accounting software, less time is spent on data entry. Transactions will go into the accounting software after being synchronized, where they can be classified into different accounts.

To analyze profitability, compare revenue and costs, verify bank and loan balances, and forecast tax liabilities, business leaders can quickly run a financial report.

Integration With Other Software

Integrations with third-party applications are possible with many accounting programs. As an illustration, if a company owner employs a point of sale (POS) system to record sales transactions, the POS system might link with the accounting software to record particular transactions, sales tax obligations, sales by subcategories, and more.

A time-tracking program could interact with the accounting software in a service-based organization to add labor to customer invoices.

Error reduction

Accounting software can aid in error reduction by automating repetitive activities and offering real-time information.

It's inexpensive

Accounting software costs a lot less than hiring an accountant. That is why many people use them

Maintains organization

Accounting software can assist you in centralizing your financial transactions and data.

Tax preparation and reporting

Tax preparation and reporting are only two examples of the services that many accounting software systems provide to assist firms with compliance.

Access at any time, anywhere

You can access your account at any time, from anywhere, using cloud-based accounting software.
Great Features Of The Best Accounting Software
Typically, accounting software provides several functionalities, such as:
1. Accounting
These features include making and managing invoices, keeping track of costs and income, and compiling financial statements.
These contain tools for setting up and managing project budgets, distributing tasks to team members and keeping tabs on project development.
3. Billing and invoicing
By using this system, you may organize client data, track payments, and issue bills more quickly.
4. Reporting
This includes features such as generating financial reports, tracking business performance, and creating custom reports.
5. Customer relationship management (CRM)
This comprises functions including managing customer interactions, keeping track of sales prospects, and tracking customer contact information.
6. Inventory And Management
Inventory management functions include monitoring stock levels, calculating the cost of goods sold, and generating purchase orders.
7. Payroll
While not all accounting software can handle payroll, some of them do provide services like recording employee hours, figuring out payroll taxes, and handling paychecks.
Disadvantages Of Accounting Software Over A Human Accountant
Even the best accounting software have some disadvantages. Some of these disadvantages include:
1. Loss of Service or Data
Operations may be hampered by any service interruption brought on by a computer or power failure impacting a company that uses accounting software.
Work interruptions may restrict access to previously saved data as well as fresh data entry. If the data is not sufficiently backed up before a computer malfunctions, financial data could also be lost.
2. Fraud
If the right controls and security measures are not in place, information that has been saved electronically can be accessed, altered, and abused.
To ensure that only authorized users use the accounting software and have access to reports, certain powers must be in place. Financial data can be sensitive and confidential, which raises the danger of fraud while using accounting software.
3. Unreliable Information
Data from an accounting system is only as trustworthy as the data entered into it. Even if all input data is verified, since most accounting systems need manual data entry, financial figures could still be inaccurate.
If there is a tendency to assess the output or final reports of an accounting system, it could be difficult to spot erroneous information.
20 Best Accounting Software For Small Business
The 20 best accounting software for small businesses include:
1. QuickBooks Online
QuickBooks Online from Intuit has been one of the most common and best accounting software used by small businesses and their bookkeeping and tax specialists. The program is cloud-based and may be accessed using a web browser or a mobile app.
QuickBooks Online is not only used by the majority of small business accounting specialists but there are also countless online training materials and forums where you can obtain support when you need it.
One central dashboard provides easy access to all accounting features, facilitating more fluid and effective bookkeeping.
Simple Start at $25 per month, Essentials at $50 per month, Plus at $80 per month, and Advanced at $180 per month, are the four monthly membership plan options after the 30-day free trial. For the first several months, a sizable discount is frequently provided.
2. Zoho Books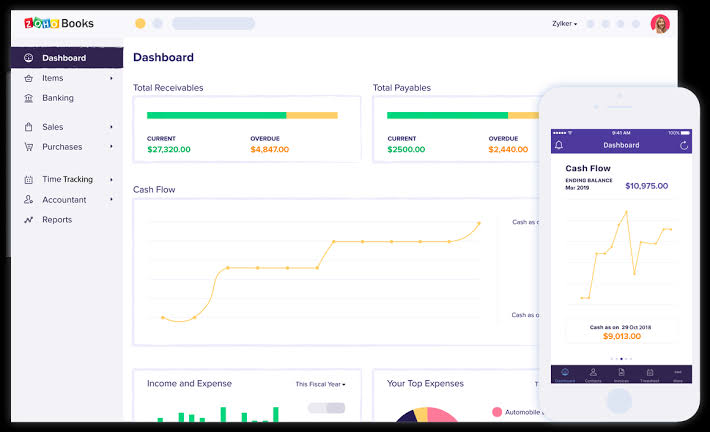 Zoho Books is a smart online accounting tool that will automate corporate workflows, streamline back-office operations, and enable safe online collaboration with your accountant. It is one of the best accounting software.
You may manage your cash flow by using the online accounting tool Zoho Books. Your sales and expenses can be tracked, and you can produce important financial reports including a profit and loss, balance sheet, and cash flow statement.
You can work together with coworkers, accountants, and clients with Zoho Books. Businesses can communicate their estimates, invoices, and customer statements with their customers directly using the Client Portal in Zoho Books.
Zoho Books can be used for free and users can pay for Standard at $10.4 per Month, Professional at $20.82 per Month, Premium at $41.65 per Month, Elite at $69.43 per Month, and Ultimate at $111.1 per Month all Billed Annually.
3. NetSuite ERP
To help you expand your business, NetSuite ERP, one of the best accounting software, combines eCommerce, sales, and marketing with general ledger and other financial tools.
The sales tool comes with a contact manager that enables you to watch your sales pipeline, manage leads, automate conversations, create quotes, and sync calendars with your teams for better cooperation.
Order administration, order processing, and order fulfillment are all integrated via the eCommerce component. Your goods are taken care of by an inventory management tool, and a shipping module offers you the freedom to add features as your needs change.
KPIs are accessible through the dashboard's strong aesthetic. All of it is reachable using any mobile device.
There is a robust reporting tool, a tool that allows you to export or import records as necessary, and a file organizer that makes it simple to collaborate on any assignment. You can view everything at a glance thanks to the user-friendly dashboard.
Even novice users will find it simple to use, allowing you and your staff to focus on your company rather than the program.
NetSuite ERP doesn't have a free plan and you'll have to contact them for how much you'll pay.
4. Xero
Almost 3 million people worldwide use Xero. In Australia, the UK, and New Zealand, this is one of the best accounting software. Almost 4,000 people work for Xero, and the company is expanding quickly here as well.
This software fully interacts with a third-party payroll service and offers a simple user interface. Companies can take payment online from clients with Xero's connection with Stripe and GoCardless.
With a full-service payroll add-on, Xero provides three monthly membership plans: Early for $12 per month, Growing for $34 per month, and Established for $65 per month.
The full-service payroll option is offered through Gusto and is an extra $39 per month, plus $6 per employee. The business provides a 30-day risk-free trial.
5. MarginEdge
MarginEdge delivers a set of features made especially for food service enterprises, making it the best accounting software for restaurants.
You can track your margins in real-time and instantly import sales data thanks to its integration with well-known point-of-sale (POS) systems. The software also creates thorough reports on food consumption, which can assist you in minimizing waste and boosting profitability.
You must pay MarginEdge $330 per month, per location, to use all of its services. Although there is no free trial available, you can still try the product out.
6. Melio
Melio is an online business-to-business payment solution. All sizes of organizations can use it to pay and be paid in the manner of their choice, whether that be via ACH, check, or credit card.
While Melio does not require a subscription or monthly fees, some transactions do incur a minor fee. Melio is the best accounting software for Businesses Searching for a free way to pay their business bills.
Cash flow is crucial for businesses, which is why Melio enables them to defer payments, receive rewards, and retain cash by allowing them to pay their invoices using a credit card. Also, since payments are synchronized to QuickBooks Online, clients can continue to work with their bookkeeper or accountant.
7. FreshBooks
FreshBooks began as a simple invoicing program and has grown to become one of the best accounting software. FreshBooks today has over 30 million users and has added more features over time. There are four distinct programs, and companies can save 10% by paying annually as opposed to monthly.
FreshBooks provides more invoicing customizations than comparable accounting software. Although sending, receiving, printing, and paying invoices is its main purpose, it can also take care of a business's essential bookkeeping requirements.
Sending bids, keeping track of project time, and receiving payments are all made simpler for service-based firms thanks to this accounting software.
FreshBooks frequently provide discounts for the first several months of membership. The four versions are Lite ($17 monthly or $183.60 annually), Plus ($30 monthly or $324 annually), Premium ($55 monthly or $594 annually), and Select, a special service with special pricing.
8. Paychex
The payroll processing and payroll tax filing procedures for small firms can be made simpler with the aid of Paychex, one of the best accounting software. It is an online HR and payroll solution.
Its most basic subscription option, Paychex Flex Essentials, is specifically designed for enterprises with one to 19 employees.
Its cloud-based software comes with Paychex Flex technology, which is exclusive to it and provides a full range of capabilities for managing and simplifying payroll procedures from a desktop or mobile app.
Online payroll processing, tax payment and payroll tax management, and tax credit services are some of their features. Businesses have a variety of alternatives with Paychex for paying their staff.
Direct deposit, checks, and electronic deposit to prepaid payment cards are some of the available payment methods.
9. Pabbly
For small to medium-sized organizations, Pabbly is the best accounting software for managing subscriptions and recurring payments. Real-time actionable analytics on your monthly payments, revenue, net revenue, active clients, and new subscriptions are provided by this software.
Additionally, it automates all of your business procedures, customer interactions, and invoice generation so you can concentrate on expanding your company.
For companies looking for a dependable fixed pricing model, Pabbly is the best accounting software. Starting at $9 per month, the cost
The subscription billing mechanism used by Pabbly is one of its main selling factors. It is one of just a few programs on this list that does not impose additional fees based on the number of transactions and the amount of monthly money generated. Pabbly is a good choice because of its reliability and top-notch performance.
10. Wave
This free program includes all of the essential accounting tools required by the majority of small businesses, including income and cost management, financial reporting, invoicing, and receipt scanning.
You can access these features online or through the mobile app. Payroll and customer payment processing are premium services that have an additional cost; nonetheless, all bookkeeping, invoicing, and reporting functions are offered without charge.
For a service-based small firm that only has to send straightforward invoices and doesn't need to handle payroll, Wave is the best accounting software platform. Accountants can get the Wave reports they require at year's end to create a company's tax return.
The payment gateway is how Wave generates revenue. Wave charges 2.9% plus 60 cents per transaction for Visa, Mastercard, and Discover and 3.4% plus 60 cents per transaction for American Express to process a customer's payment.
11. Neat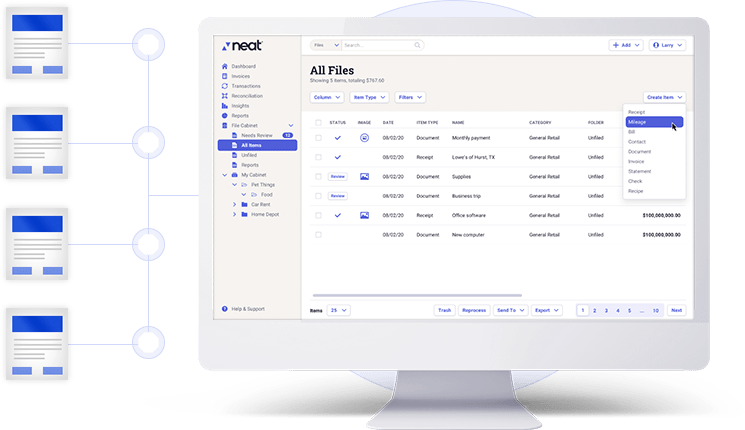 Neat is the best accounting software for independent business owners because it's so simple to use. You may filter transactions, quickly match receipts with expenses, personalize invoices, make payments, and analyze business trends and insights.
Also, obtaining guided workflows, automatic accounting reports, and setup takes five minutes.
Neat costs $200 a year to use. It costs an extra $50 a year for VIP Service, which includes individualized training, a committed support team, and early access to new features.
You can import your bank transactions, get accounting reports, get real-time insights, connect receipts with invoices, and access real-time insights for an additional $150 per year with Automatic Insights.
12. AccountEdge Pro
AccountEdge Pro offers desktop users customizable double-entry accounting features, such as time billing, reporting, and inventory. It is one of the best accounting software for businesses.
A one-time charge can also be paid for the program, which could end up saving you a lot of money in the long run by avoiding subscription fees.
AccountEdge might be the solution you've been looking for if the absence of a mobile alternative isn't a deal-breaker for you.
It has a cloud-collaboration option that you may buy that provides you mobility. Costs begin with a one-time payment of $149.
13. Rossum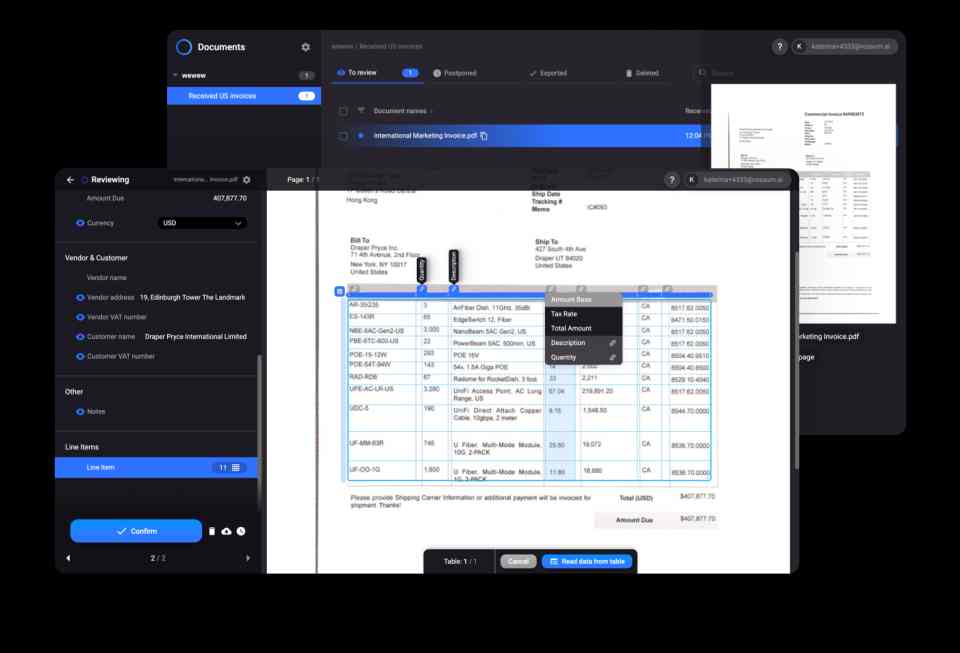 Rossum is a sophisticated software account payable solution that includes a centralized platform for document management. By removing 90% of manual operations, an AI-powered technology advances the automation of accounts payable.
By integrating its proprietary computer vision technology, which analyzes and captures all types of invoices with top-notch speed and accuracy, Rossum eliminates the need for manual invoice data entry.
Because Rossum's AI engine is self-learning, it can adjust to changes in requirements and corrections made to the way invoices and other documents are processed making it one of the best accounting software for small businesses.
Requests for Rossum price will be honored. You can contact the seller by phone, email, or social media, or you can submit a question through their website.
14. QuickBooks Self-Employed
QuickBooks Self-Employed has a mobile app and a cloud-based internet interface. This app was developed to assist freelancers in maintaining their organization throughout tax season.
Tracking mileage, classifying spending, organizing receipts, and automatically estimating and submitting taxes through TurboTax are some of the features of QuickBooks Self-Employed.
For independent contractors and part-time freelancers who want to primarily track their income and expenses for their tax returns, this is one of the best accounting software. It automatically adds up all business transactions for business owners who include a Schedule C on their tax returns.
Three plan options are available to users: Self-Employed ($15/month), Self-Employed Tax Bundle ($25/month), and Self-Employed Live Tax Bundle ($35/month). The first three months are discounted by 50%.
15. Sage Business Cloud Accounting
Micro-businesses can consider Sage Business Cloud Accounting since it provides a wide range of features and integrations while yet being reasonably priced. It is one of the best accounting software for small businesses.
The software's fundamental capabilities, like invoice preparation, automatic bank reconciliation, and the ability to keep track of what is owed, are included with the $10 per month Sage Accounting Start plan.
Its Sage Accounting plan generally costs $25 per month, but the first six months are discounted by 70%, bringing the price down to $7.50. This offers free use for the first three months, unlimited users, quotes, estimations, cash flow projections, management of purchase invoices, and automatic receipt posting.
16. Tipalti
The cloud-based payment automation and administration tool Tipalti is renowned for assisting companies in precisely meeting deadlines. The software aids in resolving issues including non-compliance, tardy payments, administrative overload, and difficulties brought on by human mistakes.
One of the major issues facing accounting teams is resolved by a large reduction in the amount of time spent on financial management.
For firms that must meet deadlines, Tipalti is the best accounting software. It can assist you in keeping track of and consistently achieving time-bound payment objectives. The initiative seeks to address late payments, non-compliance, and administrative overload. Price is offered Upon Request.
17. AvidXchange
One of the best accounting software called AvidXchange is intended to help B2B enterprises manage their accounts payable and bill payments.
You may essentially do away with paper invoices by using this. Also, by automating lengthy payment processes that would otherwise be necessary, you can save time. Payment plans are usually made available on request.
18. Kashoo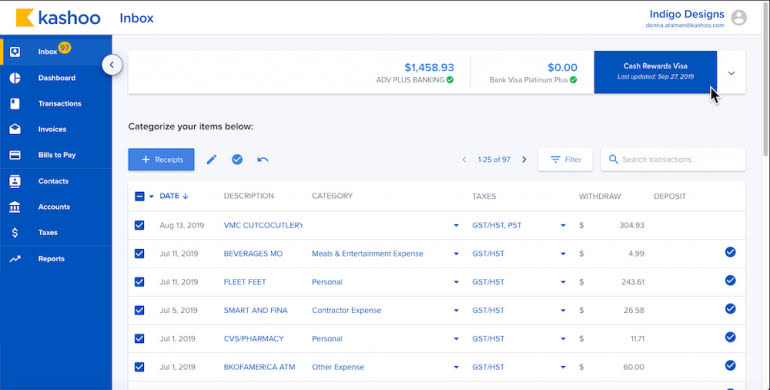 Because it offers a range of plans to grow your business, including a free plan, Kashoo is one of the best accounting software for small businesses. The invoicing plan is perfect for sending invoices, receiving payments, and keeping track of payments.
If your company requires double-entry accounting software, Kashoo's sophisticated accounting plan, which has received accountant approval, offers thorough reporting and customization options.
Its accounting plan costs $20 a month, while its invoices plan is free. The monthly cost of Kashoo's advanced accounting plan is $30. You'll need its top-tiered plan for payroll. Any of Kashoo's paid plans come with a free 14-day trial.
19. Plooto
For accountants and bookkeepers, Plooto is one of the best accounting software for payment processing systems that offers end-to-end AP/AR automation. This tool excels at managing all aspects of your cash flow. Thanks to clever approvals, it makes sure that every bill is paid appropriately and promptly.
It enables you to designate approval tiers based on the bill amount and give your trusted lieutenants permission roles. Because of the audit trail and record-keeping capabilities, it accomplishes all of this without giving up control of the cash flow.
Although Plooto offers a Free Trial, consumers may choose to pay for the Grow Plan ($32) or the Grow Unlimited Plan ($59).
20. OneUp
OneUp is a double-entry bookkeeping program. To ensure that your books are completed fast and precisely, it synchronizes with your bank, categorizes bank data, and validates proposed entries.
Taken all, those components automate your accounting to a degree of about 95%. It is one of the best accounting software for small businesses.
OneUp's inventory management features may be its strongest point of differentiation. The program notifies you when to place another order and automatically modifies your inventory levels as needed.
The software's other capabilities are good, too, so check out OneUp if you're primarily looking for a top-notch inventory management program. Pricing begins at $9 per month
Conclusion
The benefits of accounting software have made a lot of small businesses rely on them, hence the need for the best accounting software.
We hope our list of the 20 best accounting software was helpful. Kindly let us know what you think.
If you liked this article, then please subscribe to our YouTube Channel for videos. You can also find us on Twitter and Facebook
Reference
https://blog.hubspot.com
https://www.forbes.com
https://www.softwaresuggest.com
https://financesonline.com