Are you seeking project management solutions that will allow you to efficiently manage your projects and team members? If you answered "yes" to the above question, you have arrived at the correct location.
Adopting and applying new approaches, technologies, and tools is no longer optional if you wish to improve your status in the present environment. We have selected the top 10 project management tools for your benefit. Before we examine them, let's examine why their use is necessary in the first place.
Table of Contents
What are project management tools?
The purpose of project management tools is to help the individual or team successfully manage and coordinate their projects and activities. PM tools often refer to project management software and online project management tools that may be purchased or used for free.
Numerous sorts of projects, ranging from software development to the creation of the next generation of fighter aircraft, utilize project management. To properly execute a project, the project manager or project management team needs to have access to a set of tools.
These tools may be purpose-built or standard productivity tools that may be used for project management tasks. Typically, the usage of these technologies simplifies and standardizes the project manager's job and routine.
The following are a few of the tools utilized by project managers across all industries:
1. Project Plan
All initiatives that need a project manager must have a project plan. The project plan describes several facets of the accomplished project. Initially, it describes the project's scope. The technique or strategy employed to handle the project's scope and objectives is then described.
The project plan is built around the strategy. The strategy may change based on the project's objective and unique requirements. The resource allocation and delivery timetable are two other essential project plan components.
These describe each project activity in detail, including details such as who conducts them and when. This is essential information for both the project manager and all other project stakeholders.
2. Milestone Checklist
This is one of the greatest tools a project manager may use to assess whether the project is progressing as planned. The project manager is not required to utilize costly software to monitor this.
The project manager can complete this task using a simple Excel template. The checklist for milestones should be a living document that is updated once or twice each week.
3. Gantt Chart
The Gantt chart depicts the project timeline and demonstrates to the project management the interdependencies between each operation. Gantt charts are universally employed for all project types, from construction to software development.
Although creating a Gantt chart appears to be a simple operation, it is one of the most difficult when a project has hundreds of activities. There are several methods for creating a Gantt chart. If the project is short and straightforward, you may make your own Gantt chart in Excel or obtain one from the web.
If the task has a high financial value or a high-risk exposure, the project manager can utilize MS Project and other software solutions.
4. Project Management Applications
With the advent of computer technology, a variety of software programs have been developed expressly for project management. MS Project is one of these tools that has earned the hearts of project managers worldwide.
MS Project may be used as a standalone application to track project progress, or it can be used to track big, geographically dispersed projects handled by several project managers.
There are numerous alternative project management software solutions than Microsoft Project. The majority of these new elements are online portals for project management operations, via which project members can view project data and progress from any location.
5. Project Evaluation
A thorough project review process is a valuable project management tool. Smaller corporations often conduct rudimentary project evaluations, as contrasted to those conducted by larger companies.
Principally examined in project reviews are the project's progress and adherence to process standards. Third-party program audits, whether internally or externally, are frequently included in project evaluations. The non-compliances and action items are then monitored to ensure their completion.
6. Delivery Evaluations
The purpose of delivery reviews is to ensure that the project team's deliverables satisfy client requirements and comply with quality standards.
Typically, a third-party team or (internal) supervisors conduct the delivery review, and the primary stakeholders of the project delivery to attend to. The evaluation of the delivery may decide to reject the shipment owing to quality requirements and noncompliances.
7. Score Sheets
A scorecard is a method for monitoring the performance of the project team. Every project manager is responsible for assessing team member performance and reporting it to top management and human resources.
This information is then utilized for marketing and human resource development. A detailed scorecard and performance evaluation helps position the team member appropriately.
Characteristics of project management tool
Tools for project management may have the following features:
Planning/scheduling: Using tasks, subtasks, folders, templates, workflows, and calendars, project management (PM) systems allow you to plan and assign work in a single location.
Collaboration: Mail ought not to be your sole method of communication; using project management solutions, you can create a more efficient method of collaborating with your team: assign tasks, make comments, arrange dashboards, and verify or approve changes.
Documentation: Using file management capabilities that provide updating, versioning, and keeping of files, avoid lost or obsolete files.
Monitoring and evaluating productivity and growth through the allocation of resources and the production of reports.
Top 11 project management tools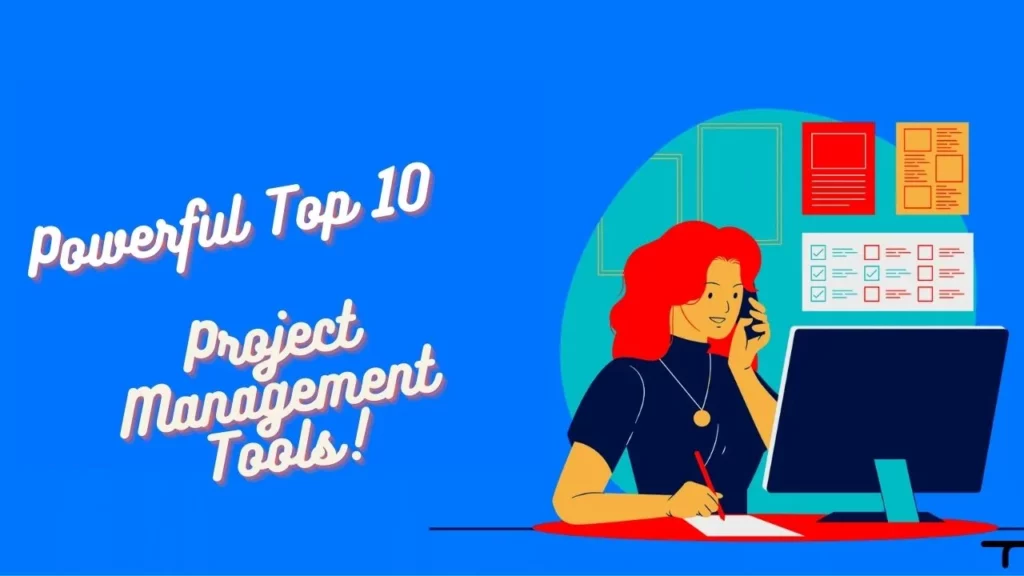 Occasionally tools are so similar that deciding between them boils down to free plans, price scalability, or user interface.
Teamly is a collaborative platform designed specifically for the remote work era, offering features that streamline team collaboration and increase efficiency.
With its real-time chat feature, team members can easily communicate with each other, regardless of their location, ensuring seamless collaboration and productivity. The user-friendly interface allows for quick and effective communication, keeping team members connected at all times.
The platform's workflow and task management features enable users to set goals, assign tasks, track progress, and generate reports in an organized manner. This helps teams stay on the same page and complete projects efficiently.
Screen capture video & audio recording allows teams to capture every aspect of a project, from conversations between team members to quick demos. This ensures nothing gets left out or forgotten, giving businesses a comprehensive overview of what went on behind the scenes, and helping them identify areas for improvement.
Check for: laptop screen recorder
Employee time tracking & monitoring helps managers keep track of employee productivity by providing detailed insights into how much time is spent on each task or project. This allows project managers to make informed decisions quickly, keeping everyone motivated and focused on their goals.
Teamly offers three options for users to choose from: a free version with limited features, Teamly Pro, and Teamly Business, offering a more comprehensive feature set. The pricing per user per month varies based on whether you opt for a monthly or yearly plan, ranging from $5-$9.
2. ClickUp
All of your team's projects may be managed and completed on a single platform with the project management software ClickUp. In a centralized workspace, users may plan projects, organize tasks, and manage resources, as well as communicate and collaborate with team members and visitors.
Task management capabilities include task checklists, subtasks, and task templates, as well as the capacity to filter, sort, search for, quickly rearrange, and see tasks in a manner that is most convenient for the team. To visualize tasks, users may also generate Gantt charts, calendars, and timelines.
ClickUp also offers tools for generating, sharing, and revising documents and Wikis collaboratively. Users can annotate documents and assignments, assign comments, and communicate with other team members to enhance team communication and cooperation. In addition to the option to design customized dashboards, there are six predefined report kinds for team reporting.
ClickUp offers native connectors with Slack, G Suite, Dropbox, and several more applications, in addition to over 1,000 integrations via Zapier. The ClickUp free plan is comprehensive and covers all essential features. The unlimited plan starts at $5 per user per month and includes extra features.
3. monday.com
Companies like Hulu, BBC Studios, Coca-Cola, L'Oréal Paris, Adobe, and Deezer utilize the award-winning project management platform monday.com across several sectors.
Monday.com includes resource and project management, time tracking, communication, and reporting services for managing projects. Users can, for instance, upload and attach files to cards, write comments, and name teammates.
It also provides an excellent project reporting dashboard that can aggregate data from several boards, allowing for enhanced progress monitoring. You may use monday.com to monitor hours, deadlines, and invoices, even though it does not provide a comprehensive set of capabilities for project accounting and invoicing as other programs do.
Overall, it is a highly configurable tool that allows you to work in whatever methodology—Kanban or otherwise—that is appropriate for your project and team. You will also find workflow automation solutions to automate portions of your operation. Read our comprehensive monday.com review for a comprehensive explanation of the tool, as well as a brief video demonstration of its fundamental functions.
Accessible through Zapier, monday.com's connections include project management software such as Slack, Google Drive, Gmail, Google Calendar, Jira, GitHub, Trello, Dropbox, and Typeform, among others. It costs between $6 per user each month and includes a free 14-day trial. A free plan is available for up to two people.
4. Smartsheet
A program that is similar in appearance to a spreadsheet is Smartsheet, which is used for managing various projects. It has earned several accolades for rapidly becoming a popular commercial application. If you are familiar with Excel but want a break from complex mathematics, Smartsheet is a great project management tool for you. It does all the computations over numerous sheets.
Individual projects can also include bespoke brand logos and color schemes. Smartsheet's project management capabilities include process automation and task visualization in Gantt, calendar, and card formats.
The platform delivers shared views, detail histories, activity logs, automatic notifications, reminders, and status reports to maintain team alignment and communication. The Critical Path feature emphasizes all activities that have a direct bearing on the project's completion schedule, allowing you to keep an eye on crucial milestones.
Reporting is a significant element of this program, including exportable, editable summary reports to Excel. Smartsheet's connectors include Microsoft and Google applications, as well as Jira and Salesforce, ServiceNow, Slack, Box, and Tableau, which are all helpful business applications. The platform may be extended using a REST API and webhooks.
Smartsheet starts at $7 per user per month, with a minimum of 3 users and a maximum of 25 users per account. They also provide a risk-free trial period of 30 days.
5. Hive
Companies like Starbucks, Uber, WeWork, and IBM use Hive, project communication and implementation platform. As the first community-built software in the world, Hive's product plan is completely based on client demands.
Hive simplifies your work with adaptable project views, dependencies, infinite projects, and dozens of connectors on a single platform. Hive is an excellent solution for a wide variety of businesses and work styles since it is used by teams ranging in size from 10 to 1,000 members.
The time-tracking, analytic, and view-customization features of Hive provide for a clear awareness of team members' work and impending projects. Hive's project management solution also features complete email connectivity, allowing users to send and receive Gmail and Outlook messages from within the application.
Choose Hive if you're looking for a well-designed, all-inclusive project management application that can be scaled up or down dependent on the demands of your team. Starting with a free subscription for 1-2 people, the Hive Teams plan costs $12 per user per month when invoiced annually.
6. Kintone
Kintone is a platform for customizable project tracking software utilized by teams at Volvo Trucks North America, Japan Airlines, Shiseido, and more than 23,000 other businesses. Their one-of-a-kind approach to project and task management allows you to create a vast array of customizable "apps" for data management, business processes, and workflows from scratch, using templates or using your current spreadsheets.
Kintone applications may be modified for project management, customer relationship management, customer databases, expenditure reporting, shared to-do lists, equipment management, and product feedback, among many other uses.
It enables the creation of no-code project tracking applications by dragging and dropping the following elements onto the page: rich text fields, date fields, drop-down menus, number fields with built-in calculations, spaces for attachments, user or group selection menus, associated data from other apps, and more.
Once you've created the app you desire, you and your team may utilize it to handle data and tasks more efficiently. And with personalized alerts and reminders as well as granular access settings, your project tracking system may seem and function exactly how you like.
The tools to filter and prioritize tasks by data field or team member to produce custom reports or dashboard views, as well as the ability to automate reminders and handoffs between group members for multi-step workflows, make Kintone particularly useful for project monitoring.
The built-in communication capabilities of Kintone also enable teams to discuss projects immediately within the app and in threads organized by subject or project. This includes task-tracking applications and searchable discussion threads.
Kintone allows you to extend its capabilities with both free native plugins developed by the Kintone team and paid Zapier plans or API integrations with other applications such as Slack, Gmail, Google Calendar, Outlook, Tableau, Dropbox, Salesforce, HubSpot, Eventbrite, WordPress, QuickBooks, and MailChimp, among others.
Kintone costs $24 per user each month, with a minimum of 5 users required. They provide a free 30-day trial (no credit card necessary) as well as discounts for NGOs and schools. In addition to offering a free custom app construction as part of the free trial, Kintone's team also offers a free custom app design.
7. Wrike
Wrike is an award-winning project management software that supports an infinite number of users, making it suited for teams of five or more. Users may modify processes, dashboards, reports, and request forms using this highly flexible tool.
Wrike's intuitive interface allows users to toggle between Kanban boards, interactive drag-and-drop Gantt charts, and classic workload views, allowing them to see their priorities in a manner of their choosing.
In addition to task lists, subtasks, schedules, shared workflows, file sharing, and real-time communication and collaboration, Wrike offers task lists, subtasks, schedules, shared workflows, and file sharing. With tools for performance reporting, resource management, and allocation, users may gain a deeper understanding of their projects.
It has a user-friendly layout and navigation with various areas, folders, and tasks. It is possible to navigate between the main screen and timesheets, dashboards, calendars, reports, and stream views (for notifications and messages). In addition, Wrike offers a dedicated support center with interactive training, videos, a "Getting Started" guide, and a lively community.
And also provides several customized solutions based on the kind of team or organization, such as marketing teams and professional service teams. Users can also experiment with some organizing process templates.
Wrike has more than 400 pre-built native connectors, including the most popular file management tools from Microsoft, Google, and Dropbox, in addition to sales and marketing software from Salesforce and Marketo.
Pricing begins at $9.80 per user per month. There are four distinct pricing tiers, including a free edition and premium plans that allow users to invite other collaborators for free.
8. Forecast.app
Forecast is an all-inclusive platform for resource and project management that is utilized in over 40 countries by agencies, software, and consulting firms. It includes tools to handle everything from quotes to invoices, as well as sophisticated automation to estimate project delivery dates, and capacity requirements, and increase productivity.
Their AI builds rules based on user data derived from hundreds of thousands of projects' accumulated learnings. The Auto-Schedule tool is excellent for project scheduling, estimating, and automatically assigning resources to tasks.
It has a drag-and-drop module that enables instantaneous changes to plans and resources. The program automatically generates a budget for every project with essential financial KPIs to track projected vs actual expenditures.
It also allows several invoicing kinds (fixed price, time, and materials) simultaneously and in real-time. Customizable, sophisticated, up-to-the-minute reports are available. The forecast also offered an innovative tool for managing retainer-based projects. A dashboard with retainer periods and totals allows you to monitor the finances of ongoing projects without losing sight of worker workloads and delivery time.
Forecast's connectors offer various plug-and-play integrations with popular project management software including a bidirectional sync with Jira. It also complements accounting systems such as Quickbooks and Xero with project management functionality. It costs between $31.76/per user/month (€27/user/month) for a minimum of 10 seats. They provide a free 14-day trial period.
9. GanttPro
GanttPRO is a Gantt chart-based project management software that is effective for managing a wide variety of projects and teams. It is distinguished by its user-friendly interface and robust functionality.
The program contains capabilities for efficiently subdividing projects into subtasks, sibling tasks, and subprojects, as well as establishing dependencies and milestones. Users may pick between the Gantt chart, Board views, and task dashboards to increase their visibility.
In addition to statuses, priorities, length & estimation, progress, dates & deadlines, assignees, and more, GanttPRO provides useful task management capabilities such as duration & estimation, progress, and more.
Using comments remarks, and attachments, teams may interact in real-time using the Gantt chart creator. Also included are resource management and workload functions for monitoring the workload and duties of team members. In addition, your projects may be integrated with Jira, Google Drive, Slack, and other services.
GanttPRO is utilized in several fields, including software development, building, healthcare, finances, events, and education. Basic plans for a single user begin at $7.99 per month when invoiced yearly.
10. MeisterTask
MeisterTask is an internet task and project management application that is ideal for managing agile projects using Kanban-style boards. The application provides user-friendly interfaces, easy functionality, and seamless connections with other project-related tools.
The application provides customized, color-coded project boards as well as other features aimed to make projects more efficient, productive, and effective. The timeline feature enables workload management by providing a Gantt-style overview of activities that enables users to identify bottlenecks and maintain workflow. Automation can also be developed to expedite human labor and automatically execute recurring activities.
In addition to due dates, time tracking, assignees, watchers, checklists, and tags, other task management capabilities include due dates, time tracking, assignees, watchers, checklists, and tags. MeisterTask further offers collaboration through comments, @mentions, alerts, and inline file attachments (including integrations with external cloud storage). MeisterTask is simple to use and doesn't need any kind of enrollment or coaching.
MeisterTask integrates with Slack, Microsoft Teams, G Suite, Zapier, IFTTT, MindMeister, and other applications. It fluctuates in price from $8.25 per month to free for up to three projects. Their pricier programs provide a free 30-day trial period.
11. Zoho Projects
Zoho Projects is an application for managing projects of different sizes and degrees of complexity. The mobile application is compatible with iOS, Android, and other operating systems and includes social networking-like features such as feeds, forums, and debates.
For project planning and monitoring, the Gantt chart capabilities of Zoho Projects allow you to break down huge projects into manageable portions and actionable tasks, plan and visualize various tasks and milestones, and build task lists for more detailed planning. Gantt charts in Zoho Projects may also be used for resource allocation, allowing you to view your project timeline and the workload of your team.
The resource utilization table indicates who is available, who is occupied, and who is overburdened. With Zoho Projects, you can create dependencies between tasks and assign them to the appropriate individuals, plan events in your calendar, and track the percentage of completed work after the project has begun.
Automate repeating chores at defined intervals by creating a recurring task and setting email reminders. Additionally, you may upload and share files for team collaboration, as well as generate or download project documents, presentations, and spreadsheets. Compare the actual time spent on tasks to what was initially anticipated. This can be accomplished manually or with the aid of a built-in timer.
Your timesheet records entries automatically, and creating invoices from this information involves simply a few clicks. Being a part of the Zoho ecosystem enables you to connect to other Zoho services, such as Zoho Books and Zoho's financial suite. Microsoft Office 365, Microsoft Teams, Google Drive, Zapier, Zendesk, and ServiceNow are among the third-party connectors supported by the new Zoho marketplace. In addition, Zapier and Zoho Flow integrations are available.
Zoho Projects starts at $5 per person per month and includes a 10-day free trial. Additionally, Zoho Projects offers a free subscription for up to three users and two projects.
FAQ
What are the tools and techniques for project management?
Tools and techniques for project management consist of software and methods that aid teams in managing their daily operations.
What tools are utilized in project administration?
Numerous charts, diagrams, reports, and other papers aid in the design and execution of successful projects.
What is the best project management software?
ClickUp is the most effective project management tool currently available. While most project management solutions offer only a handful of capabilities, ClickUp includes everything an on-premises, remote, or Agile team needs to plan and track successful projects.
Conclusion
The demands of enterprises are evolving as a result of societal shifts. Invest some effort in determining if you require an invoicing tool, powerful reporting software, or an integrated picture of projects and procedures.
If you liked this article, then please subscribe to our YouTube Channel for WordPress video tutorials. You can also find us on Twitter and Facebook