Many countries in Africa have been listed among the emerging economy. The continent is rich in both human and mineral resources with the right combination of these resources, the continent has the potential of becoming a formidable business hub.
Despite the high level of poverty, bad government, unfavorable rules, and corruption many businesses are still thriving greatly in the continent. It is said there are a lot of untapped business opportunities in Africa with the fast seen increase of technology in the continent, small businesses have been impacted by the technology growth which is becoming unavoidable in most countries of the continent.
Several countries like Egypt, South Africa, Nigeria, and Kenya are experiencing massive growth in their economy, many foreign investors are also taking a look at the business prospects in the continent and putting in their funds. More businesses mean growth in employment and reduction in poverty. Let's take a look at the top fastest-growing businesses in Africa.
How Can I Start A Business In Africa?
If you are an investor who desires to invest in the African economy or a citizen of any country in Africa who wishes to start a business and leverage technology. the following are simple steps you should follow to join the fastest growing businesses in Africa and benefit from the untapped business opportunities in African Countries like Nigeria, Ghana, Kenya, South Africa, Tanzania, Zambia:
• Research the various business prospects out there and get all the important information you need, find out if there's a stable economic market to accept whatever services or products you offer.
• Find your niche. Discover what you have passion for because if you venture into something you have no passion for you'll not get anything in return.
• Get the capital you need to start your business. If you don't have a personal fund, you can as well get a loan from legal financial institutions.
• Register your business with the appropriate authorities in charge of business registration in your location.
• Set up your business either online or offline. You can have both as well but make sure you offer legit products online to avoid damaging your reputation.
• Come up with a business plan, write down your vision, mission, goal, and objectives for your business.
• Locate your vendors and suppliers if you sell physical products but if you're focused on providing services find the right customers to patronize you.
• Promote your business. Marketing your business is the key to becoming one of the fastest-growing businesses in Africa. Use the best marketing strategies to your advantage. Engage your potential customers online as well through social media and digital marketing.
• Stay relevant and keep providing quality value.
Fastest Growing Businesses In Africa 2022
In this article, we'll be looking at the fastest growing businesses in Africa and most investment opportunities in Africa as well. Most of these businesses would have to leverage technology to experience greater growth.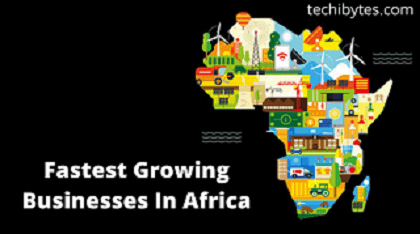 • Fintech
• Agriculture
• Real Estate
• Logistics
• Food business
• Retail outlets
• ICT
• Entertainment
• Renewable energy
• Transportation
• Fashion
Education
Cosmetics and Makeup
Event planning
Now we'll be discussing each of them in detail.
1. Fintech
Fintech is one of the newest fastest-growing businesses in Africa with countries like Nigeria, Egypt, South Africa, and Kenya taking the lead. Fintech means the use of technology to support the banking system thereby making transactions easier, cheaper, and quicker. South Africa Has the largest Fintech penetration.
In Nigeria, it is also one of the fastest-growing businesses getting investments from outside the country. It offers the largest opportunity for potential investors both in and outside the country. Some Fintech companies in Africa include the African biggest Fintech Flutterwave now valued at $3 billion, Kuda, Opay, M-Pesa, Paystack, and Snapscan penetration 
2. Agriculture
Agriculture is another top fastest growing business in Africa, though it still needs a lot of investment. This sector encompasses the production of agricultural products. Countries like Nigeria and Egypt are known to make up one-third of the continent's total agricultural economy.
It is still believed that this sector is not producing enough food for its citizens. With the resources of more stakeholders, Africa has the potential of exceeding its current agricultural output. Asides from producing only natural crops, more money should be invested in processed foods instead of always exporting raw products and importing processed foods.
3. Real Estate
Real estate is another fastest growing business in Africa that has the potential of making more millionaires. People always need shelter, relaxation centers, hotels, office space, shopping malls, and more. The need for commercial and residential buildings has been on the rise.
Most countries like Nigeria experience housing problems. The country's population supersedes the number of housing options available to its citizens. The demand for more buildings presents a great opportunity for potential investors in the real estate business. Real estate is not only restricted to selling buildings but also putting them up for rent. Though most startups are bridging this gap they seems to be enough space as it is still one of the growing businesses in Africa.
4. Logistics
Logistics involves the movement of goods and persons from one place to another. Logistics has become more popular in demand thanks to the advancement in technology. The development of e-commerce sites and online shopping outlets has presented a great opportunity for this business to thrive in Africa. There is a greater number of individuals who shop online on daily basis in Nigeria, South Africa, Ghana, and Kenya, and the demand for logistics to deliver what they ordered online is on a high increase.
Now you can order or buy anything from around the world and have it delivered to your doorsteps. You can also sell things to people anywhere in the world and have them receive them wherever they are. Logistics presents good investment opportunities in Africa for potential business owners.
5. Food business
This business has been around for a very long time and it's not about going out of fashion rather it has gotten better. With the busy schedule, most people have there's no time to think about what to eat they rather go to an eatery or restaurant to get what they want.
The food business is not only about restaurants but encompasses catering, food production, and even personal deliveries. Investors looking for where to put their money can also look into this business option. Fast food is another good option for people living in the cities and urban areas.
Eden life is really solving this problem, though companies like jumia with jumia food and uber eats are seemly on this part in most African countries. This is a growing business in Africa and one of the untapped business opportunities in Africa with a high demand for it in major cities.
6. Retail outlets
The retail business is also one of the top Fastest growing businesses in Africa with people owning several retail outlets in various cities and even countries. With the advancement in technology retail businesses are now conducted online.
Some of the leading online retail businesses in Africa include Jumia and Konga and so many but not enough startups. Other investors can also invest in this business because it has the potential for a high return on investment.
7. ICT
Information and communication technology is another thriving business in Africa due to the surge in internet use. This sector offers various opportunities in Africa. It has also contributed to the emergence of fields like product design, web development, search engine optimization, and more.
A lot of companies now use digital marketing as a form of advertising their products and services to get reach a wider audience since the world is now technology inclined. You can invest in this sector because this business is going to get more trends in the future.
8. Entertainment
Entertainment covers music, movies, films, and comedies. This is among the top fastest-growing businesses in Africa as Nollywood is taking the lead. Over the years the movie industry has produced some blockbuster movies that have not only brought in lots of money but also have films on Netflix and Irokotv.
With a lot of young people on the continent, Africa presents a great investment ground for investors interested in the entertainment industry. There's still so much to do here, besides producing blockbuster movies requires good financing.
Opportunities here include movie production, financing, distribution, and exhibition. Another thing is that Africa has an unexplored cinema market with just a few famous cinemas like film houses taking the lead. Others like music and comedy shows are also part of what makes the entertainment industry one of the top fastest-growing businesses in Africa.
9. Renewable energy
Renewable energy is energy that is gotten from renewable resources that are naturally replaced on a human timescale. Renewable energy is among the top fastest-growing businesses in Africa. For instance, some households are beginning to adopt the use of solar and wind to generate electricity. 
Future trends in this business show that many countries globally are moving towards adopting solar energy for electricity and Africa is not left out. This business is still new and needs more investments. There are lots of opportunities here with a high return on investment.
10. Event planning
Event planning and organizing is another top fastest growing business in Africa. Occasions are held every day and without the help of an efficient and talented event planner the occasion could turn out bad.
Event planners are in charge of ensuring that an occasion turns out successful with little or no issue. Many talented people are venturing into this business. The continent boasts of a lot of great event planners.
11. Transportation
Transportation is the major source of moving people and goods from one place to another. Lots of people move from rural areas to live in urban areas annually. Over the years major cities in Africa have experienced massive growth in urbanization. The large population of people dwelling in these places contributes to the inefficiency and chaotic nature of the transportation system.
For this reason, many private transportation companies both online and offline are tapping into this great business opportunity. The transportation system has also experienced massive growth in business with popular companies like Uber and Bolt taking the lead.
12. Fashion
Fashion is also one of the top fastest-growing businesses in Africa. The continent has a lot of talented and creative personalities in the fashion business. Many fashion icons are using the continent's beautiful fabric to create bold and outstanding designs. 
Many African fashion designers have created masterpieces worn by celebrities like Mitchell Obama and Beyonce. Most of them have held fashion exhibitions on some globally known fashion shows. The continent is also in the business of exporting African-made fabrics to other parts of the world.
13. Education
Education in form of Edtech is another top fastest growing business in Africa. Africa has a teeming population of talented young people who need the right education and direction to develop their abilities. With the advancement of technology, several online educational platforms are coming up on the continent. Most of these online educational platforms however are targeted toward building tech-related skills in this young generation. 
With the pandemic that brought lots of economical activities to a halt, people began to work remotely and education wasn't left out. Many educational platforms were created online to help people develop relevant tech skills during this period.
14. Cosmetics and Makeup
Cosmetics and Makeup are also a part of the top fastest-growing businesses in Africa. This business has been around for years. Lots of people need makeup to beautify themselves for occasions and even the entertainment industry employs the services of makeup artists. 
There are various types of makeup for different occasions. The business doesn't look like it's going out of fashion any time. Asides from makeup, some people are into the production and distribution of quality cosmetics products in Africa.
African tech startups raised $1.1 billion investment in 2021, this is to say there are greater opportunities for investors and startups who would leverage on tech to build more products in all the ideas of growing businesses in Africa.
We did not forget about the HealthCare business opportunities in Africa, which should be one of the most innovative ideas for Africa, Keep an eye on our future article where we talk more on health technology startups ideas in Africa that should be looked into as it is seemly one of untapped business opportunities in Africa.
FAQs
1. What is the most profitable business in Africa?
Lots of businesses like agriculture, real estate, solar energy, and information technology are bringing in high returns on investment.
2. Which business is best in Africa?
Businesses like agriculture, real estate, entertainment, logistics, transportation, renewable energy, and more are the best in Africa and there's no better time than now to venture into them.
3. Are there funding in Africa to support business growth?
Yes, various legal platforms provide funds for your business growth and development.
4. Are there initiatives to support businesses in Africa?
Yes with the great future outlook of businesses in Africa, more initiatives are developed every day to support businesses in Africa.
5. Is it worth investing in Africa?
Of course, the continent has great business opportunities, young educated human resources, and a great prospect for future economic growth. The best time to invest in these businesses in Africa is now. Even with the challenges the continent faces it is still able to enhance business growth and development.
Conclusion
These are some of the top fastest-growing businesses in Africa and the future looks even brighter as more businesses are going to emerge. The world is now a global village and technology has contributed a lot to the ease of doing business in Africa. More investors are seeing the future business potentials in the continent and putting in their money in various sectors.