Disability is not synonymous with inability; having a physical defect shouldn't prevent you from pursuing a career, especially now that there are tons of assistive tech around to help. However, it would be misleading and insensitive to claim a disabled person can do anything because nobody can do everything.
Thankfully, there are several resourceful jobs for disabled persons to take on a part time basis. While most of these jobs are still flooded by people without disabilities, being productive at those jobs is unrelated to your disability status, making them the perfect part time jobs for disabled persons.
If you're ready to make a difference and do something to change the worrying figure of 31% of people with disabilities being unemployed, here's your ultimate chance. Without more ado, here are 13 resourceful part time jobs for disabled persons.
Table of Contents
Resourceful Part Time Jobs for Disabled Persons
There's a lot of discrimination against people with disabilities in most industries, but that doesn't mean there are no jobs for them. With 29% of employed persons with disabilities on part time employment, it only makes sense to compile the most resourceful part time jobs for disabled persons.
Without more unnecessary ado, here are 11 jobs for people with disabilities to try on a part time basis.
1. Writing
Writing is a universal job that works as well for abled persons as it does for disabled individuals. The requirements for professional writing are straightforward: the ability to type or input text into a computer in some way and the intellect to come up with unique ideas.
Since most people with disabilities can do both, writing remains one of the most resourceful part time jobs for disabled persons, regardless of the nature of the disability. Yes, you read that right: you can become a professional writer and earn money working part-time, even if you can't use your eyes or any of your limbs.
If you need inspiration, you may want to check out the story of Jon Morrow, the brain behind SmartBlogger.com, who shot himself into the limelight by being a quadriplegic writer. Yes, he couldn't use any of his four limbs, yet he went on to become a staff writer at ProBlogger and CopyBlogger, writing the post with the most shares in the blog's history before creating his website.
2. Virtual Assistant
While being disabled might've decreased your chances of succeeding as a physical personal assistant, the internet is quickly bridging the gap, with virtual assistant being one of the most innovative part time jobs for disabled persons.
The only two requirements for being a virtual assistant are a computer and an internet connection to converse properly with their clients. As long as they've figured out a way to use a computer, being a virtual assistant is one of the best-paying part time jobs for disabled persons you'll find around.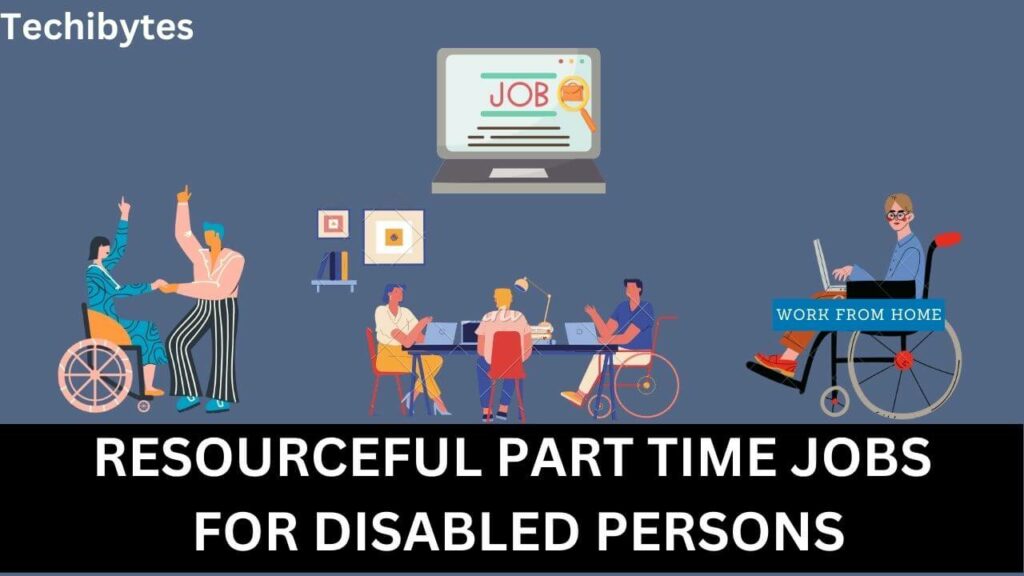 3. Customer Service Representative
People with disabilities that are passionate about helping people out of their problems may find a career as a customer service representative rewarding. Thankfully, anyone that's capable of talking can also be a customer service rep, so the barrier to entry is very low.
When applying for a job as a customer service representative, bringing up the fact that you have a disability is very unnecessary, unless you're discussing something that makes it necessary. While there's still some discrimination against people with disabilities in the industry, it continues to remain one of the most rewarding part time jobs for disabled persons.
4. Tech Support
Living with a disability doesn't affect your ability to use or master most technological gadgets in any significant way, and that opens up the tech support industry as one of the most resourceful part time jobs for disabled persons.
It doesn't matter what kind of disability they're living with; if they can use a computer in any way, they should be able to offer tech support. An immobile person can help you install a new operating system, and a blind tech support assistant is the optimal helper for setting up a braille keyboard.
Genuinely helpful persons with disabilities can certainly tap into the competitive tech support scene, as it's one of the most resourceful part time jobs for disabled persons.
5. Professional Tutoring
One excellent employment path that most disabled persons don't harness is education, which, contrary to your preconceived notions, doesn't require you to be completely abled. This opinion might be unpopular, but the average disabled person is more likely to succeed than an abled person in teaching.
Using online tutoring platforms like Udemy, you can create courses that can be taken by abled and disabled persons alike from the comfort of your home. The opportunities are even wider if you have a degree in a certain field, as that gives you the confidence to teach others about it. In short, the teaching profession is one of the best part time jobs for disabled persons, just as it is for abled individuals.
6. Voiceovers
The voiceover industry is a particularly competitive one, primarily because getting paid to talk is fun and doesn't sound very stressful. Guess what qualities are perfect for part time jobs for disabled persons: those involving little physical activity for high pay of course!
That's why making voiceovers is one of the most resourceful and fulfilling part time jobs for disabled persons. Since you'll likely work as a solo contractor getting gigs from ad agencies and video content creators, you can work at your convenience, making it perfect for individuals with low mobility.
While voiceover artists typically read from scripts, you can realize your dream as a professional in this field, even if you're blind. Blind voiceover artists use screen readers to listen to read scripts and then act them out using their voice. In 2023, the voice acting profession is undoubtedly one of the best part time jobs for disabled persons.
7. Graphics Design
Graphic design is an essential pick for the best part time jobs for disabled persons, thanks to the fact that it doesn't require professionals to be mobile. As a graphic designer, you're expected to create visual designs for magazines, logos, brochures, and ads.
Graphic designers typically work with agencies that require their service, but they can also run solo businesses as freelancers. While the former may require you to show up at work every day, the latter won't; you essentially work remotely on your schedule, attending meetings using programs like Zoom and Google Meet.
8. Software Engineering
Software engineering (or development) involves creating programs and apps for phones, computers, and other smart devices. The field has boomed recently, becoming gradually saturated, as every Tom, Dick, and Harry hopes to become a software engineer.
The field may sound closed to anyone without eyes, but it's certainly one of the best part time jobs for disabled persons looking to switch careers. According to freeCodeCamp, one in every 200 programmers is blind, including one of their contributors, Florian Beijers.
With at least 3.7% of the 64,000 polled developers on freeCodeCamp having at least one disability, there's certainly a slot for you. If someone can code without the ability to see, what's stopping someone that only can't walk?
9. Counseling
Empathy and unique life experiences are two prerequisites for becoming a counselor or life coach, and the average person living with a disability will have both in abundance. In short, counseling is one of the most resourceful part time jobs for disabled persons in 2023.
This line of work is especially great for blind people, who have likely developed a precise sense of hearing over their extensive use of screen readers. The better you can listen to people in need of counseling, the more you'll relate to their problems, helping you advise them better.
10. Freelancing
Freelancing is somewhat vague, but it's still valid to list it as an individual job, as some freelancers don't have a niche. If you don't have a particular skill to sell on freelancing platforms, you can go in as sort of a wild card, earning from whatever you can do on the platform.
If you think that doesn't make any sense, wait until you learn some people would pay you to simply talk to them on Fiverr, seriously. With other ridiculous gigs like friends for hire, meme-making for money, and teaching spells, you can do anything to make money on freelancing platforms, making it one of the ultimate part time jobs for disabled persons.
As you'd expect, making money on freelancing platforms like Fiverr isn't a walk in the park; there are techniques to learn and strategies to implement. If you're willing to learn, however, you'll have yourself one of the most resourceful part time jobs for disabled persons.
11. Research
One of the skills you don't lose as a disabled person is the ability to research and gather data from different sources, and interestingly, it's something someone from Upwork or Fiverr will gladly pay you to do. You can also join research organizations and universities to earn handsomely for your skills.
Also, it's crucial to note that there are different kinds of researchers, and you should only go for what you enjoy the most. From business analysis to forensic analysis, there are just so many research-based careers that will make excellent part time jobs for disabled persons.
Conclusion
Living with a disability shouldn't impede anyone's ability to be gainfully employed, especially in 2023, when there are tons of tech devices to make everyone's lives easier. With help from tech gadgets and jobs that don't require skills you don't have, you can get a couple of resourceful and rewarding part time jobs for disabled persons.
If you liked this article, then please subscribe to our YouTube Channel for videos. You can also find us on Twitter and Facebook.