{Updated}
Note: This list of top web3 companies was initially written as 7 top web3 companies but we continue to update to whichever number, the URL and slug will not be changed but the numbers of the web3 companies will continue to increase as we continue to make updates to the list.

Techibytes

Most people would say Web3 is still a theoretical concept, with a somewhat high learning curve to get up to speed. At the moment, anyone interested in becoming involved must first educate themselves on blockchain and understand what the top web3 companies and cryptocurrency technology are doing.
Some people are unwilling to go to the lengths to utilize a different version of something they already have, especially when they can use privacy-enhancing applications such as private browsers to get past privacy problems.
There are also the concerns of confidentiality and censorship to consider. Nothing would be anonymous if the whole internet operated on the Web3 blockchain network, and everything was irrevocably recorded in the blockchain as it was created and updated. That might be OK for some, but not for those who require anonymity to protect their safety.
In principle, it would be egalitarian if no one could be barred from using the internet. Still, in practice, the dissemination of damaging disinformation and hate speech would need to be curtailed in some way to keep it from spreading. Because the internet we now have has become so ineffective at addressing these concerns, it's challenging to evaluate whether Web3 would be safer or worse in this regard.
I have a question for you, what do you know about web3?
How can I gain access to Web3?

Web3 does not necessarily exist as a new browser in and of itself, and access to Web3-based websites can be accomplished by using the same browsers that are now in use. As a result, even if Web3 sites are being developed utilizing blockchain technology, they are typically accessible in the same way that Web2 websites are. And crypto enthusiasts are already using parts of Web3 when shopping with cryptocurrencies and acquiring NFTs, among other things.
Web3 will also be accessible through metaverse platforms, which are being developed by firms such as Facebook's parent company Meta. Consequently, Meta's metaverse platform Horizon will access a Web3 version of Facebook on the web.
What steps should a corporation take to create a presence on Web3?

The purchase of an ENS domain, or a blockchain-based identification that would provide you permission to a domain name on the blockchain that people could easily recognize and locate you, is one way for businesses to get their foot in the Web3 door. In the same way, a URL finishes in .com and your company name might end in .eth instead.

what role does the blockchain perform in all of this, specifically?

A more accurate description of Web3 is that it represents the architecture being developed through the use of blockchain technology, which is acting as the cornerstone of the metaverse and the foundation on which metaverse systems will be built.
The metaverse (in its present form and in future versions as it continues to develop) comprises multiple platforms such as Roblox, Meta's Horizon, and Fortnite. Every one of those platforms makes use of the decentralized, blockchain-based internet to continue funding the technology that these metaverse platforms require to connect their users as well as with other systems. The blockchain-based internet underpins the technology that these metaverse platforms need to secure their users as well.
Check out Web3.0 Investment Opportunites
What are the top 5 Web3 Cryptocurrencies?

1. Kusama
Kusama is an open-source, scalable network of blockchains; its specialized blockchains are constructed using the Substrate architecture free and open-source software.
Kusama provides a forum for blockchain developers to express their originality and bring their novel ideas to life in a short period. In addition to challenging conventional wisdom, the network believes in returning power to the people who utilize it. Kusama was founded by Gavin Wood, a co-creator of Ethereum and the inventor of Polkadot.
To use the KSM network token, you must be a member of the network to vote on governance referendums, propose validators, validate the web, and link Parachains. KSM's current price has fluctuated between $170 and $374, and the company has a market capitalization of $1.4 billion. According to WalletInvestor, the value of KSM will reach $4,581.970 by 2026.
2. Theta
A video streaming network called Theta compensates users for sharing their excess bandwidth and computational resources with other community members.
One of the co-founders of YouTube, Steve Chen, believes that Theta will disrupt the internet video market in the same manner that YouTube did in 2005, but in a slightly different way than YouTube.
Through cost-effective video delivery to specific portions of the world, Theta tackles the challenge of video distribution. Quality is not compromised in any way, and Theta feels that it is critical to delivering high-quality streaming to all internet users.
Those who contribute their bandwidth and computer resources are rewarded with the TFUEL (Theta Fuel Token), a cryptocurrency. THETA is the regular Theta token (THETA) tied to the platform's governance. Another advantage of Theta is that it is an open-source platform, which allows for collaboration and innovation from the wider community.
A proof of stake (PoS) system and multi-level Byzantine fault tolerance (BFT) system are used to safeguard the network. THETA is presently trading at $2.56 per share, with a market capitalization of $2.56 billion.
3. Arweave
Arweave is a decentralized storage network that allows you to store data and programs indefinitely on a network of computers. Your information is kept on a hard drive owned by the entire community and never forgotten. One of the advantages of this design is that no one will be able to erase your information. 404 errors, lower quality in online dapps, and stealth modifications are some of the other issues that Arweave can help with.
If you contribute to the upkeep of Arweave's permaweb, you will be compensated with AR tokens. Arweave is a cooperative that is owned and controlled by the community. You may also gain money by leasing more storage space or by developing an application for the network, among other things.
Arweave's stock price is now $33, and the company has a market capitalization of little more than $1 billion. A block weave technique is used on the network, a blockchain variant that connects a new block not just to the previous one but also to a random extra prior block at random intervals. Coinbase Ventures, Andreessen Horowitz, and Union Square Ventures have all contributed to the network's development.
4. Siacoin
If you wish to contribute to the decentralized internet, SC is a Web 3.0 coin that you should consider investing in. When it comes to data storage, Sia is another option to consider. Using a decentralized network, this technology stores your data in the cloud while allowing you to maintain control over your private encryption keys.
With Sia, you can store 1 TB of data for as little as $1–$2 per month, which is far less expensive than other cloud storage services. Siacoin is the cryptocurrency used by the platform to compensate hosts for making available their spare hard drive space for storage. Mining and trade are two methods of acquiring SC. Its current price is around $0.0092, and its market capitalization is approximately $0.46 billion.
5. Flux
Flux is a cloud architecture that is scalable and decentralized (not to be confused with other companies of the same name). This cloud software provides goods that compete with computer behemoths, such as Amazon Web Services while benefiting from its decentralized.
Web 3.0 applications may be launched over several servers at competitive speeds because Flux allows developers to establish, manage, and host servers on their behalf. The Flux blockchain is utilized for various purposes, including governance, parallel assets, and economics.
Flux also provides a decentralized operating system known as FluxOS, available for purchase. The platform is open to anyone who wants to run a node, and you'll get a 50/50 part of the rewards, along with the GPU miners. Flux cryptocurrency is bringing Web 3.0 to a whole new level, thanks to a recent agreement with tech titans Nvidia on its development.
Flux will benefit from the agreement because it will have unique access to Nvidia's engineers and marketers, who will help enhance the creation of a decentralized internet in the future. As of this writing, FLUX is trading at $1.46 per share, with a market capitalization of $327 million.
There are tons of web3 Bootcamp programs you could apply for, well we created the best list for that.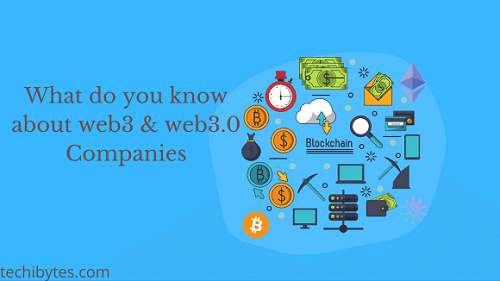 8 TOP WEB3 COMPANIES
1. Alchemy
Millions of users in 197 countries worldwide benefit from Alchemy's premier blockchain development platform, which Alchemy provides. The objective is to equip developers with the essential building blocks they require to shape the technological landscape of the future.
2. AlphaWallet
AlphaWallet was formed by a group of blockchain enthusiasts and business experts who think that blockchain technology will significantly influence the future and will fundamentally alter the landscape of technology as a whole. They are working hard to make this vision a reality by creating an easy-to-use platform that makes the technology available to everyone who wants it.
You can have access to the unique Ethereum tokens available, make money with Defi, participate in a DAO, spend your tokens for more things, pay with a stable coin, and access the entire web3 world with an integrated app browser.
3. The Dapp List
Powered by community governance, the web3 application exploration platform provides a trustworthy source for novices while rewarding those who make significant contributions to the community. They are committed to assisting developers in advancing the future of decentralization by providing a platform for them to share their ideas, create networks, and form a sense of community within the web3 Ecosystem.
4. QuikNode
Web3 developer platform for developing, testing, and deploying blockchain applications over the internet. Access to Ethereum, Bitcoin, BSC, Polygon, and xDai nodes in milliseconds or less: elastic APIs, sophisticated tools, and statistics are all at your fingertips through a straightforward control interface. Do you want to create the next prominent dApp? Build it on the QuikNode platform.
5. GuildFi
As part of its mission to build an integrated ecosystem of games, NFTs, and communities, GuildFi seeks to maximize players' advantages while also enabling interoperability throughout the metaverse. Player discovery and access issues are resolved, and their performance is improved, allowing them to reap the most possible advantages.
In the long term, players' participation and achievement are no longer discarded or restricted to certain guilds or games but instead contribute to their advancement and profit from higher levels.
6. Decentology
Decentology is the forward-thinking startup behind Hyperverse, the open, composable intelligent contracts platform that makes it simple for developers to find, build, and monetize web3 apps. Decentology is headquartered in San Francisco, California. Descended from DappStarter, Decentology's blockchain-agnostic code generation platform for web2 developers, Hyperverse is the next iteration of the system.
7. Cyber Manufacture Co.
GAMA, the next generation NFT project, is powered by the narrative-based Web3 platform developed by Cyber Manufacture Co. Located at the crossroads of narrative, gaming, community ownership, and digital identity management, GAMA is a unique and compelling experience.
8. Polygon
Polygon platform, powered by the MATIC token, was launched to connect and grow Ethereum-compatible projects and blockchains. MATIC tokens are used to govern and secure the Polygon network and pay transaction fees. Polygon uses a modified proof-of-stake consensus mechanism to efficiently operate the platform.

Polygon believes in Web3 for all. Polygon is a decentralized Ethereum scaling platform that enables developers to build scalable user-friendly dApps with low transaction fees without ever sacrificing security.

FAQ

1. What is the foundation of Web3?
The Web3 Foundation was established to foster and steward innovations and applications in various fields of decentralized web software protocols, particularly those that use advanced cryptographic techniques to protect decentralization for the advantage and stability of the Web3 Ecosystem.
2. What is a Web3 company?
A Web3 firm is a term given to a decentralized form of the internet co-owned by users and developers.
3. Is Web3 a blockchain technology?
Web3 (alternatively referred to as Web 3.0 and occasionally styled as web3) is a notion for a new version of the World Wide Web based on blockchain technology. It includes principles such as decentralization and a token-based economy.
4. Why is Web3 the way of the future?
According to a few, the internet's future will see users reclaim control, become co-owners, share in the income generated by their content, and re-decentralize it. And this is where the concept of Web3 enters the picture.
CONCLUSION

Considering that technology continues to advance into a decentralized internet while also integrating more ai technology and augmented reality into the internet experience, Top web3 companies will provide some of the most promising investment opportunities in the crypto market in 2022 and in the years to come. The use of blockchain technology is increasing as well.
If you liked this article, then please subscribe to our YouTube Channel for WordPress video tutorials. You can also find us on Twitter  and Facebook