Before we talk about the best websites to create nfts free in 2022, let us go back to 2021, where one NFT artwork by a digital artist called Beeple sold for a record-breaking $69 million at an auction at Christy's. Have you been hearing about the NFT craze and you're wondering, what are the best websites to create NFTs for free or you don't even know where to start? Good news you're at the right place and this is the perfect article for your NFT journey.
Last year was the year Non-Fungible Tokens took the world by storm and it has continued to gain much more traction around the world. The NFT market surged to $22 billion, according to a data report from DappRadar.
NFT artists and creators are now rushing to release their own pieces of work into the emerging industry as NFT artworks are increasingly selling for millions of dollars.
But what exactly is NFT? How do you get started as a creator? Is it just about buying and selling digital artwork or there's more to it? To answer these questions, you might want to think of NFT marketplace as your Jumia of the digital world or better still your Crypto exchange for digital assets.
In this article, We'd discuss just a few of the top best websites to Mint NFT, some of the platforms would allow you to do this for free, some would collect a little charge usually known as gas fee depending on which platform you're using. Nevertheless these are the top NFT marketplace to create NFTs in 2022.
What is an NFT?
An NFT also known as a non-fungible token. It is a unique and non-divisible unit of digital files such as photos, tweets, screenshots, memes, videos, and audio stored on a blockchain network.
NFT is a unique digital item that you cannot replace with something else. A thousand naira is equivalent to another thousand naira, a thousand naira cannot be exchanged for 500 naira. Most NFTs today are digital items, so as a creator it is easy to create and receive support from other art lovers.
Non Fungible Tokens are quite akin to cryptocurrencies but however different, they are non-divisible.
Best NFT Exchange in 2022
Pretty sure you know how your regular cryptocurrency exchange like Coinbase, Patricia, Luno, and Binance works? Unlike such exchanges, an NFT exchange allows you to buy, sell, mints, and trade NFTs.
NFT marketplace also makes it possible to create, upload and tokenize your digital assets on the Blockchain.
So if you want to Mint, Buy or sell, what are the best websites to create NFTs?
Minting: Best websites to create NFTs Free
Enjin
Rarible
Binance NFT marketplace
Forge
SuperRare
Opensea
Proton mint
1 Enjin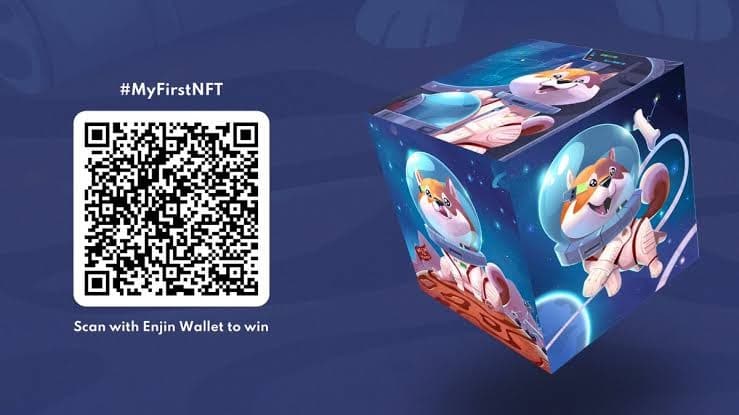 Enjin Marketplace is an initiative co-founded by CEO Maxim Blagov and CTO Witek Radomski in 2009 as a community gaming platform.
Enjin originally was a decentralized platform for gamers and content creators that empowers them to manage, distribute, and trade virtual products.
It has now evolved into a mechanism by which you can explore and trade blockchain assets.
You can easily mint NFTs on Enjin using JumpNet, which is basically a private version of the Ethereum blockchain that is now accessible to the public. You can use the Enjin Wallet to easily list and purchase gaming items and collectibles.
You should know that Enjin has its own token, ENJ, thereby charges ENJ for minting. Enjin Coin (ENJ) is based on the ERC-20 standard used to directly back the value of blockchain assets created on the Enjin platform.
Enjin also doesn't charge any gas fees for minting NFTs, which is an edge over other platforms.
Also, you should note that Enjin is more of a gaming NFT platform rather than an art-focused NFT platform, So you might want to juxtapose your interest before considering it.
2 Rarible
Rarible is one of the most popular NFT platforms right now. It is a community-owned marketplace for creating, selling, or collecting digital collectibles and NFTs securely in the Blockchain.
On the Rarible platform, virtually all kinds of digital art, videos, pictures, games, domains, memes, collectibles, and music can be bought, sold, or created on the platform.
However, unlike OpenSea, you'll need to use Rarible's own token (ERC-20 RARI) to buy and sell on the marketplace. Active users on the Rarible platform earn free RARi to transact on the platform. NFT Creators can use Rarible to "mint" new NFTs to sell.
One unique feature about Rarible is that its lazy minting feature allows you to mint your own NFT for free! If your interest aligns more with art, Rarible platform might be your best shot.
Notable companies like Taco Bell, Adobe, NASDAQ have listed and partnered with Rarible.


Binance NFT marketplace is a marketplace that features all forms of digital artworks and collectibles. Powered by the Binance blockchain infrastructure and community, the Binance NFT marketplace provides the highest liquidity platform for users to launch and trade NFTs.
The platform brings together artists, creators, and enthusiasts on a single platform to create and trade NFTs.
The Binance NFT Marketplace supports BNB, BUSD, and ETH you can use to Mint, sell, bid, and purchase NFTs from creators around the world.
For now, the minting feature is only available to selected Binance artists and partners like the Binance collaboration with Djimon Hounsou and Laolu
If you're new to Binance, you can get started in 4 quick and easy steps:
1: Register Binance account
2: Complete verification
3: Deposit or buy crypto
4: Trade NTFs on Binance NFT Marketplace
4. Forge
Forge is an NFT minting service provider that helps convert digital assets like collectible cards, wine collections, 3d virtual figures, digital artworks, etc into NFTs through the use of Blockchain technology.
Forge is more applicable to those who want to create and mint game NFTs and not art NFTs, so it's not exactly suitable for every NFT artist. Forge is a very strong platform with a great user-friendly interface for all your NFT creations.
Forge does not have its own autonomous blockchain. Nonetheless, the NFT platform does support three major blockchains: Ethereum, Polygon, and Binance Smart Chain, so it is not as limited as any other platform on this list.
If you intend to create NFT on the Forge platform, the website requires that you fill out a form for basic registration and create your NFT portfolio on the site and that's it.
5. SuperRare
SuperRare prides itself as a marketplace for digital creators. Art NFTs are your thing, this is definitely the platform you've been looking for. Buy and sell NFTs including art, videos, and 3D images from the world's top artists using the Ethereum network.
SuperRare has issued its own token (RARE) of the same name based on the Ethereum blockchain. The tokens will be used to find and curate new talent for the marketplace. Like Rarible, You can also buy and sell SuperRare NFTs on OpenSea.
SuperRare believes that collecting is, at its core, a socially-driven pastime.
The NFT platform believes in the future of art collecting, building collections of the world's most cutting-edge digital art.
It is also Pioneering art market royalties, where
Artists receive continuous royalties for all secondary sales on their artworks – forever
6. OpenSea
OpenSea proudly describes itself as the world's first and largest NFT marketplace where you can discover, collect and sell extraordinary NFTs. It is an online marketplace for non-fungible tokens founded by Devin Finzer and Alex Atallah in New York on December 20, 2017.
Valued at more than $13bn, it is a reputable NFT website that combines all things NFTs into one place.
Like many other exchanges, OpenSea works on Ethereum Blockchain and also charges gas fees for transactions.
You can mint NFTs for free in Opensea and If you're selling items, you can sell an item for a fixed price, create a declining price listing, or make an auction listing in the platform.
Opensea has over 700 different projects, including trading card games, collectible games to digital art projects, and name systems like ENS (Ethereum Name Service). If you're new to the NFT world, you might want to consider starting with opensea.
7. Proton Mint
The Proton Mint is probably the cheapest website to create and sell your NFTs today.
One of the biggest advantages of Proton Mint is that it doesn't charge any gas fees for minting.
Also, you can mint your first NFT for free, and minting additional NFTs is quite affordable. The website also has a great user interface and makes getting started with NFTs quick and easy.
Proton Mint NFT marketplace supports a number of different blockchains, including BSC, Ethereum, and Stellar. And, if you're looking to invest in NFTs, too, Proton offers a distinct marketplace wherein you can find some amazing digital assets.
You can connect your wallet through the Proton Wallet, Anchor Wallet, or WebAuth.
Where can Creators sell NFTs?
There are a lot of NFT marketplaces in 2022 where creators can sell their NFTs. A good number of these platforms will require buyers to have a digital wallet and use cryptocurrencies to pay for their purchases. For starters, you can start with these platforms listed above. Check out OpenSea, Async Art, Enjin, Foundation, Rarible, and Proton mint.
What you should know about NFTs
Here are a few takeaways to note about NFTs. The first NFTs were part of the Ethereum blockchain, which stores extra electronic information to distinguish their uniqueness. Other blockchains now also facilitate NTFs. Due to the different blockchain technology behind particular NFTs, not all NFT marketplaces buy and sell all types of NFT.
NFT Creators most times select an NFT marketplace based on whether that marketplace supports a specific NFC token standard. There are two standards on the Ethereum Blockchain (ERC-721 and ERC-1155)
Most NFT platforms would require buyers to have a digital wallet and use cryptocurrencies to pay for their purchases.
Creating an NFT requires uploading your digital file to an NFT marketplace. While the Blockchain allows you to verify the authenticity of an NFT item.
In conclusion, NFTs are not going anywhere anytime soon as more brands like Prada, LVMH, Adidas, PUMA, and many more are just getting into the space. Now is the best time to get creative!
If you enjoy this article, kindly share it on social media.